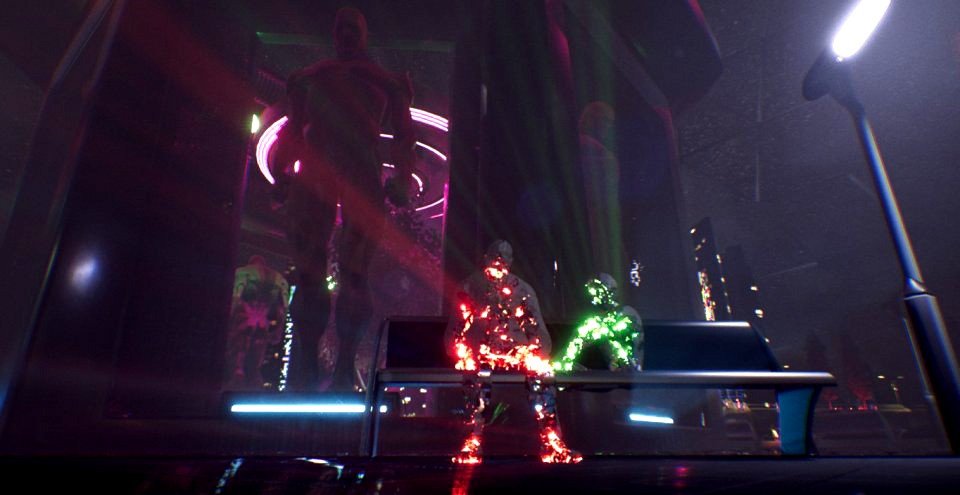 Game information
You might also like these adventure games
Advertisement
Adventure games by Kyodai
BITMAP BOOKS
A lone heroine in a deserted house on a dark and stormy night. An ocean with a cradle bearing a disembodied head. A whale floating away into space. A spaceship with a morally questionable AI doctor. It's a disparate list of experiences with seemingly little in common, and yet all of them are featured in the first episode of Kyodai's first-person sci-fi adventure Elea. However, just because they're in the same game doesn't mean they get along.
In the opening cinematic, Elea – or, more properly, River Elea Catherine Jones is undergoing some manner of elective brain surgery. Based on what's depicted, it seems as if she's having memories of her family blocked, although she subsequently has no difficulty recalling them. Events transition from this operation to her home on a dark and stormy night, when a heavily pregnant Elea awakens to the merry jingle of her wrist communication device. That is, she does if any controls are pressed. The game has a tendency to not provide any cues that a cutscene has ended and actual gameplay begins. More than once I thought such sequences were still ongoing and was waiting for something more to happen when, in fact, the game was waiting for me to make something happen.
The transition issue can be ameliorated to a degree by turning on the crosshair in the game's options. Most of the time this places a small dot in the center of the display when the environment can be interacted with. It's a subtle mark, but it's usually better than nothing for determining when you've regained control.
Once roused, Elea chats with her husband Ethan over the wrist comm. Ethan has given her parental access to their young son's computer-locked room and wants her to check on him. Before she can, a series of obstacles must be overcome, including loading the control app from her desktop, which is behind a study door that Elea doesn't remember the passcode for, and so on. These initial objectives are well defined and provide an easy entry into the game. Reaching the locations where these goals must be achieved is a bit less easy in her pregnant state, as Elea is unable to run and even her walking speed is extremely slow.
During this introductory part, it seemed as though a suspenseful thriller story was being set up. A number of readable documents can be found, describing a global illness that has caused young children to lack any empathy and experience extremely violent episodes. Then the power in the house goes out. This is a pretty clichéd setup, what with a lone woman in a dark and foreboding house on a stormy night. It goes another step further when the sound of distant glass breaking can be heard shortly after restoring power and Elea calls out the name of her son, questioningly. I wondered if he had contracted the disease. Was he even now stalking me through the house? But just as I was about to brace for a jump scare straight out of a cheesy horror story, the game leapt Elea away from the house to another setting altogether: a futuristic observation room overlooking an ocean.
Things get even stranger when peering out at the water. A cradle floats by carrying the disembodied head of Elea's husband. At the same time, a large silver, pulsating geometric shape forms in the room. Touching it for a few seconds caused the sequence to restart. Doing this several times dumped me back to the main menu, which I assume was intentional as I got a Steam achievement for it. Despite this weirdness, the only thing that strikes Elea herself as particularly odd is when she sees a shark swim by in the ocean below.
After some snooping around in the observation port, I finally figured out how to progress. Whoosh! In a similarly jarring fashion, my next abrupt destination became a raised platform above the ocean. I'm actually not sure what I did to move past this part, if anything at all. There were a number of odd background events that I think I may have triggered, but they may possibly have just been timed to occur when they did, including a whale floating up out of the ocean and disappearing into the night sky above.
To be honest, these early sections of the game felt very much like tech demos to me. I suspected they may have been odd or distorted memories of Elea's, as occasionally digital interference patterns would flash across the screen, suggesting some manner of virtual or machine-altered world. This impression was heightened by the overabundance of shaders (used to give surfaces more detail than basic texture images alone can provide) applied to achieve these distortions. Some of the effects are quite interesting and even spectacular in a way, providing surreal visuals unique to this experience.
After escaping the ocean, which is roughly at the halfway point of this three and a half hour experience, the game settles down with Elea aboard the spaceship RSS Discovery. Here we learn that the Discovery was sent from Earth to find out what happened to another ship, the Pilgrimage, which stopped reporting some thirteen years previous when it arrived at the planet Solace. Having reached the silent vessel, the protagonist is immensely keen to explore the Pilgrimage to find out what happened, while her captain is much more cautious. I must have missed this detail in-game, but it turns out that Elea's eagerness is due to her believe that her husband was aboard the other vessel. I only found that out when reading a marketing synopsis of the game after completing it.
Aboard the Discovery, the game presents a realistic look with gleaming white, clinical corridors and cluttered officer work spaces. This same style is present elsewhere but with much different detail, such as the colourful toy-strewn child's room in Elea's house and even the majestic in-game virtual reality recreation of the first Martian city, accessible from one of the ship's computers. Here elevated walkways are lined with imposing statues and assorted garden planters.
The real adventure feels like it begins aboard the Discovery. Here your tasks are focused around getting off your own ship and over to the Pilgrimage. The shipboard medical AI, Kaz, both does and doesn't want to help. Kaz has protocols to follow and must report you to the captain, but he also has no qualms about suggesting that you create a digital copy of him that can help guide you to the Pilgrimage. The AI seems a little morally dubious in that regard, although it's never really explored any farther. The rest of the episode is spent trying to reach the other ship.
Control-wise, Elea plays similarly to most games of this sort. The WASD keys and mouse are used for maneuvering through the 3D environment, but Elea's walking speed continues to be rather slow. In theory she can run, although this is inconsistent as there are times when the run key is completely disabled. At other times, if someone is talking to Elea the game continues to be playable but it really slows her down – running or not – so it's like moving through treacle. This is particularly frustrating when the people she's talking to urge her to hurry, but she's unable to do so until they finish speaking. This seems to have been done to prevent players from rushing to another area without hearing an important conversational detail, but crippling movement is anything but an elegant solution. Tighter dialog to keep these bits shorter would have been appreciated.
Although early on, most noticeably in Elea's home, puzzles emerge organically from the narrative, by the time the Pilgrimage section is reached, a subtle but fundamental change has occurred. Several times there are literal doors encountered that cannot be opened until some unrelated action is performed, such as talking to one of Elea's colleagues on board. These more arbitrary obstacles interfere with exploration of the ship, and I felt quite channeled in a specific direction as I typically couldn't stray very far from where the game wanted me to be.
The Discovery is a rather cluttered place, and while there are a lot of items you can temporarily pick up and rotate by clicking on them, most of them are unimportant to the task at hand and must be released again before play can continue. Fortunately, key items are outlined with a bright green glow to make finding them in the environment easier. I was particularly glad to have this feature when searching for a small memory module to copy the Kaz AI onto. It's quite possibly the smallest interactive item in the game and I think I would have easily missed it without the highlight.
I did suffer from one game crash while playing. Between that and the geometric shape in the ocean observatory punting me to the main menu, I really wanted to have a manual save system. I'm a product of the save early, save often philosophy of old Sierra titles, and when a game shows that it's not completely reliable, a save system is a must. Unfortunately, manual saving was not to be as Elea offers only predefined checkpoints. Hopefully the developers will incorporate a full save system into subsequent episodes.
The final challenge is a chase scene where Elea has to run away from a couple of pursuers. If they catch up to her, the race restarts from its beginning. This section has several elements working against it, and will definitely be a stopping point for at least some who are action-averse. The chase occurs in the corridors of the Discovery, which tend to look alike under normal conditions but even more so here where everything is bathed in a red emergency light. What's worse is that when forced to try again, the adversaries get a bit of a head start, moving towards Elea before the game has fully reloaded, requiring a quick response just to stay out in front. Finally, in order to escape it is necessary to run, but here I found the game's detection of the run button to be problematic. One of the opponents immediately starts talking at the start of this section, and while Elea can turn, she can't start running until that pursuer shuts up.
Save for that one pursuer – who became annoying to listen to again and again as I tried multiple times before succeeding – the voice work is decent enough, although no particular performance stands out as exceptional. Sound effects are quite good during the house scenes, creating an eerie, tense atmosphere, although they tend to fall into the generic spaceship category once aboard the Discovery. They're still solid, but not nearly as mood-inducing as in the earlier part of the game. Musically, Elea plays periodic orchestral tunes that are occasionally embellished with electronic or digital effects, which tend to match the visual distortions in certain areas.
With its disjointed memory sequences, Elea abruptly and confusingly jumps from location to location early on. That, coupled with some rather slowly-paced cinematics with no clear ending and some abstract visuals, gives the game a bit of a 2001: A Space Odyssey meets Tron vibe. Unfortunately, the game seems to be so eager to be mysterious and enigmatic that it never quite finds its footing narratively. I'm still unsure whether it's ultimately about the illness infecting the children or Elea's missing husband. On top of that, its hit-or-miss controls, challenging-for-the-wrong reasons action scene, and arbitrary locked doors (both literal and figurative) made it feel like a bit of a chore to get through the later stages of the game.
At the end of this debut episode, I felt somewhat relieved to be done rather than anticipatory for future installments, so hopefully Kyodai will draw some lessons learned here next time. Until then, the series introduction is largely an extended teaser best recommended for those who value surreal sci-fi visual presentations over coherent storytelling or compelling gameplay, dropping just enough breadcrumbs to allow plenty of theorizing about where things could go from here.
Our Verdict:
Along with a number of rough edges, Elea's attempts at surrealism on a spaceship prevent this first-person explorer from delivering a compelling narrative experience in its episodic debut.
Want to share your own thoughts about this game? Share your personal score, or better yet, leave your own review!

review
Other articles you might enjoy