AdventureX 2018 round-up: Part 3
Events Coverage
Reporting from E3, GDC, AdventureX, Gamescom and other gaming events around the world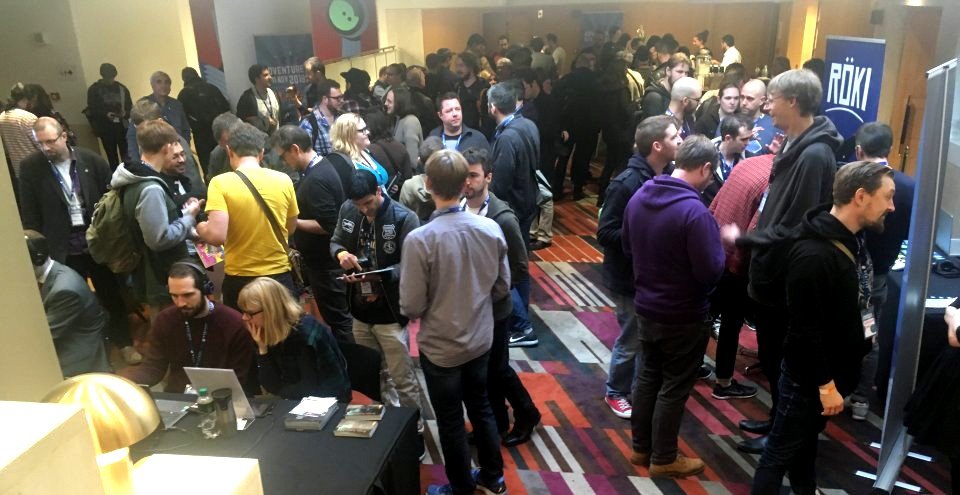 By now you've seen the first and second parts of our extensive AdventureX coverage. Now read on for the final installment of our two-day, twenty-game whirlwind report!

---

Attentat 1942

Based on events in the former Czechoslovakia, this game describes itself as 'A World War II game through the eyes of survivors'. Using historical information, footage and testimony from those who lived through this time, Attentat 1942 tells the story of living through the Nazi occupation from the perspective of the ordinary people who suffered through it.
Originally conceived as an educational tool for Czech high schools (then called Československo 38-89: Atentát) and put together by teams from Charles University and the Czech Academy of Sciences, the reception gained from schools and students alike was so positive that the project was converted to a proper game and widely released in October 2017 under the current title.
Ondřej Paška
Visually the game is striking. Everything from the historical film footage, to the FMV of actors you converse with, to the comic book interactive sequences, to the part-photo-part-hand-drawn recreations of places from 1942 Czechoslovakia, the setting is made to feel as real as the subject matter needs it to be. The story and characters, while fictional as presented, are based heavily on authentic historical events, interviews and evidence from the time.
Assuming the role of an unseen protagonist, you start by discovering that your grandfather was arrested by the Gestapo shortly after the assassination of Reinhard Heydrich, ruler of the Nazi-occupied Czech lands and leading architect of the Holocaust. You must discover why he was arrested and whether he did, in fact, have anything to do with this attack. Soon focus begins switching between the present day, investigating and questioning witnesses, and the past as experienced by characters from the story, including your own grandparents, re-enacting actions taken and re-living situations that occurred decades earlier.
In terms of gameplay, Attentat 1942 is dialogue-based and you will question people, examine possessions and items from the period, re-create moments of drama as seen by the survivors through interactive comics, and perform context-specific interactions related to the story and based on accurate reports of actions people actually took back then. For instance, early on you must play as your grandfather to stall the Gestapo as they knock at the door while your grandmother hides incriminating leaflets around the home, then later tidy up and check over the home after the Gestapo have turned the place over and left.

Already launched for Windows and Mac, a 'challenge mode' is due to be unveiled in the coming weeks as DLC. Further releases on PS4, Xbox One and Nintendo Switch are planned for next year. You can learn more about Not Tonight through the developer's website.
Human Errors

Human Errors is a free browser-based Interactive Fiction game by Katherine Morayati, winner of various XYZZY awards in the text adventure field for Best Writing.
Katherine Morayati

The game is certainly based on an intriguing premise. You are faced with a login screen to start. After typing your name and receiving a password, you are confronted by an email system with messages. Some 5000 of them, it appears! It becomes clear that you have been taken on as front-line support to triage bug reports for a technology company who have mass-produced a mood-regulation implant device that is supposed to control impulses on the part of the wearer (host?). It becomes equally clear almost straight away that this corporation is perhaps not as concerned with the welfare of its customers as might be hoped.
As you begin to feel your way around by reading emails of issues people are having with this tech, you'll find the task to be both boring and interesting at the same time. Sifting through emails is hardly the most exciting activity in its own right, but you can respond to any messages that interest you by composing your own replies and you will periodically receive responses back that are sometimes funny, sometimes serious stories. In the process, various problems develop, from a customer having intrusive thoughts about the Beach Boys, to a boss attempting to force his staff to obey his every command using this tech, to attempts at love with a companion mannequin. There is sure to be something that piques your interest!
The length of time playing the game and how much depth you want to get into is up to the way you interact with the email system and the interest you might take in its diverse issues. The developer envisages that sessions will probably be 10-15 minute bursts, although there is a lot to see so multiple playthroughs will give different results.
Human Errors was released in May this year, and is available to play online at Sub-Q.
Bitsy
Also exhibiting this year was Bitsy, an editor and engine using HTML5 to allow production of little games and/or worlds. There is quite a narrative emphasis to this development tool, as the stated purpose and function of the software is to 'make it easy to make games where you can walk around and talk to people and be somewhere'. Currently around 1500 games have been produced by over 900 different creators.
Mark Wonnacott, David Mowatt and their custom-made gaming device
As the engine and editor are browser-based, the projects using it will work on pretty much any device with a browser. The games themselves are varied in nature, from simple top-down pocket arcade style, to platformers, to Zelda-like, to visual novels, all united by chunky pixel graphics and a focus on story and dialogue. A selection can be found for free under the tag 'bitsy' on itch.io.
One rather novel feature of the games displayed at AdventureX was the custom-made handheld device on which they could be played. Created by Mark Wonnacott as a way to showcase a large number of short games in an interesting fashion, quite a lot of attention was drawn by it at the event. It also highlighted the large and active community of Bitsy developers.
For more information on Bitsy itself, check out the editor/engine's own itch.io page.
Referenced Adventure Games
feature
Other articles you might enjoy