AdventureX 2018 round-up: Part 1
page 2
Events Coverage
Reporting from E3, GDC, AdventureX, Gamescom and other gaming events around the world
AdventureX just keeps on growing. This year it saw a big jump in capacity, with its previous venue limit of 230 people almost doubling to 400 at the new British Library location in London. This is also the first year the event required paid admission, with all tickets snapped up less than a week after becoming available. Some may have feared that this leap in size would change the atmosphere of the convention. Fortunately, those concerns were easily put to rest by a weekend that was as fun and friendly as always. There were once again a variety of talks on all aspects of narrative gaming, from writing realistic dialogue to making games more inclusive of the disabled. And, of course, a huge mixture of titles were exhibited, and our intrepid team of reporters set out to look them over.

---

Gibbous: A Cthulhu Adventure
At last year's AdventureX, the Stuck in the Attic team applied too late to be official exhibitors. This year, with Gibbous: A Cthulhu Adventure now nearing completion, they made sure to get in early. Whilst inspired by the works of H.P. Lovecraft, as you'd expect of its title, it would be fair to say this is far from a horrific game. References to its inspiration are plentiful, but played with a sense of humour that removes the horror aspect whilst still obviously respecting the source.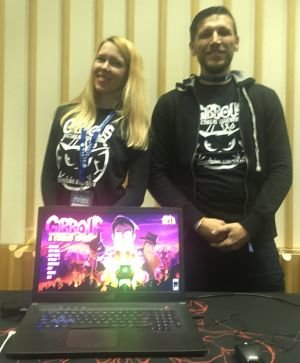 Cami Cuibus, Liviu Boar
The central character is hapless librarian Buzz Kerwan, whose careless reading of the Necronomicon causes his cat to start speaking. With this sarcastic and somewhat uncooperative companion, along with occasional assistance from detective Don R Ketype, Buzz must try to prevent a cult from seizing the book for their own dark purposes.
A year ago, about half the game had been made so the demo only showed the opening scenes. This year Gibbous is almost done, with only a handful of lines of dialogue still to be recorded and a few late bugs to sort out. As a result, Cami Cuibus and Liviu Boar were able to take players to various chapters throughout, allowing us to see entirely different parts of the story. I played a section in the strange village of Fishmouth, where the residents made clear they were not stopping me from entering, just "strongly discouraging" it. Using simple point-and-click controls, I directed Buzz and his reluctant "friend" around the village in third-person view. Stealing the identity of a person with legitimate reason to enter the village took some lateral thinking.
I enjoyed the orchestral soundtrack backing the action, and the stylish hand-painted cartoon art. Of particular joy to me were the idle animations of Kitteh, my feline companion. Normally she will just sit with her tail waving back and forth. Leave her long enough, though, and she will start engaging in other typical cat behaviour, such as stretching to wash her back legs. The voice acting is also a treat for the ears, especially Kitteh's complaints about the things you make her do to advance.
There is already a Steam page available, with the game to be released on Windows, Mac and Linux. Barring late complications, Gibbous: A Cthulhu Adventure is on track to launch in January 2019. In the meantime, more detail can be found on the official website.
The Darkside Detective: Season 2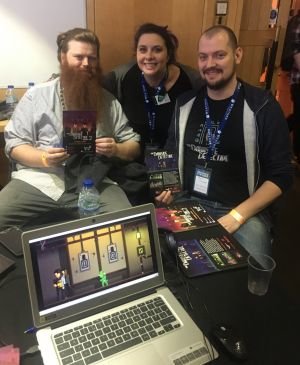 Dave McCabe, Treasa McCabe, Paul Conway
With their first comic mystery anthology starring an investigator of the supernatural proving a success, developer Spooky Doorway are ready to build on that with a sequel. And thanks to their recent Kickstarter surpassing its goal, they have the funds to do more this time. Whilst there will be an overall story arc in the new collection, the team intend to keep the individual chapters as standalone stories like before. They feel that their target audience is the more casual gamer who has limited play time. For such people, keeping track of complex plots and objectives is more problematic, hence a game with bite-size challenges offers more appeal to that market.
As not everyone at AdventureX had played the first season, a computer offering a sample of the original game was on display. Those simply seeking a taste of the second season could play the start of a new story. The same pixel art style of its predecessor is used once again here, as is the simple point-and-click interface. Many of the characters also return, including on-screen protagonists Detective Francis McQueen and Officer Dooley.
The setting for the demo was a spooky carnival, whose show has adopted a new approach due to society being more aware of cruelty to animals: a vegan circus consisting solely of mechanical creatures. As McQueen, clearing away a malfunctioning elephant formed the main puzzle, though there were several steps involved in solving it. This was accompanied by a spooky background sound, though the dialogue featured the same off-beat humour of the last game. This was most noticeable in conversations with Dooley, whose tendency to lose focus on the job can produce some surreal but amusing contrasts to the otherworldly dangers you face.
Spooky Doorway are aiming for a release on Windows, Mac, Linux and Switch in the first quarter of 2020. While you wait, more details about both games can be found on the series website.
The Procession to Calvary
With Four Last Things, developer Joe Richardson used classical art and music to tell a whimsical tale of sin and repentance. In his new game, The Procession to Calvary, he has continued that approach, seeking out even more disturbing scenes with which to surprise, bemuse and amuse players.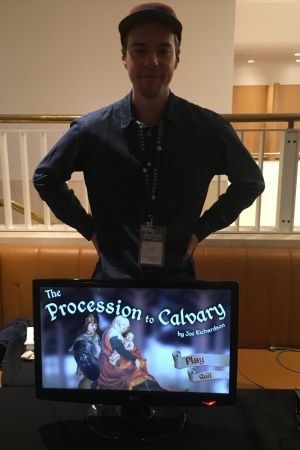 Joe Richardson
At this point in development, Richardson is still not certain whether this will be a direct sequel to the original game, or an entirely separate story. As it stands, the current version has you playing an entirely new character this time round named Erica, a soldier coming back from the holy war (which we won, apparently). As before, characters are paper dolls whose arms and legs move on pivots rather than animating naturally, set against a collage of public domain background art from the Renaissance era.
The demo started with Erica having hitched a lift with a woman and child (who may or may not be the Madonna and Jesus). The cart breaks outside Erica's desired destination, but her plans to simply abandon her helper are soon dashed. The city gatekeepers (one of whom repeatedly points out his "MASSIVE KEY") refuse to let Erica in. Having to go back to her erstwhile travelling companion for assistance, the protagonist is tasked with repairing the cart and feeding the donkey. This objective leads to traversing a variety of surreal scenes.
The same single-click interface as the previous game is used here, guiding the large, heavily-armoured protagonist around the screen. The dark humour of the original also shines through once again. There are some very odd inhabitants to meet, including a choir of kittens and a lute goblin (playing appropriate music) encountered along the way. I should imagine any fans of the first game will find this one very much to their tastes as well. This is not a game for kids, however, as despite its comedic touch overall, some of the depictions of medieval torture in one scene are quite gruesome.
Release is planned for April 2019, though this is a somewhat tentative date for now. The Procession to Calvary will be available on Windows and Mac, as well as iOS and Android devices.
Lord Winklebottom Investigates: The Case of the Expired Axolotl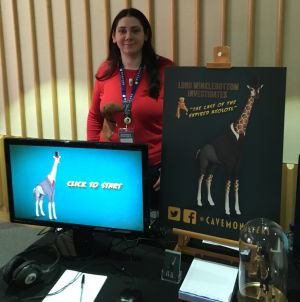 Charlotte Sutherland
Detective stories are not exactly rare within the adventure genre. Whilst its title suggests this game is another that treads the same well-worn path, even a quick glance confirms that there is a decidedly unusual aspect to Cave Monsters' The Case of the Expired Axolotl. That's because the eponymous Lord Winklebottom is a gentleman giraffe. Bedecked in a fine suit, with a monocle and top hat on his head, his outfit is the very epitome of the English gentry. Accompanied by his companion Dr Reginald Frumple (who is a hippo), he must get to the bottom of a dastardly murder. Admiral Gilfrey (the expired axolotl in question) had invited his old friend to his island estate promising exciting news, but met his demise before he could deliver it. Can Lord Winklebottom solve the mystery of his death?
The action takes place in third-person (third-mammal?) view, though you don't actually move the protagonist around, merely click on items of interest. The demo took place in two rooms of the deceased's manor, the drawing room and conservatory. Despite the relatively small space, these locations were packed with puzzles, including a locked box and an old sea-mate of the Admiral's blocking your way. Control is handled through a verb coin, with items dragged in for use from an on-screen inventory.
Insofar as a gentleman giraffe is realistic, the hand-drawn graphics are done in a realistic, brightly coloured style. The game is fully voiced to a very high standard with distictly British accents, and accompanied by old-style dance music (until you change the record as part of a puzzle solution, that is). The humour has a light touch to it, the action largely played straight against the oddity of the premise.
As every good demo should, this one definitely left me wanting more. The game's display table was even enhanced by a delightful model of Lord Winklebottom himself, made from an ordinary giraffe toy with hand-crafted accoutrements from indie developer Charlotte Sutherland herself.
A Kickstarter is planned for January/February 2019, with the aim to release the game in late 2019 or early 2020. The Case of the Expired Axolotl will get a PC release at least, but consoles are possible as well. More information can be found on the developer's website.
LUNA: The Shadow Dust
If anything proves what a wonderful event AdventureX is, it is the origin of LUNA: The Shadow Dust. Beidi Guo, the lead developer and sole member of the team attending this year, met two other people at the conference back in 2015, and they talked about making a game. Whilst the individuals involved were scattered across the globe, this chance meeting led to Lantern Studio being formed.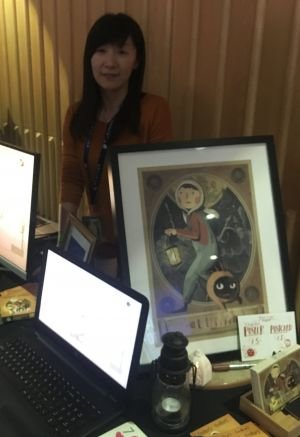 Beidi Guo
Their first game is heavily inspired by the Studio Ghibli films of Hayao Miyazaki, particularly Howl's Moving Castle. This is most evident in the graphic style, a hand-painted cartoon presentation with the feel of fairy tale illustrations. Beidi also cited an early experience playing The Neverhood as an influence. She especially enjoyed the fact that the game did not make use of dialogue, so LUNA has been made deliberately without any text at all.
Whilst I was able to watch several other people play LUNA, it proved a difficult game to get my own hands on. It is a testament to the pleasure it gave people that many would sit there for a long time rather than quickly moving on. Even as an observer, however, I was able to enjoy the smoothness of the animation and a sample of the puzzles hidden in the gorgeous visuals. Finally getting the chance to play the demo myself post-convention, I can confirm that it has a relaxed atmosphere, with a beautifully simple soundtrack of harps and gentle flutes.
The central premise is that a young boy with a bunny ear hood, controlled in third-person, has to climb a magical tower to fix a great disaster. He is assisted in this by a small creature rescued from some fallen planks of wood early in the game. This companion was originally envisaged as a cat, but whilst retaining a four-legged frame it has become a more mystical creature to suit the setting. Once found, you can switch to controlling this creature to accomplish a collective task or reach places a human cannot. The interface is single-button point-and-click, though the simplicity of the controls does not mean the challenges are equally simple. The puzzles I saw embraced their magical setting, with coloured lights, whose buttons you control, affecting where a doorway leads.
LUNA: The Shadow Dust is to be released on Windows, Mac and Linux, as well as iOS and Android devices. The aim is to complete the game in early summer 2019. More detail, including a link to the same demo I played, can be found on the developer's website.
Röki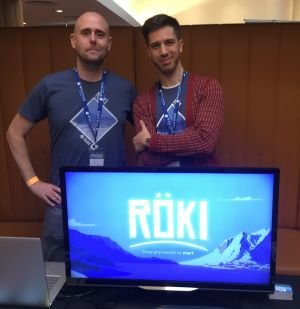 Alex Kanaris-Sotiriou and Danny Wadeson
Whilst Polygon Treehouse is based in Cambridge, the studio's first game is set a long way from those dreaming spires. Röki takes place in a remote area of Sweden, following a family living in a small wooden cabin in a snowy landscape. You take the role of young Tove, protective sister to little Lars. The developers have adopted a fairly minimalist artistic style, fitting with the bleak location and creating the appropriate tone. The game is also nicely animated, and the background sound is a suitably simple ambient tone.
The demo got off to a gentle start, with players needing to escort Tove's brother to the outdoor loo. As Tove, I had to work out how to clear away the crows that frightened him from going outside. This worked well to introduce the verb-coin based controls and characters.
Once back in our shared upstairs bedroom, the titular monster arrived with an enormous roar. Having seen the creature's pictures on banners and business cards, I expected it to be the size of a large bear. I was thus somewhat taken aback when a clawed hand the size of a car crashed through the roof. To further demonstrate its power, the whole screen shook and the controller vibrated as it tore into the building. Whilst there didn't seem any way to be killed by the monster, this did nothing to reduce the tension of subsequently trying to evade its grasping limbs. The journey down through the house as it's slowly being torn apart by its enormous attacker proved an exciting one, with some interesting puzzles along the way. The final challenge, to knock down a sled I could not reach myself, was especially satisfying.
The plan is for Röki to be launched in late 2019. The game will definitely be available on PC, but the team hope to release it on consoles as well, though no specific platforms have been confirmed as yet. To learn more, visit the developer's website for additional information.
Perseids or, All This Will Go On Forever
Freya Campbell's Perseids or, All This Will Go On Forever is a free game made for Trans Gal Jam 2, which took place in June and July 2018. The goal of this jam, obviously, was to encourage development by transgendered women. Making the game about such women was an optional theme, but one that many of the entrants embraced. A total of 23 games were submitted, a significant advance on the 7 entries in the first event. With a focus on inclusion, there was no voting or prizes, simply encouragement for individuals who might otherwise be wary of making a game to do so.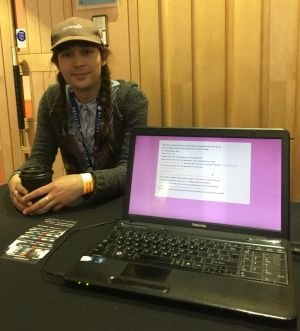 Freya Campbell
Using a modified version of the Twine text engine, Perseids tells the story of four trans women on a road trip, with the player taking the role of one of the travellers. You can enter a name at the start of the story, which will be used by the other characters later. There are no graphics included, but the text presentation is easy on the eye with a soft pastel background highlighting the text comfortably. There is also musical accompaniment, representing the various radio stations you tune into on your way. These include rock music and gentler guitar riffs.
Player control is somewhat limited, consisting solely of selecting from the occasional list of choices to progress the story. The writing makes up for this restriction, drawing four realistic personalities through relatively simple interactions. As stated in a warning at the start, there are some adult themes, including a sexual scene and some low-level drug use.
Perseids can be played online in your browser, as can many of the other entries in the Trans Gal Jam 2. Those wanting to see the other games Freya has produced can find them on her itch.io website.
Referenced Adventure Games
feature
Other articles you might enjoy