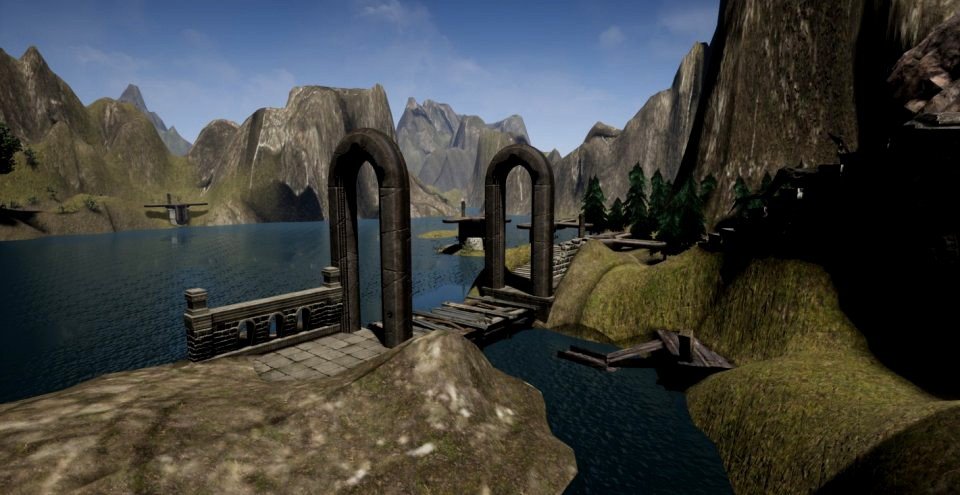 Game information
You might also like these adventure games
Advertisement
Adventure games by Pim Nijdam
BITMAP BOOKS
Pim Nijdam's Moon Castle is promoted as being similar to Myst and Riven. While it's true that this real-time 3D, first-person game has similarly deep and complex puzzles, none of Cyan's meticulous world building or history is present here and so any comparison to those older classics will be disappointing. Taken on its own terms, however, the puzzle challenges presented are really quite good; unfortunately the technical challenges are far less so.
Moon Castle is a puzzler through and through. You wander around a seemingly ancient castle and its grounds that have been equipped with various mechanical devices to operate and what can best be described as amusement park rides, such as a roller coaster and river raft. There's no real story justification for any of this and your goal is to simply escape by completing all of the obstacles in linear fashion. The castle and its surrounding environs serve only as the backdrop to the many puzzles, but it's in the puzzling aspect that the game shines.
There are just a handful of simple puzzles that consist of opening doors from one area of the castle to the next. These exits typically have several buttons next to them and scraps of paper can be found elsewhere that indicate exactly which buttons to press. Fortunately, these scenarios aside, the majority of the dilemmas on offer here are well-thought-out, clever, and very challenging.
Take for example, the use of various mechanical machines to create and combine elements. In this case, elements can be one of four different shapes and one of four different colours. Advanced elements are created from basic pairs. In turn, experienced elements are created from pairs of advanced elements, secret elements from pairs of experienced elements, and the final master element from pairs of secret elements.
The trick to this process comes in figuring out how to use the limited number of stations to juggle where various elements are positioned. Each machine can hold only one at a time and it's necessary to designate two machines as the active ones to create a combination on a third machine. As there are only a limited number of machines available, a bit of planning is required to first discover the elements and then ensure they're in the correct locations.
Setting aside elements for astronomy, another task requires measuring the position of the moon in the night sky. Separate red, green and blue lasers then need to be aimed at the moon, which requires independently rotating and tilting them. Based on their current positions and the position of the moon, mechanical devices need to be employed to determine how much each laser needs to be adjusted. The pieces of the puzzle are all there but it does require some thought, note taking, a bit of backtracking, and even a smidgeon of mathematics to work out.
Overall, the variety and complexity of the puzzles are quite good. Those looking for a difficult challenge will be well rewarded here. That is, if you can put up with the other, much less enjoyable challenges in between. At time of writing, Moon Castle has been out for a few months already, and in that time twenty updates have been released to fix various issues with the game. Even after that many, to me it felt like playing an Early Access title, emphasis on "Early". It's not a matter of the game lacking polish (though it does) so much as still having real issues in need of fixing.
The most significant stumbling block I ran into was getting stuck. I don't mean failing to solve puzzles, I mean literally getting stuck. On no less than four occasions I found myself in spots I couldn't get out of. One happened in a small dip in one of the exterior locations near a lake. Another occurred when I clipped through a metal railing and fell into an inescapable canyon. The third took place when I was descending in an elevator and looked down, only to suddenly find myself on top of the elevator and unable to get back in to press the button inside. The final sticking point came very close to the end, when I had to maneuver a mobile control room to a specific landing zone. Just as I was about to reach said zone, the buttons for moving the room stopped responding along with the one for opening its door, leaving me trapped inside.
These issues were exacerbated by the fact that the game makes use of a checkpoint feature and the autosave would do its thing while I was in one of these perma-stuck areas – the result being that attempting to restore was useless. Creating manual saves for safety was out of the question, even though such a feature was so desperately needed given the number of problems I encountered.
Thankfully, Moon Castle was developed using the Unreal 4 engine, which has an in-game console. For those unfamiliar with this concept, think of it as an edit field that you can type commands into to perform things that the game's own interface does not allow for. To access the console, press the tilde (~) key on the keyboard. For some helpful advice about overcoming the woes I encountered, here are the three commands I found useful:
ghost (let me move through geometry such as the locked doors of the elevator and the mobile control room)
fly (allowed me to slide up nearly vertical surfaces, which got me out of the one small dip and out of the canyon)
walk (cancelled both ghost and fly and allowed me to move around the environment normally again)
Using these console cheats, I was able to get out of all the dead ends I encountered. It should be noted that these commands could be used to bypass most of the puzzles, so using them in moderation only when stuck is highly recommended. That said, there was one other area where, although not technically at an impasse, I found myself using the fly command.
At one point it becomes necessary to ride a raft across a lake to a small alcove that's otherwise inaccessible. After searching the alcove, the raft is then used again to return you to the central environment. The word "slow" does not do this raft justice. It took a fair amount of time on the first ride. The second ride was even longer and that one I actually timed. Eighteen minutes! It took that long for the raft to travel from the alcove to the mainland, during which time there is nothing to do but wait. It was only after I got back to the castle that I found I had missed a code sheet for getting through one of the doors. Rather than waiting for over half an hour round trip to take the float back to the alcove, I used the fly command and was there and back with the code I needed in under a minute. Phew!
Another benefit of Moon Castle using the Unreal 4 engine is that it does sport some fairly impressive visuals. Light glints off metal and water and there's a good amount of detail in various locations you move through, whether it's the vaguely English countryside, the stonework of the castle itself, a large underground grotto, or a giant mushroom-festooned canyon, among other sights. Such visuals make it all the more jarring when turning the occasional corner to come face to face with some textures that would have been considered low resolution and blurry even ten years ago. They're few and far between but they do shatter the illusion of the world somewhat.
Also distracting is the problem the game has with walls. Like most 3D first-person games, the mouse can be used to look up and down. Unlike most games, the view shifts so that when looking down it also leans forward a bit and when looking up it leans back. When standing right next to a wall, it becomes possible to lean through to see a default grey background behind it with the occasional bit of geometry showing from elsewhere in the world. This is especially prevalent when looking around in elevators on the move.
From a gameplay perspective, one aspect of the visuals is also quite detrimental. Shadows cast by trees, towers, etc. are dark to the point of being almost pitch black. This is especially problematic in one of the last areas of the game, where several critical buttons have been placed in shadowed areas. Care must be taken to search any dark section in the event that a small, unlit button may have been hidden there. Generally, the presence of such a button can be inferred because a locked door will be nearby with no other obvious means of opening it. Still, pixel hunts in the dark aren't too terribly fun.
While the environments of Moon Castle look nice for the most part, other visual aspects of the game are less refined. When picking up various notes and books to examine, a large red X on a white background is placed in a corner of the screen to back out of the close-up. Similarly crude displays are used for the game's menu. While small issues, they all jar with the rest of the aesthetic and break the reality that is otherwise trying to be established.
The controls are a mixed bag as well, attempting to combine free-roaming 3D movement with 2D point-and-click. The standard WASD keys can be used to go forward and backward and from side to side, although the lateral movement barely affects your course if you're also moving forward or backward at the same time. Turning is a little trickier. A mouse pointer in the shape of the classic pointing finger from Myst can be moved about the screen and used to click on hotspots, but to turn or look up and down you have to hold the mouse button and then drag the cursor around the screen. To turn a full circle, it's necessary to perform multiple drag-and-release operations. I would have much preferred being able to toggle between movement and interaction mode, perhaps by clicking the right mouse button. Moon Castle does offer a few options for inverting the controls and adjusting the movement and turning speeds, but these settings are not stored between sessions, requiring them to be reconfigured each time.
One nice touch made available is the ability to take pictures. This is useful when encountering the various note pages or books that provide information necessary to help solve some of the puzzles. The number of photos that can be taken is limited to fifteen. However, as the game is linear, requiring you to move from one puzzle to the next in sequence, once you've used the information from one picture you can then safely delete it as it won't be needed again. Any snaps taken can be viewed via a pop-up overlay accessed through the game's menu, so they're always readily available to call up when needed, though you can't interact with puzzles when the photo is on-screen.
It is also possible to roughly gauge the amount of progress you've made throughout the game. Each puzzle has been assigned a certain number of points depending on its complexity. Upon finishing one, a message pops up to say how many points were awarded. Overall the game has 200 points with most puzzles offering between 5 and 15 for completion. When puzzles are solved, a selection of short, semi-techno tunes are played. Musical taste varies, but I found the tunes out of place with the environment, seeming more like something that might be heard at a dance club than a semi-ancient castle.
Other than the short clips that play upon solving puzzles, the only other sounds come from ambient effects such as echoing caves or lapping water, or from interacting with the various machines that inhabit the world. Suitably, most of the buttons, wheels and levers that can be used will clank, click and clack as expected. However, there are a few critical control panels that you can click that provide neither a sound effect nor a visual to indicate that you've actually interacted with them. The results of such interactions can only be witnessed elsewhere.
All told, it took me eleven hours to play through Moon Castle, and it's been some time since I've played a game with puzzles as challenging as those presented here. This is a game that very much gives that nice buzz of satisfaction when the pieces of its puzzles come together and you have that brilliant "aha" moment where you realize what the solution is. That said, the absence of anything resembling a coherent story to justify the gameplay, as well as the many and varied rough edges prevent me from rating it as highly as a solid puzzle game otherwise deserves. For puzzle fans, if you're looking for a serious challenge, Moon Castle can still be a very rewarding experience, albeit one marred with numerous technical shortcomings.
Our Verdict:
The shine of Moon Castle's complex and challenging puzzles is tarnished by its glitchiness and lack of polish.
What our readers think of Moon Castle
Want to share your own thoughts about this game? Share your personal score, or better yet, leave your own review!

review
Other articles you might enjoy