Guardians of the Galaxy
review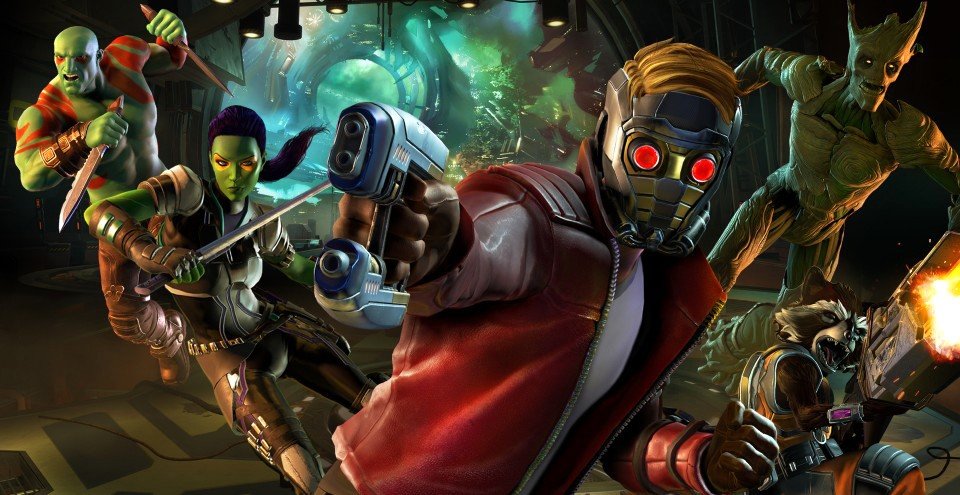 Game information
You might also like these adventure games
Advertisement
Adventure games by Telltale Games
BITMAP BOOKS
Just prior to Guardians of the Galaxy Vol. 2 hitting the big screen, Telltale Games jumped the gun with its own slightly-more-interactive take on Marvel's ragtag band of outlaws-turned-heroes. There are more than a few similarities to its theatrical counterparts, but the game is not directly connected to the film franchise – which is probably a good thing, since movie tie-ins are historically awful. Lots of familiar names turn up here, but don't be surprised to find some different faces (and voices) attached. With a number of rip-roaring cinematic fight scenes, a brand new villain, and an intriguing new superpowered relic with links to the past putting the cosmos in jeopardy, plus some snarky banter between friends and foes alike, the five-part series generally follows the same formula we've come to expect. Unfortunately, the script isn't nearly as funny as the films, and the characters cross the line from loveably unlikeable to downright detestable far too often. In many ways, this series feels far out-Guardianed by the studio's own far superior Tales from the Borderlands.
Like the movies, the cast of five unlikely saviours consists of human spaceship captain Peter Quill (who'd prefer to be known as Star-Lord), the green-skinned former female assassin Gamora, the heavily-tattooed behemoth Drax, the furry but feisty don't-call-him-a-raccoon named Rocket, and the lumbering he-tree Groot. Apparently the license must have cost extra for likenesses, so there's no Chris Pratt, no Zoe Saldana, or even Dave Bautista. The same goes for voices, so while Rocket and Groot look more or less the same as their CG movie models, don't expect to hear the likes of Bradley Cooper or Vin Diesel this time around. The good news is that the characters all look and sound just fine on their own once you get used to the difference, so it was probably a wise idea not to attempt vocal impressions.
I was far less impressed by what they actually had to say, however. Writing anti-heroes is a delicate business: make them too personable and they don't seem volatile; make them too antagonistic and they come off as nasty. The first movie, in particular (the films being my only frame of reference, as I'm not familiar with the original comic), found the sweet spot through the use of humour. The more this motley crew bickered and bitched, the funnier they were, and you couldn't help but cheer for them in spite of themselves. While each character's personality was abrasive on its own, the group dynamic managed to bring out the best of them, however reluctantly.
The game takes the same general approach, just not nearly as successfully. Rocket and Gamora both constantly act like insufferable "jerks", while Drax seems overly subdued and not nearly as prone to overly literal interpretations as he wallows in self-loathing over his family's demise. Everyone's favourite tree-man is usually good for a chuckle, despite his severely limited three-word vocabulary (a hungover Groot is particularly amusing, if nauseatingly gross). Peter, meanwhile, although given the opportunity to make quips under pressure, is essentially the straight man – a little cockier than he has any right to be, but the most "normal" one of the lot.
It's not so much that there's anything wrong with the dialogue; it just doesn't really zip and zing like we've seen first-hand from the Guardians before. The group interactions are decidedly underwhelming, and since the characters supposedly know each other well at the start of the game, there was no narrative reason not to hit the ground running. In fact, they spend a fair chunk of time on the verge of a break-up and are held together more by circumstance than by a shared bond of affection. One character or another is continually sulking or threatening to leave, and the arguments are so mean-spirited that you'll feel real animosity. Really the most engaging Guardian this time isn't a Guardian at all, but a tag-along alien named Mantis. As an empath, she feels particularly vulnerable to the hostility within the group, but you don't need to be specially attuned to emotions to share her belief that the rest seem to "hate" each other and should just get it over with and split.
This bitter dissension among teammates would seem to be the result of trying to shoehorn a franchise into the Telltale storytelling model that really doesn't fit. Without enough interaction with external forces of opposition, the dysfunction is mostly turned inward, creating an environment that's more angrily toxic than friendly or even funny. The problem is further compounded by Telltale's increasing reliance on heavy-handed browbeating over choices made. Making difficult decisions is a welcome part of the experience, but here you're guaranteed that every significant choice will once again turn teammates against each other (and against you, as the so-called leader). It's a tiring process to keep trying to make peace and repair relational rifts, and maddening to know ahead of time exactly how everyone will react. If I chose A, then character X would surely berate me for how much I suck afterwards. But if I chose B, I'd be blasted by Y, without even a hint of understanding the complexity of the situation. Drax even states it plainly at one point, noting "No matter what you choose, your decision will leave you despised by much of the team." Yup!
All that's pretty damning, and deserves to be, but these Guardians are not a total disaster on the character front. In between the nastier confrontations there's a bit of wisecracking fun, but the best parts of the series are the flashbacks for each of the main characters – well, four of them (Groot gets one, but it's anything but an "origin" story like the rest). I won't give too much away, but a glimpse into Peter's past with a dying mother, Rocket's laboratory love interest, and Drax's softer side with his young daughter are welcome insights. Gamora's turbulent history with her cyborg stepsister Nebula is also explored, and this becomes linked to the present as well, as their ongoing conflict becomes an integral part of the present day story. That too, is a good thing, as their rivalry being raised as children of an evil monster had real consequences that continue to play out in destructive ways today. Still, it's a shame that this Guardians of the Galaxy is at its best when its heroes are separated, especially when it accounts for a relatively small portion of the overall experience.
Breaking continuity with the entire Marvel movie universe (not simply Guardians), the main storyline more or less begins with an epic throw down with Thanos, the destruction-craving big baddie intent on wreaking havoc throughout the galaxy. Here he's obsessed with the Eternity Forge, an ancient relic of unknown (to us, and at first the protagonists) power. After a rousing, cooperative battle of scripted Quick Time Events that require no great skill to achieve, it's the Guardians who find themselves in possession of the surprisingly unassuming trinket, along with another unexpected prize that may well be worth far more in trade, leading to the first of several significant decisions you'll need to make. You'll soon discover that Thanos is not the only one aware of its presence, though, and before long you're drawn into a much more perilous encounter with Hala, leader of a remnant of the Kree, an alien race thought to be extinct but still very much alive and now eager to extinguish every other race in the galaxy.
As always with Telltale games, real player agency is often illusory, as regardless of what so-and-so "will remember" about your words and deeds, the story eventually circles back around to the same overall path, if it veers at all. I'm fine with that, so long as I feel the weight of my decisions in the moment. Not only is it a practical impossibility to have a truly branching narrative, I despise repetition just to see the things I missed, especially in a game that commits the unforgivable sin of refusing to let you skip through cinematics or dialogue. That said, there are some life-and-death choices to make, though not necessarily the kind you might think, which not only impact the story somewhat, but dictate which final ending you receive. Obviously these decisions carry the most gravity, making them both the hardest choices to make, and the most welcome for that very reason.
Far too frequently, however, the weight of indecision came mostly from anticipating the inevitable (over)reaction of my fellow Guardians. Usually I found myself just trying to choose the path of least resistance from my crew, which isn't how one should play Star-Lord. I wanted to role-play the swashbuckling, smart-alecky rogue that Peter believes he is, but because I frequently felt like a babysitter, I didn't dare do anything more to raise the ire of my petulant teammates than I had to. But perhaps worst of all, when crisis finally brings the team to its breaking point, the one teammate I had disappointed the most with my ongoing choices was the one who supported me, while those whom I'd sided with more often left me in the lurch. So what was the POINT?!
Most of the mechanics are standard Telltale fare, offering limited control of Peter (and the other Guardians in their playable backstory sequences) once in a while, either via keyboard/mouse or gamepad. But there are a few wrinkles this time around. On certain ventures, a communications link allows you to talk to your crew remotely when physically separated from them, and a "time scanner" shows trace memories of previous events. Though the latter, at least, is used to solve a mild puzzle or two, neither ends up playing a particularly substantial role. Another new feature is Peter's ability to hover; you can only do so at predetermined levels, but it's fun to float around, however briefly – except when you're running low on power amidst a sea of monster stomach acid and need to manage it accordingly. (Quill also jets around during QTE battles, but that you don't control.) Any actual "adventuring" is restricted to exploring a handful of self-contained spaces, looking at a small number of objects, and interacting with even fewer. You do need to find and use an item or two in the environment, but since hotspots are automatically highlighted, there's no challenge even in locating them, let alone figuring out their obvious application.
The presentation is classic Telltale as well, with a high degree of cinematic flair and semi-realistic 3D graphics – "realistic" being relative in a galaxy where a mining post is based inside the head of a giant decapitated celestial. Other than a couple short but welcome sojourns through asteroid-infested space, you'll spend most of your present-day time within caves, drab industrial hangar bays and ship interiors, so once again it's flashbacks to the rescue from monotony, whether a camping trip to the scenic Colorado woods, a training mission against the backdrop of multiple moons and rocky mountains, or a flight for freedom through vibrant foreign flora. Much more attention has been paid to the character models, and there's a nice variety of aliens depicted, although most of them are humanoid (is that word racist?). Voice acting is generally excellent once again, the only exception being young Peter, whose actor sounds like he's trying to be much younger than he is, although even he seems to improve as the series goes on.
Studio mainstay Jared Emerson-Johnson composes the soundtrack once again, but I'll admit that I almost never noticed it outside of the up-tempo action scenes. What you can't help but notice, in all the right ways, are the pop tunes that play periodically. Mix tapes are a staple for Peter, and it's a great way to inject some nostalgic familiarity into an otherwise out-of-this-world adventure. Even if the likes of E.L.O. and Three Dog Night aren't your favourite bands, I dare you not to tap your feet to "Livin' Thing" and "Shambala" when they begin playing, or feel a bit pumped as you combat an enemy to the driving beats of Heart's "Crazy On You". I have to call false advertising on the episode titles, though. I love the gimmicky conceit, but with titles like Under Pressure, More Than a Feeling and Don't Stop Believin', I wanted me some Queen, Boston and Journey!
Clocking in at under ten hours, the combined length of the five episodes is in keeping with Telltale's other series, and feels adequate overall. That doesn't include any time spent replaying to seek out other paths, but frankly, I don't feel compelled to do so. Admittedly, I rarely do with any game, but even less so here than other choice-driven series like The Walking Dead or The Wolf Among Us. The usual complaint is par for the Telltale course: namely, there's not enough player interaction to be completely engaging. It's also not anywhere near as funny as the franchise has the potential to be. But those are largely balanced out by some intense action set pieces, a solid premise with formidable villains, welcome mini-origin stories, and the usual slick production values. Where the game seriously stumbles, unfortunately, is in its characterization of the Guardians themselves, who are perhaps the square peg to Telltale's storytelling round hole. We may not have to like these misfits, but we do need to root for them, and more often than not, my only rooting interest (both literally and figuratively) here was the one who barely talks. If you're a Telltale and/or Guardians of the Galaxy fan, there's probably enough here to merit a look. But for myself, I can only imagine the word "Groot" is Flora colossi for "disappointed", in which case I, too, am Groot.
Our Verdict:
For better and worse, the five-part series follows the usual Telltale template, but these disappointingly unlikeable Guardians of the Galaxy ultimately need to be saved from themselves.
GAME INFO
Marvel's Guardians of the Galaxy: The Telltale Series is an adventure game by

Telltale Games

released in 2017 for Android, iPad, iPhone, Mac, PC, PlayStation 4 and Xbox One. It has a Stylized art style, presented in Realtime 3D and is played in a Third-Person perspective. You can download Marvel's Guardians of the Galaxy: The Telltale Series from:
Want to share your own thoughts about this game? Share your personal score, or better yet, leave your own review!

review
Other articles you might enjoy