Gamescom 2017 round-up: Part 1
page 2
Events Coverage
Reporting from E3, GDC, AdventureX, Gamescom and other gaming events around the world
It's hard to believe how time flies. When gamescom 2017 opened its gates on the 22nd of August, it felt slightly unreal how quickly a whole year had passed since 2016's fair. Nevertheless, I was more than ready for the annual excitement. As always, I was glad to be mostly able to dodge the crowds of people in the public area where gaming fans of all ages tried to get a glimpse of upcoming AAA spectacles. Traditionally, the business area is the place to go if you want to find out about upcoming adventures and similar projects, and that was true again this year.
Since I was on my own in representing Adventure Gamers, I teamed up with our friends from the German website Adventure Corner to visit numerous appointments together and share the wealth… and the workload. As usual, days and nights were long, and we felt exhausted by the end of the week. However, Matthias Glanznig, Peter Färberböck and I certainly agree that the experience of seeing so many promising new games made up for all the tiredness and stress. We will continue to feature certain games in standalone articles (as we've done already with Black Mirror and Life Is Strange: Before the Storm), but it's time now for our first (though not last!) round-up from gamescom 2017 to fill you in on the many adventures coming soon.
 
---

Tokyo Dark
by Matthias Glanznig
Back in 2015, Cherrymochi received funding through Kickstarter to develop Tokyo Dark, a point-and-click adventure game with visual novel elements. The small indie studio is based near Tokyo and was founded by Maho, who is from Japan, and her husband Jon Williams, who was born in England. This combination is strongly reflected in a game which deliberately mixes western and Asian elements. At gamescom, we played through the prologue.
We follow the path of Detective Ayami Itō, who is trying to find her missing partner. As the story unfolds, events become increasingly surreal. There's also a lot more to Itō than meets the eye at first. She has to confront her own past, which culminates in several dark and more or less weird horror scenarios.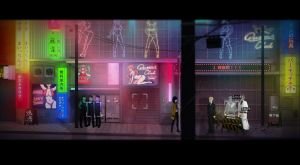 The game presents itself as a side-scrolling adventure. In this respect it is comparable to games like The Cat Lady, but mouse control is possible and the game plays like you would expect from a point-and-click adventure. Even though the art style is reminiscent of various visual novels, the gameplay seems much closer to the familiar western approach and there appears to be a lot to explore and interact with. In fact, main inspirations like Heavy Rain, The Blackwell Legacy, and Shenmue were mentioned by the developers.
The first few puzzles rely heavily on conversations and exploration. To give an example, at the beginning you need to find the mobile phone of your partner and follow it to the last known destination. Of course, you have to ask around for clues. You also discover a closed exit and must watch for useful items or helpful people.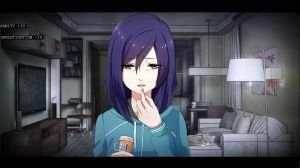 How complex these puzzles will later become is hard to predict, but the start of this adventure feels like an enjoyable investigation. Interestingly, we were told that some puzzles can be solved in more than one way. And depending on your actions, some NPCs might not cooperate at all, forcing you to try a different approach.
It is also noteworthy that for many actions you'll get attribute points (Sanity, Professionalism, Investigation, and Neurosis). Careful examination of your surroundings will earn you points for Investigation. Asking the same questions over and over again will buff your Neurosis level.
According to the developers, attributes can actually affect the direction of the story, so it is no big surprise that Tokyo Dark comes with multiple endings. In fact, Maho told us that after completing the game you will be able to experience a new game-plus mode with an additional ending. She hopes this will motivate players to replay the story. According to her, a complete playthrough might take at least six hours.
Overall, the prologue of Tokyo Dark made a very promising first impression. For those who like the distinctive anime art style and dark stories dealing with topics like insanity, it might be worth checking out this unusual title. It definitely left us curious for more and as of September 7th it is available on PC.
The Inner World: The Last Wind Monk
by Peter Färberböck
Studio Fizbin let us take a look at some scenes of The Inner World: The Last Wind Monk. Early on, we listened to a short narration concerning the previous game. Thus, it is not necessary to play its predecessor, though it might be helpful for better immersion. At the beginning of the sequel, we experienced a series first: the trusty pigeon Hack of the first game is fully controllable! He can interact with the world via pecking/hacking at things or taking items with his claws. We did not even have to exchange items between playable characters because the inventories are fully shared – as long as the characters are in the same area. Alongside the typical point-and-click controls, all established controllers should work with the PC version as well.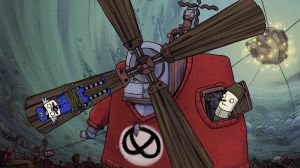 As soon as the characters started to interact, the enhanced animations caught our eye. They are more complex than before and the characters even seem to have some spatial depth this time despite the traditional 2D graphics. The Inner World 2 is definitely a game for classic adventure buffs, focusing on humour and vintage puzzles. Since Hack is able to fly, he can reach things that returning protagonist Robert cannot. For that reason, the puzzles might be a bit more difficult because we always have to keep Hack's abilities in mind.
Concerning the story, the protagonists have to find a kind of "Harmony" to stop the cult worshipping Conroy. That cult is not coincidentally very akin to the Nazi party and adds fictionalized versionss of newer elements like the "alt-right", "Hope not Hate" and the German "PEGIDA" movement. Still, The Last Wind Monk positions itself very knowingly as a family game. If children play, it will be totally up to the parents whether they want to explain the political backdrop. Thanks to the publisher Headup Games, there will be elaborate English and German voice-overs which accentuate the game's lengthy dialogues. The demo hinted that they might even be too long for some adults, let alone children.
The original release date was not met due to new financial possibilities, which allowed the adventure to grow accordingly with some additional languages made possible. However, final launch is close now, as The Inner World 2 will be released soon on PC, PS4 and Xbox One in multiple languages, though no firm date has yet been decided. Later on, it will also be available for mobile devices. The release date may vary for some consoles because of different approval mechanisms and release days set by the console manufacturers.
Unforeseen Incidents
by Peter Färberböck
Since January 2016, Backwoods Entertainment has been working on their first adventure game Unforeseen Incidents. Thanks to their publisher Heidelberg Application Systems, the title has grown quite significantly in that time, and thus some delays were to be expected. But now, finally, the promising project is closing in on a release around October/November. In meeting with Backwoods' artist/animator Matthias Nikutta and musician /sound designer Tristan Berger at gamescom, they assured us that this goal is quite realistic because it is already possible to complete the game.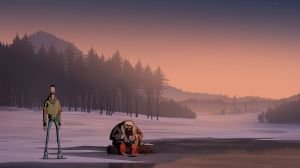 The final spurt may not be completely smooth, however, because the English voice-overs might be delayed briefly. Despite Backwoods being a German studio, the dialogues are written in English first, and then Alasdair Beckett-King (Nelly Cootalot) adapts and hones them afterwards. Hence, they want to ensure that the dialogues feel right. Apart from that, only a few minor things are missing, such as some graphics and final sound mixing. 
The developers are aiming for 8-16 hours of game time, with a more specific range to be determined as soon as the testing phase is finished. However, the four chapters in the game will each take two hours at least. Unforeseen Incidents is set in a huge world, and the team has already skimmed the game for time-sinks such as useless long-distance walking. Thus, they have implemented a quick travel feature to avoid pointless travel times.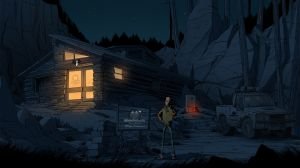 The game always had a very distinct art style which could easily have originated from a graphic novel. Since we last saw it at AdventureX, though, many things have changed and the characters appear to be vivid and three-dimensional despite this being a 2D adventure game. The backgrounds were already rather rich in detail and looked great from the beginning, but now every chapter has a unique setting. The first is set in a national park, while in the second part we explore a rather big city, and after that we'll visit a vast snowscape and a ghost town. Furthermore, two chapters will take place in twilight, whereas one chapter will be set in the morning. The fourth chapter will be a surprise and should not be spoiled unnecessarily.
The game is focused on researching the virus which ravages the world. The protagonist Harper Pendrell will do some investigating to obtain information on the virus and new locations. After that, he will visit those new locations and the story unfolds. Players have to help him find evidence and deduce what is behind the virus. Unforeseen Incidents is going to be a rather classical adventure game with many puzzles. However, these will not get too weird but rather stay logical and fitting. A good example is Harper's multitool. As an electronics buff and handyman, he capably repairs various things with this gadget, which consists of seven different tools. Aside from these logical and realistic puzzles, dialogues will be another source of further evidence.
The skilled adventure gamer may be taken aback by the mention of one-click controls, but this does not mean that it is a simple game. The aim is for a moderate difficulty, with veteran genre fans representing the target audience. To avoid frustration, the developers have created a rather subtle help system. Just talk to different characters and most of the time they will have a useful comment for the current puzzle.
As the game is nearly finished, there is one question left: What is next for Backwoods Entertainment? Well, they still do not know. They have many intriguing ideas but have not decided yet. Fortunately, they want to stick to their principles and will most likely do another adventure game.

Another Lost Phone: Laura's Story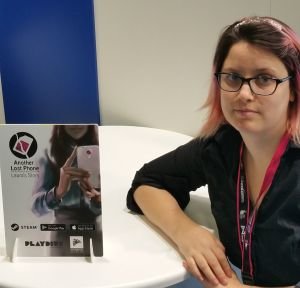 Accidental Queens' Elizabeth Maler
 
by Ingmar Böke
At the French pavilion, I had the chance to meet Accidental Queens designer and co-founder Elizabeth Maler, who presented Another Lost Phone: Laura's Story, the spiritual successor to 2016's A Normal Lost Phone. The new game uses the same way of telling its emotional story: A smartphone of a missing person "randomly" ends up in the hands of the player, and the story of its former owner must now be unraveled by investigating the traces left on the phone – in particular by reading text messages and e-mails, logging into personal online accounts or viewing private pictures. While A Lost Phone was centered around the personal struggles of a teenager named Sam, Laura's Story introduces us to the eponymous young woman who is dealing with her own kind of struggles in life. The two games are connected neither in terms of their plot nor their characters. Also, unlike its spiritual predecessor, Another Lost Phone is not going to pick up on themes related to the LGBTQ community. Instead, the French developers have decided to focus on another contemporary daily-life topic that Maler didn't want to spoil.
As Elizabeth passed me her smartphone, I was able to have a closer look at a demo that lasted around 15 minutes. Those who have played the last game should feel at home right away as the interface and operation of both titles are pretty much identical. You're still looking at the display of a fictional phone, and still use its different functions to unfold the plot. Step by step, you'll unravel new information, and sometimes also unlock secured areas of the phone. If, for instance, you're in need of a password, you might find a hint somewhere that tells you that Laura likes to create a certain kind of password by using a defining date in her life. Knowing this, the available content should be checked for an event that could qualify as such a date. Once you're able to find that hint within the context of a private message, you would open Laura's mobile calendar to figure out the exact date of the event. Ideally, when you find the correct password, you will proudly feel like a real investigator for a moment.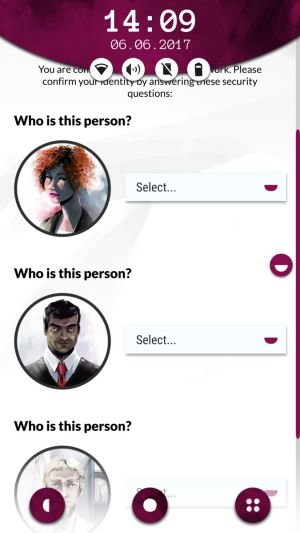 Even though it tells a fictional story, not everyone might feel comfortable with the idea of spying on somebody else's phone. If you can get past that reservation, however, players will get to know Laura and her circumstances in a very intimate way. The demo brought back one of the biggest strengths of the original game, in that the characters still feel like they could be taken from real-life, and the empathy of the writers seems omnipresent. Just like A Lost Phone did, the preview motivated me by revealing new insights gradually, never making me run out of questions I wanted answers to. Another Lost Phone also stays true to its origins with its indie-rock soundtrack and hand-drawn visuals creating a feeling of melancholy. During the presentation, Elizabeth told me that Another Lost Phone is already nearing the end of its development process. The game is planned to be released this fall for PC, iOS, and Android.
I can't tell whether Another Lost Phone will be as successful in using its spiritual predecessor's framework another time without losing some of its emotional impact at some point. However, the demo contained all the strengths of the first game, so fans of A Lost Phone or players who like the underlying concept should keep an eye out for the release of Another Lost Phone.
The Season of the Warlock
by Matthias Glanznig
We have seen The Season of the Warlock from enComplot in several stages of development since 2014, when it was still called The Weird Story of Waldemar the Warlock. Already back then, this point-and-click horror adventure game had a distinct art style with beautiful 2D backgrounds, but it has undergone some impressive improvements since then. It is heavily inspired by old horror films, especially those from Hammer Film Productions.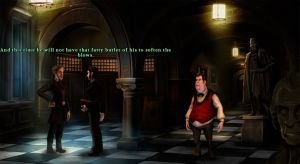 The year is 1841. The Victorian aristocrat Lord Alistair Ainsworth is holding a lecture on the influence of magic throughout history. According to him, a warlock named Waldemar Grobec was protecting mages, alchemists, and necromancers in the dark age. He was then betrayed and burnt to death. Unfortunately, Ainsworth earns nothing but scorn and derision for his lecture. He decides to do some field research on his own, starting in Grobec's old castle. When a picture of the warlock suddenly starts talking to him, he is forced to choose whether he wants to help or prefers to get rid of the powerful sorcerer. Depending on how you decide in this situation, there will be two paths to play this story with completely different puzzles to solve.
About a year ago, The Season of the Warlock was aiming for a release in 2017. However, adventure fans will have to wait a bit longer and according to Javier Cadenas from enComplot, next year is more realistic. The reason for this delay is quite obvious: Most character models and animations have been reworked in the past few months. From what we saw during the presentation, 2D animations do already feel significantly more fluent and richer in variety compared to previous versions of the game. Judging from the examples we saw, characters and backgrounds are also a better fit. We were positively surprised by the huge amount of different animations some characters had during conversations, making the whole experience a lot more dynamic.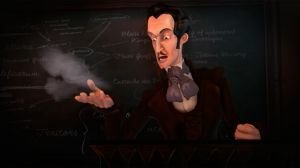 Taking into account the small size of the team and the failed Kickstarter attempt a while ago, it's not surprising that this ambitious indie project from Spain has taken several years. We have only seen bits of it, but it is clear that Javier is a fan of traditional adventure games who wants to do justice to the genre. English voice-overs can be expected, with subtitles in English, French, Italian, German, and Spanish. It's still a bit too early to say much about the quality of the storytelling or the puzzles, but overall, The Season of the Warlock appears to be well on the way.
Jennifer Wilde
by Matthias Glanznig
In our appointment with Stephen Downey from Outsider Games, we learned more about their 2D comic adventure Jennifer Wilde and its upcoming Kickstarter campaign. Downey also mentioned an update with improved audio files for their first adventure game, Wailing Heights, which have been recorded and are ready to go, expected to be released shortly.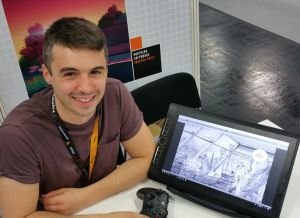 Outsider Games' Stephen Downey
Jennifer Wilde is based on a black-and-white comic series that was released between 2011 – 2013. At the start of the Jazz Age in Paris in 1921, the young French artist Jennifer Chevalier is investigating the death of her father. Her sidekick is the ghost of Irish playwright Oscar Wilde, who once had an affair with her father. Jennifer has the ability to talk to ghosts and both characters will be playable.
Those of you familiar with Wailing Heights should have a good idea of what to expect from the visual style, except, of course, the lack of color this time around. While the gameplay is inspired by traditional point-and-click adventure games, the unusual inventory looks like a comic book. Whenever the female protagonist discovers a new clue, she sketches illustrated notes in her book. These can be studied, rearranged and combined into a comic book-style story, leading to insights which might prove useful for further conversations.
At the moment, a Kickstarter for Jennifer Wilde is aiming to begin on September 19th and can be supported via Thunderclap.
The Almost Gone
by Matthias Glanznig
Happy Volcano's The Almost Gone is an isometric point-and-click adventure game written by Joost Vandecasteele. It is a story about a girl who wakes up in some sort of limbo after dying. From now on she must try to help others pass through to the other side, who died at same moment as herself. But in order to do so, she must understand what happened to her. The small indie studio from Belgium is aiming for a dark story that also deals with topics like child abuse and suicide. We had the opportunity to try out the first level.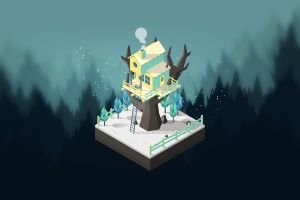 In The Almost Gone there are no other characters and no voice-overs, just inner monologues you have to read in order to fully comprehend the story. Gameplay-wise, the mechanics appear to be closely connected to the isometric design of the environments, and the visual style is reminiscent of games like Monument Valley. At first, there is only a single-room tile and some parts of it are not visible. However, it is possible to rotate this tile to see the room from different perspectives, which of course can make other objects or even doors appear.
At the touch of a button, the young female protagonist is able to interact with objects and open doors to explore further parts of the surreal environment. Sometimes a hidden key is required or there is a small puzzle to solve. Judging from the first few minutes, exploration and narration appear to be at the center of the experience. Happy Volcano is working on adding small player choices, but for the most part this is supposed to be a linear experience. The developers estimate that it will take around three hours to complete the whole game.
The Almost Gone is expected to launch on PC in summer 2018, and will be localized in several languages, including English and German. They are also considering releasing a short demo beforehand. It was mentioned during the presentation that the game recently received support from the Dutch Literary Fund but the team is still looking for a publisher.