Review for Duke Grabowski: Mighty Swashbuckler!
Game information
Advertisement
Adventure games by Venture Moon Industries
ADVENTURE GAME BOOKS
A pirate ship limps into Bodacious Bay minus her captain, who drowned after an encounter with a bewitching mermaid. Who will replace him? The buccaneers throw their swords onto the deck, signifying a desire to take up leadership. One sword is twice the size of the others – that of Duke Grabowski, who is almost twice the size of his fellow corsairs. A man of few words, many muscles, and abrupt impulses, he becomes the unlikely hero in Duke Grabowski: Mighty Swashbuckler!. This lusciously-hued adventure by Biller Tiller, Gene Mocsy and co. is set in the same Azurbbean (Caribbean-esque) universe as Autumn Moon's 2010 offering Ghost Pirates of Vooju Island. Unlike its lumbering hero, this adventure is short, but it's only the first episode in an ongoing saga full of comedic dialog, droll characters, and (so far) not-too-strenuous puzzles.
Duke's quest in this opening chapter is to convince his shipmates of his worthiness as a potential captain. Slewface (a quick-thinking fellow pirate) has convinced Duke that to become captain he must prove himself a swashbuckler, defined here as a suave ladies' man, capable of winning the affections of three different women. Since he has always been gawky in the presence of females, this is a task our hero takes up reluctantly but stoically – in the same spirit as he would trek to the ends of the earth, or fight a horde of Ogu Raiders. Slewface and the rest of the crew hope that he will fail, allowing them time to repair the ship and sneak out of port while he's busy embarrassing himself.
As you'd expect from the artist behind The Curse of Monkey Island, Duke Grabowski's 2D environments are hand-painted and sumptuous. They feature tropical flowers and foliage, crooked red roofs atop stone towers, and swirling, curlicue clouds. Buildings and galleons sport piratical motifs – skulls, anchors, and ship's wheels. Wanted posters with sketches of the game's Kickstarter backers are plastered all over the walls of the jail. It's a treat to wander these vivid, detailed locales, though they are rather limited in number.
The characters are a quirky bunch, from Queenie the man-wrestling gorilla to the cannon-fodder zombies, the corrupt governor decked out in a frock coat, and the Vooju gods slumming it on the local pier. One highlight is the frequent vocal interaction, some of it in dialog trees and much of it snappy and smile-inducing. Voice-overs are excellent, from the "arrgh-ish" pirate voices to Lady Aziza's aristocratic accent and Duke's deep, gruff, hoary tones. There's just one exception. The lamest dialogs (and oddest voice-overs) occur in the cameo section where well-known adventure game developers pose as retired pirates. This sequence comes off as both amusing and profoundly silly (which I'm assuming was the intention).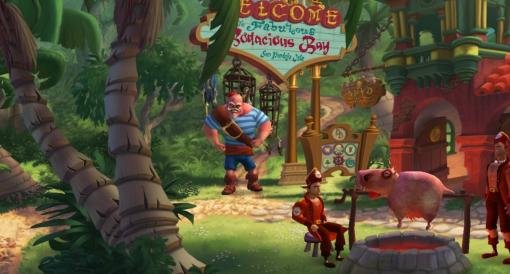 The game's three missions (each taking about an hour) embroil Duke in the concerns of various taskmistresses, including Captain Jane Starling, the dashing spy from Ghost Pirates. All puzzles require mucking about in the inventory, which takes the form of a pirate chest where items are stored. Also, after interacting with characters who offer their skills or expertise, portraits appear in the inventory which allow you to call upon their respective abilities when needed. Matching each object or skillset to its handiest purpose is reasonably (if sometimes comically) logical. I was rarely stuck in this episode. Since introducing the characters and story are vital at this stage, I found the lack of stultifying difficult puzzles to be refreshing. I expect the overall difficulty will ramp up somewhat in later episodes.
Brief 3D cutscenes display Duke's fighting skills and physical prowess. He walks with a burly lurch that suits his gigantic physique and makes him look always out of place, particularly when compared to Jane Starling's nimbleness or the sinuous dancers in the Gnarly Narwhal pub. The background music is reminiscent of that in Ghost Pirates, with a jazzy version of the drunken pirate ditty, as well as a variant using somber strings. Bright calypso steel drums and perky accordion music further embellish the sultry scenery.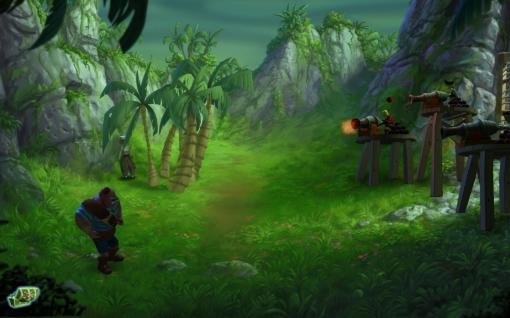 Duke Grabowski is played from a third-person perspective and uses a point-and-click interface. Left-clicking an interactive object or person brings up a brass emblem whose icons allow you to examine, use, or talk to/eat something or someone. Many of the non-obvious combinations are entertaining and nearly all are unique. Pressing the "Tab" key reveals all hotspots, clicking through dialog allows you to skip individual lines, and double-clicking the bony navigational cursor takes you immediately to the next screen. It's possible to manually save your game, in addition to the autosave feature.
The first episode ends as Duke hopes to parade his swashbuckler bona fides before his reluctant crew. While he still isn't the model of a modern suave adventurer, he has gained in empathy and learned to help those in need of his strong arms and willing heart. Duke Grabowski: Mighty Swashbuckler! gets the series off to a splashy, engagingly whimsical start. I'm eager to see more outlandish locales and confront (or cooperate with) more wisecracking characters. I'm convinced that Duke's adventures in later episodes will further develop his crusty personality, broaden his Azurbbean horizons, and provide him with treasure chests full of cockeyed challenges.
WHERE CAN I DOWNLOAD
Duke Grabowski
Duke Grabowski is available at: