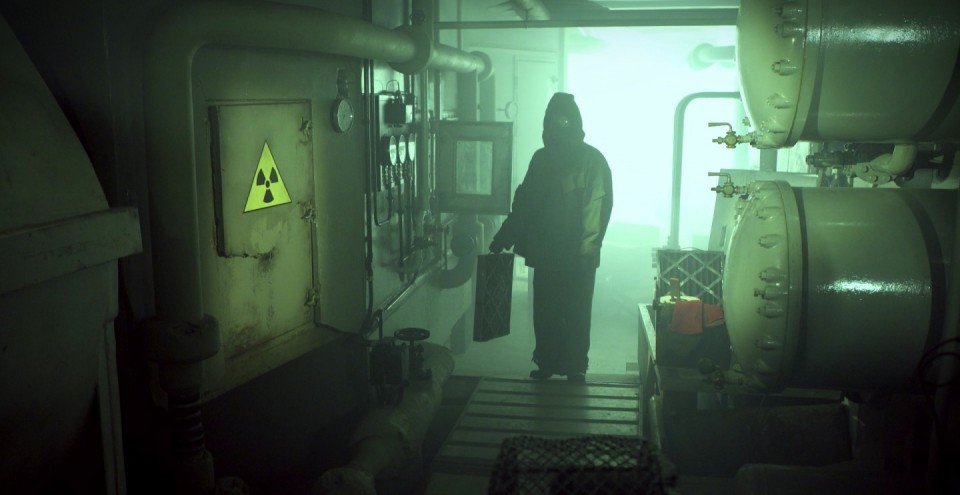 Game information
Advertisement
Adventure games by Splendy Games
BITMAP BOOKS
The quest for a more immersive experience has led to some rather interesting trends in gaming history. One such trend is the full motion video approach, in which action is portrayed using live actors on a physical soundstage or superimposed upon digital backdrops. The promise, of course, is that the player will be drawn into the story by watching real people rather than digital characters, which in the FMV heyday of the 1990s were more likely to be angular sprites than realistic renders. However, this potential for immersion was more often than not broken by hammy melodrama and actors badly incorporated into blocky digital scenes.
Horror-themed interactive film The Bunker, a co-production of British developers Splendy Games and Wales Interactive with a design team pedigree that includes the likes of Broken Sword, SOMA, and The Witcher, promises many of the same things as the FMV games of old, but without any added digital effects. However, while the brief 1-2 hour game avoids the typical pitfalls of overacting for the most part, a few instances still manage to mar the experience, while the near-complete lack of puzzles or any significant player agency wastes the opportunity for a fully-rounded interactive experience to go with its otherwise enjoyable story.
The game takes place in an alternate-history, late 20th century Britain, in which the Cold War turned hot and the government was forced to go underground to continue operations while the world above was completely destroyed. The story focuses on a man known only as "John" (played by The Hobbit's Adam Brown), who has spent his entire life in the eponymous bunker with his mother, Margaret (Penny Dreadful's Sarah Greene), who dies shortly after the game begins. With her death, John becomes the shelter's final survivor, left alone to continue his daily routine, until he discovers rising radiation and a malfunction in the life support system that forces him to venture into areas of the bunker that have always been off-limits to him in order to fix the problem and survive.
The Bunker bills itself as a straightforward horror game, but at best such elements are mild, with a few late-game jumpscares to meet the requirement. It's far more accurate to call this a psychological thriller, as the story deals at least in part with the mental horrors of having lived in a claustrophobic bomb shelter from birth, and the events that have shaped the protagonist's life. For instance, John's "friends" are plaster dolls bearing the names of people he once knew, his favorite being his "Mum," which he carries around with him after she dies. These little details help make the story quite creepy at times, though it struggles to recapture the impact of its early moments as the game shifts focus to survival later on.
When I heard about The Bunker, I had high hopes that the developers would marry a good game with the film-style presentation, but it's almost as if they skipped over the game part altogether, instead substituting mouse-driven interactivity for actual gameplay. In case you're wondering (and why wouldn't you be?), there are no puzzles to solve, although I suppose two very simple tasks could charitably be defined as such. The Bunker leans so far in the direction of being an interactive film that it squanders any potential it might have had as an actual game, which is both surprising and a damned shame, because the all-film presentation and real-world setting could have made for some impressive puzzling.
Looping still shots are used when the player is presented with an interactive scene such as a medicine cabinet or a wide-angle view of a room, where you can click on hotspots to open doors or interact with items. Once an action is performed, the "film" resumes, showing John carrying out the selected action. Sometimes you must slide a control from one side of the screen to the other in order to perform a lengthy action like turning a handle, or click repeatedly in order to simulate a strenuous action such as pushing something across the floor or forcing a door open.
A few Quick Time Events crop up from time to time, usually during flashbacks, when John is about to hear a revealing conversation in an area he shouldn't be in. Signified by a pulsating icon that suddenly appears in the middle of the screen, successful activation of the QTE allows the protagonist to remain hidden and reveal more about the backstory, while failure results in his discovery and an end to the overheard conversation. These sequences are particularly frustrating because they seem to happen right when you least expect them. It wouldn't be such a problem if you keep your hand on the mouse at all times, but with so much time spent watching The Bunker rather than playing, this was just an extra task for me to have to remember, and a seemingly pointless one at that, since there's no real reason to withhold the information in the first place.
Clicking on items like computers and documents allows you to interact with them via a close-up of the screen or, in the case of documents, a narrated transcript of their contents. Much like the flashbacks, these optional discoveries help to flesh out the backstory, and accessing all of them unlocks various achievements. John's carved dolls are the subject of a collection task, in which they are hidden around various scenes, but this is also optional.
The Bunker's save system leaves something to be desired, unfortunately. The good news is that the auto-save mechanism keeps your progress up to date at all times, preventing any loss at all if you quit the game. The lack of multiple save points is an issue, however, especially if you miss a QTE and want to go back and try again. This also makes the game's two endings impossible to see without completely starting over. Which outcome you receive is based on a single choice at the end, and the difference between them is incredibly minimal, so whether you want to go back through the game depends on whether you enjoyed the story or presentation enough to spend another hour or two playing through it again. In my case, instead of playing the game twice through, I simply found a recording of the other ending online and watched that.
The story is enjoyable and appropriately twisty, but it simply unfolds as you shuttle John from one area to another. There are often multiple points of navigation in a single room, and a few places allow you to zoom in on wall maps and other similar items, but nothing that could truly be called "exploration." Telltale's games counter this issue by at least encouraging players to "own" the choices made along the way, but The Bunker doesn't even provide you with any major decisions to make except for one particular moment. There aren't even any dialogue options, branching or otherwise. Backstory-filling flashbacks are triggered at various times, such as entering a new location or by completing tasks, but aside from the potential for a failed QTE to deprive you of some revealing bit of information, there are no decisions required during these sequences, either.
Being an interactive film, The Bunker looks like…well, a film. If it weren't for the interactive scenes and onscreen icons indicating where you can click, the high-definition visuals would be indistinguishable from modest-budget TV productions. The third-person perspective allows for camerawork that will be familiar to anyone who's ever seen a movie.
Filmed entirely on location in Essex, England at the now-decommissioned Kelvedon Hatch Secret Nuclear Bunker, the game purportedly avoids the use of green-screens and digital effects entirely. This goes a long, long way in avoiding the cheesiness plaguing other FMV titles that make do with badly-edited effects and actors superimposed on digital backdrops. However, practical effects don't help if the acting is lackluster, and unfortunately some cringe-worthy moments do appear throughout the game. Overall, it's not nearly as bad as it could have been (and often has been, given the genre's history), but Adam Brown's performance is particularly uneven.
On one hand, he more or less convincingly portrays an emotionally stunted, maternally-dependent man who is totally unprepared for the challenges he faces alone. On the other hand, his more "dramatic" performances are rife with unintended comedy. One medical scene in particular should have been excruciatingly uncomfortable to watch, but is rendered ineffective by Brown's spittle-blasting melodrama. The other members of the cast, particularly Greene in her flashback performance as Margaret, are actually very strong in their roles, enhancing the suspense and preventing the game from further falling victim to the same acting issues we've encountered so often before.
The "neo-retro" soundtrack is enjoyable, with pulsing synthesizer-based tunes interspersed with cinematic orchestral music, though none of the tracks are especially memorable. Sound effects, however, are excellent, and I was impressed by the realism of this aspect of the game. Computers whir to life, papers crumple and door handles squeak when you open them, exactly as you would expect them to in reality.
Overall, The Bunker is a very intriguing idea that simply doesn't live up to its own potential. I love the film-style presentation and the twisting storyline, but there's basically no game here. The lack of puzzles, dialogue options, or meaningful choices essentially eliminates any chance The Bunker had of becoming a new breed of full motion video adventure, instead dragging the worst parts of 1990s FMV games into the 21st century. It mostly avoids the damning pitfalls of melodrama, but not entirely. Thankfully, the music is enjoyable (though not outstanding) and the sound effects are immersive and realistic. So whether you are likely to find the brief two-hour experience flawed but interesting or a disappointing experiment probably depends on how you feel about FMV games in general. If a live-action interactive film with higher-than-usual production values and a fairly enjoyable plot intrigues you, The Bunker is probably worth your time. Otherwise, there's nothing here that will convince you that modern FMV games are anything more than a blast from the past.
Our Verdict:
The story is interesting and production values are high from a visual standpoint, but an almost total lack of anything resembling gameplay, coupled with moments of melodrama means The Bunker is as polarizing an FMV experience as its 1990s kin. It's not bad, but this isn't going to sell you on the concept, either.

review
Other articles you might enjoy