Following Freeware - August 2016 releases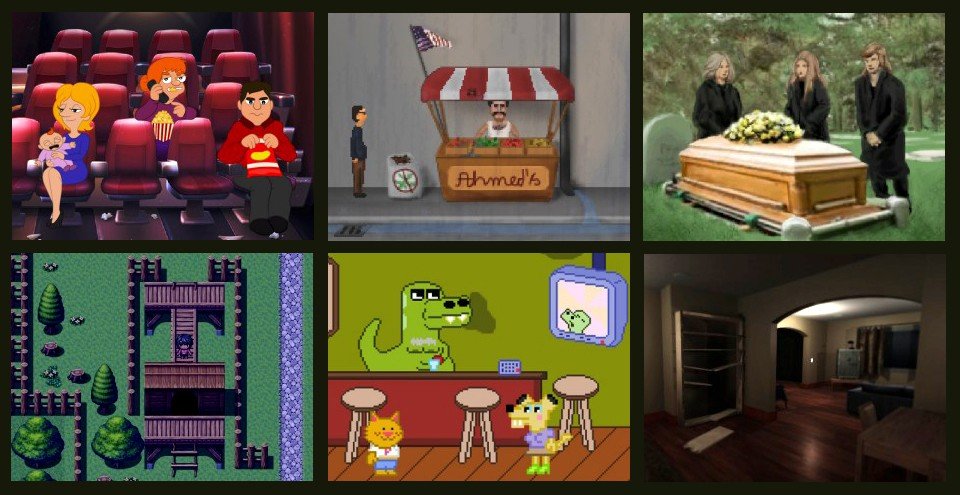 Last month was a light one for new free adventures, which hopefully means most indie developers were on vacation or out enjoying the lovely summer weather instead of hunched over keyboards inside. But the question is never how many, just how good, and there's no shortage of quality in August's small handful of selections. You can try to try to inspire others with news of your latest masterpiece, make an omelette without pussyfooting around, or try to shut up an obnoxious theater audience (and who hasn't wanted to to THAT?). All these await you in this month's round-up of releases from the freeware scene.

---

Nobody Cares
After two years of writing, Francis Weinger's new book is finally finished and he excitedly tells everyone he meets about his achievement. It's the best book he has ever written – his true masterpiece! Unfortunately, the people around him aren't very interested in what Francis has to say, so he has a hard time convincing them that he has really made something big this time.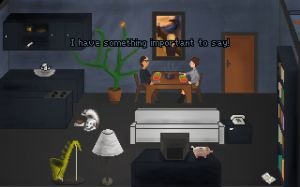 One of those gems that pop up every now and again, xBRANEx's Nobody Cares is presented with jagged pixel art in third-person view. Despite the low resolution, there is quite a bit of detail on display. Beyond Francis's home, the game broadens into a street, the neighborhood square, and the house of his ex-girlfriend. Beautiful but slightly repetitive music accompanies the action. You can't switch it off but after a while the music stops by itself, starting again at certain points in the game. There are hardly any other sounds apart from a few well-chosen simple effects, like the hissing of hard rain, the clicking of keys on a phone and other such small touches. In lieu of voices, all spoken dialogue and Francis's thoughts are displayed as text.
The game is played with the mouse, with Francis walking where you click. Right-clicking a hotspot (indicated by a description appearing at the bottom of the screen) makes Francis comment on it or causes a close-up of the object to appear, and left-clicking lets him interact with it. The inventory, together with buttons for loading, saving and exiting the game, appears when you move the cursor to the top of the screen. There are only three puzzles to speak of, all of them inventory-based, but the rest of the adventure is made with great care and eye for detail. Thoroughly examining all the non-essential stuff Francis has in his house tells the tale of his life and how he got to where he is now. The way he chooses his words and the ideas he has give him a distinctive character as well. That is pretty hard to achieve in such a short game, but in my opinion xBRANEx has succeeded admirably. Just play this game.
Nobody Cares can be downloaded from the AGS website.
Pound the Puss
Pound, a young pussycat, has to make an omelette for his mother. The task seems simple, but it's going to require frying his friend the piglet, getting a hen and rooster to have sex, and sneaking into an adult bar to make it happen.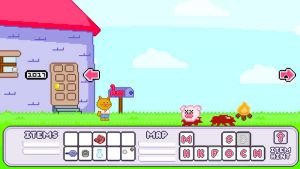 Pound the Puss, by Orange Pylon, is shown using highly pixelated art in third-person view. The backgrounds are drawn in a simple yet neat style with enough detail to recognize all objects. Despite the cartoony nature of the graphics, some of the objects visible in this game are not suitable for young eyes! However, the characters all being animals takes the edge off the adult parts and makes the game quite funny. The setting is rather large for such a small game, comprising Ma's bedroom, the kitchen, front yard, a space shuttle, the adult bar and a spot under a tree. The gameplay is accompanied by cheerful and often fitting music, the tune depending on the situation. There is no voice acting but every creature makes a brief characteristic sound when they begin to say something: the cats meow, the chickens chuckle, the pig snorts, etc. These sounds are accompanied by text that appears in a balloon at the top of the screen.
Only the left mouse button is needed to play. The inventory is visible at the bottom of the screen, together with buttons for traveling quickly to each location in the game (provided you have been there already and have access to them), plus another that gives you information about inventory items when you 'use' them on it. The puzzles are mostly inventory-based and some of them are quite ingeniously thought-out without ever becoming too hard, making Pound the Puss a fun game to play. The sounds and texts are very suitably chosen for the different situations, some of which are quite hilarious. A few cutscenes show key events in detail, some of them unmentionable. Not all of these are risqué in nature, however, and although this game has quite a few adult elements in it, they are intended to be amusing rather than really shocking, with most of the 'action' happening off screen.
Pound the Puss can be played online on Newgrounds.
Cinema Madness
In Carmel Games' latest adventure about Crazy Dad, we find our hero in the cinema trying to watch a movie. However, the rest of the audience is making so much noise that it's impossible to focus! To silence the audience, Crazy Dad has to crack a safe, give someone a drink and unclog a sink.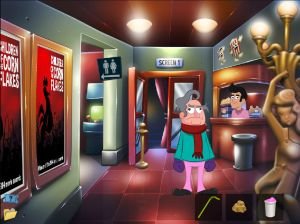 As usual in Carmel's games, Cinema Madness is shown in third-person view with beautifully drawn art that contains almost no straight or parallel lines. Almost everything in the game world, including the theater's auditorium, lobby, toilets and a storage room, is in some way crooked or otherwise out of shape, adding to the overall sense of wackiness. In contrast to other Crazy Dad games, our hero is rather static this time; not even his eyes move and he just stands in the same posture on every screen. The voice acting is excellent, of course, and all texts are shown in a black bar at the top of the screen in one of seven languages you can choose from at the beginning of the game. The background music is a cheerful tune played using brass instruments. There aren't many sound effects but the ones that are heard, such as a rather loud bang, the sound of soap coming from a dispenser and someone drinking through a straw, are adequate.
The interface is the same as in all recent Carmel titles: the action is controlled with the mouse, of which only the left button is used. The inventory is in the lower right part of the screen; in the lower left corner are buttons that take you to a walkthrough and the game's menu. The puzzles are all inventory-based and not very hard, but the solutions to Crazy Dad's problems are often surprising and funny. You cannot save your game, but since it should take you only 15 minutes to finish, that is not a problem. All of this makes Cinema Madness a short but fun distraction when you need a little break.
Cinema Madness can be played online at Kongregate.

---

Other new releases
Not all games are created equal, and freeware games especially come in all shapes and sizes. Not to be overlooked, the following list might also be of interest, though these games may be significantly shorter or less polished, more experimental titles than those detailed above, some perhaps only borderline adventures to begin with.
Fear S∮ciety by ZeroDigitZ – Some strange and violent things happen in the life of a delusional woman.
Marko Sharko: Stolen Necklace by selfdefiant – Return the stolen necklace in the shark detective's second adventure.
Minds Eyes by Stanislaw Truchowski – Waking up in a strange house, you thought you'd been abandoned there. You'll soon wish you had been in this horror game with significant action elements.
Waiting for the Loop by Reis Mahnic – In a secret underground lab, an artificial intelligence relives the past events that brought it to sentience.
The House Abandon by No Code – Firing up an old computer to play a text adventure may give you more than you bargained for in this unnerving horror tale.

---
That's it for this month. Think we've missed a gem or want to tell us about your own game? Then pop in to our Adventure forum and tell us about it!
Referenced Adventure Games
freeware feature
Other articles you might enjoy