Gamescom 2016 round-up: Part 1
Events Coverage
Reporting from E3, GDC, AdventureX, Gamescom and other gaming events around the world
According to official numbers, 345,000 visitors from 97 countries visited gamescom this year in Cologne, Germany. Since adventure games play a very minor role in the crowded public area, I was mostly able to dodge the enormous mass of gamers, some of whom stood in line for hours to play demos of upcoming AAA titles. The business area was not only the place to go for those who like things (comparably) calm and manageable, it was also where you wanted to be to learn all about upcoming adventure games. Looking back on this year's busy schedule, I encountered some very positive surprises, including a variety of different approaches to adventure gaming. As our multi-part gamescom coverage over the next few weeks will demonstrate, there is something on the horizon for every adventure gamer's personal preferences.
 
---

Yesterday Origins
My appointment for Pendulo Studios' Yesterday Origins consisted of two different segments. First I joined a 10-minute presentation held by Microïds' Cédrine Decoret, who talked about the overall concept of Origins. Secondly, I was given the chance to play a press demo entirely on my own. According to Cédrine, Yesterday Origins works as a sequel to 2012's black-humored horror adventure Yesterday for approximately two-thirds of the game, and a prequel for the other one-third. He added that it's not necessary to have played its predecessor as Origins  imparts everything newcomers need to know about previous events. In case you're still planning to play the original game, I suggest skipping the following paragraph as the plot premise of Yesterday Origins contains unavoidably massive spoilers of its forerunner.
SPOILER WARNING FOR YESTERDAY  At first sight, antiquities shop owners John Yesterday and Pauline Petit seem like an ordinary couple, leading a normal life in Paris. Truth is, John and Pauline became immortal during an alchemistic ritual that took place more than 500 years ago during the time of the Spanish Inquisition. Whenever one of them "dies", they just return to life. Since John's potion in the ritual was tainted, though, each time he rises from the dead he loses his memory. As the protagonists find out, an old coin could help John to repeat the ritual correctly so he would never have to lose his memory again. Unfortunately, it turns out that the heroes of Yesterday Origins aren't the only ones searching for this powerful artifact. In trying to save John's memories and prevent the forces of evil from obtaining the secret of immortality, a gruesome journey begins that takes Petit and Yesterday around the world and through different time periods. END OF SPOILERS
While Cédrine summarized the story of Origins, he showed several screenshots and short videos that conveyed the mature nature of the content. Since I knew the German publisher expects an 18 years + rating for the game, I asked about other markets. "I think it will also receive the strictest rating in each other country, even though the submission is not completed," Decoret replied. "We'll have a definite answer soon, but it is very likely as the game deals with themes like torture, suicide and occultism."
The press demo involved John needing to escape his dungeon imprisonment with a carnivorous pig at the hands of the Inquisition. As this turned out to be the same as the one shown at E3, there isn't much new to report about the gameplay, except that it can be played with a controller or the mouse. Yesterday Origins is being promoted as "the first 3D game ever by Pendulo", which may concern some people who think they're abandoning their more traditional approach, but I was impressed to see that the developers found a way of doing a 3D game that captures the distinctive look of previous efforts. And just as in the last game, animated comic sequences are used to unfold important parts of the story.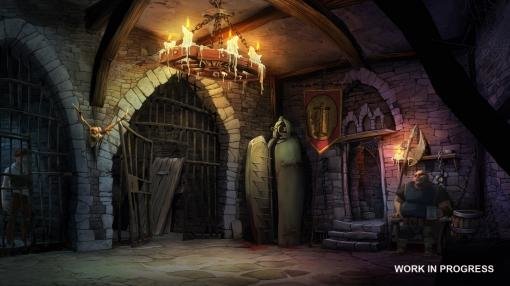 While the planned release date has been slightly postponed, Pendulo fans won't have to wait for much longer. The game is now scheduled for release on the 13th of October on PS4, Xbox One, Windows, and Mac. Based on what I have seen, I predict that John Yesterday's new adventure is not going to win any awards for its subtlety. Nevertheless, it looks to be an atmospheric horror adventure with some very clever gameplay ideas and strong visuals. If it can continue to match its impressive style with solid puzzles and a clever story, the future looks bright for Yesterday Origins.
The Inner World 2: The Last Windmonk
Just before gamescom, Studio Fizbin announced that they are currently working on a sequel to their charming debut adventure The Inner World. Needless to say, I was eager to meet game director Sebastian Mittag and Gregor Ebert, PR manager of German publisher HeadUp Games. Before we started talking about The Inner World 2, though, Gregor and Sebastian told me about its predecessor being scheduled for a PS4 and Xbox One release at the end of this year. Not wasting any time, a demo version was started and I was able to get a hands-on glimpse at the Xbox version of the original adventure.
Being only familiar with the PC version and its traditional point-and-click approach, it took me a few minutes to get used to directly controlling the character. However, quite quickly I found that the new controls suited the game well, and even felt more organic and intuitive to me than they did in the PC release. Asked if there are going to be any other differences in the upcoming ports, Sebastian and Gregor said they are otherwise identical before perfectly transitioning into The Inner World 2: The Last Windmonk: "It's perfect training for us in terms of developing for consoles. Surely, the sequel is going to benefit from our experiences".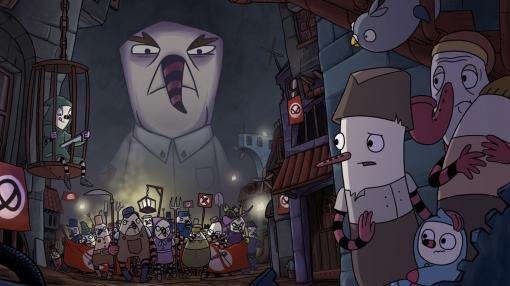 Even though Gregor and Sebastian were not presenting a demo version, they showed me the announcement teaser of their newest adventure, and discussed The Last Windmonk for several minutes. According to them, the sequel is going to make perfect sense even for those who haven't played the first game. Once again entirely hand-drawn, The Inner World 2 is going to send players back to the fantasy realm Asposia, giving us a chance to discover a variety of new locations. Taking place three years after the end of the first game, we find Asposia close to its demise. While the flute nose dynasty has been filling the "roly-poly world" with light and life for centuries, Emil, a ruthless trader of odds and ends, has convinced the Asposians that the family secretly conspires with the powers of evil. Now it's up to the three reluctant heroes Robert, Laura, and Peck to stop Emil and his henchmen.
While Robert and Laura were already playable characters in the previous game, fan-favorite Peck – a flightless pigeon – now can be operated as well. There will be other differences too, as I was told that the upcoming title is going to contain shorter dialogues than the original game as well as more elaborate animations and "hours of brainteasing fun". In case you don't like the idea of direct control, the PC version is going to give you the type of point-and-click interface you already know so well. Apparently the game also contains some socio-critical elements, as Emil and his followers share obvious similarities with Hitler and the NSDAP. 
According to Gregor Ebert, The Inner World 2: The Last Windmonk is scheduled to be released for Windows, Mac, PS4 and Xbox One as well as Android and iOS platforms in the middle of 2017. Studio Fizbin has proven their qualities before, and even though I haven't seen any of the sequel's design in action, there are lots of reasons to look forward to the upcoming return (or first visit) to Asposia.

Outreach
Outreach, developed by English developer Pixelspill, first caught my attention in early August with the release of an impressive live-action trailer entitled "Aftermath". The film sequence takes place in Russia in 1996, and shows former flight-controller Radomir Volkov being interviewed about Operation Outreach, a mysterious space mission that took place ten years earlier. While this video clip will not be making an appearance in the game itself, the trailer certainly made me want to find out more about the events from 1986.
When I met producer/co-founder James Booth and PR manager Christopher Bingham at gamescom, I was told that the game centers on the history and conspiracy theories of the Cold War. "We spent three months in early 2015 in pre-production, where the whole team went through historical reference images, news articles, drawings and schematics" James explained. "We even read through history books such as Politics & Society in the USSR, by David Lane, to better understand the mindset of Russian people at the time. Authenticity is important to us narratively, as well as the accuracy of the station environments. We really want it to feel like you are aboard a Soviet space station."
Outreach sends players to a space station that has lost contact with ground control, tasking us with finding out what happened to the crew. Instead of focusing on traditional adventure game puzzles, Outreach wants players to solve "emotional puzzles". By discovering diaries, audio recordings, letters, etc., we will find out more about the crew members, get an understanding of their ways of thinking, and piece together the events that occurred. "Naturally Gone Home and Firewatch both influenced the way that narrative is conveyed to the audience," James added while Christopher started the demo. "LA Noire also inspired aspects of the discovery and detective work found throughout the game." However, since Pixelspill does not want the crew members to be total strangers when you start investigating them, the game's prologue takes place during the original mission.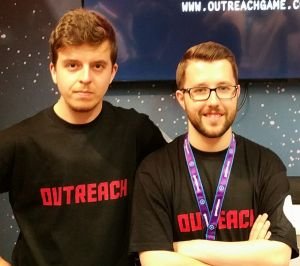 Pixelspill's Christopher Bingham and James Booth
 
In the short presentation of this first-person adventure created using the Unreal Engine 4 engine, the developers primarily introduced me to movement in a zero-gravity environment. This is an important aspect of the game both in- and outside of the space station. While the majority of the game is set on the station, I observed Christopher going on a spacewalk in full 3D. Using the hands and feet of the protagonist for propulsion, Bingham pushed off from surfaces, grabbing hand rails that started glowing when the character got close enough to reach them. As the controller ended up in my hands, I was able to get an impression of zero-G myself, trying to reach a certain part of the station's hull. Playing the game for the first time, I lacked sufficient coordination and my missteps killed the character several times. This wasn't a big issue, though, as the game always re-started the spacewalk sequence, and I got a better after a few attempts. Asked for his suggested playing device, James told me that "the game can be played with both keyboard/mouse and controller, however it depends on player comfort." As for his own preference, he claimed: "I personally enjoy using a controller and using the triggers to push myself around in the zero-gravity environment. The tactile feel of pushing off a wall is quite fun!"
Going back to the overall idea for the game, Christopher stated that Outreach wants us to feel emotional stress as we start scrutinizing our orders. James added that it's up to the player to make up his or her mind about what is right or wrong, ultimately leading to an all-important decision. Pixelspill does not want to paint a black-and-white scenario, dictating who the good and bad guys are.
Outreach is currently aiming for a Windows and Mac release in the second quarter of 2017. A decision on potential console versions has not been made yet. It's far too early to properly gauge the game's design qualities, but I am certainly intrigued by the ambitious blending of historic and fictional elements, as well as challenging the player's moral code. The FMV trailer was a good appetizer, but after meeting James and Christopher it's safe to say I'm very much looking forward to the main course.
The Season of the Warlock
The first time I met Javier Cadenas a couple of years ago, he was a colleague from the adventure game website Aventura y CÍA. This year, while still being a staff writer for our Spanish counterpart, he is also a developer with the independent studio enComplot, presenting their black-humored 2D adventure The Season of the Warlock. Previously known as The Weird Story of Waldemar the Warlock, the interactive homage to old school gothic horror has experienced quite a rocky road to this point after a failed crowdfunding campaign in 2014. "The game's now pretty different. Some of the people who did the Kickstarter didn't stay on the project, so what would've taken half of the time is now giving us some headaches." Javier explained. "We're just two, self-funding the game and hiring some people for what we just can't do. But still the game has improved a lot, both in game design and in the technical aspects."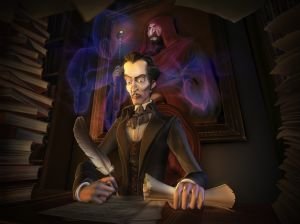 Asked about how that's possible with less money, Javier Cadenas replied that, "Given the unsuccessful Kickstarter, we felt we had to give more, even if it meant that it'd take us longer given the self-funding. We're adventure gamers; we strive to get a game we'd like to play. That may sound like a truism, but if you take into account we've been talking about adventure games many years now, the commitment may be clear." According to Javier, the game is currently being implemented into the engine, while the team is finishing off some dialogues. The bulk of what is left consists of translations, English voice-overs, music, and sound. Asked about a release date, Cadenas replied that "the game will be ready for 2017 for sure, but we don't know exactly when yet."
Starring Lord Alistair Ainsworth, who shares obvious similarities with horror icon Vincent Price, The Season of the Warlock takes players to the foggy land of Groldavia. In 1841, Ainsworth is conducting a presentation called "Provable Truths about Sorcery and Necromancy" at the University of Edgestow. The lecture focuses on Waldemar Gorobec, a warlock who ruled Groldavia in the Dark Ages, allegedly protecting mages, alchemists and necromancers from hunters until he was burned alive as the result of betrayal. Unfortunately, all of Ainsworth's academic colleagues think his supernatural theories are nothing more than cheap folklore. Determined to substantiate his beliefs, Ainsworth moves into Waldemar Gorobec's mansion. Willing to sell his soul, Lord Alistair tries to summon the devil to acquire proof for his theses in return. Shortly after, a painting of Waldemar Gorobec starts talking to him, urging Ainsworth to fulfil his revenge on the families of those who set him up.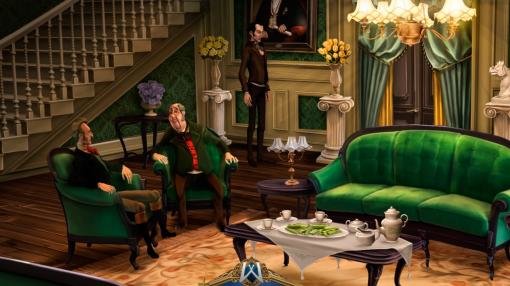 At this point of the game, players will have to make a crucial choice: a) they can agree to become Gorobec's avenging angel, or b) they can choose a path based on the idea of performing an exorcism to get rid of Gorobec once and for all. "If you agree, the main objective and the set of puzzles you are presented during the game are different from the ones you get if you do not agree," Javier pointed out. "There are some bits of information that are only fully revealed in one or the other branch and there's a different development to the events. Both paths are using the same assets, though."
As the two of us alternately played a section of the game, I was also able to get a hands-on glimpse at The Season of the Warlock and its beautifully drawn 2D backgrounds. Comprising a couple of rooms from Waldemar's mansion, the demo seemed like a real treat for fans of old-school adventuring, whether due to the classic gameplay or the witty writing. During a puzzle I played, grumpy Lord Alistair rejected a party invitation and instead pitied himself in his bathtub. Playing as Ainsworth's butler Nigel, I had to find a way of motivating his lordship to join the party. Getting to that point included several intermediate steps involving a chain of inventory puzzles. The overarching logic behind the sequence actually reminded me of some of the LucasArts classics, which, obviously, is quite a compliment.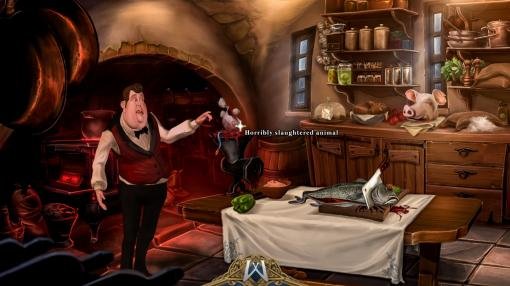 The Season of the Warlock may have had a turbulent history, but based on my early impressions the game is in good hands looking ahead to its release next year. I just hope the "new" enComplot team is able to continue self-funding the game until it's finished. Certainly the game has a lot of potential to appeal to those who miss the heyday of traditional 2D adventuring.
Bohemian Killing
Although Bohemian Killing was released several weeks ago, I decided to pay a visit to its creator Marcin Makaj and check out the interactive courtroom drama set in Paris during the late 1800s. When asked about the origins of the project, Marcin told me that after getting his Master's degree in Economics and learning that game development didn't require investors, big budgets, and a team of professionals, he went on to make quite a few small titles for iOS platforms. But he still wasn't satisfied. "One day," Marcin explained, "I decided that I should go with my second passion – criminal law – and 'visit' the university again. So I became a lawyer with dreams of making my own courtroom drama game." Doing an enormous amount of studying, especially in the field of forensics, he told his sister – a model in Paris – about his ideas. In response, she convinced Marcin to set the game in the French capital and helped him research the city's architecture during the outgoing 19th century.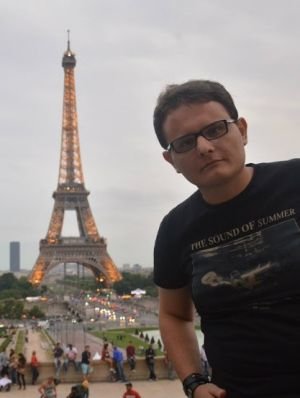 Marcin Makaj on location in (modern day) Paris
 
The Polish developer told me he was slightly disappointed that the Ace Attorney series treats the courtroom subject with a rather linear approach. Nevertheless, Phoenix Wright was an inspiration ("in terms of a law game") as well as Gone Home ("in terms of gameplay"). Yet Marcin, while starting the game for me, added that "their influence is limited. I wanted to make something fresh, something new." Bohemian Killing stars Alfred Ethon, an inventor with Gypsy origins. Ethon finds himself before the court, having to defend himself as the main suspect in a brutal murder case. Since the first scene of the game shows how Ethon killed the victim, we know that he is the murderer from the get-go. What we don't know, however, is the reason for his actions. As witnesses are interviewed and new evidence is presented, the judge questions Ethon about each detail. Whenever that happens, a flashback takes us back to that respective timeframe. While we aren't able to change the past, our actions determine Ethon's testimony.
The number of locations to explore in first-person view is rather small, but they do a good job of establishing a very atmospheric feeling of Paris at night. Each flashback allows you to access a menu showing the evidence against Ethon during the time window in question. The same goes for the string of events, according to the court's reconstruction. Depending on your strategy it is possible, for example, to manipulate evidence and witnesses, frame other people for the murder, plead guilty or act insane. As non-linearity is a key in Marcin's approach, it is likely you'll have to play Bohemian Killing more than just once to understand the results of some of your actions. Actually, it is quite likely your first playthrough is going to be rather short. A good defense needs training, and if you don't have that, Ethon might be sentenced to death before a half hour has passed.
There is a lot more to Bohemian Killing than I was able to observe in my brief gamescom demo, but what I can say after seing it first-hand is that it is certainly an unusual and fascinating project. If you're looking for traditional adventure game puzzles, it might not be your best choice. But if you like the idea of an interactive courtroom drama that offers plenty of non-linearity in a distinctive cultural setting, you should definitely check it out.