The Aggie Awards - The Best Adventure Games of 2015
page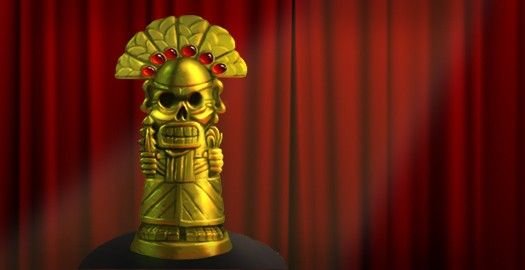 Continued from the previous page...


Best Graphic Design:

Tormentum: Dark Sorrow
Swiss surrealist H.R. Giger may have made his video game debut with Cyberdreams' Dark Seed way back in 1992, but the late artist's macabre designs continue to have influence in the genre. Not content to merely retread past efforts with a straightforward homage, however, in Tormentum: Dark Sorrow Polish developer OhNoo! Studio has combined Giger's "Biomechanical" themes with the organic, dreamlike works of their nation's own Zdzislaw Beksinski, lending the game a diverse and wonderfully-macabre aesthetic. Many of the characters and creatures found throughout the game are a sight to behold, especially those that are clearly inspired by the Necromorph of Alien fame, one of Giger's best-known creations. Along the way, players encounter monstrous caterpillars, demonic guards, and a wide variety of other creatures that populate the decrepit settings, including a family of rat-people harboring a dark secret in their basement.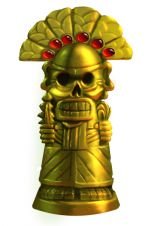 But the true star of the show here is the environment itself. Outdoor locations showcase the ruined hellscape you find yourself in as brimstone rains down from soot-blackened skies, while indoor locations blend the macabre with a number of art styles, including touches of Art Nouveau. Cathedrals made of bone and other organic materials seem to sprout from the ground itself. Distorted female figures appear within the walls of passageways. Slender, larger-than-life hands steeple up from the ground to form an archway. Even a fire-spewing steam locomotive makes an appearance, along with several other buildings composed of skeletal forms bound up in towering organic structures. The result of all this is a look that's equal parts gorgeous and nightmarish, inviting you to savor every last hand-painted scene, and the success with which OhNoo! Studio conveys their dark vision is plenty of reason to award Tormentum: Dark Sorrow 2015's Aggie for Best Graphic Design.
Runners-Up:

STASIS
Broken Age
The Book of Unwritten Tales 2
Dead Synchronicity: Tomorrow Comes Today

---


Readers' Choice:

Broken Age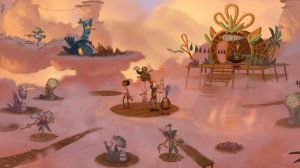 Contributing significantly to the many creative settings that make up Broken Age are the lovely graphics depicting them. In a year with so many jaw-dropping visuals comprising all kinds of aesthetics, it's the whimsical, painterly art style of this game that wowed the most readers. While some complain that the design is too cartoony, too childish, Tim Schafer was insistent on following Nathan "Bagel" Stapley's artistic vision, and that decision has certainly paid off in this stunning world of imagination and wonder.
Runners-Up:
STASIS
Life Is Strange
The Book of Unwritten Tales 2
Dead Synchronicity: Tomorrow Comes Today

---
Next up: Best Animation... the envelope, please!

Continued on the next page...

feature
Other articles you might enjoy