Gamescom 2013 round-up: Part 1
Events Coverage
Reporting from E3, GDC, AdventureX, Gamescom and other gaming events around the world
Gamescom is an annual convention held in Cologne, Germany, during a five-day period in August. The first day (Wednesday) is a professionals-only day with access restricted to developers, publishers and press. From Thursday to Sunday the event is open to the general public, with a few halls still restricted on Thursday and Friday to ensure one can meet business partners in relative quiet. This year, my fifth straight year attending the show, I had a full schedule of appointments planned over the course of three days, along with a fun extracurricular night out with my fellow adventure gaming enthusiasts, media and developers alike.
Each year the convention boasts more visitors, over the years steadily climbing in numbers, increasing another 23% from 275,000 in 2012 to 340,000 (from 88 nations) this year as both Sony and Microsoft were showcasing their new consoles. All of the day passes for private visitors were sold out, and the Entertainment Halls that already felt overcrowded a few years ago were especially packed this year. I tried to avoid them as much as possible, instead staying in the Business Halls for private meetings to see the latest adventures. But that's the way of our genre, isn't it? Quietly and contentedly going about our business just beyond the din of the mainstream hustle and bustle. Even so, I had more than enough to keep me busy for three full and tiring days!
Everybody's Gone to the Rapture / Rime – Sony

Hoping for some Beyond: Two Souls news, I had been granted access to the Sony press conference on Tuesday night. Unfortunately, despite a gigantic canvas advertising the new Quantic Dream game outside the venue, there was barely any mention of the game during the conference. That didn't stop us from pursuing the matter, of course, as you can see from our video interview with David Cage.
Sony did set some time aside to accentuate the indie-friendliness of the PlayStation 4 and Vita systems, however, using such titles as the apocalyptic Everybody's Gone to the Rapture and the open-world adventure Rime as examples.
Everybody's Gone to the Rapture

While Everybody's Gone to the Rapture is similar to its predecessor Dear Esther in the sense that it is again basically a non-linear, first-person exploration game in an open world, there will be interaction with people and objects this time around. The story is about a scientist and it's set in England during the end of the world, but in a fictional 1980s. Thechineseroom team is working with Sony Santa Monica Studio to develop the game on CryENGINE 3, and it will be released on PS4 with no immediate plans for a PC version.
Our introduction to Rime served as little more than a teaser. Its stylish artwork somewhat resembles other PlayStation exclusives like Journey and even Ico, but Sony only showed a couple of short animations in which a person is walking through fields and along a beach, not giving us much information as to what the story is about or even what the gameplay will be like.
Stick it to the Man – Zoink Games

The first official day started with some laughs as I visited Swedish developer Klaus Lyngeled from Zoink Games for a demonstration of Stick it to the Man. In this game, the protagonist Ray has a nightmare day at work and when he finally heads home, an accident happens, leaving him unconscious. When he wakes up, he discovers a giant pink arm growing out of his head that nobody but he can see. He gets himself admitted to an asylum to find out what is wrong with him and how he can get rid of the weird appendage. Inside the asylum, he meets many wacky characters (he's not always sure who is a fellow patient and who is a sane person) and finds out that the arm can be used to read thoughts and peel off stickers to reveal what is inside a room or to swap certain things around, in a way acting like inventory puzzles. If you find out, for instance, that somebody is dying for a cup of tea, you would have to find some hot water, a tea bag and a mug somewhere in the asylum and stick these into the person's thought bubble. Another example involves convincing someone who is digging down to start digging up so you can make use of his escape tunnel by placing something representing an upward motion into his thoughts.
The game's graphics are created in such a way that the world and the people in it all look like simple but effective 2D drawings. This allows for a very quick and relatively cheap development, and indeed the game is almost ready for release after only a few months of production. All the team needs is a couple more months to polish it off. The dialogue is written by Ryan North (perhaps best known for Adventure Time and Dinosaur Comics) and he has also helped rewrite some scenes and background stories. The entire game is said to have over 100 characters to mind-read (not just people, but animals and ghosts too) and more than ten hours of voice acting has been recorded for the ten chapters in the game. Apart from the main storyline, there are some optional side quests to pursue.
Stick it to the Man is not a pure adventure game, however, as some (easy) platforming is necessary to traverse the asylum, and there are a few nurses or guards you need to avoid. You can jump onto platforms to get from floor to floor, even "through" some walls by using the arm to grab onto objects and conveniently-placed pins and then swinging around the outside (the asylum doesn't have a front wall, being 2D as well) where guards can't follow you. Some sequences do require quick reflexes, but there are many checkpoints throughout each level in the form of a "MrCopy" that saves the game when you go past, comparable to such games as LittleBigPlanet. If you get caught by a guard, the nearest MrCopy will print out a "new" Ray and you can try again indefinitely. Once you have overcome that particular action sequence, a shortcut route opens up so you can quick-travel from then on. This game will initially be a PS3 and Vita exclusive, but a PC version is also in the works.
Broken Sword: The Serpent's Curse – Charles Cecil

In my meeting with Charles Cecil, he talked about how he never intended the Kickstarter backers to fully fund the new Broken Sword; the amount sought was always meant as partial funding in addition to self-funding and/or a loan. Getting so much more than initially asked ensured that Revolution didn't need to bring in as much money of their own as they expected. It also means they can absolutely guarantee the game will be out by the end of the year. Charles is very happy about the interaction with the 15,000 backers, as demonstrated by a change in George's chin when supporters pointed out it looked different from previous games. At the request of fans, the team has brought back certain characters like sergeant Moue and the infamous goat that starred in a particularly nasty puzzle, but Charles also hinted at a tongue-in-cheek version of another infamous puzzle in one of the Gabriel Knight games.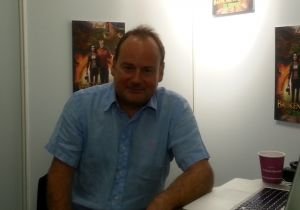 Charles Cecil
The graphics are back to 2.5D in The Serpent's Curse and look very familiar yet contemporary. Scenes have up to six layers to create a nice parallax scrolling effect. As always in Broken Sword games, historical facts play a large role. In 1954 Egypt, a shepherd discovered some urns in a cave, and upon smashing them was disappointed to find only some old scrolls. He burnt some of them to keep warm, but brought the rest to Cairo where it was established that these were the only remaining copies of the Gnostic gospels – alternate versions of Bible books written by such persons as Mary Magdalene, Judas Iscariot and "Doubting" Thomas. These gospels had long since been declared heretical and all copies had been assumed destroyed.
One of the scrolls contained the Testament of Truth, a version of Genesis in which man was created by a jealous god and enlightened by another god named Lux Fere or Lucifer. The Gnostics believe God is in all of us, and they were hunted down fiercely in the crusades in the Middle Ages. In the early 1200s in Languedoc, a region in France, the conflict came to a bloody battle when the pope decided to kill all Cathars (Gnostics) in Béziers. Ninety percent of its 30,000 inhabitants were in fact Catholics, but when the commander asked how they should tell the difference, the famous answer was to "kill them all. God will know his own."
Against this true background story, the game begins with a painting that is seized by a man in fascist Spain just before World War II. Jumping to modern day Paris, the painting is now in a gallery and we witness a pizza delivery guy robbing it, whereupon George and Nico start their investigation to find out why the painting was so important. The Serpent's Curse will be out later this year and will be playable on Windows, Mac, Linux, iPad/iPhone, Android and PlayStation Vita.
Al Lowe / Paul Trowe – Leisure Suit Larry: Reloaded 
Al Lowe with Leis... I mean, AG's Ingmar Böke

Fellow AG colleague Ingmar Böke and I then met with Al Lowe and Paul Trowe in the booth of German publisher UIG, who have just released the Leisure Suit Larry: Reloaded game. We chatted a bit about the old Sierra days, Kickstarters, and being recognized in the streets of Cologne (them, not us), as well as the upcoming free online Larry poker game, which will be hilarious according to the friendly duo. Although they wouldn't release numbers, they did volunteer that they were pretty happy about Reloaded sales living up to expectations, and then some.

The Last Crown / Bracken Tor (sort of) – Iceberg Interactive

Mayke Griffioen of Iceberg Interactive promised us that the next game in Jonathan Boakes's Crown series, The Last Crown, will be out around Halloween. Matt Clark is currently helping Jonathan with the game and once it's finished he will return to his own game, Bracken Tor. Despite the lengthy delays with no updates, Matt's game is still in development and will be released, but the Dutch publisher is not putting any pressure on Matt to finish. Also lurking in the distance is Boakes's third and final Crown adventure (ironically named The First Crown), which is still on track for launch in late 2014.
The Perils of Man – IF Games (with Bill Tiller/Gene Mocsy)

The Perils of Man was first unveiled a day or so before gamescom. Made by a newly founded studio and co-designed by Bill Tiller and Gene Mocsy, the first of two parts will be released on iPad only, for free, in October, with the finale expected before the end of the year. The idea for the game came from a Swiss insurance company, Swiss RE, and they have fully funded the game to celebrate their 150th anniversary. They contacted Philipp Zünd of Swiss animation studio boutiq AG to create a game out of their idea, and after negotiating some conditions – such as the game not becoming too serious – Zünd founded IF Games and hired experienced game developers Bill Tiller and Gene Mocsy to join him.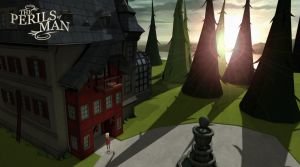 The HD graphics are absolutely gorgeous, showing the 3D world in a dollhouse-like way with the camera following the movement of the characters fluidly, even through doors and down stairways. Going from one room to another doesn't involve black or static loading screens, as the camera just momentarily sweeps out of the building and back in again to find the character in the next room.
The story unfolds largely through 30-plus animated cutscenes, which is where the game's origin becomes obvious: what if it were possible to look at a scene and be able to foresee the potential dangers and risks? The protagonist is a girl named Ana Eberling. Her father, a scientist, disappeared ten years ago. On her birthday, her mother gives her a box that her father left behind for her. Ana deduces he must still be alive if he wanted her to have this, and after some investigative work she discovers that someone in her family invented an instrument – some kind of goggles – with which you could travel in time and assess risks. This device plays a large role in the game. With it you can foresee such things as a gas leak, and by making sure it doesn't explode you can completely change the future. If the game is a success in the App Store, a PC version might be considered by Swiss RE, but IF Games can't commit to any promises.
Red. Black. Fate. – German All-Stars

The final presentation of the day was by a team of six local developers, the German All Stars. Studios Daedalic, Deck13, KING Art, Black Forest Games, Cliffhanger Productions and Virgin Lands will collectively develop a game called Red. Black. Fate. Each studio will bring its own knowledge and experience to the table. A share of the revenues will be donated to charity, but to raise the needed money to create the game in the first place, they are planning a crowdfunding campaign in October. Hardly any information was given on the story or even the genre, and with only half of the studios having worked on adventure games (and all of those having already branched into other genres on their own) it's hard to say how much traditional adventuring will be involved – if any – so we'll have to wait to discover more when the Kickstarter is launched.
Professor Layton and the Azran Legacy – Nintendo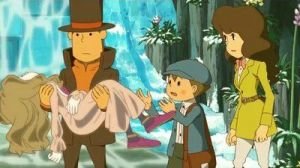 Having been invited for a dinner with some developers, I had some time left to kill so I decided to wander through the Entertainment Halls. Even though this was a business/press-only day, there were already very long queues at some of the booths. Fortunately, I found an unoccupied copy of Professor Layton and the Azran Legacy and played the first twenty or so minutes of this Nintendo 3DS exclusive. Layton has been contacted by an old friend of his who claims to have discovered a living mummy, and together with Luke and Emmy the Professor boards a zeppelin that will take them to this friend – but not before he has proven he is who he claims to be by solving a puzzle involving planning a route for the airship, making sure to visit each city on a grid while not running out of fuel. Having done this, the three arrive at a snow-covered village where people are only willing to tell them where the mansion of Layton's friend is if they solve a puzzle for them. The game's 500 (!) puzzles promise to include a good mix of math and logic again, with a couple of red herrings along the way.
The gameplay is similar to that of Miracle Mask. By tapping the magnifying glass and moving the stylus on the lower screen, objects you might want to investigate will light up in several colours, indicating when you might be able to get a close-up or just a description. Travelling is done by tapping a shoe icon, and there is a separate menu with the puzzle index and a journal archiving the story so far, as well as some optional minigames. Alas, no one was allowed to play past a certain point in the game, so I had to give the 3DS back before long.
A Dinner with Developers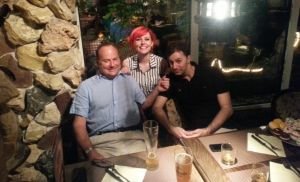 Charles Cecil, Laney Berry, and Agustín Cordes enjoy themselves at Ingmar's non-birthday party (crocheted cupcakes on right!)
 
The day ended with a dinner out with a number of developers, organised by Ingmar. In order to make the reservation in such a busy week, Ingmar had to fib about it being his birthday, so some of the guests had arranged a little something behind his back. Jan Kavan brought his cello and played a fugue and Happy Birthday, convincing us all to sing along, and I had crocheted some small cakes to share around.
Among the guests were Charles Cecil; Mayke Griffioen and Raymond Snippe of Iceberg Interactive; Kimara Rouwit from the PR firm Critical Hit, all of whom I'd met earlier in the day; Agustín Cordes from Senscape; Jan Kavan and Lukas Medek from CBE Software (more about these three in articles still to come), Martin Ganteföhr (formerly House of Tales); Michael Holzapfel and Anne von Vaszary from Tinnitus Games; Marco Dyziek (Ed Venture Studios), Vitek Goyel from Phoenix Online, Karsten and Julian Vermeulen (Lazy Dog Games); Agnieszka Szostak from CD Projekt RED; Olga Ryzhko (Frogwares); and last but certainly not least, the unmistakably colourful-haired Laney Berry, whose Kickstarter for The St. Christopher's School Lockdown recently ended successfully (though you can still back it through Paypal if you missed it).
It's a pity that we were sitting at separate tables, which prevented much mingling among the larger group, but it was a wonderful evening spent talking about all kinds of subjects in a relaxed atmosphere, and Ingmar had a great non-birthday party.
---

Stay tuned for my day two adventures at gamescom, highlighted by big names like Agatha Christie, Syberia 3, Daedalic Entertainment, and Square Enix.