Gone Home
archived preview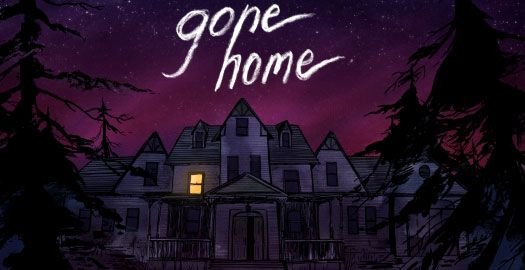 I was a teenage girl in 1995: passing notes to my friends in class, listening to Buffalo Tom and Nirvana (R.I.P. Kurt Cobain), dying my hair red. Even now, in my thirties, I frequently indulge my guilty pleasure for young adult novels and TV shows set in high school. This specific point in time, smack dab in the middle of the '90s, was confusing and exciting and extremely meaningful to me, but it's hardly an experience I ever would have expected to see represented in a video game. Especially not in a game from a team that previously worked on first-person shooters.
So let's just say I was very pleasantly surprised by my early look at Gone Home, an upcoming story game from The Fullbright Company. This Portland-based indie was founded last year by three ex-2K Marin employees, Steve Gaynor, Karla Zimonja, and Johnnemann Nordhagen, who first worked together on BioShock 2 and later on the DLC Minerva's Den. Then Gaynor moved to Boston, a short-lived relocation that ended with him and his wife deciding to return to her hometown. "It was like, if we're going to go back to Portland, we have to figure out how to make it work. There's not really an established game industry there, so how can we do that?" Gaynor explained when I chatted with him at GDC. "I'd worked with Karla and Johnnemann before and wanted to work with them again, so I reached out to them, and they quit their jobs and moved up to Portland, and we're all sharing a house. Our office is in the basement. We're completely self-funded, we're living off our savings." Together with environment artist Kate Craig, who works remotely from Vancouver, they dove into the narrative experiment that is Gone Home—a game set in June 1995 about a spooky abandoned house, a missing family and, unexpectedly, the secret lives of teenagers.
The Greenbriar house has been carefully constructed and staged, with plenty of doors and drawers to open, rooms to pass through, and eventually secret passages and compartments to find. The objects in this world are believable, too—a tube of toothpaste and a box of bandages in the medicine cabinet, bills and receipts in a desk drawer. While some of these everyday items are insignificant, others trigger Sam's audio diaries, so you're rewarded for exploring carefully and thoroughly. During my time in the Greenbriar house I most enjoyed combing Sam's bedroom, complete with the same vintage of music magazines, short story scribblings, empty cassette tape cases, and video game cheat codes that easily could have littered my own bedroom floor back in 1995. The game's soundtrack promises to be authentic to the time period, too; The Fullbright Company recently announced that they have licensed music from two riot grrrl bands big in the '90s Portland music scene, Bratmobile and Heavens to Betsy.
Some areas are inaccessible at first—a compromise the designers made between pacing the story and keeping the setting true to life. "In a very early build we had a lot more keys, the gating was much more granular," Gaynor admitted. "You only go into the foyer first, everything's locked except for one door. We opened it up a lot because it felt very gamey to have to find all these keys. Whose house would be like that?" In the portion I played, a locker in Sam's bedroom could only be opened once I'd found two pieces of torn-up paper with the combination written on them, and the basement and attic were also off-limits. Some of the clues I found suggested that breaking into these rooms would be Gone Home's ultimate goal, but even so, reliving Sam's story along the way is the true objective.
Not surprising considering the developers' FPS pedigree, Gone Home has free-roaming controls that support a gamepad, or keyboard and mouse. I tried both and though I preferred using a controller, I also found the keyboard and mouse controls relatively painless, particularly because there aren't any fancy moves required. According to Gaynor, "We have a very simple game, relatively speaking; all you really do is walk around and click on things, or you can zoom in on things, and you can crouch. We might experiment with [control schemes] further, but we did our due diligence as far as we could do it, and we thought maybe this is a good game for people to learn FPS controls, because nobody's shooting at you, there's no reflex stuff, no quick turns or anything."
As far as game length goes, Gaynor expects Gone Home to be a 3-5 hour experience, depending on how meticulously the player chooses to explore. In my own playthrough, I kept poking around the house even after I'd found the information I knew would allow me to progress into a new area, in hopes of finding just one more clue and hearing Sam's voice just one more time. The mystery is that gripping, and rather than rushing through to the end I was motivated to uncover every little detail I could about this girl who could have been me. I do think it's a story that will resonate regardless of the player's age, gender, or personal experience, but for those of us who were awkward teen girls in 1995, maybe Gone Home offers a little something extra. And in an industry that largely shies away from stories about the female experience, that's a big deal. As a gamer, a lover of interactive narrative, and most of all as a former teenager who still remembers the ups and downs of the '90s like it was last week, I can't wait to find out how Sam's story ends when Gone Home ships later this year.
Referenced Adventure Games
archived preview
Other articles you might enjoy