Lost Chronicles of Zerzura giveaway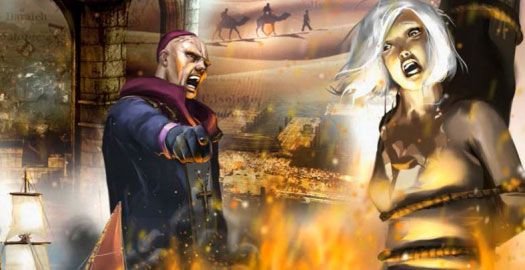 After completing their grisly tale of murder, madness, and cursed family legacies in the Black Mirror saga, Cranberry Production went straight to work on a new tale of… well, murder, madness, and cursed family legacies of another kind in Lost Chronicles of Zerzura. Only this time, there's a lot more sunshine! Not to mention other disturbing themes like religious persecution, kidnapping, genocide, and torture to really raise the stakes. Yes, the German developers went right back to doing what they did best, this time sending players into 16th century Spain and Egypt on an epic quest to find a legendary lost city by land, sea, and air, facing a host of life-and-death obstacles along the way.
At first, a young inventor named Feodor has no interest in the Zerzura myth that so consumes his curiously white-haired brother Ramon. But when Ramon is captured and hauled away for his knowledge of the fabled desert city, Feodor is determined to follow his brother's trail all the way to Africa. To get there, however, he must survive a ruthless ship attack, win the favour of rogue pirates, conquer his fear of heights, escape slavery – twice – and even fall in love (the most perilous adventure of them all), all the while outsmarting pirates, soldiers, thieves, and nomadic Bedouin tribes using only his wits and clever impromptu inventions. Whew! It all adds up to a rich, engaging romp that reminds us that it's not the destination that matters, but the joy of the journey itself.
Originally released late last year, Lost Chronicles of Zerzura now represents the swan song for the sadly-defunct Cranberry Production. Better late than never, we are pleased to honour their memory with a downloadable game giveaway for five lucky people, courtesy of its North American publisher, Viva Media (from Viva's own online store). No Rube Goldberg-esque aptitude test required (though some ability in that area certainly wouldn't hurt when you actually play the game). To be eligible, you simply need to correctly answer the three quiz questions below. If you need a little help, all the info you require can be found in our review of the game. Really, we're not making this stuff up!
The contest will run for one full week, ending Wednesday, May 22nd, and winners will be notified immediately by pneumatic tube (or email, for the more industrially advanced among you).
Referenced Adventure Games
feature
Other articles you might enjoy