Quantumnauts 2: Black Hole Happens
review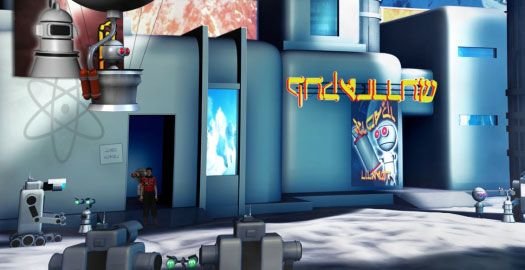 Game information
You might also like these adventure games
Advertisement
Adventure games by Midian Design
BITMAP BOOKS
Once a low-grade heavy metal musician destined for nowhere-ville, Bob Marshall is now a full-time Quantumnaut (guardian of time and space continuity) and Space Captain, married to the love of his life Neena from the planet Pyr. If you missed the first instalment of Midian Design's Quantumnauts series, you'll probably want to start at the beginning of Bob's most improbable journey, though the new episode stands largely on its own with a whole new storyline. This time around, we discover that Bob has made a powerful enemy within the Quantumnaut command, Colonel Fen'Herh (Commanding Officer of the Orbital Station and head of the Secret Service), who also desires Neena's affections and will stop at nothing to make sure Bob is out of the picture. Having dealt with Colonel Fen'Herh's advances, Neena warns her husband to be careful when he's summoned for an emergency mission alone on the edge of the Multiverse. It turns out she was right to be suspicious, as the exact co-ordinates Bob receives lead straight to a monstrously big black hole.
Fortunately for Bob, his onboard computer saves him from instant death, but his ship is caught in the gravitational pull, forcing him to take emergency measures to escape, leaving the vessel damaged and drained of energy. The computer guides Bob to the nearby planet of Tir, upon which he attempts to make a safe landing. In the process, his ship is attacked by a giant worm (think Frank Herbert's Dune here) and is quickly taken out of action. There Bob is discovered by Primo, the commanding robot of the city of Muttra, and another robot named Eugene, who decide to rescue him and bring him back to the city. Primo proves to be something of a tyrannical leader, however, intent on reinforcing his control by forcibly introducing Bob as one of the gods of the robot population (humanoids originally created the robots) and a returning savior of the planet. Taking this role will guarantee Bob's survival and a few perks along the way, but only on the condition that he doesn't speak to anyone about who he really is or try to leave. Naturally, this doesn't sit well with our hero and he begins his quest to escape, make allies and find his way home.

Like the first game, Quantumnauts 2 is a parody of sorts that plays upon various science fiction elements to stitch together the fabric of its universe. There are multiple references to Star Wars, Star Trek, 2001 and Stargate, along with H.P. Lovecraft and any number of other sci-fi works that could be inserted into the background. The game unashamedly borrows wherever it can in an effort to provide humorous reference points, such as Bob reprogramming a couple of R2 droids to play in his band. However, whilst the inclusion of such elements is fun, ultimately they don't impact the story much and are mostly just there for background amusement.
When compared with the first episode's production values, the sequel is light years ahead. For starters, the visuals look great and perform fluidly throughout. Once again Midian Design have gone with pre-rendered 3D characters and backgrounds, but they're much more polished this time, with carefully blended textures and correct lighting. Gone are the sharp edges and harsh contrasts of its predecessor, along with Bob's slightly Neanderthal look, as character limbs and proportions are all in correct proportions this time round. Bob himself looks like he's had a proper makeover and is almost, very nearly good looking now! (As close as he's likely to ever get, anyway).
Some of the standout locations include a cavern with a decommissioned star cruiser left in a state of rust and ruin; a robot city with enough clean lines to have made even Steve Jobs proud, and a series of underground caverns with a subtle H.R. Giger influence. It's a combination of crisp, clean, and stylishly futuristic visuals with dark, rustic, grimy secret passageways and hollowed caverns that elicit a sense of isolation and horror. Some of the robot designs are pretty interesting also; many are rather basic and rudimentary, but others are much more complex constructions, such as a giant spider that's been built with a multitude of servant robot components. It's in creative little touches like these where the visuals really shine.
If there's any graphical criticism to be leveled, it's that there's probably not enough animation in places and there is some occasional jerky movements with one or two of the robot characters. Once you arrive at the main courtyard of the robot city, you'll notice a lot of stationary robots just hanging around, doing nothing. You'd expect the majority of bots to be whirring around, bleeping and generally performing the many tasks they were created to do (after all, they're robots!) but that's not really the case here. And while the lower resolution cutscenes are nicely done, they could be sharpened up a bit or at least rendered at something resembling the game's standard resolution.

Sound work is the usual understated fare from Midian, with an array of tunes that play in the background on rotation and change occasionally depending on the scene's mood and setting. The soundtrack has a nice overall sci-fi feel, consisting mostly of generic mood music with a few eerie tracks and the occasional upbeat tempo. Some of it is recycled from the first game with just a small amount of re-engineering. There's nothing bad here but nothing that's going to set the world on fire either, and once again there are no voiceovers at all. However, I will give credit to some very nice effects in places, such as sampled guitar solos, band instruments and applause that play on cue when a droid reprogrammed by Bob is being cheeky.
The interface is the best I've ever seen from this developer. It simplifies things considerably from the first game, using the left mouse button to walk and interact with hotspots and the right button to examine items or anything else you might come across. Your inventory appears at the bottom of the screen when you move the mouse over it, and items are displayed in an electric blue outline. There you can click on any item to use or examine as you would in the main game, or combine with another object. The overall mechanics are very simple and elegant, leaving you to enjoy the game whilst the interface gets out the way. There's one additional feature of note and that's the inclusion of a point scoring system similar to some of the early Sierra games, which gives varying scores depending on how you solve a puzzle, what you might have overlooked or how you interact with other characters. There is no journal or map, but neither is required, as most of the game is quite compartmental and somewhat linear.
Puzzles in Quantumnauts 2 range from the nominal right through to the obscure. Fortunately, this time round there is not a great deal of pixel hunting required, and the vast majority of puzzles are logical and not overly difficult. Most of the obstacles are inventory-based, but there are a number that require you to find clues to reach a solution. A few are based on working out the correct combination on a lock or finding the right button to press at the right time. Quite a few are a pleasure to solve, like figuring out how to activate a particular robot on an alien space cruiser, which has an altogether unintended consequence, or figuring out the correct way to open a portal. There are also some frustrating challenges at times, such as one door that demands quite a bit of effort and a little guesswork to open, which I only managed to solve after trying just about everything I could think of.
The story is packed full of detail and Bob can be likened to a futuristic Robinson Crusoe, a castaway forced to survive with only his wits, creativity and a bit of dumb luck. It also contains a number of parallels to Sierra's Space Quest series, not too dissimilar to SQ2 and 3, but with a little less emphasis on sending up the protagonist. The game presents you with three core interest groups during the tale: Primo, the dictatorial leader of the robot population; the Atheists, a rebel group of robots wishing to escape Primo's grip on the city; and Eugene, Primo's right hand man, who professes loyalty to Primo but also moonlights with the rebellion – which side is Eugene really on? Each play a significant role early in the story and lays the groundwork for Bob's adventure.
Whilst an interesting tale, it can be a little disjointed in places. It starts by building up a central set of characters, but then very quickly abandons them except for minor mentions and interludes after that. It also leaves a great many ideas and threats largely unexplored, such as a powerful robot designed to wipe out the rebellion and ensure that the population remains obedient. This robot is given some air time, but is not actually used in any interesting ways. In fact, there appear to be quite a few story threads that seem to go nowhere – possibly to be revisited in later games, but for now representing merely an apparent lack of focus. Some teaser elements can be a good thing in a series, but not at the expense of integrating the many characters and themes more fully here and now. Some of the main characters could also be a little more impressive, particularly Primo. His personality seems a little weak for tyrannical leader, and you never get see him really demonstrate his powers or his mean streak in any particularly meaningful way.
Although it would have benefited from an improved story structure and writing, Quantumnauts 2 is still very playable overall. At times a bewildering mess of random ideas, this nevertheless functions to keep the experience fresh, and with the improved production values over the first game, it's much more of a joy to play. The puzzles are largely decent and well balanced, with only a few tricky challenges to slow your progress. Though it has a much more modern look, it really feels like a Sierra game produced during the early '90s, with plenty of tongue-in-cheek references and a real focus on environmental details and item collection to drive the linear story to its confusion. Black Hole Happens offers roughly 6-8 hours worth of play and is a steal at just $5 directly from the developer's website. If you're looking for an involved, dramatic story with lots of cutscenes and character drama, you won't find it two episodes deep into Quantumnauts, but if you're looking for some enjoyable puzzles, nice graphics, a quirky sci-fi backstory and a lighthearted adventure experience, this game could very well fill the void.
Our Verdict:
The second Quantumnauts instalment is a lighthearted sci-fi indie adventure with polished visuals and a good sense of fun, though its loose story structure darkens the experience somewhat.
Want to share your own thoughts about this game? Share your personal score, or better yet, leave your own review!

review
Other articles you might enjoy