Events Coverage
Reporting from E3, GDC, AdventureX, Gamescom and other gaming events around the world
After a modest start in 2011, AdventureX, the UK's first and only adventure game expo, returned bigger and better in 2012 after attracting more interest from the developer community and receiving financial assistance through crowdfunding. The additional funds certainly helped to transform the sophomore event, which secured an impressive venue at the University of East Anglia in London, once again organized by Screen 7. Set over the course of two days in December, the event spread out across two ultra-modern conference rooms and a gaming lounge in the foyer, creating an atmosphere that was certainly different from last year. It's still far from the adventure game equivalent of PAX, but its scope was significantly expanded in terms of attendance, size and overall polish, attracting nearly four to five times the attendees as last year.
The biggest name in the room this year was Wadjet Eye's Dave Gilbert, who flew in from New York just for the event, but there were many other developers there touting their latest projects. Speakers talked about the challenges facing indie developers and the means to overcome them. There were panel discussions and special guest speakers, and even some downright silliness. But best of all, it was a weekend where you could get together with others who are enthusiastic about the genre.
AdventureX was initially focused on AGS (Adventure Game Studio), and while the popular free game engine was once again well represented, this time round a variety of developers made an appearance, many using different development packages and working across an array of devices. In fact, there seemed to be quite a collegial atmosphere as visitors began to network and talk about the potential of different platforms. There was plenty of occasion to introduce oneself to programmers, artists and composers, and lots of cards were exchanged with the potential for future projects on the horizon.
With so much to see and do this time around, our coverage is much more extensive than last year, but even with two Adventure Gamers staff members in attendance, we still couldn't manage to see it all. So, with apologies to anyone we missed, here is a roundup of what went on at AdventureX 2012.
AdventureX 2012

Dave Gilbert - Indie Adventure Game Publishing
Steve Brown
Back in 2006, a man found that the contract he had just completed left him with enough cash to cover six months' worth of bills. Having dabbled in freeware game design, he saw this as an opportunity to try to make a living from creating games. That man was Dave Gilbert, and the company he founded as a result of this decision was Wadjet Eye Games. The following tale is one of both the pitfalls that he faced and the occasional piece of luck that also came his way.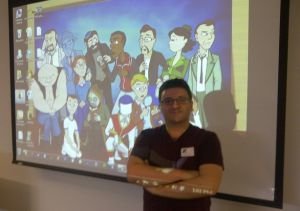 Dave Gilbert shows off Wadjet Eye's diverse cast of characters
Starting out with little money and none of the professional experience that would get him taken seriously, Gilbert knew he faced an uphill struggle. After his first release, The Shivah, it soon became apparent that he couldn't rely on his own output to keep him going. With the number of games he was able to produce on his own in a year, he would always be one flop away from disaster. The move into publishing seemed an obvious way to spread the risk and get more games out, but his first foray in this field did not go quite as planned. Erin Robinson's Puzzle Bots seemed an ideal choice for his first published game, especially since the concept had effectively been proven with the freeware title Nanobots. But when a programmer couldn't be found for the game, Dave stepped in to do the work. Not only did this prevent him working on his own projects, it left him in the bizarre position of doing extra work but paying someone else for it.
Whilst Puzzle Bots achieved some critical acclaim, Dave knew he needed to take a different approach to future publishing projects. There could be no more funding games from scratch. Then an amazing stroke of luck came his way. An almost fully developed game was practically handed to him gift-wrapped. The developer, Joshua Nuemberger, had been working on the game for some time, and he just needed help on the final push for a finished product. After release, Gemini Rue was picked up by gaming portals even outside the adventuring niche market, and went on to achieve well-deserved critical success.
Six years down the line from taking that first brave step, Wadjet Eye is still going strong. 2012 was a significant year of publishing for the company, with  Resonance, Da New Guys and Primordia all being released. The move to publishing has not been an easy one, however. His new responsibilities have taken time away from development of Dave's own projects, and making tough decisions has sometimes led to clashes with developers. But with a new Blackwell slated to come out some time this year, and Dave's wife Janet working on porting their back catalogue to iOS, it looks like the adventure gaming world has a lot to look forward to from the man who took that leap of faith six years ago.

Quest for Infamy   
Rob Murrant
Quest for Infamy has been around for quite a few years now. The idea for the game originally came together when two internet friends (Shawn Mills and Steven Alexander) decided to make their own version of Quest for Glory, albeit slightly darker. But the concept was put on hold for the better part of a decade as the developers sought to gain experience at making such complex adventure games. And so the two friends formed a studio called Infamous Adventures and set about doing well-received free remakes of King's Quest III and Space Quest II. Fast forward to today, and IA's commercial offshoot called Infamous Quests is comprised of a small(ish) team of volunteer developers. Following a successful Kickstarter campaign, Mills and Alexander have now revived their plans for Quest for Infamy to finally bring their long awaited vision to reality.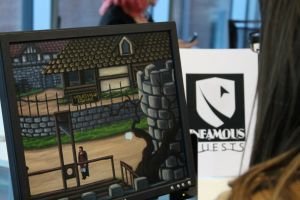 The Quest for Infamy underway at AdventureX
This game takes the concept of playing a hero and turns it on its head, making you a villain instead. In order to succeed, you need to be out causing mayhem and performing nefarious deeds whilst at the same time keeping a low profile. The story incorporates a fair amount of dark humour and parody throughout, and the main character Mister Roehm is generally quite sarcastic when engaging in conversation, quite surprisingly so for a man on the run and looking to start over. Quest for Infamy offers you three character choices when you start the game: a Rogue, a Sorcerer or a Brigand. Each profession is similar to its Quest for Glory counterpart but with a slightly darker bent. My initial impression is that the game most resembles QFG4, with its overall dark feel, moodiness and similarities concerning combat.
Showing off the latest version of the game, James Broom held court at his table (booth) at AdventureX, offering colourful and quite detailed explanations of the title's history and development. A quick test of the game on display showed off its fluidity and some visual improvements over the initial concept demo, though I didn't get to spend nearly enough time exploring as I'd have liked to see any other enhancements that might have been implemented.
I did have time to notice a little merchandising for the game, a mug and a badge to be precise. I asked James (Broomie) about the badge and he told me they were free and that I could have one if I'd like. I then inquired about the mug, to which he replied that he wasn't giving them away but there would be one as a prize in the next day's raffle draw. As Steve closed in on the table, he also noticed the mug and commented on how much he'd like one. Immediately we smelled a challenge – can we successfully liberate Broomie's mug through a series of nefarious deeds? As Steve distracted the unsuspecting developer, I quickly tried to pilfer the mug only to be caught in the act. Ah well, it was worth a try! And as luck would have it, even though we where foiled in our attempts to liberate the mug by suitably infamous means, Steve still managed to win the prize in the raffle.
More details about Quest for Infamy, including the playable demo, can be found at the Infamous Quests website.

Richard & Alice
Rob Murrant
Lewis Denby and Ashton Raze's Richard & Alice is a top down adventure that resembles the recent indie hit To the Moon, though it relies more upon hand drawn artwork and is a more traditional adventure. The game presents a mystery story about two prisoners trapped in an isolated outpost in the midst of a cataclysmic global weather crisis that has turned vast tracks of land into uninhabitable desert or snowy wastelands. Alternating between the two titular characters throughout the game, the story unfolds both in present day and past flashbacks as you attempt to figure out how the world got into this mess and how its two main protagonists will (hopefully) get out of it.
Whilst visually minimalistic, Richard & Alice shows quite a bit of narrative promise. According to Denby (himself a professional games journalist with credits at PC Gamer, Eurogamer, and Rock, Paper, Shotgun, among others), the gameplay will be focused on what could potentially be achieved in real life settings, both in terms of developing relationships and overcoming obstacles. There will be less emphasis on puzzle solving, but the puzzles present will be contemporary and contextual rather than reaching for "adventure game" logic. The lighter puzzle emphasis is to keep the story flowing and have players feel more involved in the interactive drama.
One area of the game that was left open by the developers was the potential for multiple story arcs and varying story paths affected by the player's decisions. This possibility was certainly hinted at, but (rather coyly) neither confirmed nor denied whilst discussing the game. We'll soon know for sure, as the game is nearly complete and on schedule for release in the not-too-distant future.
 
For more details about Richard & Alice, check out our hands-on preview and interview with the developers.
 
Astroloco : Worst Contact
Steve Brown
If you were expecting future transportation to be shiny rockets or high-tech teleporters, think again. There can only be one answer to the problem of interstellar travel: space-faring steam trains! In the year 2153, rivalry among the train companies is rife, with battles between opposing engines a regular occurrence. Add to this the constant threat of pirates, and you can easily see how dangerous a business this is. Suffering severe financial difficulties, one company receives a stroke of luck when a rival CEO drops details of a newly discovered route in their offices. There is just one little planet blocking the route, and that shouldn't be too hard to deal with. But this route might not prove as easy to exploit as it would first appear. Perhaps that dropped note wasn't accidental after all.
Coming from the same minds that brought us the freeware titles subAtomic and Plan M, the upcoming commercial game Astroloco: Worst Contact is a surreal but hilarious comedy adventure. Now with a team size doubled beyond the original pair of Murray Lewis and David Blake, the game is being released under the studio name Hungry Planet Games. The current version of the game was on display at the convention, and I took the opportunity to play through Act 1, which has since been released as a public demo. The fact that I had both the lead designers, Dave Gilbert, and eventually the rest of the early Sunday morning crowd looking over my shoulder soon slipped my mind as I got into this game.
The characters are done in the same blocky but expressive style of the previous games, with detailed cartoon backgrounds surrounding them. The blocky characters work well, with their exaggerated movements a constant source of laughs. As one of the two playable characters, Ronald, a put-upon mechanic, I got to travel to the space station headquarters of the stricken company. As the other playable character, gung-ho driver Arianne Beckett, I had the opportunity to pilot one of their trains and engage in some light gunplay. I suspect no space-train company will be offering me a job any time soon as, in a turn-based minigame, I managed to inadvertently ram one of the civilian transports I'd been assigned to protect, much to the amusement of onlookers. By the end of the opening act, I had also managed to fix a videogame console, and accidentally cause an alien race to declare war on humankind.
The philosophy of the developers that more than a minute without a joke is wasted was well in evidence, with even the options menu including 'Sociopolitical Commentary'. Whilst the voicework was still incomplete at AdventureX, the performances already included were of good quality, as was the dramatic soundtrack. The nerdy CEO Mr Burrows was undoubtedly a favourite of mine, with his slightly nasally voice and insistence that "They're not toys, they're collectibles." Hungry Planet's own company business cards each featured a character from the game and an appropriate quote. Given the speed with which these were snapped up, they are no doubt collectibles themselves now.
To follow news about Astroloco: Worst Contact, play the demo or take part in the Greenlight campaign, visit the Hungry Planet Games website.

The Last Door
Steve Brown
It all began in the year 1891 with a mysterious letter from my old friend, Anthony. He seemed to be in some sort of trouble, and called on me to come at once. Arriving late at his house, I was dismayed to find the doors wide open and no-one there to greet me. As I headed into the dark house, I felt a sense of foreboding. Was I too late to save my friend from a terrible calamity?
Thus begins the tale of The Last Door, an episodic online horror adventure being developed by The Game Kitchen. The prologue was available at the convention, and under the guidance of lead designer Alejo Acevedo Civantos, I settled down to play. The use of retro graphics could lead some to see this as the blocky horror picture show, but the blank face of the pixelated protagonist actually adds to the unsettling atmosphere. The backgrounds are for the most part as pixelated as the characters, but use of shading, especially the shadows around light sources, adds a real sense of depth. The unnerving feel is backed up by an orchestral score, the ominous tune playing in the house proving particularly effective.
Whilst short, the prologue demo definitely did its job of intriguing me, with a close that sent a shiver down my spine, even in the brightly lit rooms of the convention. The intention is for the game to be released in episodic format, with an online community for players to get together and swap experiences and offer each other help. With their Kickstarter campaign having achieved 121% funding, it looks like this series will be going ahead, and I look forward to seeing more of this intriguing story.
More information and the playable prologue can be accessed by registering for free on the developer's website. Those not wishing to register can also find the prologue on Kongregate and Newgrounds.

Nefasto's (Mis)Adventures - Meeting Noeroze  
Rob Murrant
French designer Stefano Collavini's surreal comic book adventure Nesfasto's Misadventures immediately stands out due to its unique graphic style, with frequent technological cues and visual elements that look like they've come straight out of a cartoon sketchbook. The first few screens are deliberately sparse, but over time the backgrounds begin to fill out, colours increase and landscapes become fuller and more vibrant as you progress.
The game's abstract plot starts with a videogame being loaded into the computer, a broken and somewhat rubbish title that stars Nefasto as the lead character. Unfortunately, after the program is terminated, Nefasto somehow remains behind as corrupted data in the computer's memory. This pulls back the curtain into the virtual reality world of the computer itself, a world not normally seen by simple users. Nefasto's sudden and unannounced presence in this realm opens up new possibilities and he meets with a variety of different entities, one of whom is Noeroze, a major (virtual) female character of vital importance to the computer itself (perhaps a core program?). There is one slight problem, however. Whilst Nefasto remains in the computer, he threatens the stability of the entire virtual world around him and of the computer itself. It's your job to find a way to remove Nefasto from the computer (albeit safely), whilst playing him as the main character of this fascinating virtual world.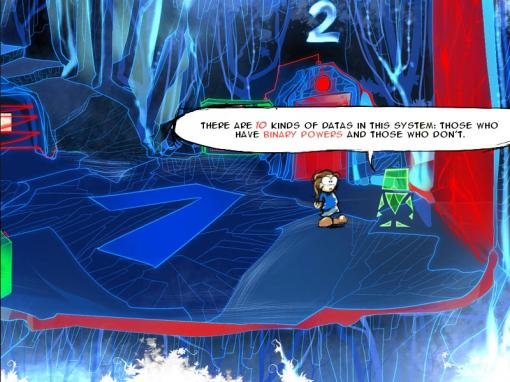 Nefasto's Misadventures really impressed at the expo, not only for its visual style but also for its use of plug-ins with the AGS engine. Comments from many developers in the audience reflected their disbelief as to how Stefano was able to push the engine to create particular effects (lightning in the background among them) whilst also attaining smooth and highly polished animation, which is apparently not the norm for AGS. Being visually stunning and a quirky title in its own right, I suspect this may just be another indie hit in the making.
You can learn more and try a demo of the game at the Yeppoh Games website.

Technocrat Adventures 
Rob Murrant
When Technocrat (aka developer James Dearden) took to the stage, he presented us with news of not one but three new games. One is a remake from his popular freeware adventure series, another was released earlier this year, while the third is James's first true commercial game that's still in production. Enduring a few computer-based technical hiccups along the way, James managed a fantastic presentation with plenty of witty banter thrown in for good measure. (I'd tell you what he said, but I was too busy laughing to remember.)
Technobabylon is one of those games that just comes out of nowhere, slaps you across the face and forces you to pay attention. It may have modest graphics of the low res kind, but the puzzles and storyline are deceptively involving and will keep you playing until you've beaten the damn thing. The game reminds me of a cross between the dystopian cyberpunk future of the '90s classic Beneath a Steel Sky and the variety of challenging minigames of Operation Stealth. To date there have been three free episodes of Technobabylon released, all of which incorporate a very slick and detailed style but have a very basic retro visual look.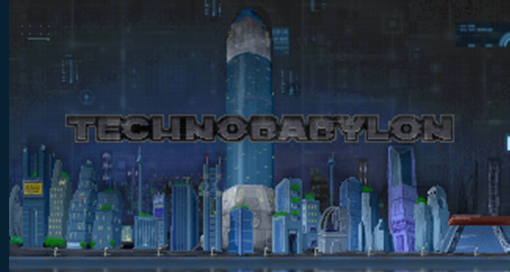 So you can imagine my delight when Dearden announced a remake of the first episode and brought it up for display on the projector screen. It's still decidedly retro, but the remake brings the graphics closer to a true VGA style than the colourful EGA style that currently exists. There may also be some extra puzzles included in the update, though this isn't certain. Already the visual improvements are looking impressive, and I'm looking forward to playing this new iteration. What would be even better is a remake of the next two episodes as well, with Episode 4 somewhere on the horizon matching this new VGA style.
Nancy the Happy Whore and the Perfidious Petrol Station was sold earlier this year as part of a pay-what-you-want bundle in Screen 7's Summerbatch sale. This retro pixel art game is mostly a parody and has little to do with prostitution except for the obvious puns. The game is done in a sort of Leisure Suit Larry style, except you play a female lead and there's no sex in the game at all (sorry to disappoint!). Nancy is an ever optimistic… well… whore heading to the big city to fulfil her dreams. On the way her car runs low on gas and she pulls into the nearest gas station to fill 'er up. Things, however, are not what they seem, as an armed robbery is taking place as you arrive and a terrible evil lurks deep within the station, preventing Nancy from collecting her hard earned petrol and driving off. A small- to medium-length game which should be on sale again very soon, it's a fun title that's certainly one to pick up (pun intended) when you get the chance.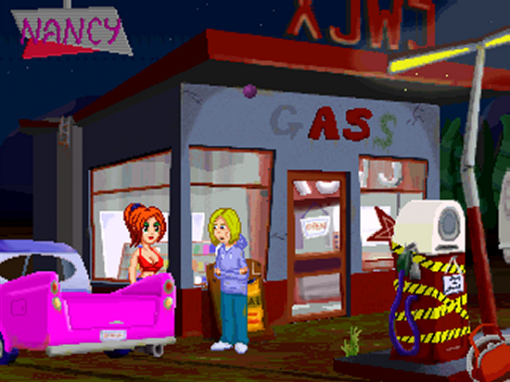 Johnny Hurricane and the Pirates of the Third Reich is set to become the first Technocrat adventure to be released commercially as a standalone game. The game appears to be set in World War II, with Johnny Hurricane a top fighter pilot of sorts, called in by the brass to shut down a host of pirate U-boats performing raids on Allied shipments throughout the Caribbean. One of the ships that's been hit was carrying a vital piece of equipment to the war effort, The Enigma Machine, a secret code breaking device that could tip the balance of the war. Whilst not playable as yet, Johnny Hurricane, based on an early prototype of the game, looks to be a visually impressive pixel art adventure that sits somewhere between Monkey Island 2 and the Day of the Tentacle.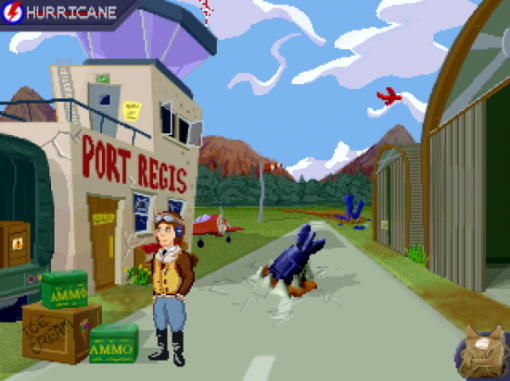 Additional information about all three games and more can be found at Technocrat's website.

Choose Your Own AdventureX
Steve Brown
Playing an adventure game with a friend can be a great help as you bounce ideas off one another. Playing one with an entire room of avid adventure gamers can be anarchy. Such was the situation in this slightly surreal game written specially for AdventureX by Alasdair Beckett-Smith, creator of Nelly Cootalot. Taking instructions from the room as the images appeared on screen, he ran us through an only vaguely traditional tale of a wicked plan and a brave hero setting out to defeat it. To resolve disputes, a captain was elected to have the final say, and the room wisely (or perhaps foolishly) handed power over to yours truly. Vigorous discussion kicked in straight away, with even the simple question of what to name our hero eliciting several responses. In the name of strong but fair leadership, I chose a combination of an undoubtedly excellent hero name, with the hyphenated addition of a somewhat lesser luminary.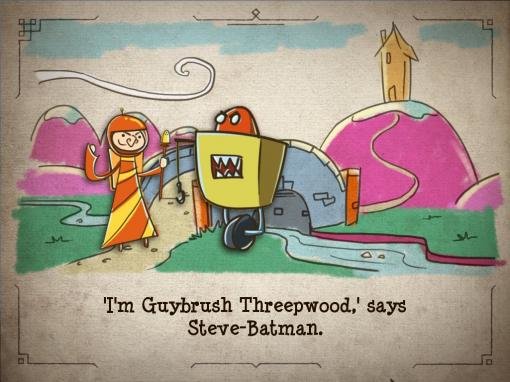 The resulting adventures of Steve-Batman (a Spice Mage who once punched a horse named Christopher) were as bizarre as they sound. Travelling across the surprisingly verdant surface of Mars, our brave hero passed through the perilous Monkey Forest and faced up to his dark past using his Word Of Power, "Blimey!" Whilst the available actions were usually limited to a handful of choices, this did not stop even the simplest decisions from being the subject of much debate.  The experience was further enhanced by live voice-acting from the author himself, covering characters ranging from Spambot the identity thief to the chief villain of the piece, Baldini. All the voices were performed with great gusto, with the wildly varying accent of Baldini being a particular joy. Of course, with a bunch of adventure gamers on the case, the triumph of good over evil, after a fashion at least, was inevitable. The whole experience was immensely fun and I'd recommend anyone to give this style of play a try. Who knows, perhaps with this example to follow, crowd-playing will be the next trend in gaming.
If you'd like to choose your own AdventureX, now you can (though without the ararchy, unless you gather your own room full of companions), as the game has since been released publicly by Screen 7.

Sorcery!
Steve Brown
30 years ago, gamebooks were in their heyday. With computer games still limited by available technology, it was left to these tomes full of numbered paragraphs to provide exciting and fantastical adventures. Pick an option, turn to the indicated paragraph and face the consequences of your decision. A legend of this era was the Sorcery! series by Steve Jackson, spread over four books that told the epic journey of one man seeking to wrest the Crown of Kings from an evil Archmage. With a scope beyond anything that had come before, this series also contained a number of unique innovations, including a detailed spell system and a simple yet effective means of rewarding success in earlier volumes by changing the way you played the later instalments. Now inkle Studios are collaborating with Steve Jackson himself to bring this classic up to date for the current generation. Being old enough to own copies of the original books, I was especially intrigued by this project, and took the opportunity to find out more about this project from the lead developer, Jon Ingold. 
Having achieved success through their Frankenstein app, inkle showed their work to Steve Jackson, nervous of his reaction. Fortunately, he liked what he saw and in a stroke of luck, an uncompleted deal with another developer for Sorcery! had just expired. With the books being 30 years old, and with Steve himself open to new ideas, the intention now is to take a totally new approach to the presentation. Gone is the page-turning and numbered paragraphs of the original, to be replaced by a navigable map and story pages that build up as the player decides what actions to take. This approach has allowed more options to be incorporated than were possible in the original format, even in the eye-watering 800 paragraphs of the last book. Hopefully this will mean that players of the original will find both a familiar story and new experiences within this game.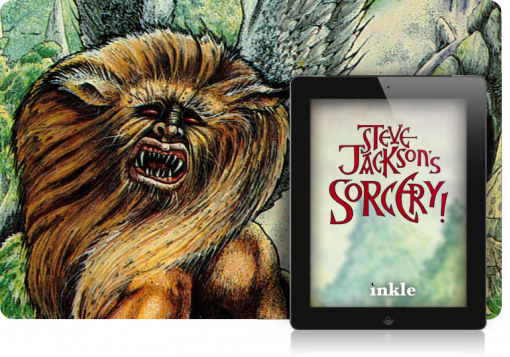 The navigation format isn't the only thing that has changed. Originally combat was handled with the roll of the dice (or flick of the page if you wanted to use the "random" die rolls printed at the foot of each page). This has been abandoned in favour of a choice-based combat routine, inspired by the prisoner's dilemma, where the psychology of your current opponent needs to be taken into account. Also promised is an eye-popping new combat feature, though this is being kept under wraps at present. The original magic system has also had a revamp. In the books, each spell was represented by three letters that had to be memorised. When given the opportunity to cast a spell in the book, a handful of choices were given – some false, challenging the player to remember a valid and useful spell.  Of course, this system was open to players "accidentally" looking at the spell list, rather than working from memory. At time of writing, the adapted system of the new version was still undergoing refinement, but the developers promise greater freedom whilst still maintaining the mystery of the original.
With the first book well on schedule for a March 2013 release, interested gamers can follow news on the project at the developer's website.

Hamnasya
Steve Brown
In the wind-swept and snowy desolation that is North Hamnasya, a young couple flee for their lives from a horde of dark riders, led by a dour dwarf. Travelling on foot, they stand no chance of escape, but by keeping going as long as they can, their sacrifice will not be in vain. The baby they carry with them is sent floating down a river in a small basket, and will eventually find a new home in the arms of a young woman gathering water. After such a narrow escape, who knows what destiny awaits this child?
Thus begins the story of Edhan, as depicted in the spectacular Hamnasya trailer shown at the convention. Displayed several times over the course of the two days, the world it depicted continued to intrigue me. This short video provides the backstory for the first book in the digital gamebook series it was promoting, Askayrl's Grimoire, and developer Nicholas Lenain was at AdventureX to lead us through a short demo of the first part of the game. Whilst the game doesn't as yet feature any video cutscenes like the trailer, the opening chapter was preceded by a fine art depiction from David Revoy. The book pages themselves have a nice parchment look, with a page-turning mechanic that will be familiar to e-book readers. 
At the start of the game, a simple tap-based dice-rolling system is used to generate some typical RPG stats, such as strength and hit points. From there a handful of skills are selected to round off the character. This selection of skills soon has an impact on the story, such as a lack of swimming skill making the attempted passage across a swift river a risk that proves fatal. Nicholas noted that these are recurring situations in the game. In some instances, the player can trust to fate to pass an obstacle without the necessary skill, whilst in others the lack of ability will prevent an option even being offered. Fortunately for our new hero, just prior to the fatal mistake, Nicholas had activated the bookmark feature in our demonstration. Like keeping your thumb in a page of physical gamebooks, this allows the player to take back unwise actions. Hamnasya's fight system was also demonstrated, with an on-screen card depicting the opponent's stats, allowing you to make informed decisions on how to approach the battle. The game also features an orchestral soundtrack.
Since the show, Hamnasya: Askayrl's Grimoire has been released as a universal app on the App Store. To learn more about the game, head on over the official website.

Quest Engine
Steve Brown
As the 18th Interactive Fiction competition showed, the text adventure is far from a dead format. However, for those wishing to write their own text adventure, many of the currently available engines can prove daunting to use, with some programming skill required. Demonstrating his own user-friendly engine, Quest, Alex Warren set out to show that writing your own text adventure could be easier than you think.
In his demonstration, Alex created a simple two-room adventure set in a school. Initially he used only the default object list and responses built into the engine, showing that a perfectly workable adventure could be made without having to write reams of text. After this basic introduction, he further refined the adventure, creating a teacher with a defined gender and a handful of objects in the school cafeteria. It took him only a matter of moments to set up these details, as well as write some unique descriptive text for each.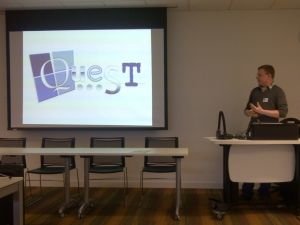 Alex Warren demonstrates his Quest engine
Alex then went on to demonstrate how a simple puzzle could be created. Citing a strict healthy eating policy at the school, he set up a simple script that prevented a bowl of chips from being acquired unless the player had already taken a healthy salad.  The versatility of the engine was further demonstrated with one of the existing adventures already created by the engine having two on-screen interfaces. One side controlled a patient in isolation whilst the other controlled a doctor observing them, with the actions of one being mirrored by descriptions of the other's perception of the action. The game construction interface looked extremely easy to use, and having tinkered around with it myself after the event, I can vouch for its accessibility.
The Quest engine uses a simple system of tabs and drop-down menus to handle everything. Rooms, objects and people can be created with a couple of clicks, with a directory tree keeping track of what is where. Items can be dragged around on this tree in a way that mimics file manipulation. When an object is selected in the tree view, a number of tabs appear on the right-hand side appropriate to the object selected. For example, rooms include tabs for the general description and available exits. For objects there are more tabs, including how they are handled for inventory purposes, and what happens when you try to use them. The actions are all handled by check boxes or drop-down lists, making even the creation of scripts, such as the one that checked you had the salad in the demo, a relatively simple act.
There are many more advanced features available, such as timers and the ability to create your own commands. It would appear that this is an engine that will allow budding designers to do much more as they become more skilled. Once complete, the playing interface features the traditional text parser line, but also includes a clickable compass for movement and hyperlinks for objects to make it more convenient for players.
To download the free Quest engine or simply to play some of the games that have been created with it, visit the official website.

Götz Heinrich - The Great Tree
Steve Brown
Back in the 1980s, the text adventure was king in the Western world. Over in Japan, the unique text parser issues of a pictogram-based language led them to take a different path. There the visual novel took precedence, and is still a major force in the Japanese games market today. German developer Götz Heinrich of Tall Tales Productions presented a two-part talk about this separation.
In the first part, Götz covered the simultaneous development in the two different markets, and the pros and cons of both approaches. He started with some history of the two sides. For example, 1982 brought us the Deadline text adventure from Infocom, while over in Japan, Koei released the line-drawn erotic visual novel, Night Life. Over the years, the visual novel has continued to rely on developing characters and branching plots, easier to achieve in a largely text-based format. However, this has ended up limiting the opportunity for puzzles and other gameplay elements.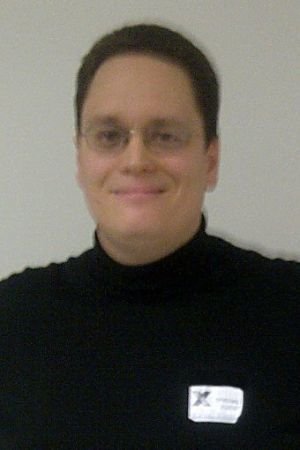 Götz Heinrich
 
Meanwhile, the western world's move to point-and-click games allowed a much wider variety of puzzles and gameplay, but generally stuck to one story route and only had limited character development. Some attempts to extend on both sides were acknowledged. The largely visual novel-based games 999 and Catherine introduced timed puzzles and platforming, respectively. Meanwhile, Lucasfilm's Indiana Jones games were a foray into branching plotlines, with three path choices for the latter part of Fate of Atlantis.
These pros and cons of the two approaches led to the second part of his talk. In this Götz appealed for the branching of the visual novel to be combined with the puzzling variety of point-and-click adventures to create a greater whole. The main objection to this in the past has been the exponential expansion of work created by having multiple paths. Subtitling this second presentation "Branching without exhaustion", he addressed this issue by presenting various ways in which branching was possible while still mostly using the same assets for all paths.
His thoughts started simply, with multiple approaches to a problem, such as fighting your way into a building or using persuasion. Alternatively, having an item that could solve two puzzles, but which was consumed by either, would force players to make a choice knowing they would be closing off another option. Other ideas included behind the scenes stat-building, such as reputation from earlier actions affecting options available later. Even ideas from other genres, such as the grid-based advancement of the original Wing Commander game, were posited. In that game, after each mission block your next set of missions was determined by your level of success. As varying degrees of success and failure moved you back and forth across the grid, your overall path through the game could change each time, even if you ended up passing through some of the same blocks on different play-throughs.
Whilst mainly aimed at the developers at the convention, I found this to be an interesting topic with lots of food for thought. I was not totally convinced by the absolute dichotomy between the two genres, but the ideas for branching without extra strain were intriguing. I hope these inspire game-makers in their future projects, to the benefit of us all.
 
Final thoughts
 
AdventureX 2012 still may not have been the largest gaming event or had all the bells and whistles of a major show, but it was an impressive step forward from last year. For visitors it offered the right balance of relaxed atmosphere and opportunity to see the latest indie games in development first-hand and talk to their designers, sit in on panel discussions and listen to special guest speakers. For the developers themselves, it provided a chance to meet some of their peers and network face to face, share development tips and experiences, and show off their wares in an open, receptive environment.
But best of all, it was a weekend where you could get together with others who are enthusiastic about adventure games, and that is always something to celebrate. We look forward to attending next year's event, hopefully even bigger and better once again!