Anne von Vaszary
interview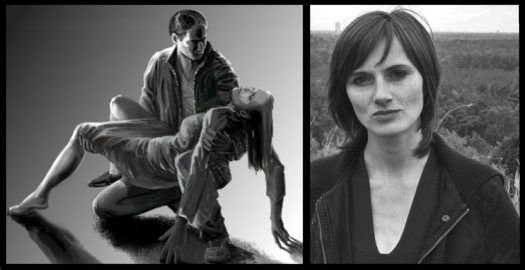 In the last few years, Anne von Vaszary has earned herself the reputation as one of the most talented adventure game writers in Germany, her credits including the likes of Black Mirror II and III and The Lost Chronicles of Zerzura. However, since she's still relatively unknown outside of her native country, we thought the time was right to introduce Anne to the rest of the world – especially since her newest project, Reperfection, is about to be released.
---
Ingmar Böke: Hi Anne, it's a pleasure to welcome you here at Adventure Gamers. Please introduce yourself to our readers, give us an overview of the adventure games you've worked on so far and tell us about your background.
Anne von Vaszary: Hi Ingmar, thank you for the invitation. I'm glad to be here. I've been working as a freelance writer in the games industry for six years now. During this time I've worked predominantly on adventure games. For example – the movie adaptation of Die Wilden Kerle 5 for The Games Company, as well as Black Mirror II and III in cooperation with Cranberry Production for dtp, along with The Lost Chronicles of Zerzura, my latest project for them. These are projects which are very story focused that I worked on for several months. This is my specialty, as I've studied script writing and dramaturgy, and I prefer story material with epic structure.
Ingmar: You're currently working with a new company from Hannover called Tinnitus Games. What can you tell us about the background of the company and the people involved?
Anne: Tinnitus Games are the former Cranberries Michael Holzapfel and Oliver Specht, with whom I worked on the Black Mirror trilogy. Right now we're working on our own first and joint game.
Reperfection

Ingmar: The first Tinnitus adventure seems like a very interesting project for mature gamers: Reperfection. It would be great to get a little summary of the plot and the main characters.
Anne: Reperfection is about a man trying to save his family. After his wife dies in a car crash he discovers his special gift – being able to go back in time. He only has to look his dead wife in the eyes and he is transformed back to the moment before she gets into the car to pick up their son. He is able to prevent her from doing so and thereby saves her life. But as a consequence, his son gets on the school bus and dies in the road accident. When he looks into his son's eyes he can again go back in time and prevent the child from boarding the bus. But now it is his wife who dies in the major traffic accident. He has to find a way to save both. Even though he can trick time – time is the one working against him. It won't be easy, I can say that much.
Ingmar: It seems like Reperfection will differ from other adventure games to some degree when it comes to game mechanics. Could you give us some details on how this interactive narration mixes story and gameplay?
Anne: Yes, the pictures players move through are similar to comic panels. The further one gets the more panels become accessible. Changing elements of the past will affect the content of panels you can access in the present. Certain events are irrevocable, which is why some pictures change permanently. But they provide you with new knowledge which will help you get ahead in the story as well as make completely new panels visible.
Ingmar: How does the "time travel" aspect actually work in terms of changing the past?
Anne: When you look into the eyes of the dead, you not only jump back in time but also back in space. You will arrive a few minutes before that person dies, in close proximity to them. Therefore it is quite important where the person in whose eyes you're looking died. If you're unlucky, looking into the wrong eyes will get you even further away from your destination.
Ingmar: So you're not just looking into either your wife or son's eyes, but multiple others as well?
Anne: Yes, the time travel occurs whenever you look into the eyes of a dead person. Many more people died at the accident where Sarah perished, so you can look in their eyes and will be with them a few minutes before the accident actually happens.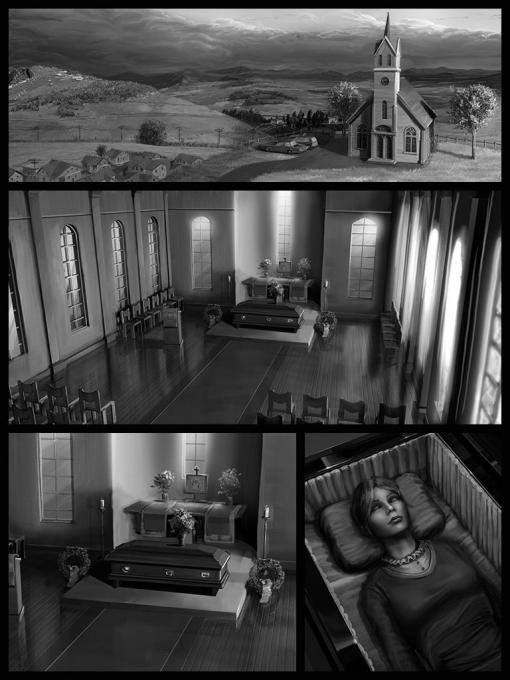 Ingmar: In what way will the five episodes be connected to each other? Are we talking about stand-alone stories or one big game that's separated into five smaller parts?
Anne: Each episode is self-contained but ends with a cliff-hanger that opens the storyline for the next episode. Ben Freeman will be the main character of the entire series, telling an overarching story.
Ingmar: There haven't been many good episodic games outside of Telltale. Why do you think the episodic format works for Reperfection, and what are the advantages this approach offers?
Anne: The narrative structure is based on a serial concept. In this way it's possible for us to go deep into the story bit by bit, rise up, take a breath, and immerse again. In the first episode, Ben discovers his hidden power – the skill to revert events by appearing before they happen to prevent them. He fights for his family and has to pay a heavy price for it in the end. That price is what the second episode is about. Apart from the natural story evolution, the production time for a single episode is also notably shorter.
Ingmar: The visual style of Reperfection is quite distinctive.
Anne: We chose the black and white look to accentuate the story, because whenever a detail is very important for progress, it will turn red in color. This is a dramaturgy decision, as the red-colored details create more effect in a black and white world. Above all we just love this Noir art style. It's a classic and timeless look, so it's on a level with the temporally and locally indefinite city where the story takes place.
All graphics are hand-drawn by Oliver Specht. He has worked as a professional illustrator for Das Schwarze Auge, Warhammer 40k and the Bastai publishing house. As art director he has been responsible for the graphic production of Simon the Sorcerer 4, Mata Hari, Black Mirror II and Lost Chronicles of Zerzura. He's great at creating atmospheric pictures.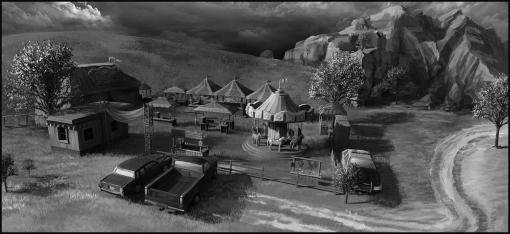 Ingmar: The soundtrack samples on the Tinnitus Facebook page deliver a very appropriate and intense mood. How important is the music in this game?
Anne: For the music we've relied on the Magix Music Maker. Using this tool, Michael Holzapfel has created the entire music for Reperfection and was able to support Oliver's pictures with a wonderfully dark soundtrack. He was probably inspired by the theme tune of American Horror Story. That's why the music pieces often have chimes and weird sounds in them. Still, they're not intrusive and are very suitable as background music while players try to riddle their way through the story.
Ingmar: I'm sure many people are wondering where and how they can get hold of Reperfection. Do you have a release date for the first episode and distribution channels already planned?
Anne: At the moment we're hoping to release the game at the end of October. We will offer Reperfection for the PC, Android and iOS. The PC version will definitely be available via Zodiac. We're still hoping to work with Steam – right now we're in the Greenlight phase. But we will also offer our game to other distributors.
Ingmar: Let's go back in time ourselves now and have a look at other adventures you've worked on. Black Mirror II apparently had a rather turbulent development. What can you tell us about your own experience making that game?
(Spoiler alerts for the The Black Mirror and Black Mirror II)

Anne: I came on board very early, in 2006. My task was to create a believable sequel for the first episode of Black Mirror, which at that point was a stand-alone. The problem was that the protagonist killed a lot of people and then finally killed himself. Not really a lot of characters left for the second part. But luckily there were still lots of open questions. Who was behind the fire that killed Samuel's wife and caused him to leave Black Mirror Castle 12 years ago? And why 12 years ago? I was also wondering why the Gordon family curse only affected their male offspring. What happened to the females? These open questions were of great help in constructing the story's sequel the way we did.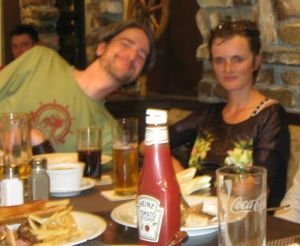 Anne and Achim Heidelauf relax after hours at this year's gamescom
I wrote the story in close collaboration with Achim Heidelauf (Darren as lost son, Angelina as his bad twin, the brandmarked Catherine, Murray as hotel owner, Reginald Borris, Fuller, Miss Biba – and the main scenes in every chapter). Later, when Achim and Jan Theysen from KING Art worked together on this project, I was no longer involved. I came back in 2009 when the Cranberries joined in on development, just prior to its release.
Ingmar: I guess that the development of Black Mirror III must have been quite straightforward in comparison. Any special memories about the creation of the game?
Anne: We came up with the third part in a hotel room in Hannover – Michael Holzapfel, Tom Fischer from the Cranberries and I. It was a pretty long night and we didn't get out until the story was established. The main question with sequels is usually not so much 'what' but rather 'how'. Part 2 ends with the performance of the rituals. Therefore it was clear that part 3 had to deal with the curse and how to break it. The question was how the curse affected Darren and what he had to do in order to get rid of Mordred's evil ghost.
Ingmar: After you did Black Mirror III, it wasn't long until you were back working on another game from Cranberry Production, The Lost Chronicles of Zerzura.
Anne: With Lost Chronicles of Zerzura I was called in for the dialogue after the main part of the story had already been established. Still, it wasn't sheer dialogue writing. Storytelling is a process often influenced by the final development of details. The characters' motivation is revealed through dialogue. As a writer you get a feeling for when something isn't right and you're then forced to question the entire logic of the plot. Feodor's antagonist Gonzales received a lot of attention in this way. Tom Fischer and I discussed his motivation for hours until I could picture a key scene with him and the queen. When characters are fully fleshed out, dialogue almost writes itself.
Ingmar: When people talk about adventure games these days, it doesn't take long until Kickstarter comes up. What's your take on all the recent crowdfunding we've seen, and what pros and cons do you see in all this Kickstarter hype?
Anne: Tinnitus didn't register with Kickstarter because one needs to be a US resident. German crowdfunding sites are not that well known yet. Obviously the big advantage is that as a developer you're able to access funding independent of publishers as well as generate publicity – which is a ground-breaking possibility. The disadvantage is that it's easy to be overlooked among the multitude of projects. That's the problem we're having with Steam at the moment.
Ingmar: During the creation of Gabriel Knight: Sins of the Fathers, Jane Jensen made the following statement: "I try not to limit my thinking about the powerful nature of the story because it's a computer game. I think that we can make computer games that are just as good as any other form of entertainment." This statement has been haunting me since 1993, as I believe in this quote but it seems to me personally that very few people have proven it to be true. What do you think when you hear Jane's statement, and what's your opinion on the quality of interactive storytelling in adventure games these days?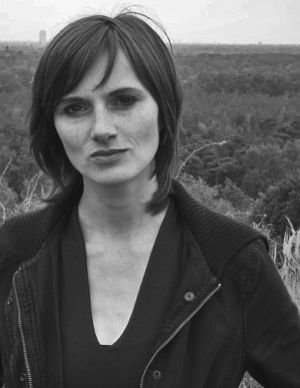 Anne von Vaszary
Anne: Yes, as a writer – whether it's for games, novels or films – you have to focus on the story. But you also have to determine the way to tell your story. My experience is that computer games are not like any other form of entertainment, because you have to involve the gamer in the story. And more than that: you have to give the player the power to influence events and the course of the story. This interactive aspect demands an entirely different dramaturgy than a movie. Hitchcock's bomb under the table is thrilling only when the audience in the cinema knows this fact, but not the clueless protagonist who is sitting at the table. In a game, the audience and protagonist are one person. So how can you create suspense in a game? It needs other narrative techniques and I'm still searching for them – that is the issue for me, not technical limitations or any other question.
Ingmar: How do you think adventure games will and should evolve in the coming years in terms of story telling – especially when it comes to mature experiences for mature players?
Anne: Good question. I think our quest to find better ways of story telling should involve trying new genre hybrids and variations. Why not hook up RPG with a detective story where there are also jump and run obstacles to overcome? There will be trial and error, but also trial and innovation. Taking such risks is unworkable without financial backing in most cases. That's why I cheer for all the indie game developers who follow their own vision and for all who support them.
Ingmar: Which game writers have left an impact on you throughout the years, and for what reasons?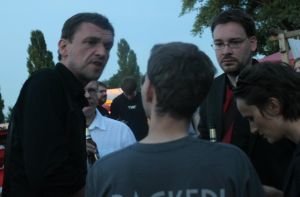 Martin Ganteföhr (left), Steve Ince (back left), Ingmar Böke (back right), and Anne share stories and a beer at the gamescom after-party
Anne: Martin Ganteföhr's Overclocked made a big impression on me, especially the narrative structure in fragmented memory pieces. At the time the game was released, we were coincidentally working on several projects for dtp as well and luckily ran into each other there. I'm also inspired by Freebird Games' Kan Gao's design philosophy. He says he wants to create a game that takes the player through a story in the form of an immersive interaction show.
Ingmar: I'd be very interested in learning your influences as a writer. Are you inspired by movies, books or other games?
Anne: I don't have a preferred medium. I like stories with profoundness that create an inscrutable and sinister mood, regardless of which platform is being used to tell them. For example, the novels by the Irish crime writer Tana French, the first season of the Danish crime series The Killing or the Japanese manga series Death Note. With games it was the Silent Hill series that really got to me, and for me it remains atmospherically undefeated to this day.
Ingmar: Was there any kind of key moment that made you realize you wanted to become a writer one day?
Anne: When I was in second grade I found an old and mouldy smelling book in the attic and started reading it right there in the semi-darkness: The Black Mill by Jurij Brězan. That was the moment I realised that one day I wanted to create that same feeling. But there has also always been light story material – I've been working for a sketch comedy show for two years and published my first novel Rock mich! in 2007, which is simply a love story.
Ingmar: Beyond Reperfection, are there any other projects you're currently working on that you can tell us about?
Anne: Sure, at the moment I'm working on my second novel – the kick-off to my crime series called Wild Dogs.
Ingmar: Where will Anne von Vaszary be as a writer in ten years?
Anne: In ten years I will be working on my seventh crime episode of Wild Dogs and will be finished with the anniversary episode of Reperfection. By then Ben Freeman will have arrived in the 16th century and with the help of Nostradamus must find a way to get back to the future.
Ingmar: Thank you for sharing your time in answering these questions. Good luck with Reperfection and your other writing projects.
Anne: The pleasure was all mine. Thank you for your interest and best wishes to you all.
Referenced Adventure Games
interview
Other articles you might enjoy