Following Freeware: July 2012 releases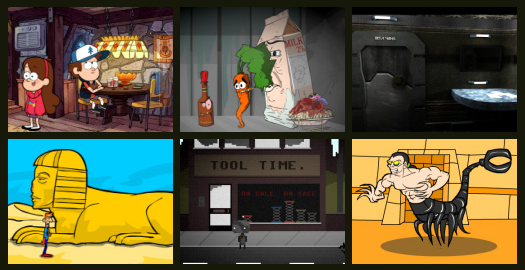 This month you can take on the role of a carrot trying to escape a fridge or a pair of twins trying to escape a museum of the weird. You could help a small robot investigate a long-ruined city, make a first-person investigation of an abandoned space station, or you could attempt to rescue a famous singing star trapped in an ancient Egyptian tomb. All these await in this month's round-up of releases from the freeware scene.

---

The Epic Escape of the Carrot
Things are looking grim for Harry the carrot. Plucked from his happy home in the earth, he was sent to a supermarket and is now trapped at the bottom of someone's fridge. His fate as dinner seems inevitable, when a voice from a neighbouring compartment offers some hope. There is a way out of the fridge, and if Harry can enlist the aid of the other residents, he might just have a chance.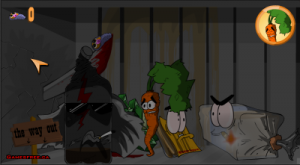 This new game from Pyrozen brings the adult style of their Crazy Hangover games to a surreal tale of anthropomorphic foodstuffs. The graphics are a detailed, smoothly animated cartoon style. The interior of the fridge is somewhat seedy, with disturbing stains and a general air of neglect. The various areas include background animations such as the weeping lettuce in Harry's initial compartment and several bottles urinating with goofily relieved expressions. The game is fully voiced to a good standard with a variety of voices, including the timid Harry and the gruff tones of his potential saviour.
As some of the graphical content suggests, this is not a game for children or the easily offended. Whilst some of the puzzles involve conventional inventory use, many require you to get into the sordid lives of the other fridge occupants. You will procure a sexy companion for a bottle of tabasco sauce and undertake a hit for your mysterious benefactor. All interaction is performed through a simple point-and-click interface, with dialogues fully automated. Much of your time will be spent trying to access new areas of the fridge, with character interaction and inventory use playing equal parts. There is a side quest to collect baby carrots scattered around the fridge, with a complete collection changing the ending. Clicking on certain items also opens up optional unlockable videos that inspired various parts of the game.
The Epic Escape of the Carrot can be played online at Gamesfree.

Battery Powered Adventure
Outside a ruined city, a small robot suddenly springs to life. Repairing a nearby elevated train, this diminutive automaton makes its way into the city itself. Amongst the dilapidated buildings and broken streets, it searches for a purpose to its existence. Will it find what it is looking for, and if it does, what will be the consequences?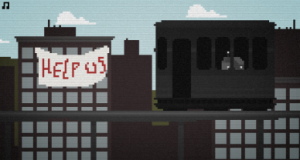 Made for Newgrounds's Robot Day 2012, this adventure from Awkward Silence Games is small but powerful. The graphics are displayed in a simplistic, fairly pixelated style, though objects are still fairly recognisable. The animations are also simple but effective, mainly consisting of the walking animation of the lead character. The initial greenery of the opening soon gives way to the city interior. Here the buildings show extensive signs of damage and the road has fallen into impassable chasms in places. For most of the game, sound is limited to the protagonist's footsteps and some background noise such as birdsong. Music plays over the opening and closing titles as well.
Executed in point-and-click, play mechanics are as simple as the graphics. The robot only has one inventory slot, made all the more apparent by visibly holding any carried object in its hands. A small amount of inventory use will see you through most of the game, with a rewiring puzzle necessary to start the train to take you into the city. With the destruction wrought in the area, the tone is one of melancholy. Whilst there are some indications on the way, it is only in the game's closing scenes that you will get a clear idea of what disaster has befallen the city.
Battery Powered Adventure can be played online at Newgrounds.

The Freewill Cycle: Volume 1 Redux
On a remote space station, you awake to find yourself alone. Exploration reveals a number of high-tech lab facilities, together with a portal that appears to lead somewhere other than normal space. As you piece together the research undertaken on this vessel, you soon come to realise that if you are to escape this place, you must recreate those experiments.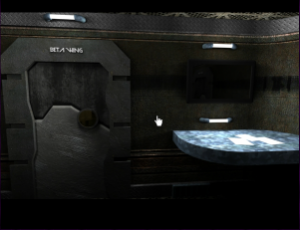 In this re-release, William Buchanan has revamped his 2009 creation. The game exhibits realistic full 3D graphics, with none of the modelling glitches of the original. The space station is a dark but clean location, the only indication of any trouble aboard being its emptiness. The presentation uses a slideshow format, including close-ups of certain objects and machinery where appropriate. As well as various machines on which you need to experiment, you will find a burled hardwood desk and a polished ball showing a distorted reflection of its location on the surface. The musical background is an abstract sci-fi synthesiser mix.
Exploration and deduction are the order of the day. You will need to hack various computers to gain access to e-mails and reports that give you clues to progress. The descriptions of machine operation you find are rarely straightforward instructions, usually requiring you to combine information from varied sources to get all you need. There is also a limited amount of inventory use, both for experimentation and to gain access to all areas. Those who played the original will find some puzzles from that version missing, as well as a variety of new challenges to overcome. Two modes of play are available from the menu. 'Director's intent' plays the game straight, whereas 'casual' provides clues and object labels for the less hardcore player. A single death is possible, though this is fairly obvious and located near the start.
The Freewill Cycle: Volume 1 Redux can be played online at JayisGames.

Mystery Shack Mystery
Twin brother and sister Dipper and Mabel have recently moved to the town of Gravity Falls to live with their Great-Uncle Stan. "Grunkle" Stan runs the Mystery Shack, a tourist trap and museum of the weird. One day, up in their attic-based bedroom, they find that he has inadvertently shut down most of the lights and locked them in. Using all their wits, can the twins escape this unfortunate entrapment?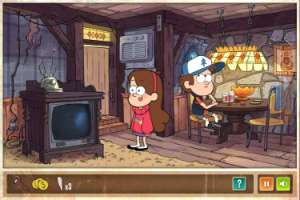 Based on their new cartoon series, Gravity Falls, this Family Channel game offers a bit of light family-friendly fun. The graphics are done in a fairly high-detail cartoon style that matches those of the series itself. The presentation is largely realistic except for the characters' large heads. The shack appears to be built in a mostly log cabin style, but it's full of weird knick-knacks such as shrunken heads and a dinosaur skull. The animation is also at a level with the television series, including background movement, most notably whichever twin you are not controlling doing their own thing. The title screen is backed by the TV show theme, with a softer, more mysterious musical piece backing actual gameplay.
As befits a game based on a family cartoon, both the content and the puzzles are at a fairly simple level. At the start of the game you pick one of the twins to play. That character is then used throughout, the other twin accompanying you in the background to offer observations if clicked on. The puzzles vary slightly between the two twins, giving the game some small replay value. Puzzles mostly involve hunting for items, such as door keys or the missing teeth of the dinosaur skull. Some of these are in plain sight, though others require a bit of environmental manipulation to locate. There are also some combination and inventory application puzzles. In case you get stuck, there is a hint button that will suggest an area of the shack that is worth investigating when pressed.
Mystery Shack Mystery can be played online at the Family Channel website.

Katy Perry Rescue
Katy Perry has chosen a bad time to take a well-earned break in Egypt. Her visit to the pyramids just happens to coincide with the day that prophecy foretold an ancient mummy would arise from his tomb. The prophecy comes to pass, as the mummy kidnaps her and carries her deep within the stony walls of his lair. With the path to her rescue blocked by many dangerous traps and creatures, private detective Cody Jones is going to have his work cut out if he is to save her.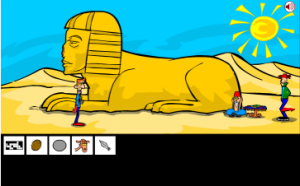 Inkagames' latest offering combines Egyptian myth, films and a few unexpected extras into a challenging whole. The graphics are done in their trademark bright cartoon style, with clear lines and simple shading providing a clean look. Where characters are well-known, such as the Scorpion King guarding the entrance, they are depicted with enough detail to be easily recognisable. These are also smoothly animated, with Cody Jones having a very laid-back stroll. Apart from a brief exterior scene, the interiors consist of the large stone walls of pyramid construction, incorporating various hidden panels and Egyptian motifs. The action is backed up by a simple repeating loop of dramatic cultural music.
Using a point-and-click interface, your first task is to open a sealed entrance. In achieving this goal you will acquire a book full of detail about Egyptian myths and writing, much of it relevant to your goal. Inventory use and combination play their part in enabling you to proceed. You will also use your knowledge to animate magic statues and open combination locks. Some obstacles require a more oblique approach to finding a solution. As in previous games, a handful of areas have timers, with failure to take correct action in time resulting in a game-over screen. Fortunately these also continue the habit of showing a clue to how you can progress, as well as a button that takes back the move leading to the timed event. The tone throughout is very tongue-in-cheek.
Katy Perry Rescue can be played online at the developer's website.

---

Other new releases
Not all games are created equal, and freeware games especially come in all shapes and sizes. Not to be overlooked, the following list might also be of interest, though these games may be significantly shorter or less polished, more experimental titles than those detailed above, some perhaps only borderline adventures to begin with.
Ir/rational Redux by Tom Jubert – Are you rational enough to escape a computer-controlled room?
Personal Trip to the Moon by VoEC – Experience a strange trip as much about the internal world as outer space.
L.O.R. by bigdaddytool – Your future depends on how willing and able you are to follow the simplest of instructions.
Green Love by Kiba Games – When he is taken away by a stork, a frog must undertake a long journey back to his lady frog.
Droid Land by EvilLemon – In a rusty mechanical world, a droid inventor seeks to create organic life.
For So Bare is My Heart by karaidon – After a nasty breakup, how well will Stewart be able to cope?

---
That's it for this month. Think we've missed a gem or want to tell us about your own game? Then pop in to our Adventure forum and tell us about it!
Referenced Adventure Games
freeware feature
Other articles you might enjoy