Christmas Quest trilogy re-re(?)-release!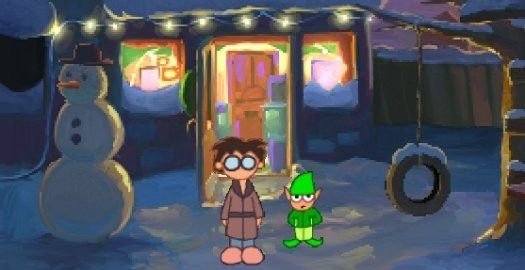 Remember what it was like to be a kid at Christmas? Waking up so early that your parents would kill you if you roused them at that hour… fervently hoping that Santa had come and deposited your special wish under the brightly decorated tree… anxiously willing the clock to move, tick-by-unfreakingbelievablyslow-tick… finally, unable to contain your excitement any longer, bounding down the stairs to bask in the glow of another holiday bonanza…
Do you actually remember? It's often hard nowadays, with all the stress and spending, the traffic and noise, to recapture those memories of innocence and magic and joy. Lucky for you, there's Christmas Quest! That's right, with that special day approaching fast, we are pleased to draw your attention once again to not one, not two, but all THREE holiday adventures from the staff right here at Adventure Gamers. It's like gold, frankincense, and myrrh, only more practical and easier to spell. These games give a whole new meaning to the term "evergreen" adventures!
I'm afraid there won't be a new CQ this year, as the trilogy is now complete (plus we didn't want to miss a fourth consecutive holiday season in a mad scramble to make another). Instead, we decided we'd make good use of the entire year to finally iron out those final few (tiny, almost imperceptible) wrinkles in each game, enhance them with improved animations and effects, and convert them all to Flash to play online… except then the whole year passed without doing any of those things, so we're releasing them exactly the same as before. (It's the thought that counts, though, right?) On the plus side, they're still free, and all three games have in fact been updated at least once since original launch, so even if you've downloaded them before, make sure you have the latest version before you play this year.
Whether experiencing Christmas Quest for the very first time or revisiting them to rekindle those warm Christmas feelings (and have a blast doing it), enjoy!
---

Christmas Quest: The Best Adventure Game Ever!
No, we're not claiming this is the best adventure game ever (though we won't strenuously object if anyone else does). Our very first game (a fact that quickly becomes apparent) tells the story of a young lad who wishes for the best adventure game ever(!), only to wake up on Christmas morning to find that adventure awaits in more ways than one. Part homage, part parody (whichever best excuses its flaws at any given moment), you'll find puns and puzzles and packages galore. And pans! (An AG in-joke that we're not sure even we entirely get; the alliteration is an extra bonus.)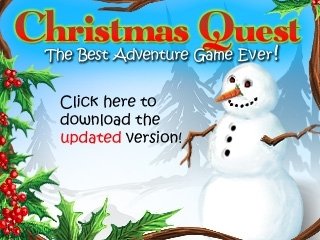 Christmas Quest 2: The Yuletide Flows In
Our sequel takes place a whopping ONE SECOND after the end of the first. That's right, we were episodic before it was cool! Just call us Adventure Trendsetters. In this second game, our lovable but dorky protagonist is all set to finally play the best adventure game ever(!) when – get this – something goes wrong! Who'd have guessed that happening in an adventure? Nevertheless, an unnatural disaster threatens to wash away Christmas for good, though fortunately a straggler elf is left behind to help repair the damage… or at least razz your attempts to do so yourself.

Christmas Quest 3: Santa's Little Help Desk
The third and final adventure begins a whole MINUTE after the conclusion of the second (what happens in that time, we'll never tell!). This time around, Christmas as we know it has been saved, but the same can't be said for our young dork's aging PC. In order to play the you-know-what, some radical repairs are in order with a little help (cough) from tech support and a whole lot of inter-dimensional elf magic. (What, isn't that how everyone does it?) And when all is said and done, maybe – just maybe – you'll discover the best adventure game ever(!) for yourself.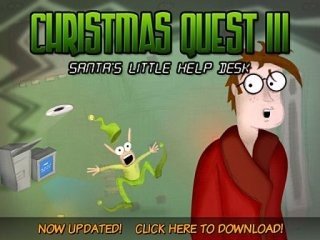 ---
This article originally appeared in Adventure Gamers' now-defunct blog.
Referenced Adventure Games
feature
Other articles you might enjoy