Law & Order: Legacies
review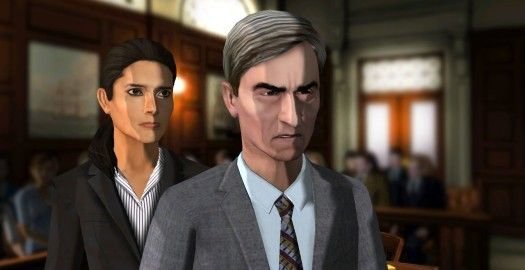 Game information
You might also like these adventure games
Advertisement
Adventure games by Telltale Games
BITMAP BOOKS
Note: This review was originally published after the first three episodes were released. It has since been updated to reflect the full seven-episode season. The final score has not changed.
In the adventure community, the people are represented by two separate yet equally important groups: the developers, who create interactive experiences; and the gamers, who play and review them. These are their stories.
If that opening statement sounds familiar to you (albeit slightly paraphrased), then you are the target market for Law & Order: Legacies. For anyone suffering withdrawal from their weekly fix of crimes "ripped from the headlines" since the 2010 cancellation of the television series after its phenomenal two-decade run, fear not, as the franchise not only returns here in interactive form, but it comes with a dream team of L&O stars over the years. The heavily streamlined nature of the dialogue-based gameplay isn't quite so dreamy, but for a series that's always been more about in-depth stories and emotional drama than actual sleuthing, a simplified gameplay approach isn't entirely inappropriate, and does provide a reasonable amount of suspenseful entertainment.
Legacies isn't the first Law & Order adventure to be released, though the last appeared back in 2005 (or 2004, if you pretend the ill-fated Criminal Intent doesn't exist). The lengthy wait is probably a good thing, as there have been quite a number of changes since then, with Telltale Games taking over the reins from Legacy Interactive this time around. The basic format is the same: the first half of each episode consists of two or more detectives investigating crime scenes and interviewing suspects and witnesses, while the second half switches to the courtroom as prosecutors try to maneuver through the many legal machinations required to secure a successful verdict. What's different is… well, pretty much everything. Gone are the inventory, information folders, warrant requests, open-ended interview options, logic puzzles, and overall player control of any kind. Even manual save slots have been removed!
So what's left? Well, dialogue. Lots and lots of dialogue. About 90% of each case is spent in conversation of one kind or another. Of course, here it's been turned into an interactive event that requires careful observation and regular input from players. During the detective segments, this comes in the form of quiz-type questions that challenge the validity of each statement you've just heard. There's no L.A. Noire-like "tell" if a person is lying, so it's more like Phoenix Wright in that way, as you'll have to either know the truth or guess. You can refer back to a transcript of the conversations so far in each case before submitting an answer, but doing so is rather tedious, and even wrong answers will advance the conversation anyway. Wrongly bluff your way through too many topics, however, and you'll be forced to start the sequence again. Even this isn't a huge setback, mind you, as conversations can be right-clicked through to quickly speed back to where you were.
When correct, you're then presented with a multiple choice test of facts to support your claim. Many of these are pretty straightforward, but as often happens with multiple choice tests, a few have more than one option that seem reasonable, requiring a bit too much interpretation to know for sure. There's neither a second chance nor explanation of why your answer is wrong (in order to preserve the "replay" value), so you'll just have to take your big, fat "X" for your troubles and carry on. Each right answer earns you a star and/or a repetitive pat-on-the-back splash screen as a reward, and it's even possible to exceed the target number of stars per conversation. You're also commended for identifying "red herrings", which are topics that yield no actual value to the investigation. This is both arbitrary and silly, as it's completely out of character to start asking about cell phone reception in an official investigation. Earning stars accomplishes nothing more than bragging rights, anyway, and if you're not happy with your score you can replay the entire sequence right away.
The dialogue "puzzles" work far better during the courtroom portion. There are still some quiz scenarios, but you're also required to object to opposing counsel's tactics. In the first three episodes, a pop-up tutorial instructs you with layman's term legal definitions of such things as hearsay, badgering, and leading when they first appear, and it's up to you to identify the correct option from a list when they occur. There is rarely much doubt about which objection (if any) to register, so this doesn't have quite the impact it might have, but the later episodes scale back the hand-holding by eliminating the tutorials, so you'd better remember the terminology for future use. The reward system also feels far more organic in court, as instead of stars you either sway the jury positively or negatively toward your case, as evidenced by an on-screen "scales of justice" gauge.
Jury confidence not only affects the final result, it impacts your plea bargaining sessions as well. It doesn't happen in every case, but at various points during a trial the defense attorney may try to lowball you with a ridiculous request, giving you a chance to counter. Depending on your jury gauge, your proposal will be either accepted or rejected. Or if you're truly confident in your case, you can scrap the plea altogether and go for the full conviction in court. These issues aren't merely cosmetic, as the endings can be quite different depending on your choices – and aptitude, though you really need to be trying hard to lose a case altogether. I was surprised to see a whole new endgame scenario play out when I revisited one of the cases with a different approach. Kudos to the developers for putting this much effort into multiple outcomes. Unfortunately, since the game only auto-saves, there's no way to record your progress right at the critical points, forcing you to restart the entire case from the beginning if you want to check them out. At the very least there should be a permanent mid-point save at the beginning of the trial.
Really the only other "gameplay" in Legacies consists of one or two short, simple crime scene investigations per case. In each scene, you're rather presciently given a silhouetted list of items to find that pertain to the case, though the clues become less blatant in later episodes (the final case includes no silhouettes, only a text description of the evidence required). In first-person view, the camera pans across the room as you move the cursor to the sides of the screens. When you see a listed object, you must draw a circle around it. This seems a rather absurd mechanic on PC that probably makes far more sense on the touch-based iOS version, but it works well enough, as your circles don't need to be Rembrandt quality to be recognized.
Occasionally, however, a necessary item will be tucked behind or inside another, making it hard to see or even completely impossible at first. Drawing circles around the obstructing item removes it or swoops in for a close-up, but you may have to completely guess which box or drawer something might be hidden in, which makes the target circle number a frustrating goal. With each circle you draw the display number goes down, and it's not particularly generous. It's easy to blow through them with a few wrong guesses (when guessing is all you can do), and hitting zero through no fault of your own is an unwelcome slap in the face. There's no penalty, but it contributes to the overall feeling that you're in detective sim school rather than an actual investigator working a case.
While it doesn't provide much gameplay depth, all the yakking does put the focus squarely on the story and characters, and it's here that Legacies fares far better. Like the television show, this is less a whodunit you can solve along at home than a meandering, overlapping, unpredictable trail of bread crumbs to follow to its conclusion. Without giving much away, each case begins with a "simple" murder and ends up something far messier and more complicated than it first appears, whether involving celebrity voicemail hacking, illegal cockfights, or serial strangling of prostitutes. Several episodes have intriguing twists, like a blind boy being called as a witness or the sudden emergence of unexpected confessions that don't quite fit the facts, and occasionally you'll get to trap a suspect with some dialogue subterfuge (hey, sometimes the truth requires a little lying to reveal). The cases are diverse enough to keep things interesting, though at only about an hour per episode, you'll speed through them at a fairly breakneck speed, with sudden revelations propelling you quickly from one new scenario to another.
There's a varied cast of supporting actors, including pimps, self-righteous foreign diplomats, and computer geeks, but the real stars here are of course the Law & Order crew themselves. And it is indeed a who's who of familiar names and faces, including detectives Rey Curtis, Mike Logan, and Olivia Benson (moonlighting from the SVU series), plus attorneys Abbie Carmichael, Mike Cutter, and Jack McCoy. Special mention goes to the "return" of Lennie Briscoe (R.I.P. Jerry Orbach!), though the timeline of Briscoe's involvement was never particularly clear to me. There are strong suggestions in the early cases that Lennie himself is now gone, remembered only in flashback, though several episodes feature him as a full-fledged investigator. This discrepancy is resolved by season's end, as the details of earlier investigations become relevant to current cases in progress, but the sudden, unannounced jumping around from one era to another gets confusing (especially when first playing the episodes months apart). Telltale could have made the case chronology more apparent, though as a concession to get Lennie in the game, it's a welcome trade-off any day.
I'm not a Law & Order devotee, but I've seen enough shows over the years to appreciate the individual personalities of most of the cast. Only Lennie and Olivia really shine here, with the former's world-weary comic quips and the latter's hard-edged, biting sarcasm and ever-willingness to play "bad cop". The rest play things fairly straight, which seems fairly true to character, though McCoy comes off grumpier than I remember him, and Lt. Van Buren a bit too hip. The rather forced union of cross-generational, even cross-spinoff characters isn't without its problems, as the writers haven't done much to justify the sudden reappearance of older characters, but it poses no real suspension-of-disbelief problems beyond the initial shock of seeing them together.
To say we've never seen the characters quite like this extends to the graphics as well. Rather than go for a strictly realistic look (something Telltale's aging engine has trouble doing with faces), here the visuals have been given a slightly stylized cartoony appearance. Not quite enough, though. Rather than making the game completely comic-like, some background textures look really washed out, while facial shadows can be distractingly excessive. The main characters are recognizable but rather blocky, and a few are burdened with particularly dour expressions. Poor scowling Olivia seems to be stifling some serious constipation. There are some odd camera angles as well, with far too many off-center shots and scenes spent staring over someone's shoulder. This may have been meant to be artistic, but it ends up looking more like a klutzy photographer that never gets the image framed properly.
Unfortunately, while the original actors' likenesses have been recreated here, none of them were used for voiceovers. The replacements aren't intended to be exact "soundalikes" per se, but they do a reasonable job for the most part. Still, to see such beloved characters on screen, it's hard not to instinctively think, "That's not Sam Waterston/Chris Noth/Benjamin Bratt" each time they open their poorly lip-synched mouths. What's worse is that the audio is occasionally disrupted by pops and volume distortions that further ruin immersion. Thank goodness the original theme music and familiar "dun dun" location change tone are included, creating an instant connection to the show.
The first six episodes are more or less self-contained, complete with opening and closing credits, but the last case relies heavily on familiarity with earlier stories, so you'll want to play each episode in order. Not that you have a choice, as completion of each episode unlocks the next in order. A final tie-everything-together case has served the CSI series well in the past, but it doesn't work nearly as well in a purely episodic format like this, as it was several months since I'd played the early cases and had long since forgotten many important details. This is far less an issue now that the full series is available, but to get the most out of it you'll want to play them all in fairly short duration. Given the brief length and relative ease of each installment, that shouldn't be a problem, and for the most part it's a reasonably enjoyable way to kill an hour (just don't get caught!) at a time. I admit that I have a high tolerance for short, breezy games between the more hardcore adventure releases, however, which certainly isn't true of everyone. That's important, as you won't get your hands very dirty on the streets of New York, and you'll barely break a sweat in the courtroom, which will no doubt be a disappointment to some. At times it feels more like Law & Order: The Game Show, but if you set your expectations accordingly, there's some mildly diverting casual entertainment to be found in the newest addition to the franchise's legacy.
Our Verdict:
Though it can be simple fun in short bursts, Legacies offers a highly scaled-back version of the familiar cops-and-lawyers formula that doesn't do the intriguing storylines full justice.
GAME INFO
Law & Order: Legacies is an adventure game by

Telltale Games

released in 2011 for iPad, Mac, Mobile (Other) and PC. It has a Stylized art style and is played in a Third-Person perspective.


Want to share your own thoughts about this game? Share your personal score, or better yet, leave your own review!

review
Other articles you might enjoy