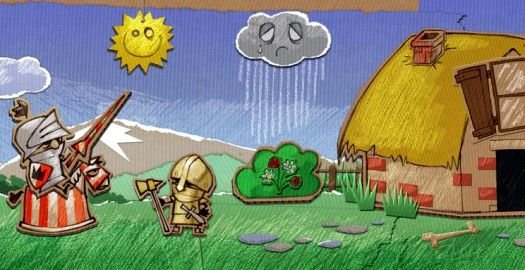 Game information
You might also like these adventure games
Advertisement
Adventure games by White Birds Productions
BITMAP BOOKS
What could stop a dashing knight intent on saving a damsel in distress? A slobbering monster? Fire? Axes? How about a glass of water or a pair of scissors? White Birds' side-scrolling lite adventure Cardboard Castle, as its name implies, takes you through a hand-drawn land made entirely out of paper, cardboard, and pieces of tape. As you guide the hero through this paper gauntlet, you'll find a game wrapped in inventive artwork that provides a short diversion of puzzling fun, though the paladin's rather bumbling adventures make for a rather – ahem – flimsy story, and you might find the scissors and paper in this game a bit more of a hassle to wield than the versions you used in kindergarten.
The nameless protagonist, ever accompanied by the quick clippity-clop of his trusty horse, is a man of action – or to be more precise, complete inaction. Constantly on the lookout for acts of derring-do, he never actually accomplishes anything himself. Instead, he needs your god-like help to overcome all sorts of trials so that he can capture all the glory. Now, the typical obstacles befalling a knight include moats that need crossing, castles that need entering, and foes that need slaying. You'll certainly encounter these standard medieval tropes, but you'll need to think outside the cardboard box to succeed, whether it's using sunshine to melt ice or watering plants to see what fruit they bare. Unfortunately, the story doesn't have much more substance than the material the game is based on, with no real plot and no background as to why the knight must protect the weak other than the fact that that's what knights do.
Cardboard Castle is broken up into five sections, themselves divided into five increasingly difficult and longer levels, each of which consists of a series of obstacles that must be overcome in a particular order. However, the first section is a fairly simple tutorial to get you started and the final section is a timed sequence where you try to solve as many environmental puzzles as you can within a set time. With each puzzle you solve, a bit more time is added to your clock. It took a while for me to realize that there was no objective to this sequence other than to just keep going for as long as you can.
Whether your knight is out to stop an insatiable monster that has escaped from his paper prison, find a lost king, or save his sweet damsel, you'll aid him by puzzling out how that apple tree, an axe, or a pile of soggy cardboard can help you cross chasms, unlock doors, or defeat monsters. You'll be able to use several props in the immediate environment, and you'll have to determine whether to do certain actions during the day or at night, which you can sometimes change at will. The game starts off with a very simple set of puzzles, but the further you go, the more elements are introduced and the more complicated the puzzles become.
Eventually you'll be presented with so many elements that it may seem like you have several different routes to progress through each scene. However, there is usually only one main solution (with very slight variations). If you have several chasms to cross and errant knaves to dismiss, you'll need to make sure that you're using the right weapon to chop wood or slay a foe. Unfortunately, the game cheats a bit the further you get. The axe that you so cheerfully chopped wood with a while back for some mysterious reason doesn't work on the paper witch you have to defeat. What's worse is that even if you've found the right tool for the particular job, you'll need to make sure that you use it in the right order. If you don't, you can easily reach a dead end by running out of implements required and be forced to restart the scene from the beginning. Sometimes the game lets you know you've reached this point by announcing that there's nothing left to be done. But more often than not the scene stays active, with no clue that you've gone down the wrong path, eventually forcing you to manually hit the reset button yourself.
The game does provide two layered hints for each level, but you'll need to find gold coins sprinkled throughout the game to buy these clues. However, I didn't find the hints particularly helpful anyway. Each hint lets you know what you'll get if you use two items together or which objects you should combine, but I had usually figured these out before I purchased them, rarely getting the kind of specific tip I actually needed at that moment. There is a level skip feature if you're completely stuck, but that's an unsatisfying option if you really just need a single nudge.
Part of the reason I occasionally found myself stuck had nothing to do with the difficulty of the puzzles. One of the biggest drawbacks is the rather clunky controls. With no actual inventory, you'll need to left-click with your mouse on environmental items and hold down the button to scroll the view left or right (or click and release as you "fling" the screen to the side). Occasionally when carrying an object you'll be able to move left and right without clicking and holding, which made me wish the developers had allowed this all the time. I also found that the cursor would sometimes hang without moving my view left or right for no apparent reason, or wouldn't quite place an object exactly where I needed it to be. Perhaps this control scheme worked better on the original touch-based iOS release, but the PC port just feels sloppy and cumbersome.
Between the periodic frustrations, Cardboard Castle provides a nice bit of cheerful fun. Jaunty, lighthearted music weaves in and out to complement artwork that is both whimsical and funny, and at times a bit odd. Every scene is pasted together with hand-drawn paper cut-outs that could have been pulled straight from a children's book written by Dali if he were taking happy pills. Sunny-faced suns and teary-eyed thunderclouds taped to a blue sky share space with floating glasses full of water and scissors frozen in midair. The backdrops are charming, but it's unfortunate that in a fairly short game you'll encounter the same types of scenery over and over again. You'll see the same green trees with the same apples, the same crows carrying the same keys, and the same ornery old cows tied up to the same posts, only in slightly different locations with a slightly different ratio of trees and apples.
All told, Cardboard Castle represents an inventive twist on lite puzzling adventures, though it will last you less than three hours. A bit like Scribblenauts, except with paper props instead of text (and not nearly as diverse), the game is charming to look at, for a little while at least, but given the frustrating gameplay mechanics and repetitive sequences over time, and without any compelling story to motivate you to continue, you may want to shield yourself from this one and look for a more substantial game to feed your adventure fix.
Our Verdict:
Cardboard Castle is a creative puzzler that thinks outside the box, but it's a missed opportunity with repetitive obstacles and a throwaway story about nothing much.
Want to share your own thoughts about this game? Share your personal score, or better yet, leave your own review!

review
Other articles you might enjoy