Jurassic Park: The Game
review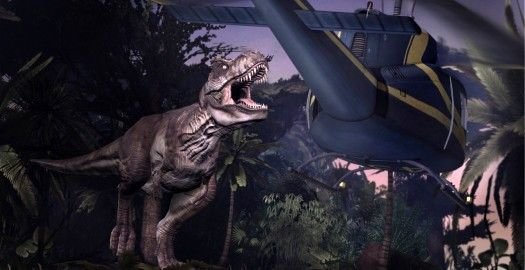 Game information
Adventure Gamers Awards
You might also like these adventure games
Advertisement
Adventure games by Telltale Games
BITMAP BOOKS
Between reviving beloved franchises like Sam & Max and Monkey Island and coming out of the blue with the delightful Back to the Future: The Game, Telltale isn't pulling any punches in its campaign to reclaim my childhood. So far, they've done justice to every property they've tackled. Their latest nostalgia blitzkrieg is Jurassic Park: The Game, which takes place at the familiar dinosaur park but introduces all-new characters and attempts to follow up on some of the loose ends of the film's plot. In keeping with the spirit of the movie, this is a faster-paced, darker game than Telltale's usual oeuvre, with a unique interface and control scheme to go along with the different tone and pace. Unfortunately, the effort is held back by an engine that feels ancient and a general lack of awe that keeps the game from ever matching the best moments of the film.
Fans of the 1993 Spielberg movie (or the Michael Crichton novel it's based on) will remember one Dennis Nedry, the portly computer programmer who compromises the park's security in order to steal valuable embryos for a rival corporation. In doing so, Nedry turns a tightly-controlled zoological environment into a deadly dino free-for-all; one that comes back to bite him in his (considerable) rear end when he is stalked and killed by a venom-spitting Dilophosaurus. The embryos, encased in a fake can of Barbasol shaving cream, rolled away from Nedry and were buried under a pile of mud, never to be seen again.
Or were they? Jurassic Park: The Game picks up the trail of the Barbasol can, telling the story of the mercenary sent to retrieve the embryos from the island, as well as an assortment of other characters who have been left behind after InGen CEO John Hammond and company escape. In addition to Nima the mercenary and her contact Miles, you'll play as Gerry Harding, a staff veterinarian accompanied by his daughter Jess (because what's Jurassic Park without children in peril?) as well as Dr. Laura Sorkin, a geneticist on a mission of her own, plus Oscar and Yoder, two guns for hire brought in by InGen to rescue everyone else. Needless to say, the rescue does not go smoothly and before long everyone is trapped on Isla Nublar with a host of ever-hungry dinosaurs. Each character also has their own various motives, some of which are more secret than others, and some of which aren't terribly conducive to everyone's survival.
Jurassic Park is, like other Telltale games, divided into episodes, though all four episodes are being released as a single product this time rather than spaced out over a course of months. That's probably a good idea in this case, since it's easy to forget the details of an overarching narrative when there's a month or two between releases. The urgency of the story—RUN HERE! FIX THIS! WATCH OUT! QUICK, HIDE BEHIND THAT! GET OFF THE ISLAND BEFORE YOU GET EATEN!—plays out better in a few consecutive sittings, making the game feel meatier, though it's still only about six or seven hours long.
The game does a great job of hooking itself into the Jurassic Park mythos, feeling like a natural extension of the film rather than a cheap cash-in. The writing is solid if not remarkable, with likeable, fleshed-out characters and a script that's far more serious than Telltale's traditional work. There are weak points in the storytelling, though. Character motivations can sometimes flip with little provocation, and the protagonists can be awfully talkative during life-or-death situations, which takes the bite out of some of the action-y bits. (Maybe there's a better time for long-winded exposition than when raptors are clawing at your heels, guys? Huh?)
While there are a few laughs, Jurassic Park is naturally heavier on drama and suspense than, say, Strong Bad. The story takes the time to delve more deeply into some of the themes briefly touched on in the film, exploring the ethics of bringing what is essentially an endangered species into existence. While most of the game is a fast-paced series of close shaves and narrow escapes, the inclusion of such issues lends some literary gravitas that is certainly welcome. Dr. Sorkin in particular feels the weight of ethical responsibility and strives to reverse the lysine deficiency installed by the original engineers as a failsafe to prevent the dinosaurs from surviving on their own.
The actual gameplay is a fairly radical departure from what we've previously seen from Telltale. In fact, it all seems fairly derivative of Heavy Rain's pattern of exploration bookended by blink-or-you'll-die Quick Time Events. The button prompts also ape the physicality of Quantic Dream's opus: opening a door involves moving the mouse/thumbstick left or right, while kicking a dino in the face (a fairly common occurrence, actually) may involve mashing a button or timing your press just so according to the onscreen prompt.
The QTEs feel appropriate for the most part, but can be frustratingly inconsistent—imagine your character running and leaping about in a cinematic without any input required from you, only to have an action prompt pop up halfway through the scene to complete one of the jumps. Take more than a split second to react and—whoops!—you're dead. The punishment for death is jumping back to the last checkpoint, which is never too far away and so isn't overly frustrating, though your rating for that scene drops, if you care about that kind of thing.
In general, though, the Quick Time Events make for some involving and suspenseful action. They may not reach the intensity the film, but they work well enough. There are even a few truly clever moments that play against the expectations of the genre, like a scene where a character, dazed from a hard fall, must struggle to gather her senses. The player has to guide a moving dot on-screen to hover over a target using the mouse or thumbstick. Normally this isn't much of a challenge, but in this one case, the dot moves so wildly that it's literally impossible to succeed, meaning the character remains dazed. The forced failure emphasizes the desperation of the moment to nice effect.
It's not all running and screaming, however—things do slow down from time to time, and it's here that some of the game's more interesting ideas come out. First off, there is no direct control of the characters at all. Instead you control the camera, cutting from angle to angle. From each vantage point you can pan the camera around to find new hotspots and details. If you're playing with a mouse and keyboard, these hotspots are highlighted with a small clickable icon. When using a gamepad, the hotspots are highlighted with an associated controller button. It's a neat system that retains the feeling of control even if you aren't moving the character directly.
Often changing views means switching the focus to a different character, which allows for new dialogue options and some interesting, if not exactly challenging, cooperative puzzles. For example, one character might have to adjust a light so that another character several feet away can track dinosaur prints in the mud. The game is more about momentum than challenge, though, so in general you'll be propelled from scene to scene without much trouble. This avoids the pacing problems that more traditional adventure games can have, but the experience can be kind of shallow. It feels like the game is on autopilot at times, so your mileage may very depending on how much you want to play a game rather than watch it.
Unfortunately, while the gameplay is pushing in new directions, the same cannot be said for the Telltale's aging engine. In previous games, they compensated for the dated graphics with a cartoony art style that looked great despite the lack of fancy tech. But Jurassic Park is a film that captured imaginations because of its sense of awe and terror at the intensely realistic dinosaur special effects (the paleontologists out there may disagree with the 'realistic' part, but it sure felt that way to the rest of us). Telltale has attempted a more realistic style in turn, but the results don't measure up. For one thing, the design feels inconsistent: human characters are expressive but look flat and stylized, while the dinosaurs are more faithful recreations of their movie counterparts. The environments lack detail and suffer from bland lighting that saps the tension out of many scenes. In general, it feels kind of like a Saturday morning cartoon version of Jurassic Park—and that doesn't quite click.
You would think there would be one area that couldn't be screwed up in a game like this: the soundtrack. John Williams's original score is so iconic and diverse that scoring the game should have just been a matter of rearranging the cues and perhaps tweaking or expanding them when appropriate. This approach worked fantastically for Back to the Future, and sure enough, there are moments when the original score shines through here, but all too often the music is a hectic mish-mash of cheap-sounding synthesizers that only add to the Saturday morning feel. Tracks also start, stop, and transition abruptly, which doesn't help matters. At least the sound effects are spot-on. Every chirp, roar, and twitter from the T-Rex, raptors, and the rest of the bunch sound perfect and will take you right back to 1993.
Fans of the movie will certainly get the most out of Jurassic Park, but may be left with more disappointment over what the game could have been than enjoyment of what it is. Non-fans should probably stay away, as the game assumes both a familiarity and a passion for the source material. If you don't care who Nedry is or understand references like "Dodgson! Dodgson! We've got Dodgson here!" then this is not a particularly good entry point into the series.
In the end, this is certainly not a bad game, but it feels cheaper than a Jurassic Park game should, and the gameplay is sure to be divisive among adventure fans. It leans toward casual action and never poses too much of an intellectual challenge, but doing so keeps things moving along at a pace that feels appropriate for a horror-thriller like this. Those open to a well-written, occasionally exciting story will have a reasonably good time so long as you don't expect any jaw-dropping visuals or a whole lot of meat on these dinosaur bones. There are far, far worse movie-to-game adaptations out there, but the effects of Telltale's limited resources have rarely felt so tangible. Just this once, in attempting to do justice to one of the biggest massive-budget blockbuster film franchises out there, they probably should have followed John Hammond's lead and spared no expense.
Our Verdict:
Some genuinely clever ideas and intense moments in Jurassic Park are held back by an engine that is rapidly approaching fossilization.
GAME INFO
Jurassic Park: The Game is an adventure game by

Telltale Games

released in 2011 for iPad, Mac, PC, PlayStation 3 and Xbox 360. It has a style and is played in a Third-Person perspective. You can download Jurassic Park: The Game from:



By Lucien21 on May 19, 2012
A game that requires 65 million years more development.
Bought this just before Xmas in the Steam sale. 50% off which is just as well. Was Telltale's first foray into the action genre worth the wait? Unfortunately it is a resounding NO. There are...

Read the review »

review
Other articles you might enjoy