So Blonde: Back to the Island
review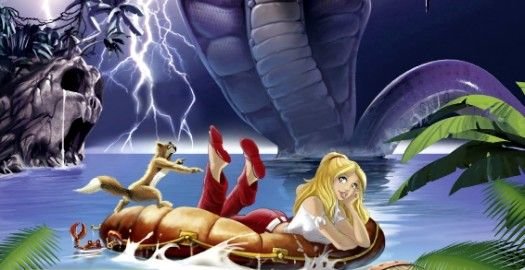 Game information
Advertisement
Adventure games by Wizarbox
BITMAP BOOKS
Right around the time that So Blonde was released in 2008, an alternate version of the game was announced for the Nintendo Wii and DS. Not a sequel or spin-off, but a darker "what if?" scenario telling us what would have happened if Sunny had ended up at the other side of the island after falling overboard her luxury Caribbean cruise ship. Most of the English-speaking world has been waiting for news of its release ever since – so long, in fact, that after a while we barely remembered the game even existed. With the upcoming Captain Morgane and the Golden Turtle throwing the spotlight back on this franchise once again, however, we belatedly discovered that the German Wii version of So Blonde: Back to the Island actually contained a complete English version all along. I was eager to return to Forgotten Island once again, only this time I discovered that maybe it wasn't such a bad thing that the game was forgotten in the first place.
While the teenaged protagonist washed up on a tropical island beach in the original game, Sunny Blonde now touches land on the opposite shore, which is a dark, desolate place occupied by evil pirates. Time has stood still here for several centuries, and the inhabitants have no idea what she is talking about when she mentions mobile phones, chargers, shopping malls or hotels. Just like in the PC original, Sunny simply thinks she's arrived at a holiday resort and everything she sees and hears is just one big plot to entertain the tourists. She refuses to leave the beach before she has the chance to touch up her make-up, involving the same catching-drops-of-water-in-half-a-coconut minigame (albeit with much nicer graphics). When she finally does leave, she meets One-Eye and his second-in-command Diablo, who promise to help her get off the island if she runs some errands for them.
It is during one of these errands that Sunny learns about a banking clerk, Nathaniel, who used to live on the island in the past, before the curse that stopped time came in effect. Suddenly, she becomes aware of a presence, and at times is actually capable of seeing some of Nathaniel's world through his eyes, although she doesn't really understand what is happening. He, in turn, is also aware of Sunny 'invading' his mind, and fears he is being possessed when he occasionally hears her voice. As the link between them is very weak, neither of the two can directly influence the other's timeline, or indeed explain what is going on. Nor can players choose between the two characters, as the game alternates between them throughout its twelve chapters.
Sunny mentally experiences everything Nathaniel does in his chapters, so she can use the knowledge of his deeds and encounters to find items he's hidden and confront people with information she couldn't possibly have obtained on her own. This makes the island natives believe she is some kind of shaman, which is crucial for convincing them to help her. Nathaniel's chapters span several time periods, so we see people like Morgane as a young girl as well as an adult woman. We also revisit the voodoo priest Chemi'n, bar owner Vasco, old wise woman Sancha, plus the triplets and their big sister and several other minor characters. It's not necessary to have played the first game though, as the story is perfectly understandable without any prior knowledge and all characters are introduced properly.
Just like before, the story is ultimately about love and coming-of-age. Unfortunately, it unfolds very slowly. Sunny just plods on, spending her days doing chores for several people on the island without any real goal until fairly close to the end, when it finally becomes apparent what Sunny actually wants to accomplish. The main story about rival island spirits and the curse that makes time on the island stand still is forced to the background most of the time. And for a 'darker' story it is still quite light and friendly. Sure, there are skeletons, evil spirits and voodoo chiefs, but Sunny is always joking about them and never really afraid of anything (she thinks it's all plastic and make-believe anyway). Given the more ominous premise, the plot could have done with more excitement and maybe a scare or two to keep things interesting.
During Nathaniel's chapters, we learn a bit more about One-Eye's past and how he became the cruel tyrannical pirate he is in So Blonde. We see him as Nathaniel's roommate when he is still 'normal' and watch him slowly turn into a nastier person and finally learn how he lost his eye and his morals. We also find out how Juan became governor and why the priest became a hermit in these flashbacks. Unfortunately, such chapters are too easy, short and shallow to be a significant addition. New characters like Nathaniel himself are never fleshed-out but remain rather colourless and bland. He's just a bit of a boring guy that tells a story that might have been interesting in a not-very-interesting way, and he's not really sharing his opinion with us so much as stating what has happened in dry facts. Max, the lovable little creature from the first game, is also playable for two very short scenes, but they don't really add anything to the game and feel out of place. Some locations are reused as well, although they are mostly shown from a different angle, which means you will recognize them but have new things to discover.
The controls are reasonably simple and mostly adequate. The game starts with a short tutorial on board the ship to get you acquainted with the interface. The Wiimote is used to move a cursor across the screen, exactly like you would a mouse, and clicking a button makes your character to walk to that spot. You can also use the nunchuck to steer Sunny directly if you prefer, but that's entirely optional. The A button lets you interact with people and objects, and the B button is used to examine. The control scheme generally works very well, but sometimes the Wiimote is a bit too sensitive and in dialogue the options can be too close to each other, making it easy to click the wrong option or accidentally end the conversation prematurely. Pressing another button opens up a menu with your inventory, a map (when available) and a quest log, along with a screen where you can save your game. It should be noted that there is only one save slot, and the game does not automatically save your progress when you quit.
By clicking and dragging an object in the inventory, then dropping it on top of something else, items can be combined with others or with something in the environment. This requires a bit of a steady hand, as it's easy to drop an object just outside the intended hotspot, which simply returns it to the inventory. Although sometimes a small buzzing sound is heard when trying to combine objects that aren't compatible, most of the time there is no feedback to indicate whether you're trying something that isn't possible or simply being clumsy. The only way to find out is to try again. For some inventory-based puzzles, however, the Wiimote vibrates to indicate a combination is possible when you hold one object over another, which helps reduce the number of unsuccessful tries.
Most of the puzzles are actually more like fetch quests, where Sunny (or Nathaniel) travels around the island to buy a hat, find the ingredients to make a proper coffee, deliver a letter to someone or organise a poetry reading. To help keep track of what it is you're doing, the handy quest log lists the tasks at hand. Some actions cannot be completed until you've done something else, which means you can get stuck even with the quest log if you've not talked to someone again or missed an object, but in general the difficulty level is quite a bit lower than the PC original. There are a few inventory puzzles, but these never involve combining more than two objects or thinking outside the box. The difficulty level is also influenced by the fact that some puzzles have been recycled from So Blonde, so you will immediately know where and when you'll need certain items. An option to highlight hotspots and exits can be used to make sure you haven't missed anything crucial.
Most of Back to the Island's 10-12 hours are spent walking and talking, and it doesn't feel like you are solving puzzles or making much progress in the story for long sections. One criticism of the first game that the developers took to heart was the long walking distances. There is now an interactive map now that offers some help reducing the very long backtracking sequences, but as there are only three 'fast travel' locations on it, you still need to walk across many screens to get from one place to another. The load times between screens have been reduced a lot, which is unfortunately counter-balanced by a weird design choice in the way the dialogues play out. After each sentence it takes about ten seconds before the next one appears, which seems too long even for the slowest reader with no option to change it. You can speed things up by clicking a button, but you'll have to do this after each and every sentence, which gets very tedious.
As with So Blonde, Back to the Island contains about fifteen different minigames. Some are well integrated into the story, such as catching fish to make some money or finding your way through a maze, but most of them feel out of place and artificial. Why would you need to start again from the beginning if you miss a few falling drops of water when there's plenty more around? These require quite a bit of dexterity, as they mostly involve waving the remote around, and tilting, shaking or flicking it to steer through an obstacle course, throw darts at a target or put jewels in a pendant while bugs try to push them back out again. I didn't like most of them and found the instructions lacking, which made some of them quite difficult. For others, the impreciseness of the Wiimote ruined the fun as there is little margin for error.
Fortunately, you don't have to keep trying until you succeed, as you can choose to 'cheat' your way through the minigames. There is no penalty – other than hearing a group of people yell 'Booooo' at you – and you still acquire whatever the reward is for completing it. Even the minigames Sunny plays to make some money can be skipped. That's a good thing if you don't enjoy them, but the downside is that you tend to try them only once and then quickly press 'cheat' to get it over with and return to the story. If you do like them, you can always play them again from the main menu. You don't even have to unlock them first, as all minigames are playable right from the beginning.
The Wii graphics aren't quite as nice as they were on PC in the previous game. The hand-drawn backgrounds still look good, even on a large TV screen, although with black borders on both sides if you have widescreen. Even darker locations like the Dark Beach and Evil Marsh are very colourful and filled with tons of detail. Unfortunately, the character models and animations didn't turn out quite so well. The characters often walk rigidly, and at times behave in a blatantly overdone manner that just doesn't work, like Sunny bending over double with laughter and hitting herself on the knees repeatedly, which looks really weird and distracting. During dialogues, nice close-ups of character faces show emotional responses in an exaggerated way that fits the game well. The voice acting is mostly fine but a few characters are sub par, guilty of overacting or speaking with voices that don't sound the proper age. The music is done in a Caribbean style that helps set the tropical mood but gets repetitive very quickly. It doesn't change with the action on screen either, so it can be out of place in some scenes. Sound effects are of good quality and include the appropriate jungle animals, footsteps and murmuring of the ocean.
So Blonde: Back to the Island can be a lightly entertaining, well-written game at its best, but it's sure to be enjoyable mainly for those who haven't played the original. Despite its new content, the game feels so similar to its PC predecessor that it feels more like a Director's Cut than an entirely new game. Sure, Sunny lands on a different part of the island and meets a few new characters, but much of the story plays out exactly the same and even many of the puzzles, jokes and minigames have been recycled. There's just not enough new material here to satisfy anyone who has played its PC predecessor. It does offer a nice introduction to adventure games for console players new to the genre, though perhaps at the expense of sacrificing a few too many puzzles for minigames along the way. If you're making a return trip to Forgotten Island, however, you definitely won't find the visit quite as sunny this time around.
Our Verdict:
So Blonde: Back to the Island offers an alternate story and some enhanced gameplay, but there is not enough new content to make it very interesting for those who have already played the PC original.
Want to share your own thoughts about this game? Share your personal score, or better yet, leave your own review!

review
Other articles you might enjoy