Drawn: Trail of Shadows
review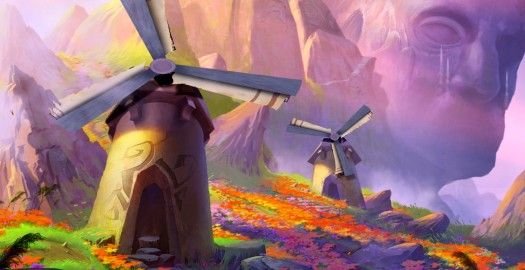 Game information
Adventure Gamers Awards
You might also like these adventure games
Advertisement
Adventure games by Big Fish Games
BITMAP BOOKS
Sitting next to a cozy fire with Iris, a young girl in a red scarf, a wizened old man named Franklin begins to tell the tale of a boy who could paint worlds. But this isn't just a story, as you're the main participant in his adventure. In Drawn: Trail Of Shadows, the third installment of the popular casual franchise, players are invited to enter these gorgeous, at times sinister, worlds filled with impressive art and fantasy puzzles. A cohesive, if very thin, storyline propels a fun-filled exploration through lands of wonder and imagination filled with creative obstacles that are fantastically integrated into the game and give you a chance to use both your wits and painterly skills. Even if you haven't played the first two games, you'll enjoy drawing your way through this trail of art and creativity, though you'll reach the end all too soon, especially if you miss the bonus detour in the middle.
This prequel to The Painted Tower and Dark Flight presents a world created entirely from the mind of a young boy. His imagination and artistic talent allow his paintings to actually come to life. Of course, a powerful talent like this does not go unnoticed. Because he paints both from his dreams and his nightmares, he unwittingly creates a door to his own kidnapping. An evil wizard, sprung from the boy's own vision, seeks to obtain the power and use it to re-imagine the world as a dark, desolate place which he will rule. Compelled by a desire to save the little boy, you enter this painted realm trailing after both the boy and the wizard. The search won't be easy, however, as the wizard has done everything he can to block your progress. He has ripped the canvas in each painted scene he passed through, tainting them in the process, and you must solve a variety of inventory and logic puzzles to fix each painting, allowing you to progress from one world to the next.
Trail of Shadows follows in the footsteps of the previous games by submersing you in a magical first-person experience. As in the previous two games, you'll explore a variety of beautiful scenes rendered in a colorful, artistic style. This game has sacrificed a bit of whimsy for story cohesion, so you won't find any gothic, off-kilter imagery here, but you also won't find yourself moving through disconnected paintings either. Your first stop is a bucolic cottage tucked into a peaceful glen bathed in a golden glow, a neat little vegetable garden located just outside, with crimson leaves blowing in both the foreground and background. As you scan this scenic vista, the screen moves slightly left and right and up and down as you move your cursor around. You aren't panning fully; the movement is just a hint, as if you were seeing slightly more out of your peripheral vision as you turn your head. This was a bit distracting for me at first, but I soon got used to it and found it to be a great immersive element. However, there is an option to turn this feature off if you find it not to your liking.
The majestic music and abundance of ambient sounds also do a wonderful job of immersing you in this fantastical realm. The game opens with a single female voice singing wordlessly, the notes weaving their way through melodic piano and cello accompaniment. The theme later changes to suit the mood of the current scene, such as jaunty tune set to tubas, brass instruments, and a xylophone when you enter a poster to play a game. While the score is soaring at times, it never drowns out the rest of the game's sound work: You'll be treated with the tip-tapping of little feet as an old-fashioned lamplighter scampers across the screen, and a bellowing trumpet greets you when you help out an elephant sculpted into a massive bush.
The sense that the world of imagination is grander than anything in real life is created by the imposing size of otherwise normal objects. And hidden within all of this immensity are often sinister stumbling blocks. A garden is populated by towering topiaries, and tucked within their verdant leaves are vicious thorns writhing in an attempt to attack you. An enormous stone giant carved into the granite face of a mountain follows your every move with its gaze. Waterfalls gush like gallons of tears from the corners of its stone eyes, and tiny inky ravens glide in the background. This sense of massive yet dangerous grandeur is evident in a scene where an immense stone arm rips itself away from the mountain, unfurls and reaches toward you before crashing down to become a bridge. An ominous feel lurks in many other scenes as well. You'll encounter a wide variety of evil-looking beings and things, from a bizarre tangle of thorns that encircle a puzzle with three eyes blinking back at you to a bridge heavy with swarming rats to a strange guardian with a skeletal chest and five eye-like orifices in its forehead.
Despites these obstacles, friends to your cause do their best to help you in your quest, though none are voiced (Franklin's intermittent narrations represent the only voice acting in the game) and they may be trapped in their respective scenes at first. In many cases, you'll need to solve a variety of puzzles to free these accomplices and gain access to their knowledge of where the missing canvas pieces can be found. Many of the puzzles are inventory-based, most of which are logical and don't involve too many unnecessarily complicated locks blocking your way: You'll work a rustic well to draw water or find tongs to pick up hot items. These tasks are never very difficult, and on the easier difficulty level sparkles will highlight needed objects, but if you do get stuck you have the option of clicking on an objective list for somewhat layered hints. The first tip helps you determine where to go and what to do next, and the second hint usually tells you exactly what steps to take.
Beautifully interwoven with the inventory puzzles are a variety of beautifully crafted logic puzzles. You'll arrange bright jewels along a cold blue stone shelf, with neon-colored lights outlining natural objects like clouds and flowers as you put them in the right order, and you'll move hand-carved dolls of varying weights around different wooden stumps to get a series of glowing runes to balance. A brilliant light-arranging puzzle involves maneuvering lenses to align lights in just the right way to create an appropriate picture. And, because this is a Drawn game, you'll also solve a multitude of art puzzles, where you'll have to paint and draw your way out of a jam. An easel propped against a peaceful meadow with a windmilling robin beckons you to paint. Creating your painting tools and mixing colors are a prelude to a simple puzzle that involves copying the colors of the meadow. Once accomplished, the red robin you've painted bursts from the canvas and blows a path through pink blossoms and lavender irises. There is also a lovely egg stenciling puzzle that involves figuring out a series of layering patterns and using a variety of stencils to create scenes on Easter eggs.
During your travels, you'll also stumble upon journal pages that further narrate the story of the boy and the evil wizard. As you collect these pages, they become self-contained puzzles that involve pulling all of the tabs to obtain clues or find objects that you need. This is a story book world created by the mind of a young boy, after all, and these scenes are rendered in pop-up book style. Pull a tab, and a rainbow of blossoms springs up on bare earth. Select another and smoke billows out of a chimney as a light turns on in a cottage window. Don't neglect any of the tabs, as doing so may cause you to miss out on inventory items or, in a playful allusion to hidden object games even though the main adventure has no such scenes, discovering hidden pigs. These hogs have nothing to do with the story itself, but allow you to earn a collecting achievement if you find them all.
You'll encounter a couple of minigames as well, including one set in an old-fashioned poster inviting you to a sticky wicket croquet match. You'll play against the computer through a variety of wickets, but your opponent is not at all a difficult competitor to beat. Depending on which version of the game you buy, you may also get to side-scroll through a simplistically rendered chalk drawing game with Iris as the protagonist. The music mimics platformers of old, and you'll need to select the correct multiple-choice items to draw that will allow you to move through barriers such as monsters, traps, and chasms. One puzzle toward the end requires you to use some dexterity to shoot arrows at a target, which isn't difficult but can be tedious, as missing your target will make it stronger again.
On the "casual" level you have the option to skip all of the logic puzzles that you encounter, should you find any of them too difficult, though this should rarely be necessary as most of them are on the easy side to begin with. The harder difficulty level, however, offers no skip button for these puzzles, and the challenge is often increased. For example, a concentric ring puzzle has more rings and an added timed element to contend with.
In a break from other Collector's Editions, Drawn 3 inserts its extra chapter in the middle of the game, so its placement feels much more organic and less tacked on. This provides you with an additional painting called "The Cave" to explore, and its subterranean setting is cool and dark with neon luminescence. The developers haven't skimped on this chapter, stuffing it full of terrific puzzles, including the cleverly-depicted chalk puzzle Iris must travel through. You won't miss out on anything relevant story-wise if you opt for the standard version, because the tale you're playing through is ultimately a very simple one. You simply continue to chase the evil wizard and his captive prize, though he always remains one step ahead of you until the end.
This basic story unfolds in less than three hours, not including the bonus chapter, which clocks in with a little over another half hour. Despite its brevity, Drawn: Trail Of Shadows is a gorgeous game that raises casual adventures to new artistic heights, and feels quite unlike any other game available (except its own predecessors). Its world of imagination is wondrous, filled with equal parts hidden dangers and flights of fancy, and with a variety of fun puzzling to solve, you'll easily be drawn into its charms.
Note: Adventure Gamers in a Big Fish Games affiliate.
Our Verdict:
The prequel is a short but worthwhile trip back to the imaginative Drawn series, with an outing that is as fun to play as it is to look at.
GAME INFO
Drawn: Trail of Shadows is an adventure game by

Big Fish Games

released in 2011 for Mac and PC. It has a Stylized art style and is played in a First-Person perspective. You can download Drawn: Trail of Shadows from:
Want to share your own thoughts about this game? Share your personal score, or better yet, leave your own review!

review
Other articles you might enjoy