The Count of Monte Cristo
review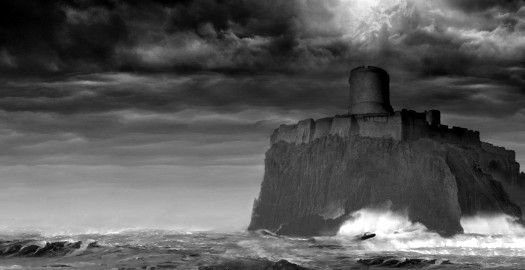 Game information
You might also like these adventure games
Advertisement
Adventure games by Chris Tolworthy
BITMAP BOOKS
Adventure gamers relish engaging stories and worlds to explore, but they also love puzzles and great gameplay to fully flesh them out. Chris Tolworthy's fifth installment of his ongoing Enter The Story series, The Count Of Monte Cristo, certainly has a great adventure tale and allows you to explore a wide variety of places, but its streamlined gameplay and dearth of puzzles may leave you wondering why you wouldn't just enter the story by reading it rather than "playing" it.
In this treasured adventure tale by Alexandre Dumas, Edmund Dantes appears to lead a charmed life. He's a young sailor with a beautiful fiancée, and he finds himself quickly moving up the ranks of the nautical world. Unfortunately, his success has garnered Edmund many jealous spectators and, ultimately, enemies. At the start of the game, you find him locked in a dank dungeon, and you must help the young man attempt to escape using only your wits. The game sticks to the main outline of the novel, but the majority of the years that Dantes spends imprisoned happen before you ever enter the scene. You'll still spend some five years with him, however, as he figures out how to escape and then plan and execute his revenge against the four villains who conspired to put him away.
Though sparsely furnished, the opening scene in Edmund's cell (along with most other areas later on) has a lot of interactivity: A wall is not just a wall; it has a lower wall, cement, scratched stones, and wet stones. The sheer volume of hotspots can be overwhelming at times, each offering a text description as you mouse over and click them, and you'll have to pay attention to the slight differences in observations to eventually make your way out. Once free from captivity, you'll explore merchant ships, Parisian streets, idyllic French countrysides and fabulous chateaus, as well as sumptuous drawing rooms within the castles. In fact, you'll visit so many places, the game provides you with a very useful quick travel map, plus you also get the ability to link your favorite places to hot keys. This is especially useful as you'll often find yourself having to revisit places that are fairly far from each other.
As you look for the villains who stole your youth away, you'll find the streets teeming with people and sailors milling about shipyards. As with the previous games in the series, characters are illustrated as basic black and white line drawings overlaying a collage of images rendered in a watercolor style. Though the secondary characters all look the same, their constant motion keeps the scenes alive and feeling far from desolate. You're able to click on any of these people, and they'll either pass along some gossip or give you clues about where you should go next.
You'll also meet random characters from the developer's other Enter the Story games, such as Jean Valjean from Les Misérables. Additionally, for those who purchased the full Enter the Story cumulative version, if you roam too far in any direction you'll occasionally find yourself wandering down a street that will lead you to one of these different games. Click on a back street, and another book will pop up indicating that you've selected a scene from another story.
There are some ambient animations adding vitality to the various scenes you'll explore: You'll see misty water dashing down a waterfall, waves crashing at the foot of a cliff, and a tiny explosion set off by Dantes. While Edmund will turn his back to you and squat in the same position whenever you have him do anything complicated, the developer has also given the protagonist some nice animations to express his character, such as clenching his fists when his love turns away from him.
When you're not traveling, you'll be clicking around to find clues to the location of your conspirators. Gameplay is completely streamlined – left-clicking is really all you need to do. You'll click to make observations, complete actions such as moving stones or digging through dirt, use items, or talk to people. You won't gather any inventory along the way, however. If you get stuck in your journey, you can press F1 to get layered hints. However, if you leave Dantes standing around too long, he will start to mumble to himself, giving you hints which may at times be unwanted.
Because almost everything you click on has an observation, even if it's something as simple as confirming that something is a tree, exploration can be quite tedious. When done well, however, the interactions are entertaining – clicking on different sections of a library, for example, allows you to read through various subjects that are not only interesting but also give you clues to puzzles. You'll have to hone your powers of observation, as charts and maps you observe in one area may hold the key to what you should do next in another.
For the most part, progress is made by determining where you should go next and who you should speak to or what you should click on next. There are almost no logic puzzles. By my count there are only two, though they are very well integrated into the game. One involves deciphering semaphores and transmitting a message and the other has you mixing up poisons and antidotes. These two puzzles are weaved so well into the story that having so few is clearly a missed opportunity. Adding more of these types of puzzles would have made you feel as if you were really part of the revenge story rather than just clicking through someone else's adventure.
Another squandered opportunity is the lack of voice acting. One reason to retell a classic novel in a different medium is to take advantage of the different avenues each medium affords – sound and voice acting would have been a great reason to play the game versus just reading the book. It's understandable that an indie developer can't afford such costs, but the omission nevertheless deprives the experience of a potentially significant benefit. At least there are some nice sound effects, like the crash of a clay jar hitting the ground, while the soundtrack is a compilation of classical music that is constantly playing and can be intrusive at times.
One interesting gimmick at the beginning of the game soon becomes an annoyance. While you can't escape the prison until you solve the appropriate puzzles, you can travel outside of the prison using your memories. Unlike the rest of the game, memories are explored in first-person view with a misty background, showing an image of just your head when you make an observation. This allows you to pick up clues you need to free yourself, but the game actually allows you to roam the entire world. Should you miss the subtle clues of where you should go, you could spend a lot of time wandering aimlessly and clicking on unnecessary items that afford the same observation over and over again: "For some reason I just thought of some bushes." "For some reason I just thought of some thick stone walls." "For some reason I just thought of some tree branches." For some reason, I thought all this clicking around was going to help me get out of here.
Clicking the book spine of the The Count Of Monte Cristo at the beginning of the game opens to a page with the subtitle: "perhaps the greatest story ever told". Wisely, the developer hasn't deviated very much from the basic structure of Dumas's classic tale of revenge during Napoleonic times. Though Tolworthy has had to condense a multitude of scenes and characters, Edmund Dantes still makes for a complicated character who must choose between enacting his long-awaited revenge and interfering with the lives of characters who played no part in his imprisonment. And despite the abbreviated story, Edmund's nemeses are convincingly evil and complex: Danglars is just as loathsome and Caderousse every bit as weak and conniving as they are in the novel. However, leaving out large parts of the story does shorten the build-up to the protagonist's ultimate decision on whether or not to go through with his entire plan for revenge.
Shortened though the story is, you'll find a lot of interactivity in the game, but because the gameplay is streamlined to a fault, you'll often find yourself merely clicking through scenes without encountering much in the way of engaging puzzles. All told, this will give you about three and a half hours of "play" time. To experience one of the greatest stories ever told, however, you'll probably get more out of reading the book than playing through a game that never really engages you as a participant, though a digital copy of the novel is helpfully included to do just that if you wish. There's no denying that The Count of Monte Cristo remains a fascinating adventure tale, but if you're looking for immersive gameplay, a variety of puzzles, or a reason to play the game rather than read the book, this may not be the story you'll want to enter first.
Our Verdict:
The game doesn't muck around with a fantastic adventure story, but while this classic tale of vengeance holds up, the lack of engaging gameplay makes the interactive Count of Monte Cristo experience feel a little cold.
Want to share your own thoughts about this game? Share your personal score, or better yet, leave your own review!

review
Other articles you might enjoy