Casual Collection - August 2011 releases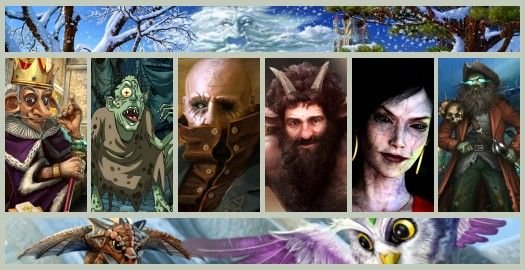 In August we visited such far-flung locations as the Bermuda Triangle and Davy Jones's Locker, travelling via flying machine, enchanted portals, and even magical soup. We rescued children trapped by malicious entities, escaped an asylum intent on lobotomizing us (but should we have?), and finally solved the century-old cold case of Jack the Ripper. But hey, it's all in a month's work of casual adventuring, and we lived to tell the tale, no matter how grim some of our adventures may have been. It all adds up to another sea of choices, so read on for the latest on all the top hidden object and lite adventures available. (Note: Age of Enigma: The Secret of the Sixth Ghost will be getting a full review of its own in the coming weeks, so it isn't included here.)
Page 1: Hidden Expedition: The Uncharted Islands, Awakening: The Goblin Kingdom
Page 2: Grim Tales: The Bride, Redemption Cemetery: Children's Plight
Page 3: Twisted Lands: Insomniac, Sonya
Page 4: Written Legends: Nightmare at Sea, The Secrets of Arcelia Island
Page 5: Lost Souls: Enchanted Paintings, Mystery Murders: Jack the Ripper
Page 6: Sphera: The Inner Journey, Spirit Soup: The Queensbury Curse


---

Hidden Expedition: The Uncharted Islands
by Jack Allin
Call off the search party for the latest installment of the Hidden Expedition series. After leaving players in a cliffhanging lurch at the end of Devil's Triangle, it was starting to look like Big Fish's casual adventure series was going to be the latest victim of the Bermuda phenomenon. But now The Uncharted Islands has emerged at last, completing the journey begun last time while offering a fairly entertaining hidden object adventure in its own right. You really shouldn't start with this game first, but returning players will find more of what they liked before in the varied item hunts, unique puzzle presentation, and familiar yet slightly surreal environs that are not only trapped in time, but unlike any other found on Earth.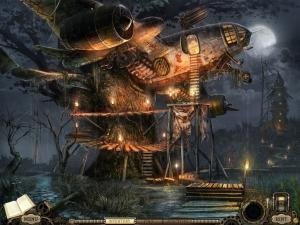 The game picks up right where the last left off, as instead of escaping to freedom you crash land again in the Bermuda island chain hidden from the world. Your memory hazy from the crash, you're met by a woman named Kathy, who tells you that everyone is in danger and fills you in on the details so far. It's an admirable attempt to bring new players up to speed and serves sufficiently for the basics, but without prior experience you're likely to feel a little lost as characters like Gideon the scientist and Undertow the immature pirate are introduced, not to mention the many references to Leonardo Da Vinci and bizarre steampunk inventions like the "Mechanized Mona". The plot itself isn't all that complicated, however. Undertow leaves childish notes and warnings behind, taunting you of his intention to take over the islands and destroy the power node that keeps the islands protected. Why you actually want to prevent the latter isn't clear, but your task is simple: follow Undertow and sabotage his Dynamo Gang's efforts along the way.
Standing in your path is an interesting mix of obstacles, requiring you to repair a hamster-powered rocketship, mix grog, slingshot a crow's nest lookout, and disable a giant fish-shaped submarine, along with the relatively more mundane canal draining and water wheel repairs. There are numerous puzzles to solve to accomplish your tasks, most of which have at least been dressed up to feel organic, though they're ultimately still fairly standard fare. Opening a dam may involve coloured chickens and egg nests, but it's still a sequence puzzle at heart. From sliders, pipes, and grid challenges to more complex symbol-matching and pattern identification puzzles, there's a fair bit of challenge to be overcome, sometimes more than once in a row (a puzzle practice that should be forever outlawed). Part of the difficulty is due to the poor instructions and hint system. Each standalone puzzle has a full set of directions, but they're often multi-stage obstacles and the instructions quickly begin to feel vague and unhelpful, especially since you can't view them at the same time as the puzzle. "Hints" in the main environments, meanwhile, do little more than point you to the nearest puzzle, which you'll likely already know. Hotspots on the game's easier setting are highlighted by default, but exits are not, and these are often far more difficult to find than interactive items to collect.
Hidden object hunts are a regular part of The Uncharted Islands, but they're far more varied than in most casual games. There are the usual lists of random clutter, a couple of which repeat while one screen scrolls side to side, introduced without warning out of the blue. But some searches involve finding complete sets of items and others require finding related pairs of items. Still others are layered item hunts that serve as hyper-streamlined inventory sequences: find a few items, use those to affect the screen in some way, opening up a new set of items to gather. Only working your way through five or six such mini-levels will you reach your ultimate goal. It's a welcome change of pace from both the main adventuring and straightforward items searches, though it's hindered by a lack of useful feedback, which is especially damaging because hotspots only become active when the game deems them necessary, even if there's no obvious reason to wait.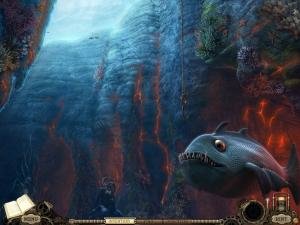 The islands are interesting places to explore, though you'll make a cursory pass through most of them, as there isn't much interaction offered. You'll pass by an old river boat and ascend a crashed "treeplane" at night, and visit an art studio in a flooded town in sunny, broad daylight. You'll encounter some common creatures like crocodiles and others that remind you that you're truly wandering uncharted islands, like a (fortunately peaceful) eight-legged amphibian. Much of your time will be spent underwater, however, as you'll don a diving suit (once acquired) for a little deep sea roaming through poisonous blowfish-infested waters. The artwork is excellent, with plenty of ambient touches like rainfall, swimming fish, and lovely waterfalls enhancing the scenery. Sound is appropriately muted underwater, while offering a range of jungle and weather effects above ground. The musical soundtrack provides a pleasant backdrop, though it's not particularly evocative of a place, and there is no voice acting at all, which is a surprise given the number of supporting characters who make a brief appearance, from a young boy to a half-man/half-sea creature.
The main adventure is fairly substantial, providing nearly four hours of gameplay and a fully-resolved ending this time around. The bonus chapter in the Collector's Edition is quite disappointing, however, particular for those who played Devil's Triangle back in the day. Returning players will find themselves back aboard their old submersible, still broken down and needing repair through additional puzzles like repetitive memorized pattern tracing, valve rotation, and even a short maze. The ending is completely anti-climactic, emphasizing the safe return of the bio-coil, which doesn't even play a relevant part in this game. There are the usual other extras, and the strategy guide may come in handy in lieu of the wretched hint system, but for the most part you'd be much better off with the regular version of the game. It's a step back from its predecessor in terms of originality, but those who played the last game certainly won't want to miss The Uncharted Islands for its intriguing locales and enjoyable blend of puzzles and lite adventuring, though anyone new to the series is better off going back and getting themselves lost first before working their way back out of Bermuda.

Awakening: The Goblin Kingdom
by Jack Allin
After drowsily poking around her dreamless castle and delving an accursed fairy forest in Boomzap's first two Awakening games, Princess Sophia's search for her lost people really makes tracks in Awakening: The Goblin Kingdom. And I mean that literally, as you'll need to board a train for the first leg of your journey before taking flight via a makeshift flying machine with your fire-breathing, pocket-sized dragon and owl guide in tow. There's much to do on the ground in between, however, as the third installment is packed once again with nearly wall-to-wall puzzles, plus a few varied hidden object tasks lightly sprinkled in for good measure.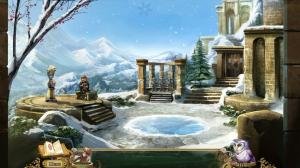 While many casual games are heavy-handed in their HOG searches, here they appear quite infrequently and are often so disguised you won't even recognize them as such. Sure, there's the odd standard list of partially-interactive items to scavenge, but you'll also solve riddles to identify pairs, spot unique symbols in a sea of uniformity, identify irregularities, replace items back into their environments, and locate landmarks through a telescope. The highlighted interactive items aren't always reliable, but no screens are ever repeated or triggered unannounced, and overall the item hunts offer a refreshing mix of assignments throughout. ALL hidden object adventures should take a page from Boomzap's design book in this regard for a little more creative diversity.
The lack of repetition doesn't extend completely through the puzzles, unfortunately. To be fair, that's at least in part because of the sheer number of puzzles available, many of them both clever and unique. Quite a few involve matching colours, symbols, numbers, patterns, and themes in a myriad of ways, but there are plenty of standard tropes as well, from jigsaws to ring rotators to tile swaps. Some are so easy they can be completed in mere seconds, like mixing paints, organizing a puppet show, or arranging a moon phase sequence, while other multi-stage challenges are very difficult given the vague instructions you're provided. There are a number of minigames to play, from "Goblinjong" (which plays exactly like its near-namesake) to Match-3 variations, a few quizzes to successfully answer, and even a couple mazes to navigate once you've pieced together the necessary clues. A few activities include an element of timing as you click valve gauges and lock tumblers, and there a couple of finicky line-tracing exercises, but these are very simple and you can skip them if necessary.
If this sounds like a rich smorgasbord of casual gameplay, that's because it is… and then the repeats begin. Not everything, but you'll face the same (but increasingly difficult) pipes puzzles, tangrams, and overlapping strand challenges far too often for comfort, sometimes in a row. It's a shame the game falls into this trap, as at times it brings the adventure to a grinding halt. It's a rather slow-moving journey to begin with, as you move your way through a snow-covered goblin town to a gnome-inhabited fungal forest and back. You'll pick up various items along the way, many to complete sets such as gems, picture scraps, and mushroom spores, while your dragon pal helps out with a few timely sparks (though alas, he's too small for any large-scale melting of a frozen land). You'll also need to collect coins to purchase items from a shady-looking peddler who appears periodically and always seems to have exactly what you need. Apart from the text-based hint system, that's all the help you're going to get, as the newly-crowned goblin king has declared war on humans, while the gnomes require you to complete three trials in order to prove your worthiness of their Oracle's help.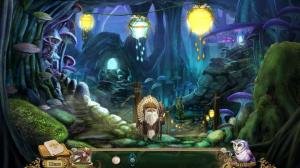 Given the possibilities of its fantasy setting, this game is surprisingly bland-looking for significant chunks. No offense to goblins, but their kingdom is DULL. A combination of snow and brick and broken-down machinery makes for an uninspiring backdrop. The gnomes have a much better decorator, as their forest is dreamlike in its purple/blue hues and mushroom-lined caves that are far more visually appealing. The epilogue also has some beautiful mountain path scenery done in gentle pastels, though much of the time will be spent indoors forging keys in a smithy and tending to a unicorn. The only voice acting occurs during mid-chapter cutscenes, though a variety of gnomes and goblins pop up to briefly converse with you here and there. Sound effects are minimal but the music provides a gentle backdrop throughout, though not one that's memorable or particularly atmospheric.
It's unclear to me whether the epilogue is exclusive to the Collector's Edition or is part of the standard version as well. It takes place immediately after the events of the first four chapters, representing another step in Princess Sophia's travels, but since neither actually completes the series with a reunion, there's no real resolution either way. The epilogue adds another hour onto the generous five hours or so to reach that point, so either way you're getting great value. IF you like puzzles, that is. Even with some ill-advised repetition padding the time out, Awakening: The Goblin Kingdom is a puzzle-lover's delight, and a breath of fresh mountain air for hidden object fans tired of the same old thing. It practically sleepwalks its way through a minimal story of goblin treachery and a still-as-yet-unrevealed master plan behind Sophia's travails, but if you like the sound of bumping into puzzles at every turn, you should be gobblin' this one up today.

Grim Tales: The Bride
by Merlina McGovern
Brides magazine probably doesn't have a section on how to survive a murder attempt on your wedding day, which is too bad if you're getting married in the casual world because such information would be must reading. In Elephant Games' lite adventure Grim Tales: The Bride , you play as the sister of a bride almost-to-be who has a fatal run-in with a mysterious stranger on her wedding day. While you won't find any innovations in this standard hidden object adventure, you will have a fun time exploring a world filled with beautifully sinister artwork and a copious amount of locking and logic puzzles.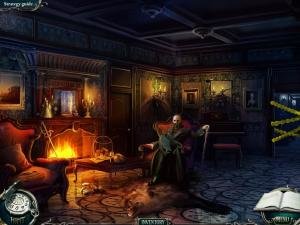 As the game opens, Louisa, your twin sister, has met a grim fate just after her wedding. She appears to have been pushed off a bridge to drown, and you've gone back home to your family mansion after a long absence to investigate what happened. A mysterious and grotesque figure greets you upon your arrival. Despite his demonic appearance – his one good eye peers at you from beneath his pale bald pate and a cracked hole sits where his left eye should be – he appears to want to help you in your search. He offers to guide you through your sister's memories in an attempt to discover what really happened to her. As you visit each memory, from the first blushes of blossoming romance between Louisa and her beau to a charming engagement to the first hints of romantic discord, you'll carefully unearth clues to a mystery that threatens to engulf you and expose terrible family secrets that you may never have wanted to know.
The family estate, once majestic but now decrepit, is rendered beautifully with elaborate artwork. Your explorations within the mansion cover a substantial variety of locations, from a gorgeous and highly detailed living room with a roaring fireplace, bearskin rug, cobwebs, and peeling wallpaper to Louisa's frilly but oddly cold bedroom to your father's spooky work room filled with occult items and frames housing black, blank pictures that serve as the backdrop for misty ghosts that float in and out of view. You'll also visit a range of locations surrounding the mansion, including a hunting lodge, a field filled with glistening ice sculptures, and an abandoned childhood tree house.
The game's artists have done a great job of adding just the right repulsive touch to these scenes: The family church, with its blood red wall hangings, is home to a rather emaciated and lifeless priest sitting on a chair wearing burgundy robes and a baleful clown's grease-painted mouth clamps down around a revolver. Bringing a bit of life to each scene are ambient animations from flittering butterflies to grey wisps of clouds drifting across a moonlight-bathed boat landing. In addition to these background animations, every time you use an inventory item it is accompanied by an animation. You won't just click one object on another, you'll see a revolver fire or a face melting away as you interact with it.
To solve the mystery of your sister's final days, you'll have to solve a large number of logic puzzles, which include complete-the-fuse puzzles, Sudoku-type challenges, jigsaws, gear puzzles, code puzzles, and many, many more. Everywhere you turn you'll encounter some kind of traditional logic puzzle or lock-type puzzle. Many of the locking puzzles are integrated in a rather unbelievable way. Every single thing you encounter, (okay, maybe not everything, but it sure seemed that way), is locked by an elaborate mechanism that will require either an object to unlock it or completing a puzzle. You'd expect a door to a hidden room to be locked, but a lamppost? A kitchen cabinet? A first aid kit?? Still, if you're a fan of puzzles, this game has plenty of them, with varying levels of difficulty. If you'd like to increase the challenge, the game provides a third difficulty option in addition to the typical casual and expert levels. In the hard core level, you won't get any hints, puzzle skips, or hotspot sparkles.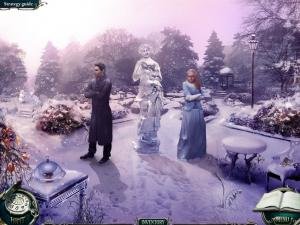 You'll need to collect inventory items along the way, which can be found in your regular explorations or in hidden object scenes. There is nothing new or innovative in these searches, which makes it more of a shame that some elaborately locked items presented early in the game, building up anticipation for when you finally do unveil them, only reveal more hidden object scenes rather than new scenes to explore or some key clue or insight into the mystery. Should you find yourself stuck as to what to try next, the rechargeable hint button will give you a text clue that spells out exactly what you should do.
Despite the silliness of the locking puzzles and the run-of-the-mill hidden object scenes, the four-hour story that delves into the relationship between the twin sisters and their parents is fun to follow and rather disquieting as well. The hour-long bonus gameplay in the Collector's Edition has you returning to the mansion that your family has sold since the original adventure. You'll set out to help the new family, which has fallen prey to some mysterious force that seems to be haunting the mansion. Here you'll encounter still more intricate locks and hidden object scenes, but the storyline is threadbare, especially when there appears to be no significant reason for you to go back to the mansion in the first place. The main game itself is fully satisfying on its own if you're not looking for too much in the way of innovation. Gorgeous artwork, lots of exploring, and a ton of puzzles will make Grim Tales: The Bride one adventure that makes you want to say "I do."

Redemption Cemetery: Children's Plight
by Jason L Blair
ERS Game Studios' https://www.bigfishgames.com/download-games/14118/redemption-cemetery-childrens-plight/index.html?afcode=af609279250d">Redemption Cemetery: Children's Plight opens with shots from a vaguely creepy woodland and a raspy voice discussing the nature of true evil. The images of the woods become darker and darker until you are face to face with an ugly man in a robe who attempts to turn you into a ghastly figure before a raven-who-is-actually-a-man scares him off. Once free of the immediate threat, the raven-man tells you the person you encountered is a powerful warlock who just broke free from his subterranean tomb. Seems the warlock is a dastardly fellow with a penchant for putting small children into dangerous situations—usually at the cost of a loved one's life. Surely, someone this wicked deserves to be put away for the rest of time.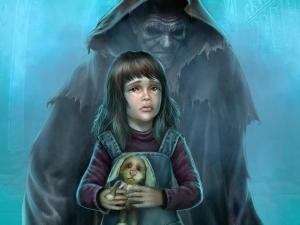 The most pressing matter actually isn't locking this warlock in an eternal prison but undoing some of the awful things he has recently done. Throughout this hidden object adventure, you are tasked with rescuing the survivors of horrible accidents—all of which are children who were in the care of a now-deceased adult relative. The ghosts of the grown-ups lay down the fate of their charges, one at a time, from their graves in the titular cemetery. Each plea kicks off an exploration of the areas surrounding the graveyard to find the child and rescue him or her from some precarious predicament. Not only does the warlock delight in hurting children, he does so in creepily inventive ways.
The cemetery acts as the game's hub. After you rescue each child, you return to witness a reunion before encountering a new ghost and a new story of a child in danger, then get sent back out to save another kid from a horrible fate. These redemption tours put you in the path of the warlock and the raven-man via short animated monologues. Where the former attempts to stop you, the latter guides you, filling in parts of the admittedly rather thin story. The gameplay proper takes place in such locations as a small town center, a carnival, and cliffside. The layout of these areas showcase the game's imaginative strengths, as the rooms are well-drawn and full of interesting details. Evidence of other crimes and some of the warlock's magical traps suggest a world in which things happen beyond the story you're experiencing, giving a sense of depth that is often lacking in such tightly-focused games. Accompanying the action are only a few musical pieces, but they're subtle and help maintain a sufficiently serious tone.
While the setting and mood create a compelling atmosphere, the game has a tendency to hold your hand to an almost immersion-breaking degree. Solutions to puzzles are often on blatant display nearby and detail exactly what you must do to proceed. While finding safe combinations scribbled on pieces of paper fits a puzzle game, seeing a diagram of a three-headed dog along with arrows pointing to where gems must be placed is a bit odd—and since the name of the gems point directly to their usage, finding the blueprint is overkill anyway. Characters will also often state plainly what you must do with no attempt to couch the detail in conversation or narrative.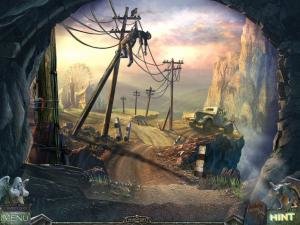 As a hidden object game, Redemption Cemetery similarly underwhelms. I was able to clear three-quarters of each screen just by clicking items that "felt right" before looking at the list. The items fit the theme and context well enough but something about the lack of object density makes these particularly easy. You'll find a couple of literally hidden or two-step interactive objects but most of them are rather obvious. They're even more so on repeat visits, as you return to each HOG screen a second time. As with most casual games, you are alerted to the presence of item searches by shimmering highlights on certain areas of a room, but the sparkles are subtle to the point where you could mistake the notification for dust motes hanging in the air.
Fortunately there are other puzzles as well, and that's where the gameplay really gets good. Slide puzzles make up the bulk of the memorable ones, along with some that rely on your ability to orient items into a pattern or free trapped objects from one edge of a board to another. I relished these when they came up, which didn't feel nearly often enough given their scarcity. Not only did they add variety, these puzzles provide the game's only real challenge.
The Collector's Edition bonus chapter has you exploring mostly new locales that again stem from the areas surrounding the cemetery. While the original game has a fitting resolution, the bonus chapter expands on that, taking events to their ultimate conclusion. The extra chapter adds a good sixty minutes to the main game's four or so hours but part of the length in both is due more to repeatedly traveling between the different rooms than anything else. The expansion is light on puzzles and missing the core conceit of saving captured children that makes the main game so compelling. Neither version of Redemption Cemetery: Children's Plight is hard by any stretch, but the stories and environment show a lot of imagination. If you're looking for a breezy afternoon's fun, this is a game worth picking up as its strengths certainly redeem its shortcomings.

Twisted Lands: Insomniac
by Jack Allin
The already deranged backdrop of Twisted Lands: Shadow Town gets a whole new twist in Alawar Stargaze's follow-up hidden object adventure, Twisted Lands: Insomniac. In the sequel you play as Angel, wife of the original protagonist, who spends time looking for her missing husband, sometimes even returning to familiar island scenes from the original game. This time, however, you won't be sure if any of it is real, as you discover you've been institutionalized in a hospital that has scheduled you for a lobotomy. You don't know where you are, how you got there, or what any of this has to do with a bus crash full of children that you vaguely recall in fleeting memories. You only know you need to escape – again and again and again.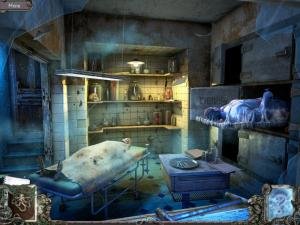 The asylum plays an important role in this game on several levels. Various triggers will result in you being transported (through dream? flashback? reality?) back to your room in pristine, modern condition, but other times you'll explore a broken-down, decayed version of the same hospital, with dirt and rust everywhere and corpses still resting on slabs in the morgue. Rest assured, however, that you will get free to wander the grounds outdoors. Or maybe that's not so reassuring, as the island still shows evidence of having long been abandoned. Written reports you find detail the unexplained illness and insanity that plagued the populace back in 1920, turning some residents into mindless, scale-covered monsters. You're not completely alone either, as you frequently see ghostly images of children and a spectral dark figure that seems to be leading you on. Collecting photographs of these children and freeing lost souls still tethered to the island becomes part of your journey as well.
Apart from the sudden changes of time and place, Insomniac plays like a very traditional lite adventure hybrid. There are some recurring, non-interactive hidden object scenes, but they're fairly few and far between, filled largely with setting-specific items, and aren't generally activated unannounced. In fact, the game is fairly linear for the most part, with a few huge exceptions when you finish everything you can do in one area, then have to slog all the way back to the opposite end to carry on (couldn't they have done a mystical transport then?). You'll collect inventory items along the way and use them in fairly intuitive ways, though a few puzzles aren't overly generous with feedback: you can't use the same method to clear different cobwebs, and a lighter isn't enough when simply "fire" is called for. Still, with a journal and task list, sparkles on the easier setting and a hint system that will guide you screen by screen to the first solvable puzzle without requiring a recharge between them, you shouldn't ever have any trouble finding your next objective.
You'll also need to keep a sharp eye open for clues, as many of the puzzles depend on information found elsewhere: settings for steam valves, candlelight patterns, clock times, a girl's favourite flowers, and a wide variety of colours and symbols are needed to overcome obstacles and open obscure locks. Some involve tile-swapping and ring rotating even after finding the necessary hints, but most are still fairly easy and a puzzle skip will bypass any that feel particularly tiresome. These puzzles are never rationalized in any way, and I'd have much preferred at least a passing attempt at integration, though I guess anything goes in a game where you can't tell fantasy from fact.
Rather disappointingly, returning players will find many of the scenes to be a little too familiar, from the lighthouse to mansion to the same fog-shrouded, maze-like forest and underground tunnels. A little is good for continuity, but this game strays a bit too far into "been there, done that" territory for its own good. It's all nicely presented, however, in a hand-drawn style with muted, nighttime blues. There isn't a lot of ambient animation, but there's a generous helping of cinematics throughout as you experience periodic vision fragments. There are no "boo!" moments, as this isn't a horror game per se, but you will see some mildly disturbing hallucinations that remind you the island isn't safe. The music enhances the ominous atmosphere, though the piano and violin-heavy instrumentals feel a little repetitive and overdone sometimes. A few key sound effects like a drill in the occupied operating room are far more foreboding.
It takes under three hours to reach the end of the adventure, which finishes with a rushed but satisfyingly dramatic conclusion. The Collector's Edition adds less than an hour of additional gameplay on top of that, but it has nothing to do with the main game's storyline. Instead you're sent back in time, where you play another young woman who explores the local docks, stables, smithy, and greenhouse to discover some terrible secrets about the origin of the epidemic. There are plenty of puzzles in this add-on, but many are just standard types like pipes, sliders, Simon, and Lights Out challenges, which feel far less imaginative than the originals. The CE does offer a strategy guide that shouldn't be necessary, but strangely doesn't include the usual artwork offerings. You might feel a little short-changed by the length of the main game alone, but the bonus really does feel like fringe padding that can be skipped. Either way, fans of the first game should have no trouble embracing Twisted Lands: Insomniac, while those new to the series can jump right into this eerie lite adventure sequel without losing any sleep over what they may have missed.

Sonya
by Merlina McGovern
Two thieves turn your world inside out in Specialbit Studio's Sonya by burglarizing your quiet woodland home. Instead of stealing cash, you discover they've absconded with your sister's soul when she telepathically communicates to you from a coma. As the titular character, your mission is simple from this point on: Search the world to bring back your sister's soul. The themes and story are a bit of a muddle, but you'll have a fine time exploring a wide variety of settings and playing through a multitude of hidden object searches and fun inventory and logic puzzles.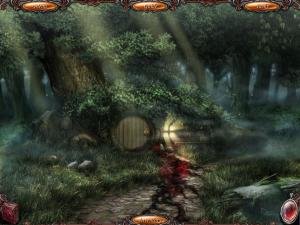 The worlds you explore are varied and fantastical, taking you from your own forest utopia to a mysterious land filled with portals and soul-sucking orbs. You won't meet very many people, and the few you do seem oddly disconnected. The thieves appear to have dropped in from some half-Japanese anime, half-western world, with their spiky hair, overcoats, bandana masks, and revolvers. They seem to be from a different planet from their fellow thieves, who oddly live together in a tree house. Among the only other people you'll meet are "forest folk" who seem oddly similar to hobbits, right down to their small homes with round doors.
The artwork is a similar hodgepodge of art nouveau, Tolkien-esque fantasy, alchemy, and strangely futuristic elements such as flying machines. In-game, the backgrounds are highly detailed and hand-drawn, but the cutscenes are simpler cartoon graphics, with panels that appear straight out of a comic book. Despite the cacophony of art styles, each individual scene is beautiful to look at. Rich colors mingle gorgeously together in a living room in Sonya's house: Dark indigos tango with pale streamers of rose and lavender light from a stained glass window, while glowing white orbs caressed in swirling brass serve as a gorgeous chandelier. A wide-open tree house contains an antique heavy writing desk and overlooks a heavily wooded area that seems to be in the first throws of fall foliage, with white mists clinging to the tops of green and golden trees. The sounds are just as relaxing, if a bit new agey. Soft flutes and strummed guitars fade in and out of the background as you explore, and ambient sounds match your surroundings as you listen to the crackling and popping of a fireplace or the quiet chirping of birds in the woods.
Despite the high level of detail in each scene, there isn't actually much interactivity, so finding key objects isn't tricky. The game displays intermittent object sparkles, but these can be easy to miss. As you progress further, often you'll have to revisit scenes in no logical sequence to make sure you haven't missed a hidden object scene that has been triggered by an observation in another one. If you're stumped, the task button that keeps a list of current objectives and the journal can provide clues (by reminding you of objects you've seen in your travels), and the rechargeable hint button that will give explicit steps as to what you should do next.
The designers made a good attempt to integrate the hidden objects, as you'll look for a sock, an iron, and a pearl necklace in your sister's closet. However, you do revisit HOG scenes several times, and what may have felt organic at first becomes silly the second or third time when you find a sickle in that very same closet. The game does add variety by including fragment searches among regular word searches, however. In the fragment searches, you must use completed items to help you find other hidden pieces in what are essentially mini-inventory puzzles. You'll also encounter a wide variety of inventory puzzles that will have you building makeshift bridges and draining mysterious fogs. You'll also occasionally pick up items that can be combined together with other objects. These items will show up with plus signs in your inventory, and it's always very logical and clear as to what you need to combine.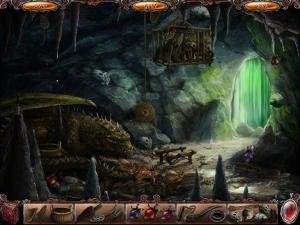 There is also an abundance of standalone puzzles to complete, from complete-the-circuit and water valve puzzles to memory tests, color-coded wire combination puzzles, and constellation challenges where you mimic alignments by dragging stars on a diagram. There are quite a few mathematical and Sudoku-type puzzles as well. One seemed like it might be a musical puzzle where you determine what notes to play on a piano, but it really turns out to be a math puzzle where you combine numbers and multipliers to correspond with numbers listed on the keyboard. In fact, you might want to keep a notepad handy if you're not a numbers person to do calculations or solve fairly simple algebra-type puzzles.
After nearly four hours spent reaching a satisfying end to the main adventure, the experience is continued in the Collector's Edition's hour-long bonus chapter. You'll encounter more logic puzzles and hidden object searches, but only the standard word lists this time. Here Sonya's travels have taken her far from home, and she must somehow make her way back, which adds nothing to the original storyline. Despite the straightforward premise, you get to explore even more gorgeous scenes, with waterfall-covered crevices and underground caverns covered in pale green glowing stalactites and stalagmites. Even in the extended version, Sonya's lack of story cohesion and depth won't have you learning anything more about her then when you first started the game, but her world is a pleasant one to inhabit for some solid hours of puzzling fun.

Written Legends: Nightmare at Sea
by Jack Allin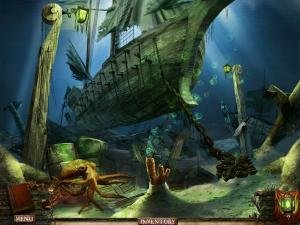 The latest hidden object adventure from Avast Studios… wait, sorry, make that Vast Studios… sends players to the bottom of the ocean in the haunting Written Legends: Nightmare at Sea. A dynamic (if disappointingly pixelated) opening cinematic shows your ship being rammed broadside by another, then slowly capsizing and being engulfed by the endless water. Moments later, however, you miraculously regain consciousness. Saved! Or not, as it turns out you've been sabotaged by Davy Jones and his Flying Dutchman, and now you're in his ghostly employ for eternity. With no beating heart to stab (thanks for nothing, Pirates of the Caribbean), the only way to win your freedom and reclaim the souls of your father and all the victims who came before you is to complete three trials. Doing so won't be easy, however, as there are plenty of puzzles, hidden objects, and treacherous natural obstacles standing in your way.
The world of Written Legends may be a watery graveyard, but it's beautiful in its hand-drawn devastation. Sunken prop planes, galleons, Russian submarines, even ocean liners have been claimed by Jones, whose now-spectral crews are enslaved to him and look to you for help. Now overgrown with barnacles and algae, these wrecked vessels provide the backdrop for your adventure, along with other nicely animated hazards like an ink-spewing octopus, snapping crabs, scalding hot water vents, and even an active underwater volcano, all while sharks patrol nearby and a majestic blue whale slowly glides across your path. It's a deep sea diver's paradise, though not a place you want to live forever. The audio isn't quite as compelling, unfortunately. The music is a nice if rather generic mix of light piano and peppy strings, but there's no voice acting at all, and the sound effects do little to convey being underwater, which seems like a wasted opportunity.
Some of your tasks are wonderfully suited to the ocean environment, whether it's slicing your way though kelp forests, deactivating sea mines, or trapping a deep-sea anglerfish for light, though others are strictly gamey fare, like grouping coloured rings on a skeleton's fingers, restoring unadorned statues, or painting the Dutchman's broken stained glass window. Many of the usual puzzle types appear, from rotating three rings into place, adjusting misaligned valve gauges, and even playing Simon on vibrating crystals in a cave. A few are repeated, including a slider minigame called "Boneyard" and a lockpick puzzle that requires swapping tumblers and adjusting lengths, a task that is revisited a few times too often. Any puzzle can be skipped, assuming you've collected all the bottled ship sails, coloured pearls, gears and painting canvases to complete them. That shouldn't be necessary, however, as the difficulty is well balanced, providing enough challenge to make you think without pulling your hair out.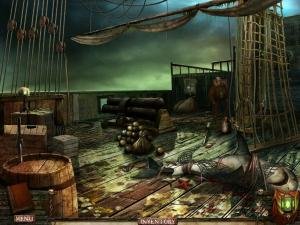 There are hidden object scenes to scour as well, which consist of straightforward, non-interactive object lists. Some items are rather absurd for the underwater setting, but most are quite easy to find, as the objects are nicely detailed and shown up close. A few scenes are repeated and some are randomly activated in out-of-the-way areas, but this is thankfully kept to a minimum. There's still plenty of backtracking, however, as the explorable area keeps getting bigger and bigger, and it can be some time before you finally acquire that last clue or inventory item to complete a task you first encountered early on. Fortunately, the map highlights all locations with currently active objectives, though it doesn't allow for quick travel to get there, which slightly pads out the nearly three-hour game length.
The Collector's Edition bonus chapter… oh no, that's right! There IS no bonus chapter, because this game is one of the precious few quality casual games that doesn't feel the need to charge double for an extra hour of game time and a few unnecessary extras. There's more than enough to see and do in the main game, including conversing with other captured ghosts, like the slave woman who helps you decipher cryptic scrolls to defeat Jones or a mutinous sailor who demands proof that his captain was indeed a qualified seaman. You'll also get to drop anchor aboard the Flying Dutchman to prevent yet another disaster, escape a dungeon when Jones begins to feel threatened, fire cannons and even hotwire a submersible. Some of it's entirely silly, but it's all silly fun, as Written Legends: Nightmare at Sea is one of the more enjoyable hidden object adventures I've played in quite a while. It doesn't do anything new, just excels at delivering an entertainingly traditional experience. If you've been holding your breath for a compelling new underwater adventure, you should have a whale of a time besting Davy Jones at his own game.

The Secrets of Arcelia Island
by Jack Allin
Shipwrecks may be a bummer for their victims, but they offer a great excuse for some quality casual gaming. For the second time this month, an ocean disaster kicks off an entertaining hidden object adventure, this time in Hitpoint Studios' The Secrets of Arcelia Island. Stuck on a reef near the fabled island of Arcelia, you manage to keep your boat afloat, but your father and the rest of the crew are gone. To find them, you'll need to find your way ashore and explore the surprisingly magical lands now fallen under the curse of an evil witch, using all of the puzzle-solving and object-scavenging prowess you can muster.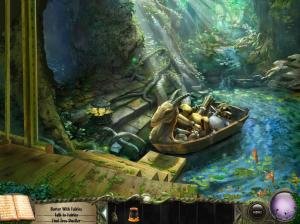 Legendary or no, you'd expect an uncharted mid-Atlantic island to still be a natural one, but in the case of Arcelia, you'd be wrong. Populated by pointy-eared elves, flying fairies, furry satyrs, and exotic oracles, this island is a fantastical place. As you travel from beach to temple ruins; from enchanted forest to sunken ship, you can only explore fully by means of magical portals, once activated. It's all beautifully hand-drawn, with sunset golds, tropical greens, and deep sea blues, and the gentle musical backdrop lends the adventure a whimsical (if rather nondescript) air. Alas, this land is suffering under the tyranny of the sorceress Sirenia, and the once lush village has now become arid desert, while the royal palace is now trapped in ice, its inhabitants all imprisoned or otherwise bewitched. To undo this curse, you must find four sacred pearls and destroy them, though you're warned in no uncertain terms that doing so will have destructive repercussions.
Gameplay is a fairly nice mix of lite adventuring and brief hidden object hunting. Item searches are clearly drawn, making each non-interactive list easily completed. Some do repeat, but objects do not, and the linearity of the story prevents any from appearing in unexpected places. Inventory puzzles are scattered throughout, many of them involving intuitive object use even for unusual objectives like restoring a firefly lamp or recreating a magical treehouse entrance, though why an ice pick won't work on any ice-encased objects is a frustration. On the easier setting, interactive objects do sparkle, but only very subtly and occasionally. The hint button offers a rather vague suggestion on how to fulfill your current objective, but it's usually enough to nudge you in the right direction, if the detailed journal and helpfully specific task list aren't enough. Rarely do I ever even look at a task list, but being told to go meet someone who's suddenly reappeared is far better than randomly backtracking to see what has changed.
There are some standalone puzzles, including coloured circuit connections, tile-swapping jigsaws, and grid-based number sequences, but many involve finding clues elsewhere first, whether viewing symbols through a repaired telescope or decoding a cryptic riddle. A few are nicely integrated, like creating shrinking and growth potions by following coloured beaker patterns, though as usual, many are there just for the sake of creating obstacles. For the most part they avoid a reliance on twiddleware, though a few consecutive ball rotation puzzles drove me to distraction (and almost to the puzzle skip). Towards the end of the game, the puzzle emphasis increases, requiring you to solve one after another, from Lights Out to symbol-based organ tunes to a couple of quick-fingered memory tasks. This abrupt change of focus adds to the rushed feel of the ending, which nicely resolves the storyline but comes all-too-suddenly after barely two and a half hours of play time. Still, The Secrets of Arcelia Island is one of the more enjoyable non-CE releases these days, so if you're sick of drowning in high-priced casual alternatives, this game will provide a safe port of harbour, however short the stay.

Lost Souls: Enchanted Paintings
by Jack Allin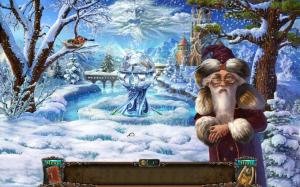 A picture may be worth a thousand words, but a magic painting is worth more than its fair share of entire casual adventures. The latest to employ this increasingly popular premise is Fenomen Games' Lost Souls: Enchanted Paintings. Of course, there's a good reason why more and more developers are going this route: it's an easy and remarkably effective way to instantly transport you to a wide variety of artful settings – and hey, it's magic, so who can argue? This time around, a young boy is sucked into a gloomy castle painting, leaving only his own portrait behind him in the frame. After months of frantic searching, the boy's mother finally resorts to a fortune teller/hypnotist, who somehow enables her to follow in her son's canvas-hopping footsteps.
Rather than being a naturally evolving adventure, Lost Souls is made up of a series of paintings to explore, accessed through a central hub and connected only by the destruction caused by an evil sorcerer who has passed through before you. The different worlds are clearly designed to provide the widest possible environmental variety. The first is a frozen one where a blizzard demon keeps everything bound in ice and snow, while the next is a lush (but ailing) forest setting whose spring water has been poisoned. You'll also visit a dark, ominous island whose volcano is about to erupt, board a pirate ship and descend to the sea floor in your travels. The change in scenery is both drastic and refreshing, and the artwork is done in an attractive hand-drawn style. Along the way you'll meet a variety of fairy folk, from elves to dwarfs to mermaids, some of whom need help to find lost items before offering their assistance in return. There's no voice acting except in occasional cutscenes, but the music provides a pleasant enough backdrop for your journey, though it's fairly generic and can be a little overbearing at times, particularly when it begins to repeat.
Each world is made up of a handful of individual scenes, and the only way to get from one to another is by accessing the quick travel map. This shows not only all available locations you can currently visit, but the number of interactions remaining in each. That may sound like the early hidden object games, and indeed there are several such searches to complete here. Each HOG location includes both a traditional word list (including several interactive objects) and a second with displayed items to find. The latter sounds easier, but objects are sometimes far more concealed, artificially raising the challenge to compensate. There is much more to do than merely scouring cluttered screens, however, as numerous inventory and logic puzzles must be completed along the way. There's a snowman to build, medicine to brew, flowers to grow, snakes to charm, and coffins to unearth, among many other obstacles. On the easier setting, inventory items and interactive areas will sparkle, but you're on your own on the harder setting, though the hint button will guide you if you're stuck. The game helpfully informs you when you've completed a location or at least finished all currently available actions, but rather unhelpfully doesn't tell you when new locations have opened.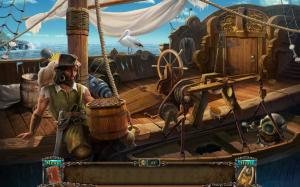 Some puzzles are nicely integrated, like weighing gems and following recipes, while others feel far more forced, like connecting star dots to form astrological signs or opening inexplicably symbol-locked doors and chests, at times requiring sets of items collected from the environment first. None of the puzzles are at all difficult, and most will feel familiar to experienced adventure (or casual) gamers, from jigsaws to sliders, rotators to pipes, plus a smattering of traditional minigames like Simon, Concentration, and find-the-difference tasks in between. There's also one enjoyable but somewhat tricky tile-elimination minigame to play against a rum-thirsty pirate, who's pretty good at his own game even after getting him liquored up. Only a few of the most basic puzzle types are repeated, and those occur few and far between, with the exception of one overlapping strand puzzle that must be completed five times in a row for no apparent reason.
Despite the rather streamlined nature of the game, it should take a solid three and a half hours to get through the six worlds that make up the adventure. The hub world displays ten paintings in total, teasing of a substantial bonus in the Collector's Edition, but the other four are never touched, never explained. In fact, the locked sixth word is apparently the CE "bonus" realm itself, as advertised by the developer. That's hard to verify before the standard version is released, but it's a disgrace if that's the case, as the story isn't at all complete without it. The expanded version also allows you to go back and replay any world in a "free play" mode, but other than collecting additional coins scattered around to buy trophies, there's little reason to do so, and I earned enough on my original playthrough to buy all but one anyway (and just a few coins short of that one). The dubious issue of versions aside, I enjoyed the more focused, bite-sized nature of the game's mini-adventures as a break from the more expansive, backtrack-laden casual adventures of late, so even if you find the whole magic picture concept a bit watered down by this point, don't be quick to brush Lost Souls: Enchanted Paintings off without a closer look.

Mystery Murders: Jack the Ripper
by Jack Allin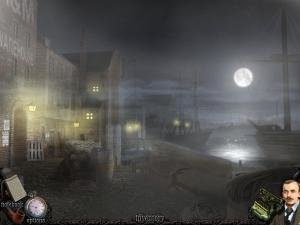 The brutal murders of Jack the Ripper continue to fascinate historians and game-makers more than a century after the fact, but it's hard to believe the mystery remains unsolved when so little thinking is actually required to solve it. At least according to Casual Arts' https://www.bigfishgames.com/download-games/13981/mystery-murders-jack-the-ripper/index.html?afcode=af609279250d">Mystery Murders: Jack the Ripper. Of course, it doesn't hurt to have a psychic leading the way with explicit premonitions of each new killing and even visions of the killer's identity. But even when controlling a Star newspaper reporter and Scotland Yard detective through other parts of the investigation, this remains a very simple game that's easily solved with basic puzzle-solving skill and keen hidden object observation. There's a decent attempt to mix real historical facts and theories with an occult element, giving the game a suitably dark and disturbing atmosphere, but you won't feel like you've solved the case so much as stumbled onto the revelation in your sleep (literally!).
Emma de Ville is a clairvoyant tormented by nightmares of grisly murders happening in Whitechapel in 1888. She tries to convince the police that her predictions are true even while increasingly sedating herself to ward off the dreams. The murders themselves are followed up by reporter Frank Hudson and Inspector Frederick Abberline, each with their own agendas – the former to catch his big journalistic break, the latter to bring the perpetrator to justice. The three-protagonist premise is an interesting one, but it ultimately contributes to both a rushed pace and a sense of repetitiveness as you breeze through scene after scene, then revisit them all again later in different roles. There are only ever two or three screens per location, and very few interactive elements on each, making for a highly streamlined experience through the likes of a barber shop, train station, stables, and docks, including brief stops at familiar locations such as Christ Church, the London Hospital, and George Yard.
There are plenty of inventory puzzles to solve along the way, but many are fairly straightforward as you develop photos, mix sedatives and repairing broken equipment. Most of the time you'll find yourself looking for keys or tools to pry open doors, bricks, and boards. The only difficulty stems from the lack of feedback, and its not always clear why one instrument that should work does not. The hint system may provide a nudge in the right direction, though it's just as likely to highlight an objective you already know. Interactive sparkles help on the easier setting, but since many items are tucked into small pop-up screens, expect to do a lot of pixel hunting for cursor changes if you choose the harder option. Many of the items you require come from hidden object searches, which are entirely traditional apart from the rare interaction that is never indicated on the list. These screens repeat among the different protagonists and occur quite frequently, though most can be blown through very quickly, as the scenes are rendered quite close up in reasonable detail.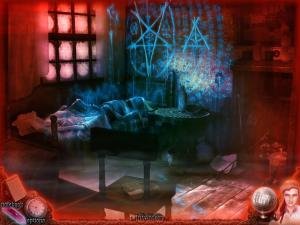 Standalone puzzles abound as well, but these aren't much more difficult. You'll rotate ring images, swap picture tiles, and match photo negatives, often a couple times each. They do get harder as you progress, like standard sliders increasing from 3x3 to 5x3, but many are brain-dead easy, such as rearranging a typewriter keyboard or playing Concentration with Tarot cards. You'll also sort case file clues for victims like Annie Chapman, Mary Ann Nichols, and Martha Tabram, but these can easily be solved by trial and error if you don't remember, as correct clues lock in place. Several puzzles are rune-based, as the game increasingly presents a supernatural motivation for the placement and number of murders, though the story never does anything with it. Its only real contribution to the game is that Emma can sense mystical traces, so her red-tinted visions are punctuated by spectral blue remains that no one else can see.
The game does "show" each murder victim, though only from afar and certainly nothing too gory. It's a shame the killings are given such lightweight treatment overall, as there are plenty of characters to meet and interact with, including another "Leather Apron" suspect. Each is fully voice acted and performed quite well, while the low, ominous music exists simply for subtle background ambience, as do the creepy but ultimately irrelevant screams, sobs, and maniacal cackles in the distance. The graphics are not particularly crisp or overly detailed, but there are many locations to explore and the fog-shrouded streets and Victorian-era architecture set the mood nicely. Given the repetitive nature of the hidden object hunts and puzzles, your investigation(s) will take over three hours to complete, at which point you'll know the identity of the Ripper and why you're unable to reveal it. If only it had taken some real police work or legitimate intuition and smarts to arrive at that outcome, Mystery Murders: Jack the Ripper might feel more satisfying. As it is, it's merely an average, rushed glimpse into this notorious killing spree that doesn't it quite cut it among the better casual games available.

Sphera: The Inner Journey
by Jack Allin
Don't let the vivid, cartoon-like visuals fool you: Sandlot Games' Sphera is a dark, melancholy journey through a lonely young child's imagination. It's wartime, and bespectacled, gangly young Tess is picked on and ostracized at home, but when she finds a magical sphere, touching it whisks her off into another dimension. In order to escape this imaginary(?) world made from dreams of "forgotten children", Tess is charged by a friendly talking walrus "Keeper" Zuchary to become a warrior princess, confronting her greatest fears. To do so, she'll need to collect a huge assortment of items, solve puzzles, and deal with an unusual cast of characters as she makes her way though the twisted environs of a familiar yet eerily distorted land.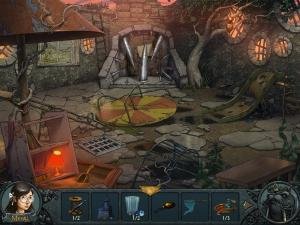 There are some traditional hidden object searches in Sphera, but they are fairly few and far between. Instead, most of your item gathering will be done in the main environments, which are shadowy reflections of real-world locations from Tess's life. A few objects are singular tools and instruments, but most come in sets with multiple pieces, whether statues pieces, cloth, doll parts, coins, or recipe ingredients. Often you don't know why you're gathering items until well after the fact, however, giving the adventure a very random, aimless feel much of the time. There's no task list or map to guide you, or even very much feedback to hotspot clicks, and many items will only magically appear after you've completed unrelated requirements. There aren't many screens to explore at any one time, and Zuchary, acting as the slowly recharging hint feature, will usually point you in the right direction (though even he isn't immune to pointing you to puzzles you can't solve yet), so this isn't a hard game overall, but what difficulty exists comes more from its arbitrary nature than inherently challenging gameplay, particularly on the "expert" setting.
Once you have all the items you need, the full set is displayed in a separate inventory bar, from which you can select the parts to solve a puzzle or assemble the object in the right order in its correct location. Usually that's incredibly easy, though here again the game randomly insists on forcing you to combine certain items in the inventory itself before applying them to the main scene without any indication. Early puzzles include identifying topical sequences, matching colours, and arranging various jigsaw types. One repeated activity, used to access new doors from a spiralling staircase hub, involves guiding a ball down into a hole through a series of ramp placements, the task getting more difficult each time. Some involve a bit of motion control, like tracing a drawing or flicking a match to light it, and you'll even do some sword-wielding against a wicked old hag who wants you for dinner. There's nothing at all difficult about the swordplay, as you simply swipe at her as she pokes her hideous face out from hiding a few times. Overall it's a fairly lightweight mix of activities, at least in the first part of the game, but they suit Sphera's slightly surreal vibe as you shoot cannons, make soup for a top-hatted bee, and create a living child from skeletal bones.
Unlike most games with such dark thematic undertones, Sphera forsakes realism in favour of graphic novel-styled artwork, with twisted architecture and thick bold lines. The colours are appropriately muted for the setting, which ranges from a stone castle to abandoned playground to a peculiar gold-plated dinner theater. The character models displayed during conversations are nicely done; the dream world inhabitants looking suitably bizarre and Tess portrayed as the shy loner she is, with sad eyes peering out behind big round glasses and feet turned slightly inwards toward each other. Each character is fully voiced to a high standard, though the acting is the audio highlight, as effects are forgettable and the violin-heavy soundtrack is repetitive and overdone for the fairly serene action on screen. Such a distinct aesthetic does help set this game apart from other casual titles these days, but ultimately Sphera is let down by its disjointed direction. It's a pleasant enough diversion for a while, but much like its gameplay, all the pieces are there but they're often too scattered to fully add up to the sum of its parts.

Spirit Soup: The Queensbury Curse
by Jack Allin
Rather than mixing in a large dash of hidden object gameplay like most casual titles, the recipe for Twilight Games' Spirit Soup: The Queensbury Curse is a far more traditional blend of lite adventuring elements. A dark pall has begun to fall on the peaceful town of Queensbury, with giant, thorny black vines sprouting up everywhere, and vile pools emanating ethereal skull-shaped manifestations of evil. As the great nephew of a renowned mage who recently passed away, it's now your job to concoct the special formula that will break the curse and return the town to normal. Unfortunately, it's not chicken noodle that's required, but using your own noodle to solve the many puzzles that stand between you and your victory potion.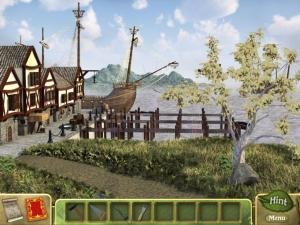 With only a few exceptions spent collecting necessary ingredients or zapping spiders in closed quarters, there is nothing that could be considered a hidden object search in Spirit Soup. There are many items to acquire, including bizarre elements like the skin of a sea kraken and a vampire's fang, but these must all be gathered from their natural environments as you explore. Of course, there are numerous obstacles to overcome first, from getting the fountain flowing to fixing a broken horse cart (twice) to luring away a guard dog. There are several other townsfolk around, including a priest at the temple and your great aunt at the market soup stand, but they're all remarkably unwilling to help you until you've done all the legwork yourself. A local merchant will sell you necessary items only if you find enough coins or perform chores to pay for them, and the castle sentry even tosses you in jail for pilfering wild berries! You do have a slowly recharging hint system to guide you, though even that isn't particularly helpful, at times simply highlighting a known objective.
The greater challenge comes from the wide variety of logic puzzles, some of which are integrated decently while most are blatantly contrived. Puzzle boxes and secret compartments require aligning mismatched rows of images, rotating and swapping tiles, assembling and correctly colouring a statue, connecting gears, and playing Lights Out (or on, in this case) with church candles. Most are very easy, but some are needlessly difficult, like using all pipe pieces to restore a water flow or making you solve the same puzzle three times in a row. You'll do that on three separate occasions, including a symbol-matching memory activity and a pair-elimination boardgame. The other repetitive task is the final challenge, as you transport into a twisted version of the town to eradicate the curse itself. After less than two hours to breeze through to that point, this final obstacle requires grouping magnetized discs on a grid, which can be very difficult. Once would have been a rewarding conclusion; three times feels like punishment to drag the game out right at the climactic moment. I eventually punched the skip button to bypass the third.
On gameplay alone, Spirit Soup holds up quite well against most casual adventures (you can even access bonus puzzles of the same sort from the main menu at game's end), and though the story is threadbare, it serves its purpose here. Where the game stumbles badly, however, is in its presentation. This game is… let's see, how can I put this subtly?... downright ugly. A few scenes are nice, like the view overlooking the dock, and there's a competent attempt to inject some realism into this medieval-era village (complete with a sword-in-stone needing to be pulled), but the animations are crude and the badly dated graphics look muddy, lacking anything much in terms of texture or detail. Not surprisingly, there is no voice acting, and though the music sounds suitably minstrel-like for the setting, eventually it feels noticeably repetitive as it suddenly starts again after periods of silence. The production values aren't so bad as to be a turn-off in their own right, but they certainly fall well short of the casual competition. If you can stomach some underwhelming graphics, you may just find a couple hours of HOG-free lite adventuring to suit your tastes here, but most will find this Spirit Soup a little too bland to bother devouring.

Note: Adventure Gamers is a Big Fish Games affiliate.
Referenced Adventure Games
feature
Other articles you might enjoy