The Fall Trilogy: Chapter 3 - Revelation
review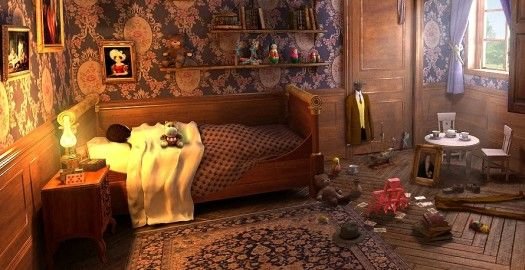 Game information
You might also like these adventure games
Advertisement
Adventure games by Kheops Studio
BITMAP BOOKS
The third and final instalment in Kheops Studio's The Fall Trilogy once again finds its amnesiac hero seeking his way out of another unusual setting. In the appropriately named Revelation, however, instead of finding still more questions, he will finally discover exactly what's been going on since he first woke up without his memory. The production values here remain as high as before, and the finale takes the same casual approach, mixing traditional adventure elements with a sprinkling of item set collections. Anyone who has played the other two chapters will find no big gameplay surprises in this conclusion, but will probably be satisfied that they followed the story through to the end.
For those who haven't played the previous two episodes, there is a basic recap at the beginning, but the premise is so simple that it doesn't require much. Players take the part of John, a man who keeps inexplicably falling through precipitous drops and landing in strange times and places, unable to recall who he is or how he got there. In the first game, he found himself alone in an ancient temple, while the second landed him in a hi-tech, modern day office building. This time he revives in a Victorian era house, where he must assume the duties of a doctor and care for the sick man who's living there. The richly decorated home is perhaps the best setting of the three, as its many rooms, garden and shed offer plenty of detailed areas to explore.
When John wakes up this time, he finds a letter on the hall table that's addressed 'Dear Doctor'. The note is from a woman named Elisabeth, imploring him to help her unconscious husband without waking her sleeping child. After some initial investigation, you'll find the comatose patient in need of medical care. Attending to him is not only the humane thing to do, John hopes he may get some answers if he can help the man recover. This means that for the first time in the trilogy, Revelation introduces other characters to interact with, including both the sick man and the young boy later on. Unfortunately, this new addition is nothing to get excited about, as the secondary characters are presented mainly through static images.
The man's illness is the driving force throughout this game, providing the basis for most of the puzzles. Using some rudimentary medical knowledge, John must systematically figure out what's wrong with his patient by relying on resources from around the house. Once you've collected all the necessary items, you can begin to diagnose and treat him. This might not sound exciting, but fulfilling the role of a doctor yields some interesting puzzles, including taking the man's pulse, checking his eyes and analysing a blood sample. These kinds of puzzles offer nice variety, but are often easily accomplished and require little skill.
Other puzzles you'll encounter are rather innovative, though they sometimes work and sometimes don't. One involves threading a rope through a series of hoops in order to move a bookcase, and another requires John to detect objects by their smell, their odours represented by a series of sparkles. When the mouse moves over an area where the object is hidden, these sparkles turn green. There's also a number of assembly puzzles, where you'll piece broken equipment like a pocket watch back together, which can be enjoyable. There are some standalone logic puzzles which are fairly challenging as well, including standard sliders, misaligned tumblers, and one requiring the correct sequence of valves to turn in order to shut off a gas leak.
At the start of the game, players can select either Adventure or Casual mode to play. Adventure mode offers the harder experience, as there are more sparkle hints on the Casual setting and the puzzles are easier to solve. If you select the tougher challenge, you can still switch most individual puzzles to the easier setting if you're having problems, and eventually the skip button becomes active, allowing you to bypass the puzzle entirely.
Even with the nice range of puzzles offered, the balance of gameplay feels more weighted to the casual end of the spectrum than it did in Reconstruction, with hidden object tasks making a predictable entrance at regular intervals. Rather than finding lists of items from distinct close-up screens full of clutter, these activities take place in the same environments you've already been exploring. At various predetermined points, you'll need to collect multiple item sets that have suddenly appeared out of nowhere, and you won't be able to move on until you've found all of them.
For the most part these items hunts are okay, but some can get quite tedious when a well hidden object prefers to remain that way. There is a hint button, however, which recharges between uses and highlights one of the items still undetected. Other kinds of casual minigames appear as well, such as a pair of spot-the-difference tasks in a magazine that John decides to pass some time completing. While not the most ingenious puzzle in the world, these do serve as a link to the previous games, depicting images from both the temple in Separation and the office block in Reconstruction.
The game is easy to control, offering some classic point-and-click mechanics. The cursor changes to indicate directions you can move and items and puzzles you can interact with. Several areas allow panning the view 360 degrees around you, which can be controlled either by keyboard or mouse, clicking and holding the right button and turning freely. You can opt to turn this feature off, however, instead moving only in predetermined directions by clicking the arrows at the edge of the screen. Inventory items are stored in an ever-present bar at the bottom, which also houses the hint button, a map and a list of tasks. The map is just there to help navigate, as it doesn't allow for quick travel between locations.
Graphically, Revelation is on par with the first two chapters, albeit depicting a completely different setting this time around. The house has plenty of detail which makes it feel authentic to its era, such as the floral wallpaper patterns, numerous paintings hanging on the walls and (now) antique furniture. The backgrounds look good, though they can give some of the hidden objects a few too many places to hide. The music is similarly composed to fit its surroundings, which here means soothing, classical-style music. The tracks play throughout the game and set the mood nicely, never becoming too noticeable or irritating. The limited voice acting is again solid, with John speaking in mellow tones and a neutral delivery that never tries to be too funny or too dramatic. Without giving too much away, other voices are heard at the end of the game, though they only make a very brief appearance.
One of the things that kept me going throughout these three games was the mystery of what exactly was happening to the protagonist. I had a feeling after playing the second that I knew what direction it was going to take, but I hoped it would surprise me. Unfortunately, my guesses were correct, and though the ending does tie things up clearly, it is a disappointing and predictable conclusion. As a single instalment, Revelation offers the same high production values, often (but not always) enjoyable puzzles, and a mystery just big enough to make this an entertaining game. The same can be said for The Fall Trilogy overall, though its casual nature certainly won't be for everyone, and the games could have been more interesting without trying much harder. With a better developed plot and more imaginative ending, this series could have held its own with some of Kheops' better full-fledged adventures of the past; as it is, it's just an enjoyable diversion for a few quiet afternoons and then quickly forgotten.
Our Verdict:
As the series finale, Revelation's ending is a bit of a let down, but it still offers some decent puzzles and a fun setting to explore.
GAME INFO
The Fall Trilogy: Chapter 3 - Revelation is an adventure game by

Kheops Studio

released in 2011 for PC. It has a Illustrated realism style and is played in a First-Person perspective. You can download The Fall Trilogy: Chapter 3 - Revelation from:
Want to share your own thoughts about this game? Share your personal score, or better yet, leave your own review!

review
Other articles you might enjoy