Following Freeware: June 2011 releases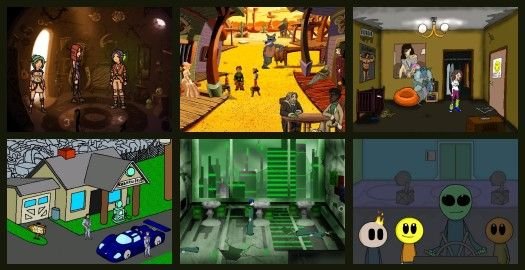 This month you can delve into a load of classic adventures within one game, take a role in a traditional horror story or investigate a more modern sort of terror. For those preferring less conventional player characters, you can become a helpful crow, a crack-addled lunatic or a creature that is half-man/half-mosquito. If escape scenarios are more to your liking, you can find yourself trapped in an ancient treasure room, the government containment facility Zone 5.1 or an abandoned military base where your hibernation lasted a little longer than planned. Finally, you can experience a new chapter in a multi-part story that has seen a long development time. All these await you in this month's round-up of releases on the freeware scene.

---

Adventure: All in the Game
If you thought that game characters were happy to stay where they are when no one's looking, you thought wrong. Sometimes characters cut from the final design try to reinstate their role. Sometimes characters escape from their own games and run amok in others. When these actions threaten game stability, it's time for the Computer Game Maintenance Squad to step in. As an agent for the 2D, 3rd Person adventure branch of the CGMS, Thalia James has been instrumental in protecting many of the classics. Now she faces what may be her toughest assignment, mentoring a new agent, Sledge Rockfist, from the action-adventure genre. With her supervisor dealing with something big, will she be able to overcome the historic animosity between genres?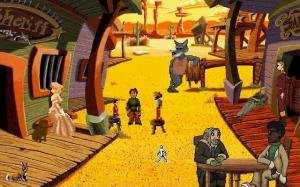 Akril's sequel to Adventure: The Inside Job continues to take players through a variety of adventure games, both classic and obscure. Control is point-and-click using the standard AGS four-action cursor with customised graphics. Most of the graphics and sound are taken from these older adventures, usually from material that didn't make it into the original game. These art and music styles represent a wide range, including the various Space Quest games, Grim Fandango and Toonstruck, as well as a host of others. Whilst the graphic style of the characters usually varies to match the current background environment, their main features remain unchanged, making them recognisable regardless of the setting. To allow for varying levels of gaming knowledge, there is also a setting, adjustable throughout the game, that determines how much game references are explained.
With its constantly changing look, this game is undoubtedly an unusual experience. However, as the characters you meet are clued in on the central premise, these disparate scenes do hold together as a cohesive whole. The behind-the-scenes nature of the overall setting is further reinforced by the need for Thalia to hide from the games' protagonists in order to not disturb the original story. The puzzles are intelligently thought out, with a certain amount of game-hopping necessary to proceed. Sledge's more action-oriented abilities are also put to good puzzle-solving use. There is a tendency for Thalia to harp on the 2D era of adventure games, but those inclined to play this game are more likely to find themselves in agreement with her views.
Adventure: All in the Game can be downloaded from the AGS website.

Riddle Transfer
Having saved Earth from the evil machinations of the alien leader Viz, Phil and his friends were looking forward to returning to their peaceful lives. But the UFO they are using is spotted by the mysterious men in black and a tractor beam carries them into Zone 5.1. Locked up in separate cells, it looks like it is up to Phil to free his companions and get them all away from their government incarcerators. Maybe the fact that it's the guards' "Annual Day Off" will help.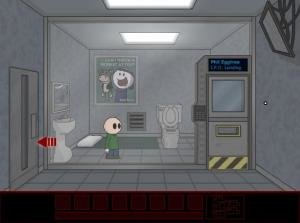 This humorous game from JonBro starts a new series from where the previous one, Riddle School, finished off. Control is point-and-click, with the names of generously-sized hotspots appearing when you point the cursor at them. Items are kept in an ever-visible inventory, ready for dragging into the environment. Prominent red arrows indicate available exits from the current area, and there is a small on-screen map which indicates your current location. The graphics are done in a bright cartoon style with stylised characters, such as Phil's round bald head with large black dots for eyes and no visible mouth. The backgrounds, whilst still cartoon-like in colouring, adopt a more detailed realistic look with proper perspective. Both characters and background (where appropriate) are well animated. The music adopts the style of a grand space opera-type film, fitting well with the subject matter, and machinery has appropriate sound effects.
The game's tone is light and humorous. The guard holiday is an early indication of this, further reinforced by the other prisoners in the complex, such as Bigtoe and The Negotiable Snowman. There is plenty to look at, with Phil having an amusing or sarcastic remark about even the most irrelevant background object. Inventory plays its part in puzzle-solving, with object use being logical and not generally requiring the player to resort to random combinations. This is not to say the puzzles are simplistic, as you will need to pay attention during conversations and think about the relationships between different rooms in the complex to progress. You must also solve some standalone puzzles, and as you rescue your friends you will even need to use their abilities to help you. Whilst familiarity with the Riddle School games is not required to play this one, links to all five games in the series are accessible from the main menu for those wishing to know the full backstory.
Riddle Transfer can be played online at Newgrounds.

Less Than Three
When three adventurers finally discover the treasure room of the Emperor Kemal, a wealth of artefacts from his life faces them. But grabbing the most valuable item, the jewel of Kemal, triggers a magical trap that seals the door. When Othello the bard temporarily disables the trap, Edme the mage makes good her escape, abandoning her companions. Now Othello and priestess Vani must find their own way out. Perhaps Othello's knowledge of the history of Kemal's treasures will help, and maybe he will discover something new along the way.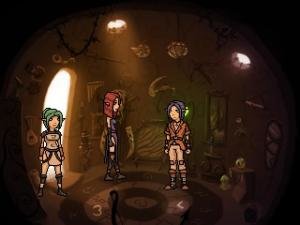 This game from Ben304 won the May MAGS "Tension"-themed competition by default as the sole entry. However, this is a game that could easily have been a deserving winner entirely on its own merits. The graphics are a detailed cartoon style, reminiscent of the Day of the Tentacle-era LucasArts games. As in his previous game in this style, Airwave, the characters have eyes that are ovals of a single colour, though here they also have pointy ears to accentuate the fantasy setting. The character animations are all smoothly done. The background music is a soothing piece featuring piano and woodwind, which evokes a sense of places long undisturbed. Control is simple point-and-click, using left-click to interact and right to look.
With the wealth of history on display, examining many of the objects results in a brief tale of the items' past, creating a backstory to the game's single room. Examining inventory items produces a full-screen description with illustration, presented as if scribed on a scroll. These descriptions also reveal unique properties of the items in question. The key to solving the game is working out how each item's unique property can be used to further the goal of escaping the treasure chamber. As you progress, you will also have extensive conversations with your companion, Vani, which shed light on your previous travels and, depending on your choices, affect your ongoing relationship. This, together with the tales of Kemal's life, creates a real sense that this small adventure is just one story in a large and fantastical world.
Less Than Three can be downloaded from the AGS website.

A Simple Fix
When a young boy's father decides a doll is an unsuitable toy for his son Joey, an argument ensues. Snatching the doll from the child's hands, damaging it in the process, he flings it out the window. Years later a crow comes across this tragic figure, now missing an arm and a leg and with further injuries inflicted on it by a passing stray dog. Moved by the small doll's sad tale, the crow pledges to restore her to her former glory and reunite her with her erstwhile companion.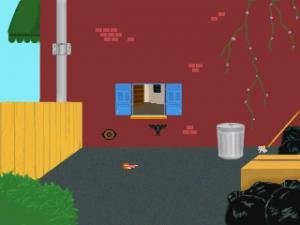 This forlorn tale from vertigoaddict was created for the June MAGS competition, with its theme "Forgotten". The graphics are a simple realistic style, though with bright colours used for the most part. The player character of the crow flaps its wings throughout to stay aloft, and the cursor is animated to indicate when it is over a hotspot. There is no music, with neighbourhood noises such as bird song and kids playing forming the aural background instead. Control is optimised for a three-button mouse, with left for interact, right for look and the centre button to move. For those without a three-button mouse, the arrow keys provide an undocumented alternative for movement. Most of the time this is unnecessary, as interacting with hotspots causes the crow to fly directly over to the object clicked on.
Despite taking place entirely in Joey's room and two outdoor locations, a reasonable number of puzzles have been fitted in. The initial search is only for the doll's missing limbs, but once these have been found, additional repairs are necessary. Players are unable to pick up objects unless they have a use for them, but with the limited carrying capacity of a crow this is somewhat justified in context. Examining most objects results in much more than a stock response, often indicating possible later uses or giving insight into Joey's current life. Items occasionally need to be combined or manipulated, with some environmental interaction also necessary to succeed. It is quite likely you will be able to guess how the story ends before you reach it, but the closing cutscene still manages to achieve emotional impact anyway.
A Simple Fix can be downloaded from the AGS website.

The Outsider
For as long as I can remember, I have lived in this decaying castle in this endless forest. This place has become like a prison for me, having no contact with any other being or place, save through the antique books that line these crumbling walls. The time has come to end this dark solitude that pains me so. I will ascend the ruined staircase that winds up the high tower and seek what solace can be found there. At its peak height may I find an end, one way or another, to my suffering.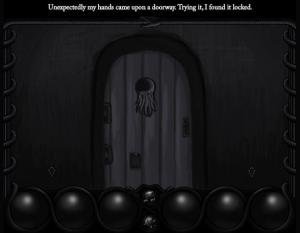 Based on the H. P. Lovecraft short story of the same name, this game from bcdefg123 is a tale of the macabre. A gloomy background tune full of ominous tones, slow-wandering piano and disturbing sounds like breathing nicely set the atmosphere. The graphical presentation is done in a first-person view rendered in gloomy black and white. Whilst these scenes show a reasonable level of detail, the monochrome colour scheme and some warped scenery mean that it is sometimes easy to miss hotspots. Control is point-and-click, with on-screen arrows used to move from scene to scene. There is also a six-space inventory at the bottom of the screen at all times. Clicking on an inventory item highlights it for use with another item or the environment. Entering a new scene or clicking hotspots elicits a short line of text at the top of the screen, many from the original tale. At key points, the first-person view is replaced by longer pieces of text from the story.
Given its source material, the gothic nature of the story is definitely the main force driving this game. The look and feel fit the tone perfectly and the inclusions from Lovecraft's original text further enhance that. By contrast, the puzzles are a little on the simple side, mainly involving collecting inventory items and locating somewhere to use them, a task that requires a certain amount of backtracking. There is also an easy combination lock challenge. This is therefore a game more to be played for its atmosphere, and fans of horror, particularly the works of Lovecraft, should be well served in this regard. Those familiar with the original story will not be surprised by the ending, but a suitably dark twist awaits those who do not know the outcome.
The Outsider can be played online at Newgrounds.

Barn Runner 5: The Forever Friday – Chapter 3: The Wild Brunch
Prick Peckard is a Barn Runner, a detective that tracks rogue robots to the barns they have a tendency to hide in. Now it looks like his robot-hunting days are over. The mysterious affliction known as "The Big Crazy" has hit Prick's home, Arc 19: Evansville, with the streets full of rioters, looters and cannibals. Having discovered a signal that appears to be causing this madness, Prick and his reluctant partner Harry prepare to seek out its source. The experimental Autodyne, Blue Jackal, should prove the perfect vehicle for the job, once Dr Noriko has got the refuelling station working again.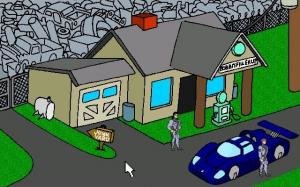 This is the latest instalment of TackyWorld Interactive's long-running spoof series. The sci-fi setting is rendered in a semi-realistic though somewhat brightly coloured style. The human characters are generally realistically proportioned, with the exception of the rather over-endowed Dr Noriko, and animated to a decent standard. Unlike its predecessors, this game does include music, though this is reserved for special moments in the game, including such tunes as Tom Jones's "She's a Lady". Control is the standard AGS four-action point-and-click, with the keyboard used for arcade sequences involving flying the Blue Jackal around obstacles and engaging in fire fights. For those who prefer to avoid such action, there is an option to turn them off. It should be noted that this cannot be changed once an arcade sequence has started and the game will auto-save as the sequence commences. It is therefore advisable to make regular manual saves in case a particular challenge proves too difficult.
Not including the previous chapters of this tale, there are four full games in the Barn Runner series, as well as a handful of seasonal specials. Whilst it is not necessary to play all of them to appreciate this game, it is advisable to at least play the previous chapters of this instalment, which are available from the same webpage. The developer has marked the game as "Teen" rated, and this feels appropriate given the content. As well as dialogue and inventory puzzles, there are standalone mechanism puzzles to complete as well. The setting is based on a slightly surreal future, including a dairy farm run by an intelligent cow. There is a lot of wry humour, and those who find themselves enjoying it can turn on the Director's Cut option, which reinstates jokes and dialogue cut from the first draft.
Barn Runner 5: The Forever Friday – Chapter 3: The Wild Brunch, along with the previous chapters Detour at the Crossroads of Destiny and Beat the Clock, can be downloaded from the developer's website. The other Barn Runner games are available from a link on the same page.

Achar Chronicles: Oblitus
Eren Tersong is a member of the quasi-military organisation GSG. After a long time without seeing any action, he is overjoyed to find his unit is soon to go into battle against the Biolurkers. To prepare for action and clear his thoughts, he has chosen to go into hibernation for a week. This will prove a fateful choice, as circumstances will extend his hibernation period far beyond what he intended. Waking to a base with its main power down and Biolurker Infected on-board, he must search the battle-scarred corridors of his former home for a way out.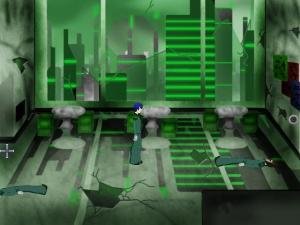 TheRoger's sci-fi adventure was also an entry in the June MAGS competition. The backgrounds are rendered in a realistic style with mainly green colouring, presumably due to the game's setting on the planet Viridian. The characters are portrayed in a light anime style and are reasonably well animated, and the contrast between the clean look of the base in the opening section and the later heavily damaged version is handled nicely. The background music is a melancholy guitar and piano piece that suits the abandoned feel of the base after Eren wakes up. Interactive objects are easy to spot, with hotspot names appearing when the cursor is over them. Holding down the left button when pointed at a hotspot brings up an interaction menu containing interact, look and talk options, whilst right-clicks open and close the inventory.
This game goes some way to setting up an intriguing sci-fi background, and it will be interesting to see if Achar Chronicles is turned into an ongoing series. There are some minor translation issues, but none serious enough to make the dialogue incomprehensible. There are a few occasions when Eren has to defend himself from Biolurker Infected, but these move slowly enough that lightning reflexes are not required. The remainder of the game's puzzles revolve around accessing the base's communications equipment, requiring some inventory use as it is badly in need of repair.
Achar Chronicles: Oblitus can be downloaded from the developer's website.

Mosquito Man 1: Another World
Annoying insects and computer equipment don't mix. This truth is made self-evident to our protagonist, as swatting a mosquito into his computer monitor flings him into a surreal fantasy world. Worse, his body has merged with that of his erstwhile prey, resulting in him becoming a Mosquito Man. Trapped in an alternate reality, our hero must find a way to return where he came from, preferably in his more conventional form.
Roar have created a game that uses a style common to flash RPGs. The view is presented in a top-down format, with only the crown of the head and the shoulders visible for all human characters. The overall presentation is a simple line-drawn style with predominantly spray-painted colouring. There is enough detail to identify most things, supplemented by hotspot descriptions when moused over. Whilst there is an inventory, accessible from an on-screen button, items are generally used automatically when clicking on an appropriate place or person. The music has a medieval tone, but as played through a synthesizer, giving it a more raucous and lively feel than would otherwise be the case.
The game includes various RPG influences, from tasks rewarded in gold pieces to the repeated assertion that someone at level 1 isn't up to a particular challenge. The world is a somewhat confusing place, with fantasy elements mixed with modern ones, including an alarm clock and even aliens out in the woods. It is hinted that these anomalies are part of a bigger concern, though this is presumably being saved for future episodes, as this is not resolved here. Fetch quests provide much of the challenge, though these include a couple of standalone enigmas to overcome. This game does come to a satisfactory conclusion of its own, despite the promise of future episodes.
Mosquito Man 1: Another World can be played online at Kongregate.

Crackwell Unhinged
It's 1984 and in New York City, Lauren Crackwell has a number of problems with her life. She lives in a crappy one-room apartment, she has to look after the baby her sister left her, and she is followed everywhere by a ghost called Blowey. Of course, the fact that her ability to see Blowey arises from her ongoing crack addiction probably doesn't help. With the baby constantly screaming and Blowey perpetually giving her a hard time, she just needs to score some crack to get away from it all again. But with no money, how is she going to get hold of some?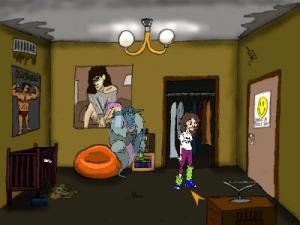 This is a comedy of the blackest hue from Blowey the Ghost, parodying the Dave Gilbert Blackwell series. It has a cartoon-like graphical style, though with somewhat drab and run-down backgrounds to reflect the squalor in which Lauren lives. The characters are fully animated, including talking animations and gesturing. Lauren's walk in particular is of note, with her appearance and movements forming a grubbier version of a scene in the 1980s film Flashdance. When moving around, Lauren is accompanied by a tune equally reminiscent of that film, with a more laid-back '80s vibe dominating otherwise. The game is also fully voiced to a good standard, including the maker's commentary that serves as an alternate New Game from the start menu. Control is handled by basic point-and-click.
This game is a sequel to The Crackwell Legacy, though playing that game is not vital to enjoy this one. As can be seen from the premise, this is not a game for the young or easily offended. There is copious swearing and a lot of the puzzle solutions, such as the means of getting the baby to stop screaming, are quite disturbing. If you like your humour dark and twisted, then there is plenty of that on offer here. Even the director's commentary adopts the same tone, offering a hopefully fictional account of the game's development The characters, such as the insane "The Madam" and the pimp ghost Blowey, are somewhat caricatured, but in a way that works with the overall feel. The puzzles are fairly simple, using inventory and dialogue, with nothing that will seriously challenge the majority of gamers.
Crackwell Unhinged can be downloaded from the AGS website.

Pryon Zero
A Special Forces agent makes his way into an apparently abandoned laboratory. There are signs in the opening areas that something has gone terribly wrong with recent experiments. Blood smears the walls, cylinders are shattered and sections of computer memory appear to have been wiped. As he descends deeper into the building, further horrors await. Where have the results of their studies gone? Just what was the project dubbed "Pryon Zero"?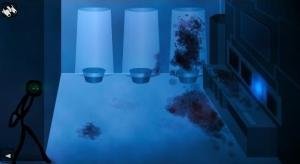 This game from MoFunZone has survival horror overtones. The setting is dark and gloomy with poor lighting, some areas lit only by the glow of computer screens. The background graphics are done in a realistic if somewhat sparse style, with the player character a stick man with an enlarged head whose eyes are lit by the glow of a night-vision head-piece. Whilst not needed for most of the game, night-vision can be turned on and off by means of an on-screen button that bathes the whole scene in a green glow. The background music has no real form, simply providing a disturbing undertone throughout. Control is largely point-and-click, though the keyboard is used to enter a password and for one action section.
There are two action sequences overall, with checkpoints just prior to both, allowing you to replay just that sequence rather than having to restart the entire game if you fail. Moderately decent reflexes are required to pass these. Otherwise, the puzzling revolves around searching for clues to unlock various doors and computer consoles. External knowledge is useful for one of these, though the puzzle can also be solved by a small amount of trial and error. The handful of inventory items you'll collect are not shown, instead used automatically when it is appropriate to do so. There is a sequel to this game, called Pryon Ex, that is already available on the same site, but it is entirely an action game.
Pryon Zero can be played online at MoFunZone.

---

Other new releases
Not all games are created equal, and freeware games especially come in all shapes and sizes. Not to be overlooked, the following list might also be of interest, though these games may be significantly shorter or less polished, more experimental titles than those detailed above, some perhaps only borderline adventures to begin with.
Britney's Escape by Liz Littman – Bernard has trapped his sister in her bedroom. Use cunning to escape in this short Maniac Mansion Mania game.
Justin Bieber Saw Game by inkagames – Help the young singer rescue his girlfriend, Selena Gomez, from the clutches of the sinister Pigsaw.
Tube Crisis by KillerViral – When your previously quiet tube carriage becomes crammed, you must determine your fellow passengers' weaknesses to restore peace.
Little Samurai by Pencil Kids – The Evil Emperor Kuroi has kidnapped the Red Dragon for his own wicked ends. Guide Little Samurai in his quest to free this noble beast.
Crazy Haunted House by inkagames – Trick or Treating at the wrong house can be asking for trouble. Face supernatural foes to recover your lost friends.

---
That's it for this month. Think we've missed a gem or want to tell us about your own game? Then pop in to our Adventure forum and tell us about it!
Referenced Adventure Games
freeware feature
Other articles you might enjoy