Nancy Drew: The Mystery of the Clue Bender Society
review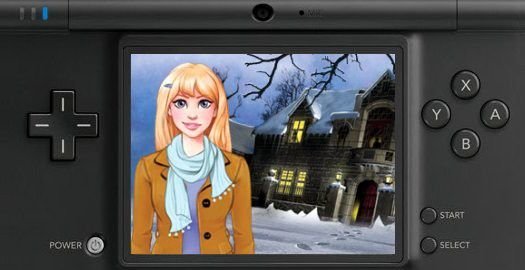 Game information
You might also like these adventure games
Advertisement
Adventure games by Gorilla Systems Co.
BITMAP BOOKS
Nancy Drew has proven to be a popular adventure game franchise over the years, but that's been mainly on PC. The Mystery of the Clue Bender Society was the second Nancy Drew game made for the Nintendo DS, published by Majesco in September 2008 and created not by Her Interactive but by Gorilla Games. Unfortunately, just like its predecessor, The Deadly Secret of Olde World Park, the sequel is not a very good game, proving instead to be overly short, repetitive and dull, even for its younger target demographic.
At first the story sounds promising enough: Nancy gets an invitation from the mysterious Clue Bender Society, a secret club of intelligent people who dedicate their lives to finding and solving mysteries and protecting secrets. Apparently they are looking for new recruits, and Nancy is one of three promising candidates they have invited to their headquarters, located on a remote island filled with puzzles. Whoever is first to solve a series of challenges will be declared the winner and the new Society member. However, as soon as Nancy manages to find the secret storage of the Society's prized Tome, the ancient book turns out to be missing. As it supposedly contains secrets that could threaten our world, it is imperative that Nancy and her fellow candidates retrieve it before the next ferry leaves for the mainland. Why the current Clue Benders themselves are not joining in the search is not explained, but to find it herself, Nancy needs to explore the mansion and the rest of the island, with secret passageways to discover, doors to unlock and suspects and witnesses to talk to. There is also some snowmobile racing and sneaking around in shadows to be done.
Unlike its PC counterparts, which never show the teen sleuth in action, Clue Bender Society is a third-person game, though apart from a few references at the beginning, there is nothing in particular that makes this feel like a 'Nancy Drew adventure'. Nancy is depicted as a teenager, and the cartoony character depiction of her in close-up view is quite nice, though she looks a bit blocky and fuzzy when walking around the realistic-looking main environments, especially if she is far away from the camera. With no animation to speak of and only a few slideshow cinematics to drive the story forward, this game offers few visual highlights. This is true of the music as well, which is so annoying I couldn't listen to it for long at any one time, as there are very few tracks with very short loops, making it exceedingly repetitive. There are only a couple of sound effects that do nothing to immerse you in the game, and no voice acting at all to bother keeping the volume turned up to hear, though there is one puzzle that requires you to have the sound on.
The top screen shows Nancy in her current location, along with hotspots for exits to other screens, people to talk to and objects to investigate. You maneuvre Nancy around by pressing the +Control pad, which is far more cumbersome than it needs to be. You can only leave the screen by positioning Nancy onto the exit marks, which is often quite hard to do since they are small and the visual alignment is not quite right. It is especially frustrating getting Nancy to leave snowy locations, since the exit marks are a very light gray, which is hard to see on light backgrounds. Occasionally when you try to walk past an exit, you accidentally trigger the unwanted action anyway. Some exits are placed so close together that you end up going around in circles, while others are disorienting because Nancy appears to be walking in a different direction in the new screen. The bottom screen can be toggled between a map, the inventory and the current objective, which seems largely a waste of the DS touch screen functionality.
The gameplay consists of walking around the mansion (and a handful of other locations such as a small village and a lighthouse), finding people to talk to or objects to use. Nancy writes down what she is supposed to be doing in a notebook, which is meant to serve as a memory aid for the player. But these entries are not very helpful when all they say is "I should find Henry" or "I should look at the puzzle box in Nero's Room" if you have no idea what room that is or where Henry might be. The map only shows a very general outline of the rooms with no labels, and it doesn't display Nancy's actual position, though it does assist in figuring out the layout of the mansion and the most likely location of a secret passage. Often there is no other option than to revisit every location until you have found something that has changed since the last time, as speaking to someone in the kitchen can trigger a new object in the library, or maybe in the garage. A few rooms are locked, and these can only be opened by using four consoles on the second floor. As opening one room locks the others, you'll have to use these consoles a lot before you're sure Henry or a new clue is not hidden in any of them. A lot of backtracking ensues, as you rarely have any idea where exactly you should be looking.
Before she leaves home, Nancy receives a fingerprint scanner, called the Scanalyzer. This could have been an interesting feature, but unfortunately everything is done automatically. Whenever a fingerprint is present on an object, an icon flashes on the screen, and when you touch it with the stylus it is recorded automatically without any interaction. Nancy just says she collected the print and that's it. This is true of all the 'detective work' in the game. The player doesn't get personally involved in any of it, and there is never any need to think about anything. Objects are used at the right place automatically, there are no dialogue trees to choose from, no conclusions to be drawn. All the player does is steer Nancy through the mansion, unlocking doors and solving the odd puzzle.
Even then, the puzzles you encounter are ridiculously easy, as the solution is never far away. They usually involve finding and using objects or solving puzzle boxes, which often have the solution like a colour pattern right next to them. Others are simple code-breaking affairs with only about twenty possible solutions. It is possible to start solving a puzzle too early in the game, however. Even if you have the correct solution, the game will not let you solve it, without telling you why. Only after you have done something elsewhere and returned to it are you suddenly 'allowed' to solve it and a previously rejected solution is now accepted.
A handful of minigames have been added to make the game last a little bit longer, but there are only five of them that keep being repeated, and none are any fun. One of them involves catching balls in baskets by moving them left or right before they reach the bottom of the screen, and another has you clicking coloured balls as they trace the outline of a key. There are no instructions for any of these minigames in either the game or the manual, so you have to find out for yourself how to play, and if you don't get it right away Nancy will tell you you've failed, at which point she will let you try figuring it out again. There is one minigame that can only be solved by trial-and-error, a kind of pipe-matching game in which you only have three tries to find the correct route. These activities can be replayed from the main menu as well, although I doubt anyone would want to.
Not playable from the menu are a snowmobile driving game, in which you steer left and right to avoid obstacles, and a sneaking sequence at the very end of the game. In the snowmobile segments, which you'll have to do each time you travel from the mansion to the village, there is no penalty either for hitting anything or for going at a snail's pace, so there is no challenge at all. The sneaking sequence is nasty, however, as Nancy has to stay in the shadows and keep hidden from some 'guards' that have mysteriously appeared in the mansion. It is totally unclear which shadows are safe and what the guards can actually see. If you are spotted, you'll be sent back to the beginning of the sequence for a new try. You can't save your progress during this section, even after successfully entering a new room, which makes this a frustrating trial-and-error exercise.
The other characters in the game are your co-contestants, the Clue Benders and some villagers. None of them are interesting and most are just standing around waiting for you to talk to them, even if they say they are very busy. When you near them, a highlight appears and when you press the appropriate button a close-up displays with one or two conversation options shown on the bottom screen. Click these and the character will talk about the subjects shown, more often than not unlocking new topics in the process. In theory, if they have something new to tell you, an exclamation mark is shown over their heads. In practice, most of them show that exclamation mark all the time, even if you have already exhausted all dialogue. When you talk to them again, they start over from the beginning without any option to skip any subject, again unlocking all the subjects as if you were talking to them for the first time. This way, you get to learn the same stuff about the village a number of times and be told the nickname of the snow plough over and over again. The trouble is, the character might really have something new to tell you if you have talked to someone else or discovered something since chatting with them previously, so you can't just ignore that exclamation mark. That's just sloppy design and should have been picked up by any kind of quality assurance.
The story itself is ridiculous and full of contradictions. The only real mystery of the Clue Bender Society is why anyone would want to join their ranks. They are supposedly very intelligent detectives/geniuses/puzzle makers, but they leave blatant clues all over the place, like the answers to door puzzles displayed on the doors themselves. Yet they are surprised when Nancy solves anything and accuse her of having knowledge she couldn't have learned from the available information. In a way they are right, because at the very end of the game, which you will reach after only about three hours, even with all the backtracking, Nancy explains what she thinks happened, without any prompt from the player. It is never explained how she arrived at this deduction, as most of it has no connection with what you have been discovering on the island. This leaves the player feeling even more detached from Nancy Drew and even less involved in the game at the point where it's needed most of all.
It's a pity the player never gets to do anything besides opening doors, solving a few easy puzzles and playing minigames, as a Nancy Drew game should involve some real detective work and actual thinking at some point. Unfortunately, The Mystery of the Clue Bender Society really only lets you steer Nancy around in this exceedingly easy, short and boring game that could have had any name in the title and not felt any different. Then again, since it does all your thinking for you, there really isn't much reason to ponder whether it's worth picking up, as there's just not enough here to make it worth your while, regardless of age.
Our Verdict:
There is not a lot of mystery in The Mystery of the Clue Bender Society, and the popular Nancy Drew license is largely wasted in this short, easy, repetitive game.
GAME INFO
Nancy Drew: The Mystery of the Clue Bender Society is an adventure game by

Gorilla Systems Co.

released in 2008 for DS. It has a style and is played in a perspective.


Want to share your own thoughts about this game? Share your personal score, or better yet, leave your own review!

review
Other articles you might enjoy