The Jim & Frank Mysteries: The Blood River Files
review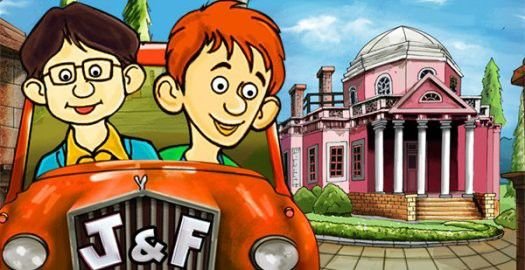 Game information
You might also like these adventure games
Advertisement
Adventure games by 99Games
BITMAP BOOKS
Fans of relentlessly intriguing puzzle-adventures like Professor Layton have thus far been limited in their options on iOS devices. There are plenty of adventures, and plenty of puzzle-y games, but no original iOS game has been able to successfully weave a strong narrative with a variety of puzzle challenges the way Layton always does. Towards that end, Indian mobile developer 99Games offers up The Jim & Frank Mysteries: The Blood River Files as their first major entry into this genre, and while it accomplishes most of its goals, it does so with a focus squarely on a younger set of gamers.
Our titular heroes, a pair of inquisitive young mystery-solving friends, set out on a journey prompted by a birthday letter received by Jim from his Grandpa. The notion of ol' Grandpa sending young Jim on some type of puzzle-solving mystery quest appears to be an annual tradition (and a nifty one at that; I usually just got a new shirt). This time Jim & Frank are going to the unusual town of Tinyville, where they will search for the mysterious Blood River and discover which of the town's citizens is up to no good, though really the focus of this game is all about getting there.
The adventure progresses with absolute linearity, allowing for no deviations. At every single point in the game, you are presented with only a single option: move in one predetermined direction to the next screen, or interact with one allowed object or individual to solve the next puzzle. The challenges consist of 55 puzzles, the type that any Layton aficionado is very familiar with, and then eight "tasks", which are timed action-oriented games. The puzzles are sometimes reasonably woven into the story narrative, such as the frequent door lock puzzles, and are sometimes blatantly out of context—supporting characters often require your help with some bizarre non-sequitur logic puzzle before helping you with your task.
Jim & Frank clearly stakes out the territory it intends to appeal to, and it's likely a younger crowd than most who are reading this review. If you remember the old Humongous Entertainment adventure games, featuring characters such as Spy Fox, Putt-Putt, and Freddi Fish, you have a sense of the way this game differs from the genial but adult-friendly Layton series. The sterile mystery feels like it's straight from an Encyclopedia Brown story, and it's not nearly as much fun playing two whiny-voiced ten-year-old kids for me now as it probably would be if I were still one of those kids myself. This is where the total linearity becomes somewhat of a benefit; for kids too young to understand life without hotspot locator keys, they can easily proceed through the game in sequence, with only the puzzles to concern them. The puzzles aren't all kid-friendly though--they range from the standard (matchstick triangles, chessboard, a towers of Hanoi variation, etc.) to some more innovative uses of the touch screen (a really nifty scale puzzle, block movement puzzles, and some great "separate the grid into sections" puzzles), to some very poorly explained number sequence puzzles.
Hints are available if necessary, which can be paid for by Eurekas, the game's currency that look very similar to dollar bills. Eurekas are used for nothing other than purchasing hints, and are hidden in each of the game's environments, acquired by touching that part of the background. I mean "hidden" very loosely; even children will have no trouble locating them. There's also far too much of this currency; three total units on each screen means you're likely to finish the game with well over a hundred unspent. Yet in a rather unseemly move, the game also allows for in-game, one-click, real-money purchases of more Eurekas. I generally despise this type of marketing, and I really loathe it in a game designed for pre-teens. I also tended to sneer at the hints offered, of which only two are provided for each puzzle. There are multiple puzzles near the end where the first hint just gives away the first move (rather than helping to understand the puzzle's overall structure) and the second hint, helpfully, is "Keep trying and you'll get it!" Imagine if you had paid real money for the Eureka to buy that gem.
The puzzles themselves are numerous and well-varied, colorful, and fun--making it even more disappointing that the developers chose to insert the eight action tasks, including an absolutely awful frenzy of tap-and-dragging a path for multiple fast-moving colored cars while avoiding collisions. At best such activities are time-wasters and at worst they are downright aggravating. These minigames are too fast, not just for the target demographic, but for the system. iOS games are still having trouble figuring out the right way to tap-and-drag, and Jim & Frank is certainly no exception. If I had one Eureka for each time I dragged an unseen item into the wrong place, I would have unlocked every hint in the game. There's also some heavy use of the nifty iOS motion sensing technology, but it's so sensitive and touchy that some frustration is sure to follow—good luck not throwing your iPod across the room after accidentally triggering movement during the maze. There are no hints for these or any way to skip them, and they pull the focus completely off what it should be in a game that usually succeeds with its puzzle design.
With the extreme linearity and constant puzzles, it's tough to make room for a healthy story, and there is really no emphasis here on narrative. There is a "mystery" of sorts, but the interest is very limited and the story lacks much drive toward reaching the resolution. It's tough to classify the game as a comedy, because it's not funny if you've graduated elementary school, but nor is it a drama, as it contains absolutely no memorable characters, including the two protagonists, and is bereft of compelling dialogue. Story doesn't have to be the major point of a puzzle game like this, but I think even the younger set would appreciate more of a plot thread running through the game. Fortunately, Jim & Frank gets the more obvious elements right, with bright and colorful backgrounds throughout Tinyville and its nearby outdoor locations, entertainingly childlike voice acting, and a light fantasy-influenced soundtrack.
Beyond the main puzzles and action games, another element borrowed from Layton is that each puzzle solved unlocks either a piece of a large photo to be assembled or a cue card providing a new word jumble puzzle. Altogether, it's an exhausting array of gaming that clocks in at a very impressive 7-10 hours--and an absolutely bizarre $0.99 price point. It's well past the point of "high value"; it's just senseless for this game to be this inexpensive when there is so much playing time and so much effort obviously put into it. To say I've paid three times as much for games with less than one-third of its substance is putting it mildly--but buyers should be cautioned: whatever expectations you likely bring to a game you're paying less than a dollar for, you'll get far more than your money's worth, so much so that it may overstay its welcome before the end.
The Blood River Files appears to be the first in a planned series, and I fully support that intention even though I am not the target audience. I adore everything about the Layton games, and while Jim & Frank is very much a diet lite version in every respect, it is a welcome game for a younger gamer with an itch for puzzling. It could certainly have done without its ill-conceived action minigames, but despite its design flaws and exceedingly thin narrative, it is definitely worth the miniscule price and probably quite a bit more.
Our Verdict:
Jim & Frank's first mystery is a very capable puzzle game, especially for younger gamers--and a total steal at its low price.
GAME INFO
The Jim & Frank Mysteries: The Blood River Files is an adventure game by

99Games

released in 2010 for . It has a Comic cartoon style and is played in a First-Person perspective.


Want to share your own thoughts about this game? Share your personal score, or better yet, leave your own review!

review
Other articles you might enjoy