The Dream Machine: Chapters 1 and 2
review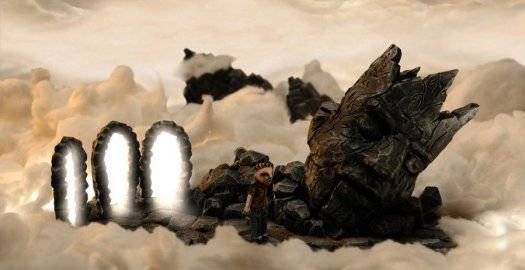 Game information
You might also like these adventure games
Advertisement
Adventure games by The Sleeping Machine
BITMAP BOOKS
It's been many years since the last true claymation adventure, but at long last The Dream Machine looks set to create a name for itself on the very short list of hand-crafted stop-motion titles. This five-part episodic series includes the debut chapter for free with four commercial instalments to follow, the first of which has been released already. These two episodes combine to introduce a series filled with mystery and charm, elevated to lofty heights by its whimsical clay and cardboard design, surreal storyline, and heartfelt attention to detail.
As soon as the game begins, you'll instantly notice the unique art style, which is a surprisingly realistic-looking world made out of figurines. The entire game is made out of a combination of cardboard and clay, and you can clearly make out the knife strokes and the cardboard backgrounds supporting the clay. This isn't a flaw, as it adds even more character to the game and highlights the designers' intricate attention to detail: withered hardwood floorboards are pushing up, walls are stained, and bathroom tiles are cracked and worn. While only displayed in a moderate-sized box in the center of the screen, each scene looks fantastic, and the fluid character animations resemble what you would expect from traditional game models, instead of the clunky movement often found with clay figures.
By the time this unique visual presentation sinks in, you'll have also noticed the mild background soundtrack that blends into the atmosphere perfectly, with subtle eerie loops that effectively immerse you without ever distracting you from the action. The opening and closing tune in particular has stuck with me, as this simple, elegant piece is both whimsical and woeful at the same time. The score is remarkably diverse as you move from one main location to another, at times giving way to just silence and ambience noise. Fortunately, there is also good use of sound effects throughout, from the lapping waves of water in an opening island beach sequence to the dial tones of your newly-installed telephone. The only complaint about audio is the lack of any voice work, as all of the dialogue is text-only. This isn't the largest drawback, and it's an understandable decision for a small indie developer, but there's a fair number of conversations in the game, so it's a missed opportunity to personalise the characters further.
The story follows a young married couple, Victor and Alicia, who are expecting their first child and have just moved into a new apartment. After their first night in the new place, Alicia details a rather horrific dream which involved the building's caretaker. There are more immediate things to worry about, however, like acquiring a new key and getting your furniture delivered, which are easier said than done. Playing as Victor, these tasks lead you to investigate some odd neighbours and strange discoveries about the apartment, which begin to build an eerie atmosphere that grows more uncomfortable as you go along. The free first chapter ends just as the story begins to gain momentum, focusing much of its time on establishing the game's characters and mechanics, preparing and enticing you for what's to come.
The second chapter starts off directly where the first finished, as you continue to delve deeper into the disturbing events you've uncovered to that point. What seems to have a very rational explanation, however, soon reveals itself to be far stranger than ever imaginable. It turns out the apartment has an Inception-like machine within its walls, in which one person is able to step into the dream space of another. With this technology, you'll need to journey through the dreams of other inhabitants and sever their connection with the machine. The dream world is a kind of collective subconscious, with each individual occupying their own ever-changing portion. We're only treated to one character's dream space so far, a place where the abstract and odd are commonplace. Walking amongst clouds... talking to stone statues... navigating portal systems – all completely normal when you're in a dream.
Unlike most games, The Dream Machine is played entirely in your browser, with no permanent download or installation required. Certain content like music and room layouts are streamed in the background to avoid any need for long load times. Even saved games are stored online, allowing you to pick up where you left off regardless of what machine you are using. This does require you to be constantly online in order to play the game, of course. You'll also need to be registered at the developer's website to save games from episode two on, though the first chapter can be played without signing up for an account.
Progression through each episode plays out like your typical point-and-click adventure, blending exploration, character conversations, inventory management, and various different types of puzzles. Interactive items highlight when you mouse over them, but some are purely optional, yielding only a brief comment from Victor. Dialogues with such people as a lazy furniture mover and a real estate agent have various branches, allowing you to personalise your approach to different situations, like responding jokingly or aggressively. This option is a welcome one, though your choices don't seem to have any real impact on the overall direction of the storyline, and you can simply reinitiate some conversations to try a different approach. Talking with your wife in particular is a highlight, as your discussions are often filled with humourous banter, whilst still containing the occasional supportive and loving lines to give a proper sense of the bond between the two.
Most of the challenges are small combination tasks solved through inventory management, such as lubricating stiff elevator doors or creating a makeshift statue-sized eardrum. This process is as simple as dragging items from your inventory located at the top left of the screen to the object or person you want to interact with, or with other items still in inventory. There are a handful of other puzzles in the game as well, ranging from a simple jigsaw to moderately complex logic puzzles, like a circuit board that needs its electrical current rewired and a rather obscure riddle to deduce. A few puzzles are cryptically clued, requiring you to apply hints found elsewhere to solve them. One particular puzzle, a safe code, had me stumped trying to decipher a vague clue in different ways until I realised the answer was literally staring me in the face all along.
In general, the puzzles shouldn't be too much for the average adventure player to get through, since you're typically confined to only a small selection of items and scenes at any given time. Depending on how successful you are at these puzzles, the first and second chapters each hold between one to two hours worth of gameplay. That may not sound like a lot, but the time spent playing is well worth it, and will undoubtedly leave you wanting more. Each chapter ends with a cliffhanger that leaves you anxiously awaiting a new instalment to find out what happens next. It'll be a while before we discover that, though, as the next episode is still several months away at least.
The Dream Machine already displays the potential for something great. The unique clay-based design pulls you in with its distinctive charm, introducing a handful of bizarre characters and setting you on a journey beyond the mundane and into the surreal world of dreams. A true "episodic" adventure, the chapters may be short but the content offers no shortage of entertainment. The creation of essentially a two-man Swedish team at Cockroach, Inc., the first two episodes are available now from the official website. A single-episode purchase option will be added soon, though for now the only way to buy episode two is by ordering the full season. Chances are you'll want to anyway, as you can see for yourself in the free first chapter. Giving it a whirl is as simple as a button press, so why hesitate when you can be playing already?
Our Verdict:
With its charming claymation aesthetic and promising surreal storyline, the first two chapters of The Dream Machine will leave you eagerly awaiting the next instalment.
GAME INFO
The Dream Machine: Chapter 2 is an adventure game by

The Sleeping Machine

released in 2010 for Mac and PC. It has a Claymation style, presented in 2D or 2.5D and is played in a Third-Person perspective. You can download The Dream Machine: Chapter 2 from:
Want to share your own thoughts about this game? Share your personal score, or better yet, leave your own review!

review
Other articles you might enjoy