Love & Death: Bitten
review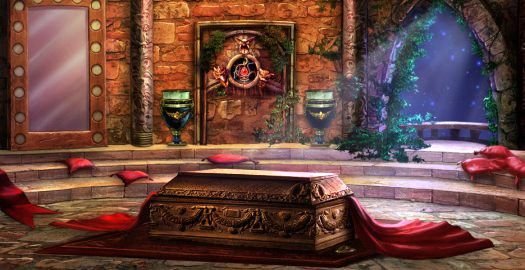 Game information
You might also like these adventure games
Advertisement
Adventure games by PlayFirst
BITMAP BOOKS
Once upon a time, in a forbidding castle at the edge of an eerie forest, lived a beautiful but wicked witch and her companion, a young vampire. They had a good life, roaming the opulent halls and gardens of their home at night, feasting on the hapless humans from the village on the other side of the forest. One night, on a jaunt to get fresh blood, the vampire finds the locals up in arms about the evil that lurks in the forest and hunts them at will. The villagers aren't willing to suffer more, but their indolent and indisputably-practical Mayor talks them out of their rebellion, unwilling to disturb the status quo. One voice, however, isn't quieted, and the vampire is intrigued by the jade-eyed redhead who refuses to surrender meekly to the unconquerable threat. As he spies on the gathering from a rooftop, their eyes meet for a moment and their fates are aligned for the enchanting hidden object adventure that is Love & Death: Bitten.
The game follows both protagonists as they pursue their individual missions, spiraling slowly yet seamlessly into a single ambition: freedom from the wicked witch. Exquisitely drawn screens, cleverly concealed objects, intricate standalone and inventory-based puzzles integrated deep into the story, a rich background score and competent voice acting lift Love & Death: Bitten well above many of its peers in the casual arena both in production value and gameplay, nudging aggressively at the door of the full-fledged adventure genre. The hidden object searching gets slightly repetitive near the end of the somewhat lengthy playtime, but that's a minor blemish for a game this sharp and entertaining.
The tale of forbidden love, horror and debauchery is oft-told, and on the face of it, predictable, given the unequal balance of power and mortality between predator and prey. However, while the story is set in an unspecified Victorian era, it's tailored to suit the romantic sensibilities of an audience which lives in the Twilight zone of the new millennium. Our resident vampire, Damon, belongs to the Edward Cullen School of the Undead: handsome, restrained and pseudo-humane, bristling at his thirst for blood while yearning for freedom from his dazzling and devoted captor and mistress, Celeste. And while Celeste adores Damon, she harbours no illusions about his lack of interest in her, keeping the potion that would return his humanity – an intangible yet trappable property – well-secured with magical locks that he's incapable of breaching. Bitten follows popular vampire canon: Damon cannot tolerate sunlight and sleeps in his coffin during the day, flies short distances, is supernaturally strong, and of course, is immortal unless staked through the heart. All it takes for a human to turn into a vampire is to be bitten by one, though reversal is possible if the person's humanity is somehow restored.
On that fateful night, Damon traps his prey – the human girl Victoria, in her house. However, confronted with her steadfast challenge in the face of overwhelming odds, he opts to spare her life and returns to his castle as dawn approaches, leaving behind a golden stone and a mystery that Victoria must solve to save herself and her village. She follows his trail to the edge of the forest, and then within, encountering the reclusive oracle Odette, who tells her about Damon's captivity and gives her the pieces of the mirror that will unlock the gates of the castle.
As Victoria seeks a way to end the scourge on her village, Damon sees in her the answer to his problem: an entity resourceful and driven enough to unlock the magical keys withholding his humanity. Their encounters bristle with superficial sparring – Damon's condescending one-liners consistently infuriate the righteous Victoria, who he terms a 'pulse-quickening temptation' – but the underlying mutual attraction, evident the first moment they speak, amplifies rapidly as he saves her repeatedly from Celeste's minions, while she sees glimpses of his cheerful past – and desolate present – as she explores his castle and chances upon an elegantly designed puppet show that narrates his tale. They are, however, careful to keep their feelings out of the way as they blatantly use each other to further their main agendas, a concept the game incorporates with impressive efficiency to switch play from one to the other.
Bitten is split into seven chapters, three set in the village and forest, the rest in the castle, played alternately as Victoria during the day and Damon at night. The first chapter, during which Damon searches for prey in the village, is a short, smartly-devised tutorial that introduces basic gameplay concepts while establishing the premise of the story. The timeline is advanced largely by solving numerous inventory-based puzzles, and items may be collected directly from onscreen hotspots, via hidden object searches, or by solving logic puzzles that either yield the objects themselves or provide clues to their whereabouts. This large variety of standalone puzzles progress from easy to moderately challenging, and span number-crunchers, shape-, colour- and geometry-based teasers, target shooting and utilising multiple items gathered from other locations. The puzzles are linked intrinsically to the story, and all but one (a convoluted combination of colours and numbers that demands considerable trial-and-error) can be solved with reasonable clarity of thought, though the option to skip also exists.
The hidden objects are integrated tightly with their surroundings and the era depicted, though the lists are random except for the items relevant to the story. An additional interactive tweak requires discovering certain items and then using them to reveal others; for example, in a kitchen scene, the various ingredients of a sandwich must first be found, and then placed on the bread in the correct sequence to complete the 'search', while in another place, multiple candles must be located and then set alight in a complex, dazzling mechanism. An auto-recharging hint button highlights an undiscovered object in a fleeting circle of light, while rapid incorrect clicks cause the cursor to disappear momentarily, the sole penalty of the game. In a mini-quest that continues throughout, the player has to find golden leaves hidden in each screen until a hundred are collected, after which the leaves cease to appear. The quest isn't difficult, as it's possible to meet the quota by the end of the third chapter. Ten leaves complete an ingredient for Odette's cauldron, and ten ingredients are required for a glimpse of the future at the end of the game.
The game isn't entirely linear; items are portable across chapters, and within each chapter players can move between all available locations at will, solving puzzles whenever their conditions are met. The current objectives are always displayed onscreen, and subtle hints about the next course of action are provided by the hint button, as well as the comments made by the current protagonist. The expansive game world comprises over thirty unique locations between the village, forest and castle, with each revisit introducing new objects or activating previously idle ones. Each chapter allows access only to a select set of locations, and this restriction, combined with clearly defined objectives and location-specific objects, virtually eliminates pointless roaming around while still allowing players plenty of freedom to explore.
Victoria and Damon have disparate goals, capabilities and limitations, and each interacts differently with their surroundings. Even puzzles they both encounter are customised to accommodate their inherent skills. Damon's enhanced strength and ability to fly allows him to overcome most physical barriers with ease, unlike Victoria, who must use science and her considerable resourcefulness to free her path from obstacles. Their symbiotic partnership allows them to protect and empower each other: while his familiarity with the castle and the quirks of his mistress, Celeste, allows Damon to pre-empt risky circumstances to keep Victoria safe and undetected during the day when he is confined to his coffin, Victoria works with tireless determination to unlock most of the magical barriers that keep him enslaved and Celeste in invincible control.
The adventure unfolds across detailed, vibrantly-coloured and thoughtfully-equipped screens that are enlivened with animations of rolling fog, floating dust motes, rustling leaves and rushing water. Subtle touches like lit fireplaces and reflections in mirrors enhance realism as scenes shift between day and night and play alternates between Victoria and Damon. Artistically illustrated cutscenes precede chapters, and despite being static, these are edited crisply enough to lend the narrative the required drama. The background piano and violin-based compositions and sound effects adeptly support the action onscreen as settings flit between scenic and safe to macabre and dangerous.
The nifty script of Bitten relies less on text (simple but well-written) and more on high quality voice acting during numerous cutscenes. Victoria's voice fits her youthful, spirited personality, while Celeste, in her cameo as the glib, vicious villainess, steals the show with her panache under fire. The supporting cast, including Odette the oracle and the sprightly, gossipy will-o-wisps in the castle's aviary, are also well-delivered. However, despite being blessed with some of the most charming lines ever scripted for a casual game hero, Damon disappoints with an inconsistent, affected accent that's more reminiscent of a middle-aged, frumpy lord than the dashing young prince-turned-vampire that he's supposed to be.
Love & Death: Bitten risks being an unfortunate victim of the very genre it intends to capitalise on, as its gravity is lessened by its girl-meets-vampire storyline, and some who would otherwise love to sink their teeth into a substantial casual adventure might give it a pass based on its trite premise. But it's a game that should definitely not be judged by the box cover, for within lies one of the most well-designed and slickly-produced lite adventure hybrids to date. The game consciously stays within its limits despite the potential for greater complexity, often relying on hidden object searches instead of puzzles. But by resisting the ambition to expand its scope and emphasis beyond its strengths, it emerges among the masters of casual game ranks in terms of script, gameplay, and surprisingly even character development. Victoria and Damon evolve as individuals during the course of their adventures, learning from situations and each other, changing their mindsets and prejudices, ever-so-subtly enticing the player to root for the unlikely couple. The game ends with a stunning cliffhanger for the star-crossed lovers, and I, for one, certainly hope that a sequel is in the works.
Our Verdict:
Love & Death: Bitten is a must-play for the lovers of both casual adventure games and vampire dramas.
GAME INFO
Love & Death: Bitten is an adventure game by

PlayFirst

released in 2010 for iPad, Mac and PC. It has a Stylized art style and is played in a First-Person perspective. You can download Love & Death: Bitten from:
Want to share your own thoughts about this game? Share your personal score, or better yet, leave your own review!

review
Other articles you might enjoy