Following Freeware: September 2010 releases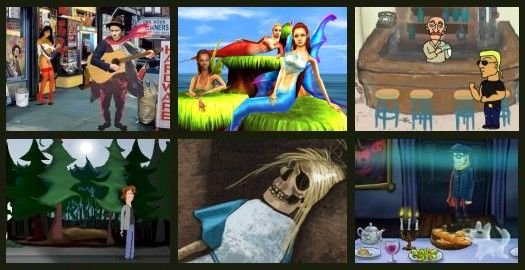 This month, you have the opportunity to become a noble king or a low-down drunk. Take a trip to 1950s small-town America, deliver a package to a haunted house, or wander through a dark version of Lewis Carroll's Wonderland. You may even find yourself facing beings not of this world or a room with no doors. All this awaits in the September releases from the freeware adventure community.

---

Snakes of Avalon
Jack is a hopeless alcoholic haunting his favourite watering hole. Abused by patrons and bar staff alike, his life is at low point. Then he happens to overhear a young couple as they plot a dastardly murder. With the dubious assistance of his many alcohol-fuelled hallucinations, can Jack thwart their evil scheme? More importantly, can he do it without having to leave the bar?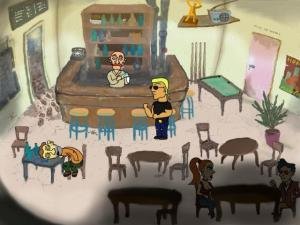 Igor Hardy and Alex van der Wijst's Snakes of Avalon is a dark and twisted comedy. The bright and crisp cartoon characters, all with sharp black outlines, stand out well against the softer and more muted style of the background art. As well as in-game sound effects and fully-voiced cutscenes, the game also features a soundtrack from Thomas Regin of Blackwell Convergence fame. Whether it's the theme music over the menu or the scratchy tunes playing on the bar radio, this complements the action nicely.
The game can be downloaded from the developer's blog.

The Silver Lining: Episode 2 – Two Households
Continuing Phoenix Online's fan-made episodic sequel to the King's Quest series and promising more gameplay this time around, Graham must once again don his adventurer's cap and prepare to get it dirty this time. Having survived an unnatural storm, he is now on a quest to find the ingredients that will help him free his children, Alexander and Rosella, from a mysterious curse.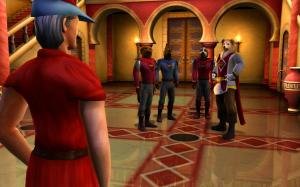 This game follows on from the previous episode, using the same detailed 3D graphic style of that game. You'll revisit some of the same locations as well as having new vistas opened, such as Mermaid Island and the Isle of Wonder. The game is once more fully voiced, though for those who didn't warm to the narrator last time, an option for shorter narrations has been introduced. The game also includes a walk/run toggle and widescreen support, other improvements that have been added since the original episode.
Both this episode and the previous one can be downloaded from the developer's website (registration is required, but it's free and carries no obligation).

Alice is Dead
In a grim and violent version of Lewis Carroll's Wonderland, Alice is dead. Waking next to her corpse with no memory of who you are, the first problem is discovering your identity. Just as you achieve this goal, an ambush results in being thrown into prison, where an old friend could be the key to escape. Once free, it's time to seek revenge on those who put you there and brought about Alice's death.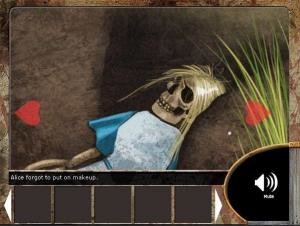 Alice is Dead is a now-complete trilogy of online games from Impending Riot, each episode covering a section of the story. As the title indicates, this is a much darker world than Carroll's original, and the violent content alone probably makes it unsuitable for children. It is presented in a first-person slideshow format with impressively painted graphics, including some limited animation. The audio is also well done, like the song heard in the opening scene that becomes louder the closer you get to its source. The second and third episodes also feature highly competent voicework.
All three episodes can be played directly in your browser at Newgrounds: Episode 1, Episode 2, Episode 3.

A Raindog Story
In a small American town, some time around the early 1950s, Tom Frost has fallen on hard times. He's lost his job and he's lost his wife, who burned down their house to boot. All he has left is an acoustic guitar and a handful of his own musical scores. With nothing left to lose, he sets out to follow his dream of joining a band and achieving fame and fortune from his songs.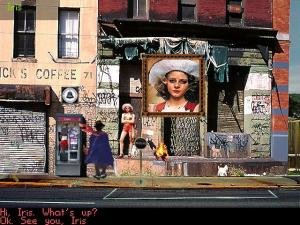 Whilst having an upbeat goal, Bleeding Romeo's game has a downbeat feel, fitting Tom's status as a "raindog", a colloquial term for a person who lives outside. Tom Waits, whose 1985 album Rain Dogs was about people in that situation, has clearly been an influence for this game. He makes a brief appearance at the start and his music, performed by tribute artist waitswatcher, forms much of the soundtrack. The graphics consist of photographs and poster images cut and pasted together. This is largely effective, even when animated, although some of the cutting highlights the seams where the different elements are joined.
A Raindog Story can be downloaded from the AGS website.

Earl Grey and This Rupert Guy
Rupert is a postman with a package to deliver to Earl Grey in the spooky mansion by the hill. Getting no answer at the door, he proceeds inside to search for the Earl. Rupert soon discovers a pair of glasses that allow him to see paranormal objects, including the many ghosts that inhabit the mansion. Not that such minor concerns would stop a postman from fulfilling his duty, of course.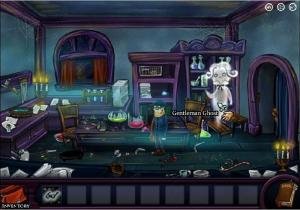 The spooks in Agaté's game are a gentle bunch, making this a light comedic adventure. The paranormal glasses are the key to many puzzles, as they cause some items to change, affecting what you can do with them, and a misty atmosphere reminds players when they are active. The graphics are done in a crisp, cartoonish style and are nicely animated. There are sound effects and an innocuous, though somewhat repetitive, background tune. An automatically updated journal tracks tasks that need to be completed, as well as providing optional quests related to the various spirits that haunt the building.
The browser-based Earl Grey and This Rupert Guy game can be played online at Game Pirate.

Absent: Part 1 – Innocent Until Proven Guilty
At college, students are disappearing without a trace on a near daily basis. Beset by visions, one student, Murray Schull, believes there is something supernatural about the disappearances. When Crystal, girlfriend of Murray's friend Steve, goes missing, Steve is quick to blame another student. Can Murray convince these two feuding students to act together against a foe not of this world?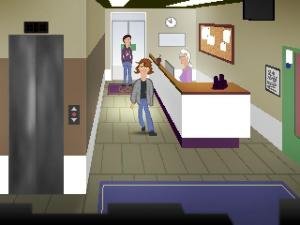 As the opener of an intended trilogy, Fenton Film Games' Innocent Until Proven Guilty sets the scene and introduces us to the central character and his associates. With the story involving missing and possibly dead students, the game adopts a serious tone overall, though there are occasional touches of humour. The graphics blend pixel art with a broad brush appearance, using shading to create a feeling of detail. The character models have distinctly personal designs but are slightly let down by some odd-looking walking animations. A mildly haunting piece of background music plays throughout, with intermittent whispering voices adding to the atmosphere.
Absent: Part 1 can be downloaded from the AGS website.

Awakening: Part 1 – Escape
A man finds himself alone and trapped in a strange building, with no memories of his life before that moment. He must search not only for a way to escape, but also for a means to learn about his past life. Little does he know that the secrets locked within his mind could shed a whole new light on a horrific tragedy that struck years earlier.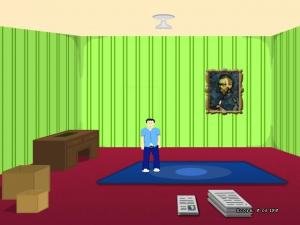 Escape is the first in a proposed Awakening trilogy by PurpleNurple, and as the title suggests, the main aim in this episode is to escape the building, a tricky proposition when the first room has no exits. The graphics, while basic and rather plain, have a good sense of perspective and even include some decent light effects. A single tune provides the soundtrack throughout, though it's long enough to not be overly repetitive. The game also includes a score counter to show progress and determine how far through the game you are. Puzzles are slightly hampered by the lack of hotspot indication, though the relatively sparse locations make most items reasonably obvious.
The game can be downloaded from the AGS website.

---

Other new releases
Not all games are created equal, and freeware games especially come in all shapes and sizes. Not to be overlooked, the following list might also be of interest, though these games may be significantly shorter or less polished, more experimental titles than those detailed above, some perhaps only borderline adventures to begin with.
Head over Heels by cat and raeff – Have your world literally turned upside-down in this short adventure.
Kuma Story by Luke Rideout – Help Kuma Bear find an anniversary present for his beloved Cinnamon Bear.
The Ever Beginning Tale by Calin Leafshade – Trapped in a generic 8-bit fantasy world, can you find a means of escape?
Hoger the Pirate – Lost Island Episode by Abroy.Com – Navigate various hazards to get a drunk pirate safely back to his ship.
Abduction by Alexander Klingenbeck – Kidnapping the princess would be simple, if she hadn't locked herself in a castle.
The Flower Shop – Summer in Fairbrook by vNovel – Follow the tale of a layabout student's life-changing summer in this interactive storybook.

---
That's it for this month. Think we've missed a gem or want to tell us about your own game? Then pop in to our Adventure forum and tell us about it!
Referenced Adventure Games
freeware feature
Other articles you might enjoy