Following Freeware: August 2010 new releases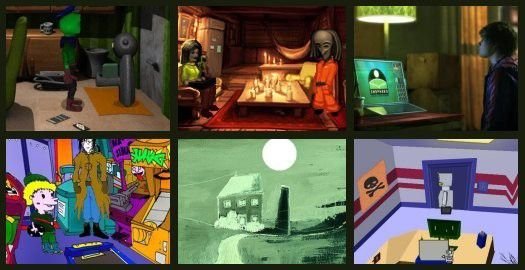 As part of the site's renewed commitment to covering independent adventures, we're launching a new initiative to let you know what is going on in the wonderful world of free gaming. In this, the first of a planned monthly series of articles, we'll present a brief roundup of recent releases. Don't have the cash for a commercial release or simply looking for something different? Does your head spin when confronted by huge catalogues of games? Then cast your eyes over the list below and you might find just what you are looking for.

---

The Journey Down: Episode 1 - Over the Edge
Bwana and his sidekick, Kito, just want to run their gas station and make ends meet. Unfortunately, fate has other things in store for them. A mysterious woman arrives with cash in hand, though it isn't gas she seeks but something left in their attic. This seems like the answer to all their problems, but nothing is ever that simple. Others are pursuing the same thing, and the pair soon find themselves caught up in a web of corruption.
Made with a jazzy reggae soundtrack and laid-back characters to match, The Journey Down's look and feel is reminiscent of the 1990s output from LucasArts, with a distinctive tribal mask motif for character heads. This is the first of a proposed four-part series by Skygoblin and can be downloaded from the developer's website.

Warning : Fragile! – Chapter 1: Operation Blindhawk
Captain Bingler is in charge of the Galactic Delivery spaceship, One Eyed Eagle. He has been charged with delivering a mysterious package to the far-off planet Earth. But first he needs to solve a little problem. Returning from his last delivery, he made a less-than-perfect landing and his ship is now inoperable. Can you get the One Eyed Eagle off the ground again?
With characters and objects rendered in detailed 3D (rare for freeware offerings), Santtu Ahola's Operation Blindhawk is a visually striking adventure that also features a stirring theme tune and sound effects. Featuring an incompetent protagonist who can't even remember the password to his own ship and a rather unhelpful crew, this light comic adventure is the first chapter in a proposed trilogy and can be downloaded from the AGS website. If you want to find out more before you download, you can view the fully illustrated User Guide or watch the YouTube trailer.

Robolution
You've seen it in films and read about it in books, but now it's happened. The robots have risen up and destroyed the human race. Now free of their human masters, the robot world has split into two warring factions based on the companies that originally manufactured them. As a low-ranking part of the war effort, can you make a difference?
Robolution's line-drawn cartoony graphics have a distinctive and consistent style, and the music also fits the scenes well. Whilst the premise suggests a dark and oppressive game, there is humour here right from the opening scene, where the player's view from behind the "Idiot Boss Robot" shows he is playing games on his computer rather than working. Developed by Tzach Shabtay, the game can be downloaded from the AGS website.

Space Hunter
Kolt, who claims to be a bounty hunter, lives in the great metropolis, a vast conglomeration of buildings set in a bluish metallic desert. One typical work day leads to him being accused of a crime he didn't commit. On a quest to prove his innocence, he will meet friends and enemies aplenty, including his hero, the bounty hunter Skar the Pumpkin.
The cartoon graphics in Space Hunter are brightly coloured, almost to the point of garishness, with a funky font to match the design. With Kolt's credentials largely a matter of his own assertion, this is a surreal and mildly amusing tale. It's the third game from Miciosegone Games and comes in both original Italian and English versions. It can be downloaded from the developer's website.

Identity
Inspired by the book Das Grab Eines Dichters (The Grave of a Writer), Identity puts players in the role of a psychiatrist in a lonely house at the edge of a small country town. Some solitary exploration uncovers text excerpts that appear to be describing your life. Apparently trapped in a novel, can you escape and find out your identity?
The graphics are heavily stylised to give the game a sombre tone. Most scenes incorporate a single dominant colour, and the detail ranges from almost child-like simplicity to intricate watercolour. Also available in the original German, the English translation can be downloaded from FileFront.

The Curfew
An attempt to set off a nuclear bomb in London previously swept a totalitarian government into power. It's now 2027 and the UK has become a police state with a nightly curfew. Citizenship is no longer a right but a privilege to be earned. With information in your possession that can bring the government down, you've fled to a safe house after curfew with the police on your trail. Can you find someone to trust with the information and convince them to trust you?
Made by Littleloud Studios in conjunction with UK television's Channel 4, this is a browser-based FMV interactive drama dealing with the subject of human rights. Presented in flashbacks as you live out the events leading to the arrival of four individuals at the safe house, each story's three chapters are followed by a question and answer session in which your choice of question will determine whether they find you trustworthy or not. Along with a reasonably written story, the acting is on par with a televised drama, though a few of the various minigames included are mildly annoying. The Curfew can be played online.

---

One Room, One Week
Big Blue Cup, home of the AGS engine, recently held another of their "One Room, One Week" competitions. As the name implies, the entries were all games set in a single location and put together in only seven days. Despite these limitations – or perhaps precisely because of them – the challenge brought out some interesting and varied results.
In order, the top three games in the competition were:
By the Numbers (AJA) – The investigation of a wave of kidnappings is going nowhere. One day someone claiming to be an eyewitness to one of the kidnappings approaches the local police department. It's time to find out what he knows... Features motion-captured facial animation and full voice acting.
A Woman for All Seasons (joelphilippage) – Can the summoned wizard, Occlude, lift the curse that afflicts a young girl; a curse that binds her to a tree on a hill, causing her to flourish in summer but wither in winter? Whilst sticking to the one location requirement, this game gives that location four different looks as you progress through each of the seasons.
Well, well, well, what have we here? – (Cuiki and Ultra Magnus) Follow the lead of a peculiar stone lying on the ground and unravel the mysteries hidden under the surface. This game features gorgeous watercolour graphics and a soothing soundtrack.
Six further games were entered, many of which won their own awards for specific aspects.
Boiler Room Blues
Delirium
Disquiet
Don't Worry Baby
Electronic Tax Administration Advisory Committee
One Room
If you want to play the entries for yourself, they can all be downloaded as a single RAR file. Alternatively, be sure to check out the AGS database for more polished versions of these games, improved after the competition closed.

---

That's it for this month. Think we've missed a gem or want to tell us about your own game? Then pop in to our Adventure forum and tell us about it!
Referenced Adventure Games
freeware feature
Other articles you might enjoy