Dark Tales: Edgar Allan Poe's Murders in the Rue Morgue
review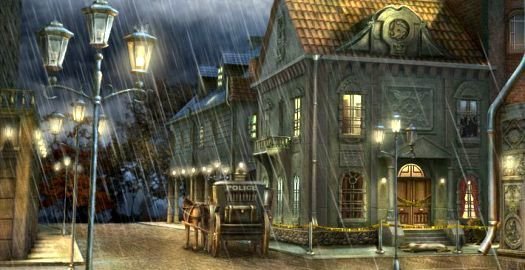 Game information
You might also like these adventure games
Advertisement
Adventure games by ERS Game Studios
BITMAP BOOKS
"He is fond of enigmas, of conundrums, of hieroglyphics; exhibiting in his solutions of each a degree of acumen which appears to the ordinary apprehension preternatural." So the narrator of Edgar Allan Poe's Murders in the Rue Morgue describes the qualities of one with an analytical mind, as perfectly embodied by the story's brilliant detective, C. Auguste Dupin. Unfortunately, these are not qualities that you'll find necessary as you play through the casual adventure adaptation Dark Tales: Edgar Allan Poe's Murders in the Rue Morgue. There is still plenty to appreciate, as the game's graphics are handsome, you'll meet a lot of interesting characters, and there is a nice mix of puzzles to get you through your detective journey. However, a lot of its mystery-solving potential is left unfulfilled, and you won't have to work too hard in this watered-down version of Poe's enduring classic to find out who did it.
The game opens with a murder, not multiple murders as implied by the title (one of many deviations from the source story), at a house on the Rue Morgue in 1890s Paris. In this first-person adventure, you play as an amateur sleuth investigating the murder, as well as the disappearance of the victim's sister. Before starting your investigation, you meet up with your guide through the game, Dupin, a man fond of puzzles and analytical thinking. He's also fond of putting you through your paces, and he asks that you explore his house as a test of your mental ability in the game's tutorial phase. This introduces you to the simple inventory, logic, and hidden object puzzles that pepper the rest of the game.
Dark Tales' 2D art nicely captures the Belle Époque period in Paris. Men with their flowing cravats, top hats, watch chains, and monocles occasionally interact with your character as you traipse through the city environs. You'll explore lavish (but oddly messy) homes with oriental rugs, quilted chairs, and marble fireplaces; opulent bank lobbies and vaults; a gendarme station with sinister-looking cells, some with occupants that clearly ate their last meal years before you stumbled upon them; and a doctor's room filled with pipettes, scalpels, and the odd skeletal body part! The hidden object screens are also nicely rendered with clearly visible items, and many have movement (flies buzzing over food, fish flopping around) to attract your eye and challenge your concentration.
The music, often featuring violins, piano, and some accordion, works well with the theme of mystery and murder in Paris. It is pleasant enough that it never becomes annoying, even when you spend long stretches of time quietly searching for items. Ambient sounds add nicely to the atmosphere: thunder pounds, the wind whistles, doors creak when you open them. However, a lack of voice acting really puts a damper on the story. It would have been nice to hear the different characters that you interact with, especially since many of them are drawn with such fine detail. You will briefly converse with several witnesses and apparent suspects in this classic whodunit. From the blowzy laundress to the reclusive doctor to the suspicious banker, the game offers up a host of interesting characters who give you background information on the victim's life and the events leading up to the murder. A lot of red herrings are offered, though. Often characters are portrayed as untrustworthy, with text indicating that they aren't being completely open or honest with you, but these angles are never followed up.
In addition to speaking with different witnesses, you'll need to search the environment for clues. There is very little freedom to explore, however, as Murders in the Rue Morgue is very linear -- to a fault. The game provides you with a beautiful map that you can click and drag to scroll around, but while areas that you've already visited stay highlighted, you can't actually go anywhere other than where the game needs you to travel next, though at least each distinct location has several areas to wander within it. As you explore each scene using a simple left-click interface, you will reliably encounter a few hotspots and hidden object areas. The hidden object areas are marked by sparkles, and hotspots are highlighted by single flashes of light, although not every hotspot is highlighted in the harder difficulty level, making for some frustrating searches toward the end of the game. As you mouse over a hotspot, the cursor changes to show how you can interact with each object. There aren't too many hotspots in most areas, and the number of interactive items really seems to peter out the farther you progress.
You will pick up inventory objects throughout the game, some of which are carried over between locations. There are times you'll have to combine these into new items, but such combinations occur only at specific locations, such as a dressing table or a logic-defying laboratory set up in a ship's hold. You'll have to determine which order the items are to be added, which isn't too difficult, but sometimes you have to hold items together in a very particular way to get them to interact, which can be finicky. More disappointing is the haphazardness of finding some items and the frequent lack of relevance in actually solving the mystery. Sometimes you'll find key items only through the hidden object searches, and sometimes you'll find them in the main environments. That pickaxe that just happens to be laying around on the street: yes, you can pick that up and use it to break through some cobblestones, but those scissors you see hanging on the wall or the many, many others that you find in your hidden object searches: no, you can't use those to cut off a lock of hair. You will need to focus on some items to determine the murderer's identity, but not many. For such a classic detective story, there was so much potential to have logical clues and searches for evidence that it was a bit frustrating to have random objects with no relation to the murder (puzzle pieces, ball bearings, missing safe handles, etc.) required just for the sake of throwing in another puzzle.
For the most part, the hidden object segments are relevant to the various set pieces in which you find them. When you're scouring a laundress' shop, you'll search for spools of thread and needles, and you'll look for pistols and skulls at a hunting lodge. They aren't always so relevant, however: cigars at a bank make a certain amount of sense; lizards in the same place, not so much. Additionally, some of the hidden object setups stretch all suspension of disbelief. While it makes sense that the victim's room is in a state of disarray, you may find yourself wondering why the bank's lobby is so packed full of items or why you're searching through a pile of rubbish inside (yes, that's inside) the base of a lamppost. Some items are tucked away inside cupboards or out of sight with no way of knowing from the list alone, so you may need to do a cursor sweep to see if there's an interactive object obscuring that one last stubborn item. Even that may not be enough, as occasionally you simply cannot finish a search without finding and using an inventory item discovered elsewhere. While this certainly adds a welcome layer of interactive depth to the task, there should be some indication of which items can't be found without further steps.
In addition to inventory puzzles and hidden object tasks, you'll encounter other challenges that break things up, including code deduction, slider puzzles, revolving tile games, and more. Unfortunately, few of them are pertinent to the story at all. In many places, you're presented with elaborate locking puzzles to find inventory items that you'll need later in the game. Because this is a detective story and questions naturally arise (Who murdered the victim? Where is the missing sister? Who is a suspect?), I often wondered if there was a particular reason an object was hidden away and if someone was responsible for concealing these objects. The game itself asks these questions when you stumble across certain puzzles, but then offers no reasonable answers. Why not just have players search for logical clues in the hunt for the murderer? Why not do more conversation puzzles, allowing you to interrogate witnesses in your search?
There are several other reminders that this is a casual game as well. A diary button lights up whenever something significant happens in the game. The diary keeps track of clues that you've found, giving you a handy record for places where you'll need to remember a code or figure out a puzzle. If you're having troubles solving certain puzzles or finding hidden objects, there's a skip button that slowly refills. There are two difficulty levels to choose from: regular and expert, and on the expert level the skip button fills more slowly. Click on the filled button, and your minigame will be solved automatically or an item in your hidden object search will be outlined, eliminating any possibility of being stumped for long.
Available in both regular and Collector's Edition versions, the four hours it takes to play the game provide a fairly fun time wandering around late 19th century Paris, with a colorful cast of characters to talk to and a pleasant variety of obstacles to overcome. However, this appealing backdrop can't fully atone for a detective story that's watered down a little too much, which is a shame. The adventure genre, with its emphasis on exploration and analysis, lends itself perfectly to classic whodunits like this. Players could have been asked, like C. Auguste Dupin in the original Poe story, to use intellect and observation to solve this mystery. Yet instead of gathering clues, piecing them together, and coming to a conclusion, we get many irrelevant minigames and puzzles to impede our progress. With that in mind, if you're just looking for a lite game that's easy to look at and provides a good mix of puzzles in addition to traditional hidden object gameplay, consider delving into Dark Tales: Edgar Allan Poe's Murders In The Rue Morgue, though you may want to pass if you're looking for some actual detective work in this seminal detective story.
Note: Adventure Gamers is a Big Fish Games affiliate.
Our Verdict:
While its lite gameplay can be a fun way to explore beautiful fin de siècle Paris for an afternoon, if you're looking for some real detective work, you may want to pass on by Rue Morgue.
GAME INFO
Dark Tales: Edgar Allan Poe's Murders in the Rue Morgue is an adventure game by

ERS Game Studios

released in 2010 for iPad, iPhone/iPod Touch, Mac and PC. It has a Illustrated realism style, presented in Slideshow and is played in a First-Person perspective. You can download Dark Tales: Edgar Allan Poe's Murders in the Rue Morgue from:
Want to share your own thoughts about this game? Share your personal score, or better yet, leave your own review!

review
Other articles you might enjoy