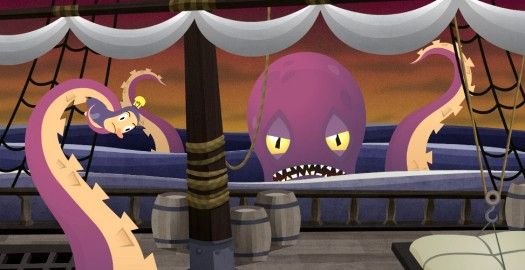 Game information
Advertisement
Adventure games by mif2000
BITMAP BOOKS
Hamlet is not only much different than the famous play of the same name, it's also a departure from most of the adventure games we're used to. Created by Russian indie developer mif2000, the storyline serves mainly to pull players along a series of simplistic environmental puzzles, one screen at a time. While certainly more streamlined than usual, the game is a fairly enjoyable but very short experience that should appeal to fans of Samorost-style adventures, although anyone looking for the dramatic character depth delivered by its namesake won't find it here.
Very loosely based on Shakespeare's original work, the tale begins just as Hamlet is returning home to find that his parents have been murdered and his love has been forced to marry his nemesis. Enter the game's unnamed protagonist (the "Hero"), a time-traveling researcher who accidentally lands his vessel on the very spot Hamlet is standing, and must now take the Danish prince's place to restore "history" and prevent a time-paradox. From there the game proceeds as a series of five acts split into several locations each, with a simple comic-like text narrative setting up each scenario.
There's no exploration or freedom of movement in Hamlet, as progress consists of moving through a sequential series of rooms (scenes) that each have a single puzzle to solve. Every obstacle stands on its own, with no need to remember clues from one area to the next, and no inventory to collect along the way. Solving a puzzle means completing the room and moving on to the next one in line. There is no backtracking allowed and scenes are only visited once, so the experience is rigidly linear.
The point-and-click gameplay is just as simple. While some screens are devoted entirely to closeups of logic puzzles, in most areas you must click on every item and see what happens, whether it's clouds creating rain, a spider scurrying to a new location, or a bobbed fishing line hooking a catch. As you click around the scene, you begin to discern the nature of the puzzle by the reactions of the objects. Unfortunately, there is nothing to indicate what hotspots can be interacted with, and they aren't always intuitive. This can lead to moments where you randomly click around the screen as your frustration increases, wondering what crucial item you might have missed. Once you've discovered what the puzzle elements are, all that's actually required is to click them in the right order to overcome the obstacle. The occasional object exists only for background effect, but most are critical to the puzzle, so there's little worry of wasting time chasing down red herrings.
Although a third-person game with the Hero generally visible, it's actually a stretch to say that you play Hamlet as the time traveling researcher himself. You are really more of an omnipresent first-person entity who controls the environment to help the protagonist move forward. Interactive items can be clicked regardless of how far out of reach they might be, and very few of your commands directly result in the Hero enacting them onscreen, though he's always eager to move on once you've cleared the way.
During your travels, you will meet up with some familiar names: there's Ophelia, Hamlet's love; Claudius, the villain; and several others who would seek to impede your progress. Sadly, that's about the extent of the game's connection to Shakespeare, and while there may be multiple characters on screen at any given time, they don't ever interact with each other. The supporting characters exist mainly as background elements or as part of that scene's puzzle, typically never to be seen or heard from again.
At certain points in the game, usually at the end of each act, you will encounter a special opponent who must be defeated, from Rosencrantz and Guildenstern to a giant octopus, and Hamlet ultimately culminates with a final "boss" scene that wraps up the story. Each foe displays a health bar that must be depleted, though never through traditional combat, and the Hero cannot die. Because the boss "battles" tend to have timing elements involved, however, they can require some extra hand-eye coordination along with your puzzle-solving skills. To complete them, you must sometimes click at a precise point or within a certain timeframe, and these proved the most difficult obstacles to overcome.
The third act boss represents the main real blemish on the game. This challenge requires you to click on musical notes before they quickly disappear from the screen. The notes were originally so fast and the click area so precise that the task was incredibly frustrating. My wife played the game with me, and it took us about 30 minutes, or several dozen tries each, before we completed it. Fortunately, in response to early feedback about the initial version, the developer has since released an updated version that makes this challenge a bit more playable (note: those who bought the game within the first few days of launch will need to download and install the current version to overwrite). Still, even with the update, I would have a hard time recommending Hamlet to anyone who does not have good reflexes, or know someone who does. No other challenge is nearly as difficult, but if you cannot complete this particular task, there is no way to get past it and your progress in the game will be halted permanently.
Most of the puzzles, thankfully, are far more accessible, requiring only a few leisurely clicks of the mouse, though the solutions are not always obvious. Each scenario is quite creative and adds a unique touch to the game. In one scene you'll need to figure out the combination to a rather complex, symbol-based padlock, and in another you'll have to restore yourself back from a confused, unconscious state. One particularly well done puzzle requires you to find the Hero in a Where's Waldo-esque manner several times in the same crowd, and there is a maze-like puzzle that you may have to map. Some puzzles even require you to interact with different characters' thought bubbles, including the Hero's own, though usually these offer only basic insight into the goal of the current puzzle. The puzzles do not repeat, and the variety is welcome – just when you think you understand the creator's mind, the next screen introduces a whole new surprise.
It can take several minutes to solve a puzzle, with the toughest ones taking us ten minutes or so to figure out. Once you discover all of the clickable items, the solution is usually straightforward, but some require trial-and-error patience and still others demand outside-the-box thinking. If you do find yourself stuck on a puzzle, Hamlet comes with a built-in timer-based hint system. After a few minutes of working on a given puzzle, a hint button becomes available. Clicking the button brings up a single pictogram clue. The clues are excellently done, providing a hint without giving away the entire solution. Unfortunately, the simple nature of certain puzzles means that any hint at all can make the solution obvious. If it doesn't, you're out of luck, as waiting for the timer to expire a second time offers no new help. A second clue is generally unnecessary, but it would have been nice if the system provided an escape mechanism on the skill-based puzzles instead.
The graphics in general, like the pictogram puzzle hints, are simple but excellent. They are flat, 2D cartoon-styled vector art that resembles popular Nickelodeon shows like Ren and Stimpy or SpongeBob SquarePants. The game's locations take you to such places as castles and dungeons, down underwater and then back up onto a ship's deck, among others, and each of them is distinctive and stylish. There are no cutscenes, but there is a fair amount of animation in response to your actions, which is also very cute, fitting with the game's comic style.
Hamlet's audio matches the graphical style nicely, immediately grabbing your attention with a catchy tune in the introduction before the music gives way to an effective selection of environmental sound effects throughout. There is no voice acting, which would have been nice during the narratives between scenes, but the limited character interaction makes this omission an acceptable sacrifice for easier localization. Our only complaint about the sound effects relates to the boss challenge that had us stuck for so long. During this scene, Claudius is playing an electric guitar and the same riff plays over and over and over... the effect does begin to wear on you.
Overall, the game is a fairly fun little ride thanks to its variety of gameplay and nicely designed cartoonish environments, but the puzzles are often too simple, making for a very short game. All told, Hamlet provided us about three hours of gameplay, 30 minutes of which were spent on the one particular reflex challenge (which wouldn't have taken nearly as long in the most recent version of the game). With no exploration or character interaction of any kind, even among more casual games this isn't the deepest adventure available, compared to other titles like Drawn: The Painted Tower or Mystery Case Files: Dire Grove. And if your interest in this game is based on a love of Shakespeare, you'll likely be disappointed in what you find here. For a lightweight, leisurely afternoon of streamlined puzzle solving at an affordable price, however, methinks most players probably won't protest too much.
Our Verdict:
It's short, sometimes too simple, and more Samorost than Shakespeare, but Hamlet provides a nice mix of environmental obstacles for a few hours of puzzling fun.
GAME INFO
Hamlet is an adventure game by

mif2000

released in 2010 for PC. It has a Comic cartoon style and is played in a Third-Person perspective. You can download Hamlet from:
What our readers think of Hamlet
Want to share your own thoughts about this game? Share your personal score, or better yet, leave your own review!

review
Other articles you might enjoy