Sam & Max: The Devil's Playhouse - Episode 1: The Penal Zone
review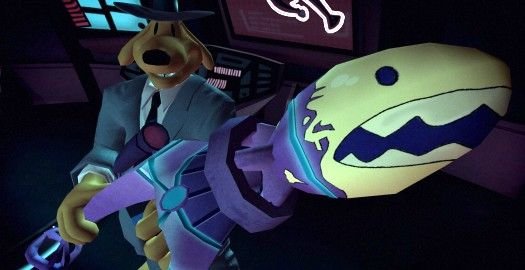 Game information
You might also like these adventure games
Advertisement
Adventure games by Telltale Games
BITMAP BOOKS
When a game makes you laugh heartily with its first line of dialogue, you know you're in for something special, and such is the case with The Penal Zone, the opening episode in the third round of monthly Sam & Max adventures. The new five-part season, The Devil's Playhouse, begins with a 1950s-style B-movie narrator (standing by a desk helpfully labelled "Narrator") building up the delightfully schlocky premise: Max, the anarchic, anthropomorphic rabbit, has been given psychic powers courtesy of supernatural toys. Along with Sam, a six-foot-tall dog who forms the other half of the Freelance Police (private detectives with low regard for any law but their own), Max will have to use all of his newfound abilities to avert disaster. In this episode, the crisis comes in the form of General Skunkape (pronounced skun-cah-pay, he insists), an alien gorilla with an insatiable thirst for psychic power.
Pretty bizarre stuff, but that's exactly what fans have come to expect from the comedic duo. The Penal Zone (and no, the game is not above making groin jokes, repeatedly) opens in the thick of the action, as players are instructed by the narrator to help Sam & Max escape Skunkape's destructive flagship and send the problematic primate back to the title zone – a transdimensional holding cell for the galaxy's most notorious criminals. When control is first acquired, franchise veterans will notice a few important changes to how this title plays. With the increased focus on Max, you can now control his actions as well as Sam's, toggled easily between the two with a quick keystroke or clicking an onscreen icon. While controlling Max is limited to the use of his powers, I found this addition highly welcome. Rather than playing solely as Sam, with Max strictly an ever-present sidekick, this title plays as a Sam and Max game for the first time.
In Sam mode, the episode is a traditional Telltale adventure, with third-person exploration between plenty of inventory puzzles and chatting to entertaining characters. Max mode, however, is presented in a fixed (if visually distorted) first-person view. The arrow keys or mouse can swivel his head around, and Max can use one of his available powers on any applicable environmental hotspots he sees. In the case of his teleportation power, you instead choose telephone numbers to use as a warp destination. Using Max's powers forms a good chunk of the puzzling – even to the extent that a crack is made about Sam being Max's sidekick this time around, though the majority of the actual gameplay is still spent controlling Sam.
After you escape the initial predicament, designed more to introduce Max's role than Sam's, returning players will notice some radical changes to the standard movement controls for the canine shamus. Like other recent Telltale efforts, while interaction is still point-and-click – hotspots and inventory items are selected with simple mouse clicks – Sam is now guided either via the keyboard or by click-dragging the mouse to "pull" him in the desired direction (or steered with a thumbstick, as gamepads are fully supported as an alternative). While using a keyboard in one hand and a mouse in the other suits me just fine, players who prefer mouse-only controls will find the new method awkward. Telltale claim it's not possible to combine the more cinematic style with point-and-click navigation, but their compromise doesn't work particularly well, and this season seems to be made with consoles (the game is also available on PlayStation 3) in mind. Indeed, when moving Sam around with the mouse, a thumbstick graphic pops up to show you which way he's pointed. The dialogue system has also been changed here from a list of options to a Mass Effect -style wheel. This isn't a problem or a benefit, as the unusual shape is really just a cosmetic difference.
Once you begin moving around, you won't stay on Skunkape's ship for long. The introductory section ends with the revelation that the whole thing was nothing more than a glimpse of the future unlocked via a 3D viewer, the first of the psychic powers Max permanently unlocks. Indeed, the sky-bound prologue serves more as an action-packed tutorial than part of the game proper. Back in real time, Skunkape's ship promptly arrives, the General claiming he comes in peace even as he and his gorilla goons seek out the supertoys for his own nefarious purposes, leaving Sam and Max alone to unmask him for a fraud and discover the toys first.
Throughout the early portion of the game, it was nice to see the efforts Telltale made to bring new and old players up to speed on the fly: the narrator-led tutorial is smoothly done, and as each character is introduced, a freeze-frame summary pops up with pertinent details. Even so, by now the ins-and-outs of the recurring cast of characters (one of which used to be a demonic cake recipe) are so surreal and convoluted that I can imagine newcomers being rather bemused at first. Bemused… but likely amused as well. The irreverent, witty writing is as strong as it's ever been in this series, and the new characters introduced here, Skunkape and a helpful disembodied brain, are as humourous as returning favourites like Superball and Harry Moleman. And they're all voiced effectively once again: David Nowlin and William Kasten return as the crimefighting duo, as does the supporting cast of key characters.
Most of them are dotted around Sam & Max's somewhat-familiar neighbourhood, but you do get to travel around a bit more than in previous seasons. The game makes use of a city map for the first time, and you'll be able to drop in on Momma Bosco's Boscotech "labs" to ask about gadgetry. We also get a bit more feel for the Freelance Police version of New York, making stops at a few other NYC locales. Sure, "all these streets look the same" as Max says, but "They're completely different streets", retorts Sam, and the change does offer a better sense of progression, even if the game is still beset by Telltale's trademark thrift, re-using locations and character models in disguise. It's too early to tell, however, whether this season will follow the previous "sitcom" formula featuring a central studio (Sam & Max's neighbourhood) plus a couple of outside locations each episode, or the looser, more quest-like structure of the recent Tales of Monkey Island.
You'd think that such an oft-traveled neighbourhood would be getting a little too reassuringly familiar by now. Yet Telltale have made the effort to spruce it up a bit – or rather, to scuzz it up. Whilst the basic template remains unchanged, lots of textures have been redrawn, giving the city a grimier, more organic aesthetic. Brickwork looks worn, dumpsters are splattered with dirt, and paint is peeling off fire hydrants. The upgraded technology even allows for convincing wrinkles on Sam's suit. And over it all is a noise filter like the one used in Fahrenheit, lending the whole thing a slightly distressed, decayed look. The cumulative effect is not quite the wide-ranging graphical overhaul that will render these the most technically impressive games ever made, but the new gritty style is more detailed and helps the locations remain visually interesting on repeated viewing. The "city dirtification project" as an in-game newspaper headline proclaims "is a resounding success."
Even more than the technical upgrades, it's the minutiae that make The Penal Zone as much fun to watch as it is to play. Telltale has designed some crisp, stylish, slightly retro menu screens for the game, in keeping with the comic book source material. All the character animation – from Sam's dramatic dodging in the introduction right down to the often funny facial expressions – is spot on. Then there's the dozens of seemingly random photographs that flash up during transitions into Max's viewpoint: dolphins, peasant women, telephones, the Statue of Liberty, the Pyramids of Giza. There's a generous supply of these, and they provide a parade of giggles, as well as a bit of an insight into the deranged rabbit's psyche.
It's Max's mind that provides some of the best gameplay in this title. Psychic powers aren't a particularly new idea, but they're well implemented here, forming the basis for some very clever puzzles. Whilst the utility of his powers seems simple enough, you'll have to use them in some particularly creative ways to get results. Though more are teased in the tutorial, two main powers are introduced in this episode: teleportation and future-vision. Teleporting not only sets up some nifty conundrums, it all but eliminates backtracking. Need to be somewhere? Teleport to the nearest phone line, just like in The Matrix. The future-vision power, integral to solving a few puzzles of its own, offers up snatches of the future that give subtle hints about what to do next. The future isn't set in stone, so getting a glimpse of a possible future might help you take some precautions against it. Along with Max's powers, you'll also get some assistance from the amusing COPS computers, who put together a CSI-style evidence matching device to help you reveal Skunkape's machinations.
If you're still in need of a prod in the right direction, the excellent hint system returns, offering four levels that dictate how often you're nudged towards the solution. Chances are you won't need it, though. This is not the hardest of Sam & Max games, but the consistently entertaining puzzles make up for this, as does the overall length. Running 4-6 hours, The Penal Zone is arguably the longest series episode to date, and certainly one of the most ambitious stories. Sure, a lot of it seems to be setting up Max's powers for the rest of the season, but there's a satisfying enough conclusion to this episode in its own right, and tantalising hints of more things to come.
So why might you be tempted to avoid bringing Skunkape to "space justice", as the narrator puts it? It's hard to pick holes in a game this fun. There's the lack of smooth controls for mouse-only devotees, perhaps, and some of the puzzles become more predictable, involving similar solutions as the game wears on. Then there are a few technical glitches, though Telltale were continuing to refine the game right to the point of release, so it's possible other players will never experience the problems I encountered. There's really no memorable musical number for the episode, either, although the score is as jazzy and hummable as ever. Finally, there's the return of the dead-weight Stinky characters, which have simply never been very funny, and do nothing to reverse that trend here.
Such complaints sound like the nitpicking it really is, however, as overall there's nothing that should keep even the most marginal Sam & Max fans away. It's been a whole two years without a new adventure for the Freelance Police, but the wait has been worth it, at least for one episode. Whether this high quality continues throughout the rest of The Devil's Playhouse remains to be seen, but The Penal Zone is a very strong start of what looks to be another season of whimsical comic destruction.
Our Verdict:
One of the Freelance Police's strongest outings, The Penal Zone starts the third season with a bang, and it's a mandatory play for Sam & Max fans.
GAME INFO
Sam & Max: The Devil's Playhouse - Episode 1: The Penal Zone is an adventure game by

Telltale Games

released in 2010 for Mac, PC and PlayStation 3. It has a Comic cartoon style and is played in a Third-Person perspective. You can download Sam & Max: The Devil's Playhouse - Episode 1: The Penal Zone from:
Want to share your own thoughts about this game? Share your personal score, or better yet, leave your own review!

review
Other articles you might enjoy