Art of Murder: Cards of Destiny
review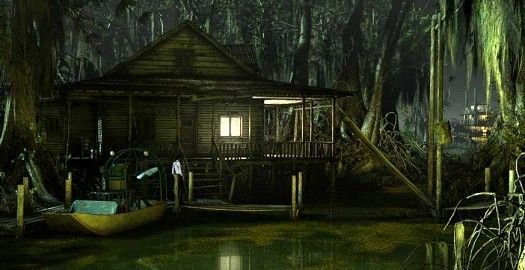 Game information
You might also like these adventure games
Advertisement
Adventure games by City Interactive
BITMAP BOOKS
The Art of Murder adventure series by Polish developer City Interactive, which made its first appearance in 2008, is now generating sequels in rapid-fire form, and 2010's entry is Cards of Destiny, the third chapter in the continuing story of New York FBI agent Nicole Bonnet's journey into the dark heart of serial murder. The game continues City's efforts to prop up the budget adventure market and fills an important niche as a serious, dark adventure--unfortunately, the series doesn't seem to be improving any as it goes along, and may even be taking a step in the wrong direction.
Cards of Destiny revolves around a killer who has taken to using playing cards as their artistic device (because as we all know, every killer worthy of having a game focused on them needs a distinctive touch). Our heroine is enjoying some time off in one of the most spacious New York apartments I've ever seen when a mysterious package arrives--a package with some extremely intricate clues leading Nicole to the site of a murder that is soon to take place. As Nicole returns to active duty, albeit with a new partner due to the events in the previous game, Hunt for the Puppeteer, similar clues are left for her as other murders take place--leaving the player to decipher who this evil serial killer is, and how on earth they have enough free time to come up with some of these bizarre clues.
By continuing both a primary character and a non-static supporting cast from previous chapters, City is betting that you're going to care enough about Nicole and her team to stick with the series through multiple episodes, and that as the hunt for "the Card Man" intensifies into more of a personal quest for her, your emotional involvement with the story will intensify as well. The developers do an admirable job of trying to convey Nicole's personality through many of her comments, but unfortunately there is no consistency established with her character. At times she observes and investigates with the precision of an intelligent FBI detective, and at others she seems to look at the world around her through the lens of a vapid pre-law co-ed. In these moments, especially when she engages in "heated" discussions with her superiors and fellow detectives, the lack of clear and consistent character definition really undermines the story.
Of course, it would be hard to ever establish consistency with writing as laughably bad as it is here, and I mean that literally; I laughed frequently at the worst possible moments because I was continually awestruck by the ludicrous dialogue being played out in front of me. Very clearly there is a strong element of mistranslation (after all, the entire development team is Polish), but it's tough to imagine a good way to translate some of the asinine exchanges that take place. The tone shifts wildly from line to line, from a CSI seriousness to a Grey's Anatomy cattyness and all points in between, with absolutely no consistent flow to any conversation.
The voice direction does no favors to the story, either. Clearly the actors were not in the same room when recording their dialogue, as they react with emotional cues that are so bizarrely out of place in response to the previous line, any intended dramatic impact falls completely flat. The actress chosen to play Nicole strikes the wrong chord with me; while she can generally hold her own in conversations, when examining and interacting with items during intense moments, she very easily lapses into a tone that is far too light-hearted and giddy for the present events--and she's far too willing to read lines such as "The machine as if froze in mid-motion" without perhaps alerting someone that proper English was absent. The voice acting for the supporting cast ranges from acceptable (Nicole's new partner Dick Parry) to inexcusably terrible (FBI lab technician Wang, truly one of the worst voice actors in recent gaming memory). A serious adventure like this just cannot be taken as seriously as it demands when every character interaction requires patience just to get through without cringing.
When there aren't words being spoken, Cards of Destiny does a pretty decent job creating atmosphere. The scene design and backgrounds look very good and Nicole animates through the scenes without any noticeable flaws. The cutscenes in particular look excellent and are interesting to watch, always well-directed with their rapid movement, quick cuts, and generally strong cinematic style. They also aren't afraid of dark intensity, a fact demonstrated quickly by the unsettling opening cutscene. The game also does a very good job of using music sparingly; the light background music present is always just enough to enhance the ambience without inserting itself as a focal point.
The sometimes troubling art of momentum in storytelling is also handled very well here. Much like its predecessor, Cards manages to avoid locking the player into repetitive and uninspired locations. While the globe-trotting of Puppeteer is toned down, there's still plenty of different places that the investigation takes you, as varied as a dark abandoned amusement park in suburban New Jersey to a small-town cabin on a deep Southeast bayou, and I applaud the creativity of the setting of the final scene—suffice to say that it's the type of locale that real-world adventures have been ignoring for quite a while. Actually, I applaud many things about the later portions of the game; without question, as the investigation heats up and more gruesome murders take place, the game continues to get better and ramps up intensity and momentum--but it's never too long before the tone is again undermined by the atrocious dialogue writing, sketchy voice acting, or the occasionally confounding puzzle.
The game's difficulty is a tricky issue to address. Cards of Destiny is a surprisingly long game, but there is generally no artificial difficulty added by the interface, which is the standard point-and-click variety, complete with hotspot highlighter for those hard-to-find objects. There are a couple of shooting challenges and you can die at times, but neither should prove to be significant obstacles. Progress is very linear, refusing to take you to the next location until you've finished exactly what you need to in your current one (and is nice enough to sweep your inventory clean when you arrive), yet this linearity never feels frustrating or contrived given the parameters of the story. Rarely does the game throw puzzles that are too challenging at you, though the volume of inventory items you must collect in some scenes is aggravating, and one perplexing quirk is that with most inventory combinations, you must use one specific item on the other one; vice versa will not get the job done.
When one of the game's larger puzzles misses the mark, however, it is a nightmare to resolve, and when the solution is discovered it can make matters even worse. In one key instance involving analysis of a playing card, the puzzle is just flat-out broken and the outcome is completely inconsistent with the arduous trial-and-error effort needed to secure it. Other puzzles, such as one where you must rearrange 25 sets of keys--and by the way, you have to click on each one to examine it before moving--seem to have been designed with backwards logic, where the designers knew what they were getting at and then created the most adventure-y way to get there. You might not want to bother spending more than a few minutes on a particularly strange puzzle before going to a walkthrough, one of which is conveniently (and perhaps ominously) located on the game disc. Fortunately, you won't have such need more than a few times during the game. Simple logical inventory combinations will usually see you through more often than not.
In evaluating this game overall, I'm reminded of another adventure I reviewed many years ago, Post Mortem--another dark and serious murder mystery game that hit all the right atmospheric notes but completely fell apart in every element of character interaction. Similarly, Art of Murder: Cards of Destiny shows a lot of promise and intelligence in the areas of storytelling, art direction, and plot development—especially impressive considering the budget price--and if only the dialogue weren't so desperately poor in all respects, we'd be looking at City Interactive as a developer to watch. As it is, unfortunately the game can't maintain a proper serious tone long enough to really be engrossing, and ultimately comes off as another substandard adventure with--ironically enough, considering the country of origin--a lack of polish.
Our Verdict:
With much stronger dialogue and voice acting, Cards of Destiny could have been a solid murder mystery. This, sadly, is still just the art of mediocrity.
GAME INFO
Art of Murder: Cards of Destiny is an adventure game by

City Interactive

released in 2010 for PC. It has a Illustrated realism style and is played in a Third-Person perspective. You can download Art of Murder: Cards of Destiny from:
Want to share your own thoughts about this game? Share your personal score, or better yet, leave your own review!

review
Other articles you might enjoy