Space Quest V: The Next Mutation
review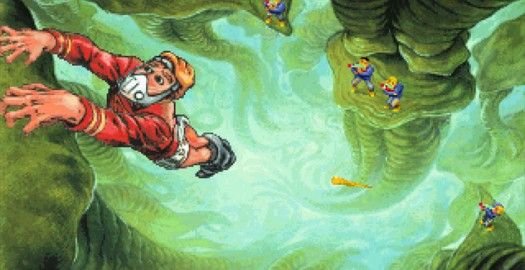 Game information
Advertisement
Adventure games by Sierra On-Line
BITMAP BOOKS
As many times as Roger Wilco saved the day in his first four Space Quest adventures, he was never able to earn the respect or admiration of his peers. That seems set to change at the start of The Next Mutation, as Roger has enrolled in the StarCon Academy with his eyes on one day becoming the Captain of his own ship. However, Roger may have street smarts but isn't a great test-taker. He's on the verge of expulsion when a mischievous rodent wanders into the computer system and triggers a glitch that flags Roger as a top performer. Next thing he knows, Roger has been made Captain of the Eureka, which is, appropriately enough, a garbage scow. The more things change, eh Roger? Meanwhile, a certain Ambassador Beatrice Wankmeister (you may remember that name from Space Quest IV) endeavors to convince the StarCon leadership that sludge pirates have been illegally dumping toxic waste all over the galaxy. Soon Roger's routine garbage-collecting duties drop him right in the middle of the conflict, and it's up to him to stop the pirates and save StarCon from destruction.
Following the 1991 release of Roger Wilco and the Time Rippers, the legendary Two Guys from Andromeda, the design team behind the entire Space Quest series, were split up when Mark Crowe transferred to Sierra sister company Dynamix and Scott Murphy stayed behind. Surprisingly, when it came time to create a new Space Quest title, Sierra handed development duties to Dynamix, putting Crowe back in charge of the franchise he thought he'd left behind, only this time he was on his own. That change shows if you've played the previous four games, as there is a clear difference in the design structure of the new game (for the better) and the humor and tone (for the worse).
There are good and bad changes to the aesthetics as well; the most apparent difference from the last release being the complete lack of voice acting. Budget constraints caused Space Quest V to come out on floppy disk only, with a planned-for-CD upgrade scrapped and funds transferred to other projects. While Gary Owens, the hugely successful narrator from the previous game, is sorely missed, on the whole I didn't feel that the game was overly impacted by the absence of a "talkie" version. The music is very good, with a quality Star Trek parody at the beginning and interesting shifts when the story calls for it (I like the wacky "out-of-control" music when Roger rides the automatic floor cleaner). The graphics appear to be little changed at first, but the characters display more noticeable facial features here, and they now scale in size as they move closer to or further from the screen. The animation is also strong, with flowing waterfalls and plenty of "beam me up" teleportations.
Fortunately, you'll be teleporting to a great variety of interesting, diverse locations. Besides StarCon Academy and the multi-roomed Eureka, Roger visits the mountains of Kiz Urazgubi, the dusty plains of Klorox II, and the jungles of Thrakus, among several others. What makes the increase in environments even better is that you actually have a reason to visit them all. Typically you'll be called somewhere to collect a load of garbage, but then an intercepted message or a sudden distress signal will draw Roger ever deeper into the sludge pirate mystery. While some of the other Space Quest games have seemed somewhat aimless, I never felt unsure where I was going or why in The Next Mutation, making for a more compelling experience that's easy to play for hours in a sitting.
If at any point you find your goal is not immediately apparent, you can turn to your crew for a status report, at which point you'll notice another improvement: the characters. In other words, this game actually has characters, with semi-consistent personalities to boot. There's Flo the Communications Officer, Droole the Navigator, Cliffy the tough-talking Engineer, Beatrice the lovely love interest, and StarCon star (and Class A jerkwad) Captain Raemes T. Quirk. Are you going to remember them fondly for the rest of your life? I had to look up their names just to write this review, but their presence marks a tremendous improvement compared to the earlier games.
There haven't been as many substantial changes to the point-and-click controls. You still have icons at the top of the screen for Walk, Interact, Use Item, and Talk. Smell and Taste have been dropped, and Order has been added. It's a special icon you only use while sitting in the Command Chair of the Eureka, when you need to tell your crew what to do next. Here you have several options like Raise Shields, Hail Planet, or Standard Orbit. It's separate from the Talk icon, which is used to simply ask questions, making this the first Space Quest with something resembling a dialogue tree, though it never actually branches out into different options (dialogue trunk?). There is something oddly satisfying about issuing a series of successful orders to your crew, and you'll have several opportunities to do so before your journey ends.
Though the Eureka is better designed for collecting garbage than exploring the depths of the universe, make no mistake: this is a Star Trek parody through and through, and Roger's wearing the proverbial red shirt. If you're not a Trekker, that means you'll once again see Roger die many times over (so save often!), though perhaps less often than experienced Space Quest players are accustomed to. When you do see the Restore/Restart/Quit menu, it's usually from something you should've seen coming (at least in hindsight) and not simply a case of Sierra Sudden Death Syndrome.
There really aren't any situations demanding quick reflexes, as even when you're running from someone with a laser gun, you're given ample time to escape before being blasted. Instead of action-oriented minigames, this time you'll find yourself challenged to a game of Battle Cruiser, a clone of the board game classic Battleship. They're almost exactly identical, but Battle Cruiser has three boards operating at once, different shapes for the ships, and limited access to a probe that reveals a 5x5 area of the board. If that's not your thing, you can safely lose Battle Cruiser and the rest of the game will progress the same way, but winning is more fun, if only to see the look on Captain Quirk's face.
The puzzles have also been fine-tuned from previous installments, containing more variety this time, both in terms of difficulty and actual design. Besides the standard pattern of collecting and applying inventory items, you'll also have to pick a keycard lock, give the right orders at the right time, and explore a horrible, horrible maze. Boy oh boy, I hated that maze. Imagine Roger slowly crawling through what feels like hundreds of air ducts, most of which are dead ends, with virtually no idea where you actually want to end up. It's easily the worst part of the game, though at least it precedes a fairly exciting final act. Still, the rest of the puzzles are fair, striking a good balance between challenging and solvable. While I can't state definitively that it's impossible to reach an unwinnable state, I didn't come across any myself. When I missed something, I was even given the opportunity to go back and look for it, and usually told what planet to search.
Even if you get everything right the first time, you'll still find this quest to be the lengthiest in the series so far, and most players will probably need six to eight hours to complete it. While there aren't nearly as many jokes or satirical elements as in earlier entries, The Next Mutation fills the comedy void with a genuine plot and real characters. Perhaps it's still a little shallow, but it represents an impressive step forward in terms of storytelling. The constant changes of scenery, coupled with the different puzzles you'll find as you travel, lead to a "What's next?" sense of curiosity that kept me engaged throughout. After four games where absurd humor took precedence over everything else, sometimes to their detriment, Space Quest V successfully mutated into a genuinely epic adventure.
Our Verdict:
It may have fewer laughs, but for the first time in the series, Space Quest V shows a real attention to depth in both plotting and design, representing an impressive attempt to move the series into the next generation.
GAME INFO
Space Quest V: Roger Wilco - The Next Mutation is an adventure game by

Sierra On-Line

released in 1993 for PC. It has a Illustrated realism style, presented in 2D or 2.5D and is played in a Third-Person perspective. You can download Space Quest V: Roger Wilco - The Next Mutation from:
Want to share your own thoughts about this game? Share your personal score, or better yet, leave your own review!

review
Other articles you might enjoy