Hidden Expedition: Devil's Triangle
review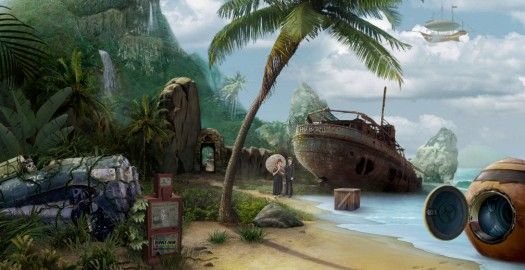 Game information
You might also like these adventure games
Advertisement
Adventure games by Big Fish Games
BITMAP BOOKS
So it's true that weird things happen in the Bermuda Triangle… Not only do planes and boats mysteriously go missing, but the strictly seek-and-find Hidden Expedition series bravely headed in for its fourth iteration… and came out an adventure game! A casual adventure, certainly, but with free exploration, increased story emphasis, and a concerted effort to make any standard hidden object challenges entirely secondary to its fully integrated puzzles. None of these elements were on the franchise map previously, so their inclusion here should catch everyone by surprise. A few design weaknesses reflect the developer's inexperience in this unfamiliar genre territory, but for the most part, Devil's Triangle provides an enjoyable lite adventure excursion that's worth going along for the ride.
After previous trips to the sunken Titanic, the peak of Everest, and the wilds of the Amazon, Big Fish's newest Hidden Expedition takes players some place a little more ambitious with a lot more risk. Of course, the actual Bermuda Triangle is really just a stretch of Atlantic ocean, and there's far more to it than that here. It is where the game starts off, however, as players are sent off in search of a missing colleague, the latest pilot to fall victim to the triangle's clutches. First you'll need to get there, however, in a prototype submarine with its spiffy new bio-coil (whatever that is, but it seems pretty important).
Apart from the fully animated opening cinematic and some partial voiceovers from the sub captain in the early going, at first there seems little to distinguish Devil's Triangle from its predecessors. With its traditional first-person, point-and-click interface, you're immediately charged with getting the journey underway by… collecting useless objects. Like any standard hidden object game, you're given a list of random items deviously camouflaged in a cluttered screen, and it's up to you to find them. Business as usual for the series, then, right? Not so fast. True, there are almost twenty such scenarios scattered throughout the game, some involving sets of the same item, some matching pairs of unique objects, and none with any time constraints to pressure you. But while these sequences dominated the earlier series games, here they comprise no more than a quarter of the overall gameplay, if that.
Instead, you'll spend most of your time exploring a handful of screens at any given time, solving numerous inventory and standalone puzzle challenges, and even talking to the odd stranded inhabitant in the triangle itself. The early sub trip alone sees you constructing an escape pod, repairing and tuning a shortwave radio, and re-establishing sonar contacts from equipment on the fritz. You'll also have to retrieve a box of engine parts you accidentally eject, which inconveniently lands near a giant fish that rivals the whark (Riven fans know what I mean). The latter is a blatantly contrived exercise, but collecting junk through an underwater window with a submersible machine arm is still very cool. Shame the arm doesn't actually move, but still.
Naturally, you too must fall prey to the triangle's curse (whether real or imagined, I won't say), and things really open up once you wash ashore on an uncharted island. Without spoiling all the plot details, suffice to say that the island's total secrecy is ultimately explained, along with its ability to almost totally negate the effects of time on anyone on it. It's no surprise, then, to discover an eccentric scientist and his daughter from Da Vinci's time, along with a married couple from the 1920s, a singer from the '60s, and others in your travels. The time element has no real bearing on the game's events, which portray more of a near-futuristic sci-fi atmosphere than anything, but it makes a nice backdrop for conversations, as the characters remain psychologically rooted in the timelines they came from.
Your overall goal is fairly simple, which is reclaiming your lost bio-coil to get the submarine functioning again. Accomplishing your task, of course, is anything but simple, as the hi-tech gizmo becomes the target of several unscrupulous people who want it for their own purposes. Well, that and the fact that just about nothing works. The scientist's home is flooding, the wind-generated power station is kaput, and the Canadian space capsule-turned-elevator doesn't move (though as a Canadian myself, I think that's probably not unusual). When things do work, you won't want them to, like a bomb that needs defusing or logic puzzle door locks throwing up obstacles at every turn.
As a predominantly puzzle-centric game, Devil's Triangle is often quite successful. The sheer number of puzzles is fairly impressive, and unlike many casual games that depend on a lot of repetition, here you'll encounter most kinds only once (outside of inventory types and the intermittent hidden object tasks, that is). From pattern rotation puzzles to jigsaw-like challenges (minus a convenient template to follow); from sequencing conundrums to balancing exercises, each subsequent task feels like something new. I was particularly impressed by a simple but effective mirroring puzzle and a numbered code that requires thinking from two perspectives instead of just one. Better yet, the difficulty seems nicely balanced, presenting just enough substance to challenge but never to the point of frustration.
If you do need help, there's an ever-increasing "hint" option, though beware using it too early. While in the hidden object sessions this button reveals only one item, for the standalone logic tasks it instantly solves the puzzle for you outright. Most players should be able to resist the urge, however, as solutions always seem within reach, even if you haven't quite worked them out yet. I only discovered the blatant-giveaway issue by accident, as I expected the hint button to give me a clue to my objective, not finish it for me completely. I couldn't simply restore a save before the bypassed puzzle, either, as progress is recorded automatically. Even casual games should offer at least one manual save slot, especially when incorporating a higher degree of freedom in the gameplay itself.
If there's one objection to the puzzles (and there is – a doozy, in fact), it's that they are often incredibly contrived. Puzzle lovers will gleefully overlook this, but those who want any sense of organic integration will rarely find it here. A tile lock on a tombstone may strain credibility enough, but all the moreso when it proves to conceal nothing more than a mundane item only you might possibly need. The game acknowledges its own indulgences playfully, with occasional commentary from the unseen protagonist like "What kind of a sick designer would make a power station this complicated?" Ha ha! That fun-loving protagonist! Why indeed. But wait… why DO we need to key colour-coded musical notes in with a Simon-based minigame to restore electricity? We'll never know, because Devil's Triangle makes little effort to justify its puzzle-solving scenarios.
Of course, it's hard to effectively integrate puzzles into the narrative when the plot is buried mostly in a journal. There's a modest but decently substantial story being told here as you probe the island's peculiar mysteries and discover who your friends and enemies are in your quest to escape. The problem is, much of it is chronicled in your "travelogue", not experienced yourself. Each time you arrive at a new location, extensive observations about the environment are recorded in print, but rarely is a peep uttered in the main game. Countless times something important will occur in-game, but only by referring to the notes will you find out all the missing details that give the event some context. The same is often true of the puzzles. When confronted by a new puzzle, the protagonist often makes no comment at all, but you'll find an elaborate update in the journal, complete with sketches, highlighted points, and clues to an objective you night not have even realized existed otherwise.
The issue, obviously, is not with the wonderful journal itself, but the fact that a much richer adventure is conveyed within its pages than on screen. It's as if there are two different versions of the game: the one we only get to read about, and the one we actually get. There are no additional events that actually occur behind the scenes, but the written details add much-needed depth to the circumstances at hand. I understand corners being cut for production purposes in a casual game, but the discrepancy is simply too vast. Even by having the protagonist comment "live" more often would have gone a long way towards keeping players immersed in the moment and not left scrambling for the journal yet again to find out what just happened or what to do next.
A few extra lines wouldn't have even cost much to implement, as much of the dialogue in Devil's Triangle appears only as text. A few early voiceovers give rise to the hope of being a full "talkie", but the game soon settles into a pattern of only a few spoken words or phrases introducing longer text conversations. Dialogue isn't a heavy emphasis, but in a welcome move, each time you encounter a new character in your travels, you have the option to ask several background questions or simply address the key issues and get on your way. The rest of the audio is solid rather than spectacular, with suitable ambient sounds accompanying the subtle musical soundtrack. The instrumentals generally suit the mood well, apart from one rather jaunty refrain that almost always seems out of place.
Visually the game is on par with the other better casual games available. The hand-drawn graphics are vivid and colourful, displaying creatively designed locations both above and below sea level, taking you to such places as wrecked ships, crystalline caves, and even a small town corner of sorts. Many screens are static, but there's just enough ambient animation to enliven the world, from jellyfish and sharks lurking outside the sub to flying ships and cannon fire on the island's distant horizon. The end effect is a world that feels quite familiar and yet strangely different from our own. The hidden object screens are nicely done as well, with item placement always fair, concealed but never truly "hidden" in their busy backgrounds.
You'll likely have more trouble finding hotspots in the main environments. That's not because they're unclear, but because Devil's Triangle makes no consistent effort to highlight them. While the odd area will glitter to alert your attention, like a patch of grass or pile of rocks that conceal a secret, few other usable objects are indicated like they are in traditional adventures. A smart cursor will reveal close-ups, exits, and some interactive items but not all, so you're forced to click on just about anything that looks like it might be of interest. It's like a return to old Sierra adventures, only without the benefit of entertaining commentary for your trouble. Presumably this decision is a carryover from the series' hidden object origins, but it's not a helpful one in the broader adventure context.
This hotspot issue is negatively emphasized at times by a finicky interface, as clicking an interactive object occasionally fails to register. It won't happen often, but clicking key items to absolutely no result occurred often enough for me to lose confidence in the system. Apart from the hidden object close-ups, no screen contains so many items that a few extra clicks proves much of a burden, but it's still poor implementation of a very fundamental process. Using inventory items can be even more problematic, as the selected item becomes a giant active cursor, with no clear idea of whether you're clicking on the right object or area. Highlighting hotpots wouldn't (and shouldn't) totally solve all of these issues, but it would better alert players that they're on the right track.
A few interface quirks aside, the many welcome adventure elements do add more substance to the game, as Devil's Triangle should take almost five hours to complete. Although saying "complete" is a bit misleading. After a hasty and rather anti-climactic endgame sequence that will wrap up your affairs on the island, players will land themselves right smack dab in a "to be continued" screen. It's a teaser that looks pretty darn interesting, but those seeking any kind of closure this time around will go home disappointed. Or not go home, as the case may be.
And yet, I suspect most players will choose to follow wherever the series goes next. As with any hybrid title, there's certainly a risk that people from both "sides" might chafe at the compromise between two genres. Hidden object fans will surely be wondering about the sudden turn to far more adventure-like fare, while diehard adventurers might scoff at the remaining item hunts and a rather underwhelming attempt to shoehorn so many puzzles into so little story. For those who will gladly accept a middle ground, however, there is much to like in Devil's Triangle. The theme is intriguing, the puzzle variety is impressive, and the production values are more than sufficient for a casual adventure title. There's also that budget price, which sure doesn't hurt. The sequel could surely stand some interface enhancements and a tighter integration between story and gameplay, but I'm already game for the next Hidden Expedition, and I know I won't be alone.
---
Note: Big Fish Games is an Adventure Gamers affiliate.
Our Verdict:
A drastic departure from earlier Hidden Expedition games, Devil's Triangle strays squarely into casual adventure territory, and largely succeeds in finding its way through.
GAME INFO
Hidden Expedition: Devil's Triangle is an adventure game by

Big Fish Games

released in 2009 for Mac and PC. It has a Illustrated realism style and is played in a First-Person perspective. You can download Hidden Expedition: Devil's Triangle from:
Want to share your own thoughts about this game? Share your personal score, or better yet, leave your own review!

review
Other articles you might enjoy