Rise of the Dragon
review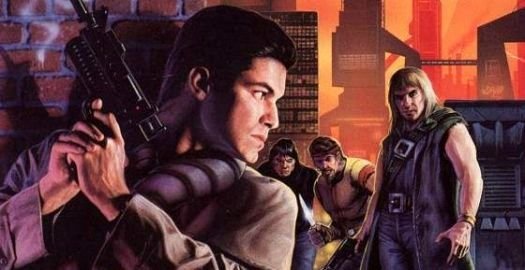 Game information
You might also like these adventure games
Advertisement
Adventure games by Dynamix
BITMAP BOOKS
At first glance, it seems clear that Dynamix's debut adventure game, Rise of the Dragon, was heavily influenced by the 1982 sci-fi film Blade Runner. It sports a protagonist with the name William "Blade" Hunter, who has a suspiciously similar fashion sense to Blade Runner's hero. It features an oppressive, not-too-distant futuristic city that looks like a pretty crappy place to live. The game even goes for the same film noir undertones that Blade Runner presented. This is the end of the similarities, however, as Dynamix took it upon themselves to create a tale that feels more like a basic pulp adventure than the thought-provoking Ridley Scott classic. The end result is a game that cares more about story than gameplay and prioritizes style over substance, as Rise of the Dragon is certainly entertaining, but has so few actual puzzles that some players may feel like they're playing an interactive story and not an adventure game.
The story opens with a murder, of sorts. The mayor's drug-addicted daughter uses a strange narcotic which results in her mutation into some sort of strange lizard creature, followed by death. The furious but politically cautious mayor turns to you, former policeman Blade Hunter, to discreetly track down the drug manufacturer without involving the actual police. Armed with a photo of the victim and the location she was last seen before she died, you pull on your pants and hit the streets. And I mean this quite literally. In an attempt to create a more realistic world, Dynamix has required that you do things like dress Blade and remember to grab your house keycard before leaving. Failure to do these leads to consequences like getting arrested for indecent exposure or getting locked out of your apartment.
Investigating the death of the mayor's daughter soon leads to a much deeper, more sinister plot. The men responsible for the death aren't simple drug traffickers. A cult of Chinese madmen plan to drug the entire population of the city in a ritual designed to bring about the rise of an ancient dragon named Bahamut. Blade must slow and eventually stop their plans completely while tracking down the man responsible for it all, making sure his girlfriend doesn't get too mad at him in the process.
How much you enjoy this story depends on how sensitive you are to clichés. The girlfriend, while helpful at times, seems to exist mostly as the typical damsel in distress. The megalomaniacal, power-mad villain is so stereotypical that it's surprising there isn't a moment where he twirls his moustache. Blade himself, a rough-around-the-edges loner with a heart of gold, seems like he was intentionally made to resemble every grizzled cop/P.I. we've ever seen. There's nothing particularly bad about the story, the dialogue, or any of the characters, but there's also nothing even remotely original to be found here. From the streetwise underworld contact, "The Jake", to the villain's eye-patched enforcer, "Snake", the characters all feel like people we've met before many, many times.
Rise of the Dragon is presented mostly in a first-person view using a fairly standard point-and-click interface. Left-clicking on the screen uses environmental items like buttons, clicking and dragging useful items will deposit them in your inventory box, and right-clicking examines. Using the inventory is sometimes frustrating, however. After selecting an item, the inventory screen is supposed to fade when you drag the object towards the edge of the screen to apply it on something in the environment. It doesn't always do this, though, and I often had to tell Blade to drop the item in the general area so I could close my inventory, pick it up again, and only then use it to solve a puzzle.
Interactive dialogues provide you with a few choices of what to say, and saving before conversations is highly recommended. Some dialogue trees eliminate key questions, and conversations can end without the opportunity to ask the most important things. Almost all major conversations need to be played multiple times via reload to see everything someone has to say. While this definitely adds a sense of replayability to the game, it comes at the cost of realism. There's no reason you should be barred from asking an important question, such as where a key suspect lives, just because you didn't do so right off the bat. Especially if this information is crucial to moving forward in the game.
Despite all the objects you pick up, Rise of the Dragon has surprisingly few actual puzzles. Much of the story progression comes from choosing the right conversation paths. Your girlfriend conveniently works in the city's hall of records, and asking her to research a clue you've found is as easy as dropping an object from your inventory onto her. But this can hardly be seen as a "puzzle". Most of the challenge is in finding the objects that lead to the next location in your investigation. That's not to say the game is devoid of puzzles entirely; it's not, but they seem to offer more variety than challenge, as none of them are particularly clever or original. The rare code-cracking deduction, electrical exercise or Simon-type sequence represents a momentary change of pace, but usually it's as if the designers got so distracted with the story, they forgot they were making a game.
The investigation takes place over a series of days in which Blade only has a certain amount of time to travel about the city, question suspects, and gather clues. Every action, including examination, adds a minute or two to the ever-present clock in the corner of the screen. Traveling to a nearby location via subway takes far less time than traversing the whole city. And staying out too late means Blade will curl up to sleep on the streets and possibly lose possessions to a light-fingered thief. This kind of cause-and-effect approach presents itself in other ways as well. Insult a valuable contact and they may refuse to talk to you. Get arrested by the police for a break-in and you'll lose precious time sitting in jail waiting for the mayor to arrange your release. Blow an attempt to sweet talk your way past a receptionist and you'll have to find another way to circumvent her watchful eye.
This sense of consequence is one of the things Dynamix does well. The downside is, there are potential dead ends, like your girlfriend breaking up with you before she does crucial research on your case. However, the game clearly lets you know if you've made victory impossible, and fortunately most of the mess-ups have an alternate solution or fix themselves over time. That contact you ticked off may mellow out over time and be approachable again, and there's a secret way to get your apartment open without a key if you happen to lock yourself out. Even losing your handgun can be remedied if you manage to find a stronger one later in the game. This further adds some replayability to the game, if you want to try different ways of dealing with the same obstacles.
But the time element has some annoyances as well. Some events only happen after a certain amount of time has passed, or on a specific time on a specific day. This means you may have done all the investigation you can possibly do, but will be temporarily stuck because events in the game have yet to catch up with you. I spent a good chunk of time riding the subway back and forth for hours and hours, either waiting for the next day when I could get research results from my girlfriend or simply hoping someone would call and leave me a vidphone message to progress the story. This approach feels sloppy, and the game should at least allow you to sleep until the next day whenever you want, rather than forcing you to burn time until very late in the evening.
The timed setup also naturally leads to timed puzzles. I lost count of the number of times I got beaten to death by security guards in one segment by looking around or experimenting too long. While this certainly creates a more realistic and danger-filled atmosphere, many of the puzzles are impossible to solve without a little experimentation. This leads to some demoralizing deaths as you try to figure them out. One segment, in which you tap a suspect's phone lines, crosses into the realm of masochism. Make a wrong move with the wires and you're electrocuted. Take too long and sewer rats devour you wholesale. The game does warn you to save before this section, but that doesn't stop the frustration of trying to solve a puzzle while constantly dying every few seconds and having to reload.
And on the subject of dying numerous times, Rise of the Dragon also contains a few action sequences. Two of them are side-scrolling shooters and one random section is like a first-person target practice. The side-scrollers are particularly punishing. While the enemy AI isn't especially challenging (most of the enemies stand or crouch in the same spot firing the occasional shot), these environments include bottomless pits and pipes that shoot fire or poison gas. Control changes to the keyboard for these sections, and the clunky jump and movement keys make avoiding instant death a frustrating challenge. Each death means restarting at the beginning of the segment, though Dynamix obviously realized that not all adventure gamers are into action sequences and the game generously allows you to skip these sequences completely if you fail them a few times. But this doesn't really solve the problem, especially since one of these sequences is the final fight with the game's villain. How satisfying is it to have your last action be clicking on a little box that says "win arcade"?
If the gameplay is problematic, however, the graphics are where the game shows its best hand. The pixel art looks hand-drawn, and the art direction makes the characters look both realistic and animated at the same time. Some of the facial expressions are a bit overdone, but this just adds to the general over-the-top theme. Dialogues are displayed through captions and Blade's observations with thought balloons, giving the whole presentation a graphic novel feel. Confusingly, vid-phone messages seem to be partially rendered video, which breaks the animated feel, but these are only a small part of the game. While the graphics look technically dated now, the artwork itself doesn't, allowing Rise of the Dragon to hold up well visually almost two decades after its 1990 release.
Like many games of its era, sound consists of tinny music and is generally uninspired, but doesn't take much away from the game. The Sega CD version is apparently fully voiced, without even the option of subtitles. I played the PC version, however, which only has the introductory scene with the mayor's daughter voiced. If this scene is any indication of the overall voiceover quality, PC gamers may have gotten the better end of the deal. The PC version also has a dancer in a club wearing a bikini and a scene of Blade and his girlfriend sharing an open mouthed kiss. These scenes were dubbed "too racy" for the Sega CD version and were removed, which makes the PC version better for those of us into the steamy, illicit world of French kissing and standard beach clothing.
Overall, it's hard for me to recommend Rise of the Dragon as an adventure game. The puzzles are too infrequent and generally uninspired, the action sequences are painful, and the characters are virtually all two-dimensional stereotypes. But I have to admit that I did enjoy the experience at times. The story isn't especially deep or original, but it's still fun on occasion and the visual style makes watching it unfold even more entertaining. Who hasn't wanted to dress like Harrison Ford to go out questioning suspects and tapping phones? The game is brief, only requiring 3-5 hours to complete, so a single playthrough doesn't outstay its welcome. There is perhaps a certain amount of satisfaction in finding multiple solutions to the puzzles if you want to go back and try again, but the game's problems may prevent most players from bothering. Rise of the Dragon may be more style than substance, but if the theme and visuals appeal to you, there is some enjoyment to be found. Just don't expect to be engaged as fully as you'd like, and keep a stress ball handy for the action sequences.
Our Verdict:
If you like noir-style detective games, you'll probably have some fun with Rise of the Dragon, but those who play for challenging puzzles are better off looking elsewhere.
GAME INFO
Rise of the Dragon is an adventure game by

Dynamix

released in 1990 for PC and Retro. It has a Stylized art style, presented in Slideshow and is played in a First-Person perspective. You can download Rise of the Dragon from:
Want to share your own thoughts about this game? Share your personal score, or better yet, leave your own review!

review
Other articles you might enjoy