Women's Murder Club: Games of Passion
review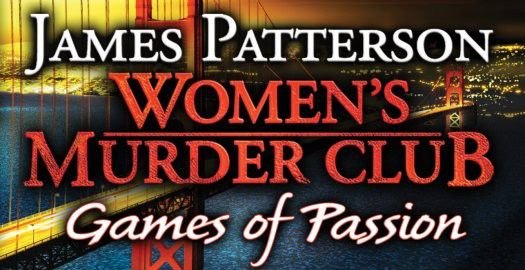 Game information
You might also like these adventure games
Advertisement
Adventure games by Griptonite Games
BITMAP BOOKS
With three PC titles to its credit already, the Women's Murder Club series is rapidly catching up to the number of James Patterson novels on which the franchise is based. And predictably so. A unique combination of hidden object gameplay and lite adventure elements, these highly streamlined murder mysteries are nicely suited to the casual market, and so far have provided a refreshing diversion from heavier genre fare. With the release of Crimes of Passion, now you can add a fourth offering to the mix, only this time for the Nintendo DS. Unfortunately, while the handheld iteration does include many of the elements that series fans have come to expect, it also proves that sometimes a good idea can be pushed one step too far.
The new game once again follows the exploits of San Francisco homicide detective Lindsay Boxer and her friends and professional colleagues, coroner Claire Washburn and reporter Cindy Thomas. Somewhere along the line, Yuki Castellano seems to have taken over as District Attorney, though since this role is limited solely to nightly case debriefings over dinner, the change is really just cosmetic. Playing a more significant role is detective Ryan Silver, a bit of a lazy slimeball who seems to exist for no reason other than to crack wise (often without much cracking wisdom) and make the women look good. He's not part of the club, apparently, and membership has its privileges.
Like many criminal investigation games, Crimes of Passion presents a loosely connected series of murders over the course of its seven chapters. From the drowning of young Asian beauties to a stabbed robbery victim to a possible suicide by hanging, the cases seemingly aren't related, which of course means they are. It's up to players to not only scope out the available evidence from the crime scenes, but also piece together the connection between the victims in order to track down the killer(s). The problem here is that the individual stories are so disjointed that they never really form any cohesion. Characters do start to reappear in later cases, but their roles are so ambiguous by then that the larger story arc never builds any momentum. Then, long after you've begun wondering where all this is supposed to be going, the cases converge suddenly and forcibly in a climax that arrives almost completely out of the blue. Even at that point, the full disclosure seems confused and almost random. Don't believe me? Take it directly from the ladies themselves, who summarize by saying "Seems like we may never know the whole story." They're right, we won't.
The focus on Oriental women, marked in death by specially painted symbols, is a curious one. The theme so strongly resembles the plot of Death in Scarlet that I'm tempted to call Crimes of Passion a re-imagining of the PC original. The similarities are simply undeniable. Having said that, the rest of the storyline is so radically different that the two games don't feel at all identical. Perhaps it was an intentional homage to the first game, but the overlap is more distracting than anything. Where the PC version deftly handled its subject matter, here it's only one aspect of the jumbled larger narrative. I know it's something about perfume, as everyone keeps commenting on how bad it smells, and that wasn't the only… nah, I won't finish that sentence. Too easy.
This emphasis on story is relevant, too. Unlike most casual games, the stories in Women's Murder Club games have always been just as significant as the gameplay itself, and Crimes of Passion is no different. Each time you move between locations, and often while you're there, the game offers lengthy expositional dialogues between Lindsay and other characters. It's only a slight exaggeration to say you'll spend almost as much of the four hours of game time watching as you do actually playing. Like its PC counterparts, there is no voice acting at all, and only comic-style cutscenes and still portraits to look at, which is disappointing. While Lindsay gets sufficient attention to be a likeable protagonist, the supporting characters are stripped of much of their distinctiveness that way, and end up being largely forgettable.
There is, thankfully, a game to be played as well. Or maybe not so thankfully, as there are also problems in that regard. With the DS held vertically like a book, this game once again walks a fine line between being a simple seek-and-find game and a traditional adventure. Certainly there are multiple instances of finding random items or symbols throughout the various static environments, which here range from apartments to parks to shipping containers. These are easily the least satisfying tasks of the game, as it's totally irrelevant to the plot. It's rather promisingly rationalized as removing "clutter" from crime scenes before getting down to serious investigation, but the concept is wasted by including such things as the pi symbol, a hummingbird, and a nuclear warning label. That's not clutter, it's just nonsense.
Fortunately, the rest of the item searches are far more organic. At various stages you're given instructions to find objects legitimately required for your investigation. Sometimes they're identified by name, sometimes not. You may need to collect a shoe, a receipt, or locate a bullet hole, for example, or you may need to deduce for yourself something that shows a crime scene has been tampered with or evidence indicating a killer's location. Naturally, these are far more rewarding exercises, though many objects are "hidden" so poorly that you won't feel much like a detective. One scene has you collect not one but eight possible murder weapons, all conveniently scattered in open view. In real life you're probably more likely to find a pi symbol than that many blades lying out in public. Still, it's an acceptable concession to the storyline, at least. Sometimes the requirements are a little too vague, and sometimes misleading (a seagull isn't a "bird"?), but usually they're fairly explicit and keep things moving along nicely. If you do get stuck, there are three hints available per chapter, which highlight the general area surrounding the missing item.
There are two major problems with the execution, however. The first is that the touch screen controls are ridiculously finicky. I lost track of how many times I tapped the screen with the stylus only the hear the note sound for an unsuccessful guess. The first few times it fooled me into thinking I had the wrong item, until eventually I caught on to try again. While it doesn't happen constantly, it does happen often enough that you'll stop trusting the game to accurately respond, and it's frustrating having to click everything repeatedly just to be sure.
It's bad enough for a point-and-click game to get the "click" wrong, but worse when it gets the "pointing" wrong as well. Okay, not the pointing exactly, but the screen perusal at least. In case there's any confusion, here's a public service announcement: the DS screen is very small! There are various ways to address this inherent challenge, none of them particularly good. Crimes of Passion forces players to constantly click and drag the screen to slide the camera around, leaving you with only a tiny portion of the full location on screen at any one time. It's a logical enough approach… it just isn't any fun. Try closing one eye, then holding an empty tube over the other and go find your car keys. Wheee! Admittedly, it gets the job done, but it's inelegant at best, an immersion-killer at worst. You can also scroll the camera by means of the +Control pad, but it's far too slow to be a viable option.
When not inching your way around crime scenes with blinders on, there are a few other gameplay elements to contend with, but very few. The Women's Murder Club games on PC have given other puzzles and minigames far more attention, but Crimes of Passion includes only a single slider puzzle, a couple colour-sequencing exercises, and several memory tests, along with one simple arcade-style challenge that I finished before even understanding what I was doing (after which Claire noted appropriately, "I'm actually glad that I don't know how to do that.") There is also a game of Mahjong that you can further access as a standalone diversion from the main menu. This may sound like an adequate selection, yet all but the Mahjong and possibly the slider can be completed in seconds, not minutes, giving you some idea of their (non-)complexity.
The one main exception, and a very welcome one for variety, is the interactive dialogue quiz that challenges your powers of observation. While many conversations are carried out automatically, others require you to correctly answer questions from a multiple choice selection of images. The questions are sometimes open to interpretation, but the answers are not, so you may have to guess on occasion, but there's no penalty for wrong answers, so you simply try again until you get it right. In fact, Crimes of Passion is one of the least demanding games all around, with no punishment for missed object taps, no timer, no score.
And no reward, sadly. Or at least, not nearly enough to make this a worthy addition to the Women's Murder Club franchise. The DS is inherently ill-suited for hidden object gameplay, and the "solutions" here do little to alleviate the problem. Unfortunately, this time the story can't rescue the gameplay deficiencies, offering less a compelling mystery and more a haphazard collection of plot points that never add up to a convincing whole. Series fans may get a mild kick out of the latest case for Lindsay and the gang, but few others will find the point of exploring these Crimes of Passion, as there's just not enough of significance to seek out here.
Our Verdict:
More "failures in execution" than "crimes of passion", the Women's Murder Club series continues to offer a unique blend of hidden object and traditional investigative gameplay, but proves a poor fit on the Nintendo DS.
Want to share your own thoughts about this game? Share your personal score, or better yet, leave your own review!

review
Other articles you might enjoy