The Hardy Boys: Treasure on the Tracks
review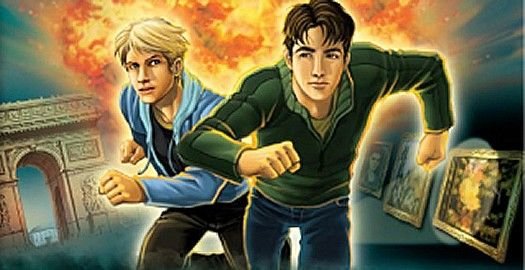 Game information
You might also like these adventure games
Advertisement
Adventure games by HeR Interactive
BITMAP BOOKS
Her Interactive has been targeting a primarily female audience for some time with their Nancy Drew series, and having read a bit of The Hardy Boys when I was younger, I was intrigued to see how they would handle the new franchise on the Nintendo DS with Treasure on the Tracks. I don't remember much about the books now, but enough to recall how similar they were to their British equivalent teen detectives, The Famous Five. I was aware, then, that this would be a game aimed at a younger audience and probably wouldn't run too deep. In fact, I half-expected to find my adult self poking fun at it throughout, much like the South Park episode featuring the 'Hardly Boys', but I was pleasantly surprised to encounter a fairly enjoyable game that isn't strictly for kids.
The plot, like so much other children's adventure fiction, centres around a search for hidden treasure. The treasure here is that of the Romanov family, hidden during the 1917 Russian revolution. The Tsar left clues to the treasure's location in paintings he had specially commissioned and concealed within items throughout the Royal Express. The train now makes a journey from Paris to St Petersburg every year, and a select few treasure hunters are invited to solve its mystery. This time it's the Hardy Boys' turn, but they find themselves up against some suspicious fellow passengers in the quest.
The two main characters in the game are of course Frank and Joe Hardy. Most of the time you will be playing as both them together, but towards the end of the game they split up and you'll play as one and then the other. Controlling the two boys together is really nothing unusual, as you don't see either brother with the game's first-person perspective, though a conversation between them often plays out onscreen. The younger Joe is easily excitable and acts spontaneously while Frank prefers a more logical, calculated method of solving mysteries, but though their differences tend to leave them at odds sometimes, together they come across as likeable characters with their cheeky sense of humour. In addition to the Hardy brothers, you occasionally play as another character, an elusive female spy known as Samantha (among other names), who helps the boys out along the way. I found the inclusion of this character to be uncomfortable at first, as it stopped feeling much like a Hardy Boys adventure without them in it. Her appearances in the game are brief, however, and these segments do add some welcome depth to their story.
There are plenty of other mysterious characters in this game: the pompous Baron Von Ekartsburg believes he is a descendant of the Romanovs and is therefore entitled to the treasure; Carol Stephenson-Hughes is an ambitious British historian, Alexey Konstantriev is one of Europe's premiere art scholars and clearly knows it; and Isabelle DuPont is a clumsy but well-meaning waitress aboard the Royal Express. All of these characters have a secret they're hiding, and the Hardy Boys soon have to determine who is willing to go to criminal lengths to find the treasure for themselves. For a game aimed at a younger audience, the characters are fairly interesting and will keep you guessing (for a little while, at least) who the bad guy is. There are no voices in the game, and all dialogue appears in a box on the top screen. The writing is not as simplistic or patronising as you might suspect, and the humour consists of plenty of smart-alec, mildly amusing remarks that would have appealed to me when I was ten years old (and still does a little bit, if I'm honest).
There are two types of locations the player gets to explore in the game: the cities where the Royal Express stops en route, and of course the train itself. Before gaining access to the cities, which include Vienna, Prague, and Warsaw, players must solve an increasingly (but still only mildly) difficult grid puzzle, determining which blocks to fill in to pinpoint the locations the boys must visit. These areas are limited in scale, usually consisting of only two or three places with several screens each. The first location in Paris is even smaller, but as the game progresses the cities become bigger and more interesting. The ultimate goal in most places is to find and decipher the clues in the next painting, but first you'll need to collect pieces of relevant documentation conveniently scattered nearby. As you walk around, sometimes information is given about that particular location, which seems intended simply to educate rather than add anything to the storyline.
The Royal Express is the real heart of the game, though. There are seven carriages to explore in total, from the dining car to the Tsar's private quarters. Not all of them are open from the start, so the Hardy Boys will have to keep exploring further as new information and new items are found in the game. Sometimes Frank and Joe will be required to snoop around the other guests' rooms before the security guard catches them. This is a timed activity, but merely requires you to tap all interactive objects in the room until you find the one of importance. If you get spotted, another minigame begins that has you tap a series of coloured spots that come up on the screen, which you'll have to keep doing until you get it right. There are other minigame sequences to contend with as well, along with certain puzzles you can fail, either by getting caught or in one case letting a bomb explode. These add some tension, but can easily be attempted again without any kind of penalty. The difficulty here is slightly more advanced, though kids should have no trouble with the reflex-based minigames, and there are always enough clues to help get through the riskier puzzles.
Treasure on the Tracks also has plenty of traditional puzzles, ranging from the incredibly simple to the slightly perplexing. Clearly keeping younger players in mind, the puzzles are fairly interesting and can be fun, designed in a way that will help inexperienced adventurers cut their teeth on the genre. If there's one complaint, it's that several puzzle types repeat themselves. For example, once you've found all the necessary scraps of paper in each city, you will need to reassemble them by means of a jigsaw puzzle. That's one of three kinds of puzzle which are repeated in each city, the only variation being a slightly harder difficulty in later stages. Fortunately, there is also a healthy mix of inventory puzzles where you need to collect objects and perform certain actions in sequence in order to get results. There is one section I found a little odd, which saw the boys having to fill in as cooks, requiring you to dice vegetables and add ingredients to a cooking pot. These tasks have little to do with the plot, and seem designed simply to make some motion-based use of the DS touchscreen. Any such digressions are few and far between, however, and overall I think the puzzles will be enough to entertain younger adventurers without being too easy.
The interface is fairly simple, as you merely drag the stylus around the screen to discover hotspots. Once a hotspot appears, a smart cursor will indicate what kind of action can be performed, and you just tap on it to execute the default command. To move around you similarly need to find the forward, left or right arrows and tap those. When you talk to others, their portrait appears in the top screen, and any questions you can ask appear on the bottom screen. To use an object you've collected, you have to tap it in inventory to make it appear in a small box on the main play screen, then tap it again to activate before selecting the object you want to use it with, which seems like one step unnecessarily too many.
Using the X and Y buttons will bring up not only the inventory, but an adventure game favourite in the form of a PDA. This records important information, acts as a menu for loading and saving, and if selected as an option at the start of the game, will offer you hints on what to do next. There's also a button which allows you to see the tasks you have yet to complete in an area, which could be handy if you ever get stuck. The game even features a notepad on which to make handwritten notes, which I never used but is always a good thing. With all these helpful features, the only problem is that the PDA itself can be a bit clumsy to access sometimes.
Graphically the game isn't stunning, but the train carriages are nicely designed and each has its own unique identity, especially the gallery which has plenty of displays to investigate. The backgrounds are all static slides with 2D characters, which gives it a nice 'classic' adventure feel. Surprisingly, the only time you see the Hardy Boys is in the few cutscenes, which are presented in a hand drawn comic book style. The various cities aren't as interesting to explore as the train, as they're all pretty similar, though each features a photographic background of a famous landmark accompanied by some information about it. The top DS screen is mainly used just to extend the environment you're currently in. For example, when on the train it displays the ceiling of the rocking train carriage, which is a little odd as the bottom screen remains still. The music is a typical soundtrack laden with synth strings and helps to add suspense throughout the game, although it does get a little repetitive. As it is the only audio apart from the odd sound effect, it could quite easily have become annoying if overdone, but I quite happily played through the game with the volume turned up.
Overall, I quite enjoyed Treasure on the Tracks, somewhat to my surprise. It overcame my sceptical assumptions of what a game aimed at younger players would be like (I played a few stinkers when I was a child). As an adult, the four hours it took me to play through, if that, didn't add up to the most satisfying gaming experience, of course, but the resolution of the storyline and enjoyable puzzles were enough to make it feel like a pleasant diversion. Sometimes I found the puzzles too easy, sometimes repetitive, but they do require the same kinds of thought processes one uses in more challenging games. I'd recommend this game for any 10-12 year olds (or thereabouts) who want to get into adventure gaming, or any parent who'd like to introduce their child into the genre. The Hardy Boys are reliable protagonists, the slightly but steadily increasing challenge of the puzzles will be an excellent primer for more difficult adventures, and who knows, they might even learn something in the process.
Our Verdict:
The Hardy Boys' first DS adventure should appeal to younger gamers, particularly those who read the books, and a few parents might just be tempted to check it out themselves.
GAME INFO
The Hardy Boys: Treasure on the Tracks is an adventure game by

HeR Interactive

released in 2009 for DS. It has a style and is played in a perspective.


Want to share your own thoughts about this game? Share your personal score, or better yet, leave your own review!

review
Other articles you might enjoy