Nancy Drew Dossier: Resorting to Danger
review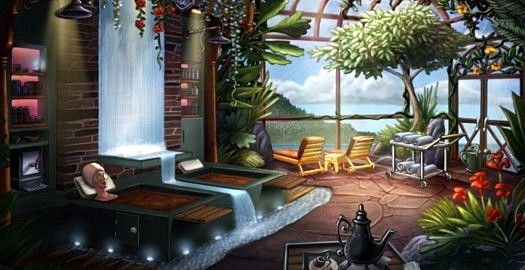 Game information
You might also like these adventure games
Advertisement
Adventure games by HeR Interactive
BITMAP BOOKS
Boldly emblazoned across the box cover of Nancy Drew Dossier: Resorting to Danger is the rather jumbled phrase "HIDDEN OBJECT PUZZLE MYSTERY". The box lies. Certainly there are puzzles and there's a mystery – this is Nancy Drew we're talking about – but there's precious little in the way of "hidden object" gameplay as the term has come to be known. True, you'll spend plenty of time scouring locations for items, but absolutely everything you're looking for is fully integrated into the storyline and integral for proceeding. Which makes it no different from so many other games that fall under the one heading that is nowhere to be found. What's that word again…?
Oh yeah: Adventure.
Of course, it makes sense for Her Interactive to steer clear of the label in order to help distinguish the new games from its long-running Nancy Drew "adventure" series, now 20-strong and still growing. And indeed, the latest title starring the popular teen sleuth is decidedly casual in nature, clearly designed to be easier, more accessible, and better for short pick-up-and-play sessions. But it's still a misnomer to call Resorting to Danger a hidden object game. I'm not just arguing semantics, either. The reason it matters is one simple fact: along with its Dossier predecessor, Lights, Camera, Curses!, this is an entirely unique style of game that easily surpasses the vast majority of its seek-and-find contemporaries.
While the last game saw Nancy on set at a struggling film studio, Resorting to Danger sends her to the luxury Redondo Centre for Rejuvenation, where someone has been planting a series of non-lethal bombs. The manager has successfully covered up the incidents so far, but now it's up to Nancy to investigate under cover, snooping through rooms in between attending to the other residents as the spa's new assistant. The premise is classic Nancy Drew, challenging players with a variety of puzzles and minigames while matching wits with the mischievous bomber.
"Matching" is the right work, too. As with the last Dossier, gameplay primarily revolves around finding pairs of related items. A piece of paper is out of reach down a drain? You can be sure there's an instrument that will help you snag it right there in the room. Progress is always achieved by highlighting such simple combinations, though full solutions often aren't nearly so straightforward. To discover that same paper, you may have needed to locate something to pry open the drain originally. To find that, perhaps power needed to be restored first, but only after achieving several other relevant steps before you could. These are semi-made-up examples, but representative of the types of obstacle course matchmaking you'll need to do.
The first-person point-and-click interface is even simpler. As your cursor passes over an eligible item, it sparkles to let you know it's interactive. Clicking one creates a bubble icon with a descriptive tip from Nancy, which you can de-select if you aren't ready for it yet, leaving a small marker as a reminder. When you do find its appropriate match, you simply select both and... presto! Really, presto. The paired items then disappear or combine or carry out the desired action instantly. The process couldn't be much easier, apart from the need to pixel hunt on occasion when you aren't sure what you're looking for. The current goal is always clearly displayed, along with the number of objects you need to complete it. There's even a limited number of hotspot highlighting "hints" in each location. It's all very user-friendly, and the only small complaint is that sometimes the goals start off rather vague, with instructions like "I need to snoop around." Well, yeah, Nancy.
Each room is self-contained, and not every necessary item is interactive at first, but as your goals adapt, more become available. At any one time, you may have as many as a dozen highlighted hotspots, but each has only a single eligible match. It isn't only standard objects that can be combined, however. An onscreen toolbar has a small selection of actions that can also be part of a pairing. Gone are the last game's "look" and "use" options, replaced here by tasks like "turn" and "shake", and even "scratch". This is an improvement, as there's less ambiguity about which action is called for when, though you may still encounter some uncertainty about whether to pull or lift something. Occasionally an object or two will be stored away in a separate inventory, though these are applied the same match-pairing way as environmental objects.
While this may sound like a blatant streamlining of standard inventory puzzles (probably because it is), even the many logic-based puzzles and most of the minigames are solved in this manner. There are numerous multi-stage riddles to solve, patterns to piece together, and clues to decipher – some of them fairly elaborate in design – and virtually all of them are controlled through the same "find a pair" mechanic, like inserting the right tile or symbol in the right slot. You could try to guess your way through, but these generally require far more thought than the inventory-only puzzles. Even so, only one or two of the later puzzles are likely to pose any real difficulty, and only then because of the vagueness of particular wording and a lack of feedback that is soon overcome.
There are a few exceptions to the pairing rule, like clicking a sequence of lights in the correct order and a Match-3 style minigame, but these are few and far between. The Match 3 challenge, in which you must rotate balls to align colours, is quite fun and represents one of several repeating minigames in Resorting to Danger. Another that doesn't require pairs is a facial treatment activity. This is a spa, after all, and at times you'll be called on to apply layers of various creams, mud, and even fruit to women's faces according to specified patterns. This requires a bit of strategic planning, and it's way more entertaining than it has any business being.
Less fun is the need to catch scurrying rats and cockroaches at times. These are considered "bonus" rounds that you really can't fail, though to get the highest score possible you'll want to do well, and it can be tricky to nab the little buggers. Utterly un-fun are the two tasks spent navigating a garden maze from an overhead view, as the controls inexplicably shift to a cumbersome click-and-drag method that sees Nancy get hung up on the smallest of obstacles, often in the process of moving her the wrong way anyway, which you can't know ahead of time. Resorting to Danger also has a few easy jigsaws and a fairly challenging telephone reception assignment that tasks you with routing rapidly-incoming phone calls to the proper room. This can be tough to do at first, particularly if you haven't been paying close attention to details along the way.
Other activities will probe your powers of observation as well. Interactive dialogues once again provide little quizzes that reward correct answers, and in a very nice touch, even the map for travelling between rooms is a test, requiring you to accurately identify the next location by the clues just provided. Of course, the bomber leaves some tests of his or her own. Periodically Nancy is called to "fold towels" (resort code for "stop a bomb!"), in which she must first solve a tile-based alphabet minigame that increases in difficulty each time you play. Successfully completing that yields an anagram to solve, before leading Nancy to a bomb defusing puzzle spent connecting circuits through an obstacle-laden grid as a timer ticks down. When the clock hits "0", the bomb goes "boom", but fortunately you simply restart at the beginning. These circuit puzzles aren't overly demanding, but expect some explosive failures, as the timeframe is too short to allow for any unsuccessful detours, and a certain amount of trial and error is inevitable.
As with any Nancy Drew game, the culprit is one (or more) of the colourful characters you'll encounter in your travels. Among the guests are a flighty Hollywood actress and the snooty Mrs. Montague with Mr. Mingles, her even more obnoxious little Pomeranian. The suspect list extends to the oddball resort crew, from the glib male receptionist to an eccentric Norwegian scientist with a lab full of experiments and an apparent axe to grind. I particularly liked the barely-female janitor that hangs out in the boiler room with her pet rats. Any notion that this spa-based game would be full of only pretty people is quickly put to rest at the first sign of Joanna's bowl cut and near-unibrow. All characters are portrayed using nicely expressive, semi-animated portraits during dialogue. Unusual for casual games, each is even fully voiced, and apart from the bio-chemist's weak accent, each actor delivers a solid performance. The enduring Lani Minella continues to not sound much like a teenager, but the many people who now consider her the one and only Nancy Drew will be pleased to know she reprises the role once again.
Naturally, everyone at the Redondo has something to hide and a possible motivation for causing the bomb scares, so it's up to players to identify the right person. The story is fairly thin, but what's really impressive about Resorting to Danger is that your investigation actually matters. Without spoiling anything, I'll say that you aren't merely following a single trail of bread crumbs here, and your suspicions contribute to which of the six possible endings you'll get. I played the game twice, and making a different choice at a key moment led to a unique puzzle scenario each time, later punctuated by a legitimately new finale. Unfortunately, little else about the game is randomized, so you'll be going through the bulk of the same game all over again for differences that are still largely… umm… cosmetic (walked right into that one), but kudos to the developers for putting real effort into the variances available.
You'll probably want to replay the game at least once, anyway, if only to get a high enough score for the "Ultimate Private Eye" rating. As with the first game, each successful puzzle solution results in a point reward that rises incrementally as you string successes together. Three correct pairings in a row is worth much more than three pairings interrupted by incorrect guesses. This encourages thinking your way through the problems instead of merely guessing haphazardly, but the system still feels a bit uneven at times. You'll revel in one mini-victory after another, yet groan (or worse) when tripped up over something small that could have gone another way. And since the game allows no manual saving, you're stuck with your mistakes.
Then again, there's really no way to accurately monitor your status anyway. At the end of each level you're shown a progress bar, but the gauges are all but meaningless; sometimes your rating will lurch forward and other times barely move, even for beating roughly the same challenges. A little consistency would have helped, along with an ability to replay a level if so desired. It's less important here than in the first game, as the only bonus for attaining the highest rank is some extras that play during the end credits, like concept art and forgettable blooper-type stuff. For many, though, it'll be the principle of the thing. Who wants to finish a game only to be told you weren't as successful as you could have been?
The other downside to replaying is the fact that even on a first playthrough, the location simply isn't as interesting this time. I know, I'm obviously not the main demographic for Nancy Drew, let alone a Nancy Drew game based in a spa, but it's not that (come on, I praised the facials!). There are some nice areas, such as the mud bath "Jungle Room" and the… uhh… (See? I'm already labouring.) Oh yeah, a meditative "Zen Room" with its distinct oriental trappings. But the rest of the rooms just feel too generic: a bedroom suite, a basement, a reception area, etc. They're entirely suitable to the locale, just not a whole lot of fun to explore in their own right. You'll visit each several times, too, so you'll undoubtedly find yourself wishing for more selection or simply something with more pizzazz. The slightly comic-styled art is certainly adequate, if not particularly crisp, but it's mainly the limitations of the environment that leave the game with little visual flair. Music ranges in style and tone according to the location, and while much of it is suitably silly and light and fun, some arrangements are better than others. I'll take the soothing Asian strings ahead of the over-orchestrated lobby music any day.
A single time through the game should take you between 5-6 hours, with subsequent trips taking far less and yielding diminishing entertainment returns. The endgame is a bit underwhelming, simply offering more of the same as you've been doing to get there, but like most of my issues with the game, this won't seriously detract from your enjoyment. Certainly anyone who liked the first Dossier will appreciate Resorting to Danger, perhaps even more due to an improved selection of minigames. The one significant step back is its middling location, but if the Redondo itself isn't an appealing destination, the breezy, light fun offered up within its walls certainly will be. Traditional adventure fans should go in expecting a highly streamlined game style, and hidden object fans should brace themselves for a whole new kind of casual adventure. But regardless of where you're coming from, chances are you'll end up having a blast. Sometimes even literally.
Our Verdict:
It's decidedly "lite" in nature, but Resorting to Danger further establishes the unique Dossier series as one of the premiere casual adventure experiences available.
GAME INFO
Nancy Drew Dossier: Resorting to Danger is an adventure game by

HeR Interactive

released in 2009 for PC. It has a Stylized art style and is played in a First-Person perspective. You can download Nancy Drew Dossier: Resorting to Danger from:
Want to share your own thoughts about this game? Share your personal score, or better yet, leave your own review!

review
Other articles you might enjoy