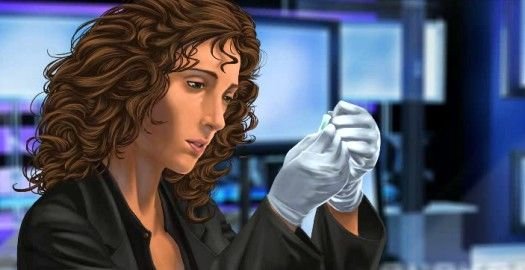 Game information
You might also like these adventure games
Advertisement
Adventure games by Legacy Interactive
BITMAP BOOKS
Another year, another CSI title arrives. Not much new about that… or is there? Actually, this time there is, as for the first time in the history of the popular franchise, CSI: NY has taken the franchise along the casual route instead of offering up a full-fledged adventure. Is it a detour worth taking? That depends at least in part on whether you know where it leads. (Fortunately, after reading this, you will.)
In some ways, the first CSI game based on the New York spin-off series has become its own worst enemy. For reasons unknown (but easily speculated), Ubisoft simply… neglected to mention in any of the advance materials that the game is a casual title. Who knew that phrases like "more user-friendly interface" and "improved gameplay" actually meant "strategically streamlined for casual audiences"? While always veering towards rather lightweight adventuring fare, the five previous CSI installments have nevertheless fallen squarely within traditional genre boundaries, with the freedom to explore crime scenes, request warrants, and search for clues that actually relate to the cases at hand. And with word that Legacy Interactive was at the helm of the new iteration, there was reason to believe that the former developers of the Law & Order games would bring a refreshing approach backed by proven experience.
They did that, all right, but the experience came more from their recent work on other casual titles like The Lost Cases of Sherlock Holmes than their older adventure series. Is that a bad thing? As it turns out, no it isn't, but it's likely to be a BIG disappointment and major point of contention to any that play the game with false expectations going in. With the correct ones, however, there's actually a reasonable amount to like about CSI: NY.
Aside from the whole totally-unexpected-genre thing, the most obvious difference in the new game is the move to New York. Past games have featured the Vegas and Miami casts, but now the series has finally landed in the Big Apple. All the key characters from the television show lend their likenesses and voices to the game, from Gary Sinise to Melina Kanakaredes, Carmine Giovinazzo, and Eddie Cahill, to name just a few. Aside from a few wooden deliveries (bored indifference to unearthing a dead body probably isn't the way to go) and consistently over-acted confessions, the voice work is generally good from both lead and supporting cast alike.
The fact that players get to directly control detectives Mac Taylor (Sinise) and Stella Bonasera (Kanakaredes) instead of an anonymous CSI rookie was highly trumpeted before release, but actually has little impact on the game, which plays out in first-person. In fact, you'll see them more often when you're playing as the other, as they show up to make helpful contributions to your investigation. The rest of the cast similarly turns up as you proceed through each case with visits to the morgue and crime lab, creating a solid connection with the show.
Where a disconnect may begin to occur is in the game's art style. Rather than the attempted realism of earlier games, CSI: NY opts for a distinctly hand-drawn graphic novel look. It's not unattractive, though it's a little heavy-handed in its bold black outlines. But at the very least, it is a huge change for the series and may be an acquired taste. It also doesn't do much justice to the static character portraits. While modeled after the program's actors, the likenesses aren't overly precise. If not for the accompanying voice work and context, I might not have been able to place them. Where the new style clearly bombs out is in the city transitions between locations. As this mimics the show more than anything, it stands out in its striking inability to resemble its TV counterpart.
You'll be getting many good, long looks at the artwork, too, as one of the central components of the game is its "hidden object" gameplay, though it's handled quite differently than most games carrying that label. Indeed, CSI: NY offers way more different game elements than most seek-and-find titles, but even so, you'll do a fair bit of random object collecting, although the pretense of doing "detective work" is more forgiving in that respect. Locations are often fairly generic, displaying the likes of offices, homes, and restaurants, with an occasional welcome trip to the Empire State Building lobby and the circus thrown into the mix. Naturally, these areas are filled with lots of excess items, but they're generally limited to suitable objects in context.
In a rather bizarre move, however, the game opts to present you not with a written list of objects to find, but graphical images of them. In some cases, this makes the exercise as easy as it sounds, removing the challenge of not knowing the particular depiction of the objects in question. To address this imbalance, the picture list begins blank and only slowly starts to fade into full focus. I suppose the point is to encourage players to think about what items to look for, but in practice it's a pointless waste of time. Like most hidden object games, there isn't much rhyme or reason for the items you're looking for, at least any that you know about ahead of time. So either you simply click random items early and hope that you're right, or wait for the pictures to appear and then locate their environmental counterparts. There's no time limit, so neither solution seems to have any unwelcome repercussions. If you're really stuck, there are hints available, but it's unlikely you'll ever use one unless for the odd nondescript item that's hard to distinguish even from its picture.
Having said that, where most hidden object games stay primarily true to their moniker, CSI: NY is far more diverse in its gameplay. I'm reluctant to venture a percentage, but certainly less than half the game is spent on scavenger hunting. The remaining gameplay consists of an assortment of "minigames". I'm quoting the game's own lexicon, though many of them aren't minigames at all, but rather standalone puzzles that don't want to call themselves that. (Wouldn't want to scare people off, after all.)
The good news is that many of these puzz… minigames are quite satisfying in small doses, and there are enough of them to go around to minimize the sense of repetition. Oh sure, by the eighth or ninth tile puzzle or pattern-sorting exercise you'll be wondering if there isn't more to life, but fortunately most are doled out in small samples. Better yet, they're often quite cleverly integrated into the gameplay. It's not exactly detective work like they probably teach in CSI school, but whether decrypting files, identifying X-ray discrepancies, matching fingerprints, reconstructing bone fragments, creating facial recognition portraits, or running physics simulations, you'll still feel like you're contributing to your own investigations. And these represent just a few of the twenty-plus different activities you'll encounter. A few types feel shoehorned in, like the odd Sudoku puzzle or Concentration game, but they're fairly rare, and since they tend to be a bit more challenging than the investigative tasks, they're usually welcome.
The game largely plays out in a standard point-and-click fashion, though some of the exercises do require a degree of hand-eye coordination. Nothing that will prove too taxing for even the most jittery of gamers, mind you. Then again, nothing that will prove much fun, either. At times you'll need to be inexplicably quick to tape dusted fingerprints, pointlessly trace blood stain outlines with a swab, or draw lines between clues without touching any others. Variety, yes; good, no. There are even a few inventory puzzles of the most basic type, either to be applied to an obvious object or asked about in your next interview.
Dialogue with witnesses and suspects is something of a puzzle in its own right. At the start of each conversation, you get an empty "Progress" bar and a full "Credibility" bar. By clicking on the appropriate topics and inventory items, you'll be rewarded with progress updates. Highlight incorrect topics or items and your reputation takes a hit. There are never that many conceivable options, so it's unlikely you'll fail. In fact, I never did even when I began trying, though it may be possible if you really REALLY try. I'm presuming most people won't. About the only consequence to blundering your way through is in your CSI rating. Each case evaluates you on your effectiveness in several categories, though there seems to be no obvious benefit for higher ratings beyond self-congratulatory bragging rights.
Of course, one of the big draws of any CSI game, and one of the frequent letdowns in casual games, is the storyline. Fortunately, CSI: NY presents a fairly interesting set of cases to solve. With writers from the TV show on board, that's no surprise, but it was good to see that the game didn't skimp in this regard. Each of the game's four cases includes numerous twists and turns, surprisingly diverse characters, and enough intrigue to keep players interested throughout, whether investigating an urban climber's impossible fall or a teenaged blogger's death on web cam.
Now, I said four cases, but really there are five if you count the bonus downloadable content. The game's fifth case is only accessible after completing the first four in order, and even then only available to download from the publisher through the main menu, requiring registration at Ubisoft. Played as Mac and offering a little over an hour of play time with one new puzzle type, the case has no connection to the previous storylines and wasn't even available at game's launch, emphasizing the fact that it's entirely dependent on download availability. Stalling tactic? Cheap marketing ploy? Who knows. But it's not a standard part of the boxed product, so there are no guarantees it'll be there when you want it.
Related somewhat to the missing last case is the game's cost. While completely in line with the previous CSI games, its full retail price is a good deal more than standard casual titles, which may discourage both camps. I put in about six hours on the five cases all told, and with very little replay value, that's not a lot of bang for the buck. It's definitely not wasted time, mind you, as once I adjusted to the simplified gameplay, I enjoyed my experience as often as not. If you're considering a purchase, though, be sure to read the fine print before you do, as sometimes the answers aren't easy to see.
This review was originally published as an ungraded feature article, and has now been fully rated and adapted accordingly.
Our Verdict:
The game's less-than-forthright marketing has created false expectations of a new full-fledged adventure, but after you strip those away, there's still some decent casual entertainment to be found in the CSI: NY office.
GAME INFO
CSI: NY is an adventure game by

Legacy Interactive

released in 20082009 for PC. It has a Stylized art style and is played in a perspective. You can download CSI: NY from:
What our readers think of CSI: NY
Want to share your own thoughts about this game? Share your personal score, or better yet, leave your own review!

review
Other articles you might enjoy