Pahelika: Secret Legends
review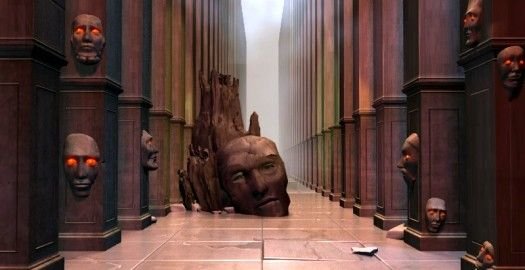 Game information
You might also like these adventure games
Advertisement
Adventure games by IronCode Software
BITMAP BOOKS
It is said that knowledge is power, and perhaps there is no greater repository of knowledge than books, making them very powerful indeed. Pahelika: Secret Legends, a new independent puzzle-based offering out of India, takes this analogy one stage further, with the eponymous volume being a seriously powerful magical artefact. Fearing the uses it could be put to, its original wielder arranged for a series of challenges to protect it from the unworthy. As an unnamed man who discovers the clues to tracking down the tome, your aim is to retrieve this mighty item for yourself. Unfortunately, the rather mild and sometimes uninspired challenges you face may lead you to wonder how unworthy you'd need to be to actually fail.
Pahelika commences with the rather basic task of tidying up an attic. This brief section provides a tutorial for players to familiarise themselves with the game's controls. The tutorial is not an optional feature and leads you step by step through this preliminary scene. Whilst I will generally play through tutorials when offered, the fact that there is no option to skip it is unusual, especially since the controls represent a fairly generic point-and-click interface. This is made worse by the insistence that its steps are followed in order (I wasn't allowed to pick up an interesting looking key until I had a use for it). Sadly, this is not the last instance where you will be forced to perform actions in a particular order, though at least there is a reason in this initial instance. Working through the tutorial leads to you finding a contraption that serves as a portal to the challenges guarding the great book. Using this, you will travel to six different fantastical realms, each bringing you one step closer to your ultimate goal.
Your search commences at a wizard's tower, where magic and illusion are the order of the day. Elsewhere on an icy glacier, the cold will be both your enemy and your friend in finding a way out, and a later dimension will lead you to trying to work ancient mechanisms, among others. This variety of settings should have led to a diversity of puzzles to match each world's theme, but that is a promise only partially fulfilled. Whilst there is usually a clear visual distinction between areas, too many of the obstacles you face come off as generic obstructions that could have fit equally well in any of the other worlds.
These worlds are displayed using a first-person slideshow presentation. Your perspective in any given room is fixed, with no camera panning allowed and no animations of your actions displayed onscreen, though some scenes have limited environmental animation (falling leaves, a flickering fire). For these playable sections, the graphical style uses realistic 3D modelling with clear detail. The compass room of a puzzle house lives up to its name, with giant compasses on the walls and floor, all with realistic reflections on their metal casings, and the gateway of a fairy garden is suitably imposing.
Most screens contain at least a small handful of inventory items to collect, and there is more than sufficient visual detail to save you from pixel-hunting sweeps. As an additional aid to locating hotspots in each scene, anything you can interact with gains a magical sparkle when the cursor is passed over it. Furthermore, any items important to your quest that you can't immediately use will continue to be highlighted by a different sparkling effect after the first time you click on them. This saves the problem of relocating hotspots once you have some idea what to do with them. Unfortunately, in one of the scenes, this sparkle overlay also obscured a vital clue to a nearby lock combination. Despite this flaw, I generally found the scenes to be pleasant to look at and I heartily welcome for once not cursing the absence of a vital item that I simply couldn't distinguish from the background.
The cutscenes are the only place where the story is presented, and these feature more of a watercolour and line-drawing look, displayed in a comic-book panel format. Whilst not having the detail of the playable scenes, the resemblance to old book illustrations well serves the subject matter. On the downside, though these cutscenes are mostly brief, they are also unskippable. This limitation does give you the opportunity to appreciate the vocal narration, however. Though the worlds you visit are devoid of inhabitants, there is voicework within the game coming from an elderly narrator and the protagonist himself. The former, used only in the cutscenes to detail the backstory, fits well as an elder passing down the legend of the book to a new generation. The latter has a gruffer tone and gives a brief first impression of each scene as you enter it, though the dialogue never really reveals much of his actual character. According to the credits, both are apparently voiced by the same person, and the work exceeds what I've heard in some higher budget games.
There is good use of ambient sound during the game as well, with appropriate background noises to fit the location, be it the creaking of floorboards in an ancient tower or the birdsong of a garden. In both cases the atmosphere of the scenes is enhanced by these sounds, and even long repetition when stuck in a particular room does not serve to make them grating. These effects are further supplemented by a pleasing, gentle Eastern-themed soundtrack that runs almost throughout, though it occasionally ceases where a scene has significant ambient sound.
Though budgetary corners were clearly cut, the production quality of Pahelika is certainly decent enough, especially for a small independent team. It is in the gameplay itself where things start to come apart, beginning with the rigid linearity. Though the challenges protecting the book are unrelated and spread across different worlds, they must be visited in a preset order. Only the sixth world, resting place of the book itself, really belongs in a specific sequence, and there is no attempt at forming a narrative arc to justify the order of the others. Within the worlds themselves, your objective is simply to progress in an almost equally linear fashion to a teleport platform that will return you to your study. Whilst you need to solve all the worlds to complete the game, this overly linear progression makes the player feel railroaded. Moreover, if struggling with a particular puzzle, the game grinds to a halt until that puzzle is solved. Giving players the option to explore other worlds freely would have given a greater feeling of control.
Like the worlds themselves, for the most part Pahelika leads you through each environment one screen at a time. The most locations I ever had available at any one time was four, one directly after the other, and that was only to allow me to use a fixed item in room one to solve a puzzle in room four. Other worlds sometimes have you move back and forth between fewer sequential rooms, but much of the time you will only have a single location open to you. I never thought a game would make me wish for a puzzle that required me to wander back and forth, but this game managed it, inducing feelings of claustrophobia even when I was in open areas with many apparent but unusable exits.
This enforced order is occasionally even taken down to the puzzle level, demanding that you insert or arrange items in a specific order, even where there are no clear reasons for that order. Without clues to proper placement, being told "Nothing happens" or "Something else needs to be done first" simply because you've made the wrong choice from apparently interchangeable items is irritating, especially with repetition. You can't even save manually, though with this structure there's really no need to, as the auto-save acts (quite appropriately) like a bookmark, keeping your place in this straight-line progression.
All this would be trivial if the puzzles themselves were engaging, but for the most part they are quite simple. The limited exploration means that the majority of the inventory and environmental puzzles will quickly succumb to trying all combinations if you can't solve them intellectually, though this should only be required when it is unclear what one of the unlabelled inventory items is. To provide more of a challenge, there are a variety of standalone puzzles, usually operating as locks for various containers. These sorts of puzzles recur in slightly varied formats throughout the game, ultimately rendering an originally interesting puzzle little more than a chore on repeat viewings.
One of the more frequent puzzles, a jigsaw minigame, exhibits a particularly odd setup. In these 30-piece puzzles, you only ever have 5 random pieces available, each piece being replaced as you fit another into the puzzle. As a jigsaw fan, I found no problem with this, but I can see other players being frustrated if their starting selection consists of pieces with little detail to aid placement. There is also a pair-matching game that solely consists of trial and error in locating all the pairs in a grid, with no clues and no limits on time or turns taken. Given that these challenges were meant to weed out the unworthy in the context of the story, it seems odd to include puzzles that simply require persistence to pass, and not even too much of that. The puzzles requiring finding combinations, whether numbers, letters, or suitable sequences, demand a bit more brain-work, but these are too limited to raise the difficulty significantly. On other occasions, you'll need to answer questions posed by magic statuary, and you may find the "correct" answers debatable. The tail end of the game also includes one semi-action puzzle that can prove slightly frustrating, though hardly unmanageable.
I would expect few players will need to resort to the free strategy guide on the developer's website where the game is sold, though this guide is actively promoted during load screens in the game itself. In a way, this simplicity makes for a pleasant gaming experience where progress is rarely halted for long, but the lack of significant challenge also lessens the feeling of triumph from such progress. Moreover, since this game will most likely appeal to puzzle fans in the first place, it's sure to leave many of those disappointed in the lack of variety and substance provided.
Ultimately, Pahelika: Secret Legends comes across as an extended "escape the room" game such as those found on many free casual gaming websites. There is no doubt that the graphic and audio values here far exceed those of the typical freeware game, but in gameplay terms, it doesn't stand out enough to fully justify its retail price. The repetition of puzzles could have been forgiven in a larger setting, but at less than four hours of game time, it just comes across as lack of imagination in a game this size and offers virtually no replay value to extend that time. Establishing a greater story arc could have helped fill the gap, as after the initial setup there is virtually no attempt to weave a cohesive narrative, leaving only the loose string of puzzle scenarios to conquer. What's left adds up to a pleasant but mild diversion at best, and though none of its flaws are showstoppers, they prevent Pahelika from being a game I can particularly recommend. It might hold some appeal for casual game fans who like their challenges light, but most others are best advised to leave this one on the proverbial shelf.
Our Verdict:
Falling well short of its intended challenge of the ages, Pahelika comes off more as a limited puzzle-based diversion for an afternoon.
Want to share your own thoughts about this game? Share your personal score, or better yet, leave your own review!

review
Other articles you might enjoy