Les Misérables: The Game of the Book
review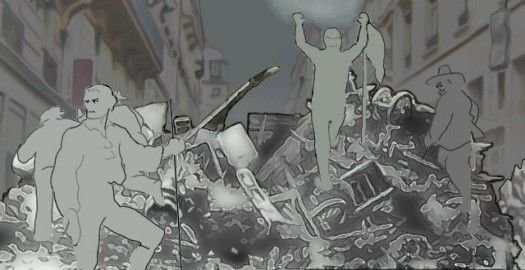 Game information
Advertisement
Adventure games by Chris Tolworthy
BITMAP BOOKS
Note: Though graded as a standalone adventure, Les Misérables is one of three installments bundled together in the Enter The Story trilogy.
Chris Tolworthy is a man with an ambitious dream to create the world's largest adventure game. At first glance, this makes him no different from any other would-be game developer aspiring to create the next great epic, most of whom burn out after a few weeks and never finish. In Tolworthy's case, however, he's been working on his project in various forms since 1997, and twelve years of patience and dedication later, he has finished the first installment of Enter The Story, a work of art that aims to adapt classic novels in interactive form and synthesize them as a story greater than the sum of its parts.
The first novel adapted for Enter The Story is Victor Hugo's Les Misérables, famous for its themes of overcoming poverty and injustice against the backdrop of nineteenth century France. The story centers around Jean Valjean, a man convicted for stealing a loaf of bread to feed his starving sister and her family, and follows his life's journey into redemption as he escapes from prison, becomes a factory owner and mayor, adopts a young orphaned girl named Cosette, and aids the revolutionaries in the Paris Uprising of 1832. It takes place in both the city and several small surrounding towns, featuring a varying cast of morally ambiguous characters, from a self-righteous parole officer to a pair of corrupt innkeepers to a kind-hearted prostitute. Many previous adaptations have been made of this classic tale in other media, from plays to movies to a very popular Broadway musical. As such, the challenge to create a successful game adaptation is a great one; given that the story is so renowned and enduring in its traditional, linear form, how can one preserve the quality of the narrative while still making good use of the interactive properties of the video game medium?
What Tolworthy has done in Les Misérables: The Game of the Book is cast the player not as one of the characters in the story, but as an inspirational spirit -- specifically, that of Peri, the stillborn daughter of Valjean's sister. At the start of the game, she meets with the spirit of Victor Hugo, who tells her that she has a grand destiny to fulfill, the first step of which is guiding Valjean and the other Les Mis characters along the path to the story's eventual resolutions -- victory for the revolutionaries, reunion for a pair of young lovers, and atonement for Valjean's actions in his past life as a criminal.
To achieve these goals, the protagonists will have to perform various activities, from getting a job at a factory by successfully selling one's skills to the current factory owner, to fixing a broken-down carriage in order to get to the nearest town in time for an important court trial, to escaping from the police by sneaking through dark alleyways and climbing up walls, all of which Peri will have a hand in orchestrating. In other words, your goal as the player is to complete the story, and as such, the gameplay lies in figuring out what decisions the characters must make next in order to achieve this goal.
The way this is presented to the player is through a mouse-driven interface. Double-clicking on any character will reveal their thoughts. Right-clicking on anything in the game, then right-clicking on a particular character, forces that character to think specifically about the original item, and when applicable, motivates them to take a related action. For instance, if you find a prison guard looking for the release forms he needs, you can travel to where the forms are located, click on them, then return to the guard and click on him in turn, causing him to release the prisoner.
While possible to move about in first-person view as the ethereal Peri, at points in the story where Valjean is the focus (which is roughly 80% of the game), the player can guide him onscreen from one location to the other by right-clicking on him, then right-clicking on exits. This is sometimes necessary to solve puzzles where Valjean needs to show up at a specific place at a given time, but for the most part it's completely optional. There's no inventory manipulation, which is fitting, as Les Misérables is a story about people rather than things, and the vast majority of goals are presented one at a time, which keeps the main story thread focused and linear. In essence, this game adaptation is not very complex as an adventure game, at least in the traditional sense of the term. Fortunately, the story being played is gripping and interesting with many plot twists, making the linearity far less of a problem than it would be in a lesser story.
Still, players who are worried about the lack of gameplay complexity can rest assured that there are plenty of optional possibilities for interactivity available. Indeed, one of the very things Les Mis is most notable for is the expanded, open-world type of feel it provides by having a great many scenes to explore and a large cast of characters -- many of whom are, for all intents and purposes, not essential to the game, existing only to make the cities and towns in the game feel more alive. You can even click on a random townsperson in the crowd and learn what he or she might be thinking at that particular point in time. Furthermore, you can travel to any location at will with the help of a map, allowing plenty of freedom of movement. (You are a spirit, after all.)
The biggest benefit to having such freedom is the ability to see some of the political, social, and economic contexts influencing the events of the story, particularly since digressions on these very topics are so prevalent in Hugo's original novel. Unlike the novel, however, this interactive adaptation allows the player to explore as much or as little backstory as they wish, making for fewer interruptions in terms of the main plot's pacing, and ultimately making the story more accessible to modern audiences. What I personally found rewarding was that after the story ended, I was still free to roam around the world and read the remaining characters' thoughts, which is certainly something you don't usually get to do in adventure games.
The downside to this freedom of exploration is that it can be very easy to get lost and not always know which location you should be visiting next. To combat this problem, there's an adaptive, multi-tiered hint system in place where characters talk amongst themselves to give clues about where you should explore if the game senses you're spending too much time on a particular puzzle. For more direct hints, you also have the option to go back and visit Victor Hugo in heaven, who'll tell you what to do next in a somewhat more explicit manner. Having these hints ensured that I rarely had to close the game window in search of outside help, though I did run into one puzzle near the end in which a hint on where to find Valjean's hidden stash of money confused me with its wording, leading me to spend a long time searching for it in a completely different area than I should have been. What's more unfortunate is that this particular fetch quest came right at a key time in the story, and being stuck in the game lessened the emotional impact by slowing down the pacing of that scene. Thankfully, these situations are infrequent enough that the majority of the game didn't feel as jarring.
Presentation-wise, the game feels like what it is: a one-man show. If your visual expectations of games are of a slicker, more commercial bent, you may find the rough minimalistic artwork not to your taste, particularly since glitches in animations and transparency colors occasionally sneak in. Yet there is much to be liked about the artwork, as it certainly looks different from most other games. In many ways, it gives the feel of being inside a simple picture book, with iconic, boldly-outlined character representations and a muted watercolor style to the backgrounds. Music is used to great effect as well, with an atmospheric soundtrack consisting mainly of classical choral and orchestral pieces. Hence, while there aren't any film-inspired cinematics to convey particularly poignant scenes, the emotion does come across very well using a combination of character animations and appropriate musical cues.
There isn't any voice acting in Les Mis -- a wise decision, as there's an incredible amount of text in this game -- meaning that the storybook feel of the game is further embellished by demanding a great deal of reading. Fortunately, the reading is made as smooth and painless as possible with the use of large fonts and reasonably short blocks of text on screen at a time. The writing itself, unfortunately, tends to suffer from lack of polish, whether it be typos or spelling inconsistencies (sometimes it's "Jean Valjean", other times it's "John Valjean") or complete stylistic shifts. Some of the text is written in a nineteenth century style -- indeed, much is lifted from the novel itself -- whereas some of it reads like it came from the present day, with twenty-first century references and colloquialisms. I would have preferred it if Tolworthy picked one style and stuck with it; as it stands, I often felt like the fourth wall was being broken in an otherwise highly engaging story.
Still, despite these criticisms, Les Misérables: The Game of the Book is a faithful adaptation of its source material in spirit, as well as an enjoyable interactive experience in its own right. At approximately ten hours to play through -- or more depending on how much exploring you do during or afterwards -- it's an excellent way to spend a few evenings if you enjoy a story that's more cerebral and philosophical than your usual game, whether you've read the book before or not. The game is available for digital distribution for $14.99 at the Enter the Story website, though this price also includes the next two games in the series. These subsequent titles are planned to expand Les Mis' pre-existing game world while following the stories of other classic novels, eventually combining to form the aforementioned "world's largest adventure game" exploring life's greatest questions and ideas. Though Tolworthy still has quite a ways to go before he fully realises this goal, he is certainly off to an interesting and innovative start.
Our Verdict:
The first installment of the Enter the Story series is a very good modern, interactive adaptation of a classic novel that stands well on its own while also hinting at greater things to come.
Want to share your own thoughts about this game? Share your personal score, or better yet, leave your own review!

review
Other articles you might enjoy