Flower, Sun and Rain
review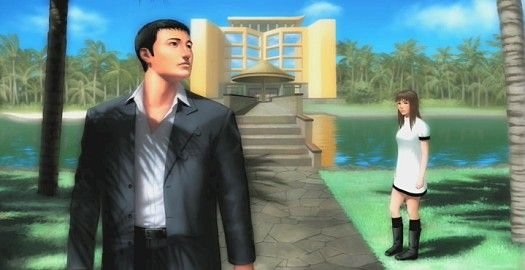 Game information
You might also like these adventure games
Advertisement
Adventure games by Grasshopper Manufacture
BITMAP BOOKS
If you've had any involvement in the world of consoles, then the name Suda51 may be familiar to you. Goichi Suda is the man responsible for several stylish, surreal action games such as Killer 7 and No More Heroes. But one of Suda51's earlier creations was an adventure called Flower, Sun and Rain, released only in Japan on the PlayStation 2 some years ago. At long last, the game has finally received an English language release on the Nintendo DS. Regrettably, while there is some enjoyment to be had, the repetitive puzzle solving and senseless storyline combine to ensure that this isn't one of the acclaimed designer's finest works.
The adventure revolves around Sumio Mondo, a "searcher" whose profession involves finding items for other people, or even intangible things such as lost memories, key words or even dreams. Driving a car named Giggs and carrying a briefcase he fondly refers to as Catherine, it is clear from the outset that this is a game that doesn't take itself entirely seriously, further reflected in the increasingly bizarre developments in the storyline. Sumio has been called to the Flower, Sun and Rain hotel by the manager Edo Macalister on the premise of foiling terrorist attacks that have been taking place at the airport on the island of Lospass. Yet things are not that simple: each day a guest requests something from Sumio that distracts him from reaching the airport in time, resulting in the disastrous end of another plane exploding in a variety of different and quite amusing ways. When this happens, Sumio ends up back in bed, waking up the next morning to try again.
At first it appears that you are hopelessly stuck, seemingly fated to watch each new catastrophe without any ability to stop it, but as the adventure progresses, players will begin to learn how to bypass the pseudo-time loop that Sumio has found himself in. In order to do this, he needs to make use of Catherine, which is really a sophisticated computer system under its briefcase exterior, where a guidebook about the island and its inhabitants is also stored. There he will 'jack in' around 4-5 times per day, which requires choosing an electronic lead from a small selection (finding the correct one is always trial and error) and connecting it to a visual representation of the person or item that he is trying to crack. Succeeding at this then brings up an input code system, where you have to enter the correct code using a number dial. How you find the correct code is usually hinted at in the game's dialogue, and for all but a few puzzles, the answers can be found in the comprehensive guidebook. Entering the correct code results in a 'Hit' message, which then enables the storyline to progress a little further. Failure to get the correct code just means you can try the puzzle again without any penalty to the player.
While in theory this is a very original idea, the problem is that there are no other puzzles in the game, which naturally means it doesn't take long for the gameplay to become repetitive. It's required for many of the people, objects and even places that Sumio encounters, and the DS-specific inclusion of a Lost and Found list each day simply provides more opportunity to pursue the same formula, though at least it provides an added brain-testing element. The list is discovered in Sumio's room at the beginning of each day and challenges you with riddles to solve before finding the relevant item needed to jack in. Like the rest of puzzles in the game, however, clues to solving these riddles are found within the guidebook, removing any real sense of mystery.
Aside from traveling through the hotel and across the island talking to the various characters you encounter, that's effectively it for player involvement in FSR. There isn't an inventory to speak of, or even any dialogue interaction – the game is entirely scripted without any input. On the plus side, the puzzles are logical to solve, but the constant reliance on the guidebook for answers means that you never really feel you're getting to think outside of the box. There are also times when you'll work out who to talk to next, yet the game insists on limiting your actions to a certain order, which can feel unnecessarily restrictive.
Sumio can be guided through the game's 3D environments either with the +Control pad or the stylus, while any items or characters that can be interacted with will be highlighted with a circle when you walk past. The entire game takes place on the top screen, with the bottom screen used only as a basic map when Sumio is exploring the locations, plus a "Catherine" screen that includes a memo option, the guidebook, your missing items list, and access to the 'jacking in' process when applicable. Jacking in uses the touch screen to select the electronic leads required, and the numerical dial can either be moved with a sliding motion of the stylus (quite fiddly) or the +Control pad can alter the numbers. The memo feature allows you to write your own notes on the touch screen, which comes in handy for reminding yourself of key details.
Further limiting your activities is that each day you can only access certain rooms or areas outside of the hotel. At first this seems like it's holding you back too much, but actually it protects you from getting confused by having access to too many locations. Unfortunately, there is an over-reliance on walking from one end of the island to the other, which takes increasingly longer to accomplish and is incredibly tedious. Even Sumio himself complains to everyone he meets about this, and finally he borrows a bicycle, but this happens too far along to really make an impact.
At a certain juncture, you will briefly take control of Detective Remy, who is called in with her cop partner to investigate a suspected murder, and periodically throughout the game you'll see Sumio's progress from the perspective of a girl with a talking pink alligator, whose role in the game is something that remains unclear until much later in the adventure. You'd be hard pushed to find another game featuring so many wacky characters, from a hotel maid that tries to talk to spirits and hide underneath your bed (yes, you read that correctly) to guests that seem to be equally unhinged, like a drunk woman claiming to be an angel in disguise and then flying – as impossible as that should be – into yet another airplane, and a football fanatic who threatens to kill people under the veil of football terminology. Before long, however, all this absurdity begins working against the game's benefit. I'm all for a bit of craziness in games (Phoenix Wright and his clan provide that by the bucketload), but there has to be some thread of coherence running through its core, and with Flower, Sun and Rain you never get a sense of that. It feels like many of the strange characters are there just because they can be, rather than to contribute anything to the overall storyline.
A similar problem extends to the story itself. Lots of crazy events take place on a daily basis, like guests mysteriously dying and then seemingly coming back to life, getting locked in a room by a ghost that you cannot see, discovering a network of clones living underneath the island, and characters that act as walking bombs (literally) that explode at certain locations. Just when you think you're starting to follow it, however, the storyline will change dramatically again to add a new wrinkle to the time problems of the island. While there are a handful of plot twists that do make sense of some of the madness toward the end of the game, there is still a prevailing feeling of never being entirely sure what is going on. In one respect, it seems like the developer is teasing the player with cryptic logic you might be able to grasp, but really it just doesn't make any sense at all. Even now, having completed the game and subsequently reading up on its history, I am still unsure as to just what Flower, Sun and Rain is really about and who Sumio Mondo really is.
Visually the game is pretty ropey, and while this fact is clearly embraced by the developer breaking the fourth wall with constant self-mockery, it can't overcome the fact that everyone looks severely jaggy and the background settings just look ragged, as if an earliest-generation 3D game. Which, of course, FSR once was, but a graphical update would have served this DS conversion far better than a near-direct port of an eight-year-old game. Sumio's walk also has a weird gait to it, and he seems incapable of traveling in a straight line no matter how carefully you maneuver him. Background music is a curious but rather effective choice of classical pieces given an electronic twist, which suits the madcap nature of the game perfectly. Displayed entirely in text, the dialogue is nevertheless supplemented by a strangely distorted computerized garble that manages to grate on the ears after a very short period of time.
In its favour, the game does have some decent writing amidst all the insanity, and it will raise a smile at those self-referential moments when it pokes fun at its own inferior graphics or re-use of popular music tunes. It even threatens to reveal the secrets of the game early, though personally I'd have preferred too soon to not at all. One memorable occasion is when a boy taunts Sumio about his constant need to fulfill other people's demands and mocks his reliance on the all-important guidebook, which leads to a plot twist later in the adventure.
Despite its few moments of levity, however, the surreal nature of the storyline remains a little too odd throughout, and the repetitive nature of the gameplay makes Flower, Sun and Rain more of a slog to play through than it is enjoyable. It's certainly unique, and at about fifteen hours long, it's a pretty sizable quest, yet the similar nature of the puzzles and heavy emphasis on backtracking means that it all feels too long. Fans of Suda51's previous games may find this more of an interesting prospect than most, but adventure fans can find better games on the Nintendo DS elsewhere.
Our Verdict:
Confusing, repetitive and just plain strange, Flower, Sun and Rain is at best an acquired taste, but mostly just too surreal for its own good.



By TimovieMan on Sep 28, 2013
A weird mixed bag that is fortunately self-aware
Flower, Sun and Rain for the DS is a strange little game. There's a whole lot of bad, but there's also some good making up for part of it. Let's start with the flaws... The...

Read the review »

review
Other articles you might enjoy