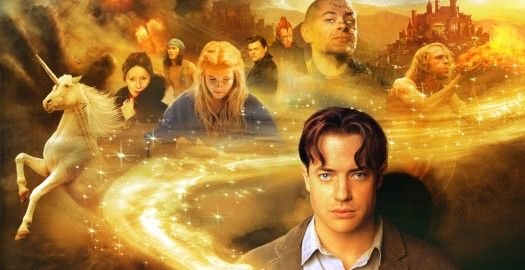 Game information
You might also like these adventure games
Advertisement
Adventure games by syncRage
BITMAP BOOKS
Movie-to-game adaptations have fared remarkably poorly over the years, largely because of the rushed timeline imposed to meet the film's release. On the other hand, adventure games featuring people with special abilities to create life with magical books have done pretty well. So with the release of Inkheart for the Nintendo DS, one of these trends was going to have to give. As it turns out, while the game does have its moments of quiet charm that might appeal to younger gamers and fans of the movie, its modest scale and utter simplicity ensure that Inkheart isn't destined to be confused with the likes of Myst in genre annals.
Of course, as the first of three tales in the "Inkworld" series, Inkheart was a best-selling novel by Cornelia Funke long before it became a movie. I have experienced neither, so I can't speak personally to the differences between media, but by all accounts the three versions follow the same general storyline, with a bit of creative license mixed in for good measure. While this means that seeing/viewing/playing one will lessen the element of surprise in another, I much prefer this approach than games that try to fill in the "blanks" of its source material, which generally leads to incoherent story messes that only barely make sense even if you know the plot already. Here the game assumes you're encountering the main story from the beginning, which it just so happens I was.
Unfortunately, it takes a fair while until the story actually takes shape. The game begins with a book restorer named Mortimer (Mo) Folchart seeking a rare tome called Inkheart. But when a mysterious man called Dustfinger appears and calls him "Silvertongue", claiming other equally-strangely-named people want to meet with him privately, it's clear there's more to Mo and this fable than he's willing to share with his inquisitive 12-year-old daughter Meggie. The early playable sections are spent controlling Meggie as she attempts, quite unsuccessfully, to learn more about this book and her father's secrets.
Eventually the truth does come out, revealing that Mo has the unique ability to "read" people and objects from written stories into our own world. Tragically for the Folcharts, this skill comes with a very high price. As a consequence of summoning something from the book world into ours, something from our world must likewise take its place in the "Inkworld", and Mo's wife was the first victim of this unwitting exchange. He also called forth a group of wicked villains from the book, as ruthless as they are determined to destroy all copies of the book and use Silvertongue's talent for their own destructive purposes. The ultimate goal of the game, then, is to reunite the Folchart family and conquer the bad guys once and for all.
It's actually quite an interesting premise, and it's easy to see why the novels became popular, especially since the value of reading is a self-serving (but completely justified) subtext running through it. It's not nearly as successful in the game, however, as often major plot points are given extremely short shrift. There's enough here to follow along, but with a barrage of characters flitting in and out for no apparent purpose, it always feels like you're playing a condensed version of a much deeper story. It's Reader's Digest meets Inkheart.
One of the best features of the game is that it allows you to play many different characters. At various times you'll control Meggie, Mo, and Dustfinger. You'll even get a chance to momentarily play as Farid, a boy read out of One Thousand and One Arabian Nights, and two fantastical animals, though these are very brief and only occur doing minigames. This constant character exchange helps the experience feel fresh, though you can't switch between them during the main adventure and the only real difference is cosmetic.
And this is indeed an adventure, in a very traditional sense for the most part. The game's own website refers to it as an "exciting action adventure", but that's a misleading description. There are five different types of minigames spread throughout Inkheart, but they represent only a tiny segment of the overall gameplay. Two of them take mere seconds to play and appear only once, while the stealth and maze challenges are a bit longer and will probably take some trial-and-error to succeed before the timer runs out. These can be more frustrating, but they are only repeated a couple times and even the longest takes just a little more than two minutes, start to finish. The "reading" activity occurs the most, which is a shame, since the task of tracing a moving squiggly line across the touch screen gets old fast. It's fairly forgiving, however, and is completed very quickly, so I didn't fail any of them along the way. If you do stumble, you're simply returned to the beginning of the activity in all cases.
While these minigames were included for a change of pace, ultimately they do little more than make you look forward to the next adventure segment. Thankfully, you'll spend the vast majority of your time wandering around different screens, looking at objects, talking to other characters, and solving the occasional inventory puzzle. All very standard point-and-click stuff... just not an overly compelling demonstration of it. Each location, whether the Folchart's rural home, an Italian villa, or a stony mountain fortress, has only a few screens to explore, and the small handful of items you can pick up are only those you'll need to use, so solutions are never hard to come by. Bear in mind, however, that like the book and movie before it, the game is geared more towards younger gamers, so the challenge is probably suitable for less experienced adventurers.
The only real difficulty in Inkheart is in identifying interactive objects. Even that obstacle is instantly bypassed, as hotspots can be highlighted with a touch of a button. Unfortunately, the game's visual design all but ensures its necessity. The prerendered backgrounds are actually quite attractive and reasonably detailed, but the oft-muted colouring and distant angles make it all but impossible to discern the few relevant items. And unlike the PC, the DS has no convenient "cursor sweeping" option, so players are forced to click on everything and anything to see if it's important. More often than not, the result is the onscreen character simply walking over to the spot you clicked and saying nothing. After a few screens of due diligence and good intentions, its "bring on the A button!" time.
Apart from this one cursor limitation, controls on Inkheart are very straightforward and functional. A single tap will either move the character or interact with an object or person automatically. Annoyingly, some items must be interacted with multiple times before you're through with it, so to be sure you're not missing something important, it's necessary to click on everything at least twice. You can't make the characters run or auto-exit a scene, but most locations are fairly confined to minimize the wait. The inventory is easily accessed on a screen of its own, where you can select an item for use or click and drag on another object to combine them. It's really only the minigames where the controls are problematic, as several of them use a top-down perspective and the stylus/touch screen combination proves inferior to standard +Control pad navigation.
Unlike most DS games, Inkheart is played with the system turned sideways, held in your hand – quite fittingly for its subject matter – like a book. This has no practical impact on the game, but does make it stand out from most handheld adventures. On the right side is the touch screen, where all the interaction takes place, while the left side shows either the inventory or character portraits. In contrast to the pixelated, low-quality in-game characters, these portraits are very nicely drawn, and represent the one and only integral connection to the Inkheart movie. The images very clearly depict the movie likenesses of stars Brendan Fraser, Helen Mirren, and Paul Bettany, among others. For those who have seen the film, that surely makes for a welcome sense of familiarity. All others, however, will likely wish the money spent to secure those likenesses had gone instead towards… oh, say… a second facial expression. Each person (or animal) is represented only by a single picture regardless of context. That's fine in many cases, but it's jarring when an emotionally-charged event is taking place on the main screen while the character portrait has the same lazy-Sunday smile as always.
The characters never speak, either (except for the animals, at least in their own way). The game has a nice selection of orchestral music and sound effects sprinkled throughout, but the lack of any kind of voicework is a disappointment. Simply being made for the DS doesn't give a game a free pass anymore, as some titles have speech included, and any game touting its major motion picture stars would have at least benefited from some sample representation. Instead we get text, and quite a bit of it. While hardly rivaling any of the dialogue-heavy PC adventures for wordiness, there's plenty of reading to do in Inkheart. Again, though, that suits its source material, and if you aren't a fan of reading going in, you'll find that preference challenged repeatedly before all is said and done. A better proofreader would have helped serve the point better, mind you.
Ultimately, all is said and done far sooner than it should be. I finished Inkheart in under four hours (didn't even exhaust my DS charge!), and while the main storyline comes to a perfectly adequate resolution, several secondary plotlines and promising character developments are simply abandoned in favour of hinting at a possible sequel. I'd actually welcome a sequel, as at its best, Inkheart is a breezy, enjoyable little adventure romp that we just aren't seeing enough of on the DS. But "not enough" is the recurring theme of this game itself. Its plot, pacing, and gameplay are so light that the experience is never truly fulfilling, and it's over before you know it. As an adventure for children, particularly those who like (or you're trying to encourage) to read, you can certainly do far worse than Inkheart. For everyone else, there's some mild point-and-click fun to be had, but this is one adventure that's simply too paper thin.
Our Verdict:
Inkheart's light pace and simple point-and-click gameplay may appeal to the kiddies, but most others will want to turn the page on this movie-based adventure.
What our readers think of Inkheart
Want to share your own thoughts about this game? Share your personal score, or better yet, leave your own review!

review
Other articles you might enjoy