Rhiannon: Curse of the Four Branches
review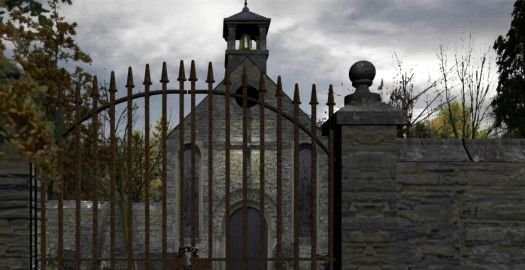 Game information
You might also like these adventure games
Advertisement
Adventure games by Arberth Studios
BITMAP BOOKS
What do you know about Welsh mythology? For most people, the answer is probably 'not a lot', but in a welcome change from the usual gaming fare, Rhiannon: Curse of the Four Branches explores this little-visited area of folklore. And for good reason, as Welsh mythology has all the stuff of legends: heroic kings, evil magicians, and magical curses. The 'Four Branches' of the game's title refers to the Four Branches of the Mabinogi, an important part of Welsh mythology that features a warrior prince named Pryderi and his family. Although Rhiannon doesn't directly borrow from much of the Mabinogion, one of its stories is used as an integral background to the plot, and the setting and presentation of the mythology are handled well. Unfortunately, not every aspect of the game shows quite the same deft touch, as the production values and gameplay fall short of the quality of its subject matter.
In the original tale, Pryderi's mother was named Rhiannon, and she and the prince were trapped when they touched a golden bowl in search of a cure to the magical curse that was making the kingdom of Dyfed barren. Like the kingdom, however, the bowl had been cursed by an evil sorcerer named Llwyd. The two were eventually freed after Rhiannon's husband captured Llwyd's wife, who was among those causing the curse, and Llwyd was forced to promise not to exact revenge on Pryderi during his lifetime. Only after Pryderi's death could Llwyd exact his revenge on his nemesis – or at least on those he perceived to be related to Pryderi... such as those with the same name as his mother.
Flash forward almost a thousand years to the modern day events of the game, and the Pryderi farmhouse is now home to another Rhiannon. This time it's a 15-year-old girl who becomes convinced that all Rhiannons who come to Ty Pryderi (Pryderi's House) are cursed. Obviously I don't want to give away much of the plot, but after hearing strange noises and seeing ghostly visions, it soon becomes clear to Rhiannon that there really are weird things going on at this remote Welsh property.
At the start of Rhiannon, the girl's parents have taken her away on holiday, in hopes of relieving her from the source of her recent stresses, if only temporarily. You play as a friend of the family who's been asked to house sit in their absence. There is no immediate aim to the game, but after arriving at the farmhouse and getting settled in, you quickly learn that Rhiannon had her reasons for being worried about living there. In addition to the visions and sounds, she'd been in touch with an expert in local history who'd been telling her about the house's history, and you'll find the details of her discoveries as you begin to explore.
Digging around, you eventually stumble across an old research paper, divided into individual sections for each Branch of the Mabinogi that seems to have a possible solution to the curse of Pryderi. Of course, this being an adventure game, you don't just find the whole paper at once, and each of the following four chapters deals with one part of the paper. Along the way, you'll also experience some of the visions Rhiannon was seeing and encounter other victims of the curse, both through ghostly visitations and in the things they've written.
Like other supernatural adventures like Dark Fall and Barrow Hill, which first-time developer Arberth Studios have cited as an influence, Rhiannon has no characters to interact with. What few other characters are involved are presented through narrated letters, phone messages, and other recordings, but you never actually meet anyone else. Your own character has a name – Chris – but that's the only detail provided, as even his or her gender is a mystery. This allows players to fully invest themselves in the first-person role, but in doing so it totally deprives the character of any personality. There isn't even any interactive commentary; you can look at items close up, pick some up and use them, but your character never describes or comments on anything. This lack of vocal, or even textual, feedback often makes the game setting feel dull and lacking in detail, and your own explorations aimless.
Navigation in the game is done in a traditional point-and-click, slideshow-style method. There is no camera panning at all, and you simply click on a highlighted direction to move to a new screen a short distance away. While simple enough to perform, even the smallest rooms have three or four different perspectives, and in larger rooms it can be quite easy to completely miss an area on first exploration, since you can't access every part of the room from any angle and the connections aren't always intuitive. It also makes moving around quite tiresome when you have to click the mouse four or five times just to leave a room. The play area is fairly large, so to travel from one side of the grounds of Ty Pryderi to the other could cause RSI symptoms in the most hardened mouse-clicker. There's no map or quick navigation method, so you're forced to slog your way by foot every time. These are common complaints in node-based games, so first-person adventure fans will likely overlook them, but Rhiannon does little to minimize the problem for those who feel restricted by such issues.
The puzzles tie in well with the mythology presented in the game, with details of the Four Branches used along the way to solve the mystery. I'm not entirely sure how much of what's featured in the game comes directly from the Mabinogion, but everything that's included at least feels appropriate to those stories. The mythology is used in such ways as deciphering ancient runes and understanding the values represented by certain kinds of trees, and combining the symbology of things such as swords and shields, robes and boots with modern items is essential. Puzzles are mostly of the inventory-combination type, with a few other logic puzzles mixed in. The inventory puzzles are mostly straightforward and sensible, with the research paper giving you clues as to what needs to be done, and the way they involve the mythology makes them feel more relevant than just going along trying to solve random problems.
The real-world sensibility does come with the slight complication of only being able to pick up an item when you have a known use for it. Since there is no feedback when looking at objects, this can lead to thinking an item is useless, instead of just taking it and keeping it around like you would in most adventures, even if it's a very practical item. An example of this is finding an oil can, but in order to even take the oil, your character will first need to have "looked at" (up close, not simply spotting it yourself in the background environment) the object requiring it. In some ways this is a good thing, in that it makes you think more about how puzzles can be solved, instead of just collecting tons of stuff and endlessly clicking random combinations to find the right solution. On the other hand, it ensures additional backtracking to get items you may have already passed by and figured you'd need eventually, making it more annoyance than strategy. There are a lot of objects to collect in the game, but since you can't take everything right away, you won't end up with too much of a backlog at any one time, particularly when most of the stuff you carry is discarded once you've used it.
The graphics in Rhiannon are fairly basic. Not a lot of detail is shown, and there are few of the fancy dynamic lighting or environmental effects you might find in most recent games, though the rippling pond water is surprisingly appealing. The game is entirely set within the grounds of the farmhouse, with the main house plus a few outbuildings and separate areas of wooded paths being featured. Although occasionally host to paranormal cinematics – weird visions and mystical events – the environments are otherwise rather everyday and drab. That's not to say the art is bad, it's just not great or particularly diverse. There are also very few animations, with doors magically opening when you click on them and objects appearing instantly in place when you put them down somewhere. This is obviously because the developers didn't want to show the protagonist on-screen, but it further contributes to the feeling of emptiness and lack of immersion in the game world.
Music plays only when something noteworthy is happening, and is done in an orchestral style that works reasonably well. In fact, it occurs so rarely that you know something important to the plot is happening when you hear a tune. Sounds are subtle but used to good effect, with doors clicking, machinery clunking and so on. This is a lonely deserted farmhouse, so there's understandably not going to be a lot of noise, but that makes them all the more noticeable when you hear them. The voice acting is decently done, but there is extremely little of it in the game, with only a few recorded messages and a voiceover at the end of the game to be heard, along with the occasional ghostly howl.
But while the game's production values are less than impressive, which can be expected given the small three-person team behind Rhiannon, its plot is definitely its strongest point, particularly the parts where you find out more about the mysteries and history of the house. Even I, who had a full Welsh-language and literary education, wasn't completely familiar with the Mabinogion. The game isn't likely to leave you totally fluent in its tales, but at least it'll give you some insight into an unfamiliar and interesting mythology.
The story itself unfolds through emails, letters and diaries found in the house that establish the background. Through these means you'll be introduced to characters from a number of different periods: a man and woman from the turn of the last century, a woman from the '60s, and a few from modern day. These writings are all well done, with the tone appropriate to each character who wrote them, and they combine to effectively create empathy for Rhiannon and motivation to help rid her of the curse she suspects she's under.
Although essentially a "haunted house" adventure, it's important to note that Rhiannon plays out more like a supernatural fantasy mystery than horror. Its fantasy elements come from the mythical prince and magician theme, and while the game does have a creepy atmosphere at times, there's nothing overly gruesome or shocking. That's not to say there are no spooky, finger-down-the-spine type moments, however, like the ghostly apparitions appearing and begging to be set free from the curse. The game comes with a Teen rating, though, which makes sense, since there's nothing here too likely to upset even the most faint-of-heart. In fact, the eerie parts are so few and far between that looking on this as a ghost story isn't entirely accurate, as the purely magical parts far outweigh the creepy ones. The plain graphics and samey environments also detract from the atmosphere, making it hard to really get too spooked.
There is much to be commended about this game for such a small first-time development team, but overall I couldn't help but be disappointed with Rhiannon: Curse of the Four Branches. The actual writing and mythology behind the game are intriguing and well-presented and the puzzles are generally interesting, but even accepting the lower production values as unavoidable, the samey, lifeless environments, awkward navigation, and a total lack of interactive feedback lead to the game not being as enjoyable to play as it could have been. If you're a fan of anonymous first-person games or unusual mythologies, you may very well enjoy the game for its good points, but I wouldn't recommend it to everyone.
Our Verdict:
Rhiannon is a promising debut offering from a small development team, but a strong storyline is let down by the game's uninteresting environments and basic presentation.
GAME INFO
Rhiannon: Curse of the Four Branches is an adventure game by

Arberth Studios

released in 20082008 for PC. It has a Illustrated realism style and is played in a First-Person perspective. You can download Rhiannon: Curse of the Four Branches from:
Want to share your own thoughts about this game? Share your personal score, or better yet, leave your own review!

review
Other articles you might enjoy